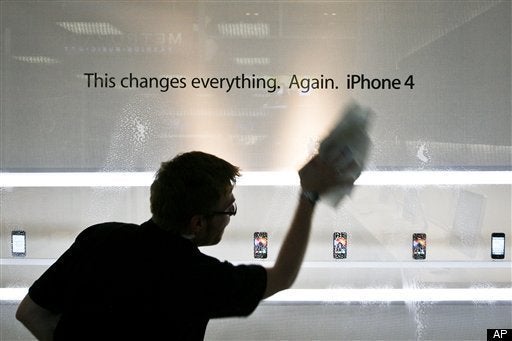 Apple has come under fire for iPhone 4 reception problems, specifically, the service disruptions that can be caused by touching the phone's integrated antenna. Although Steve Jobs reportedly told one customer that "there are no reception issues" with the device, not everyone is convinced. Both Apple and AT&T are facing a class action lawsuit over the reported reception issues, and Consumer Reports recently slapped the new iPhone with a critical review, concluding that the handset suffered from a "design defect."
Although Apple has yet to comment on Consumer Reports' "not recommended" rating for the iPhone 4, moderators on the Apple support forum have been deleting customers' discussion threads about the negative Consumer Reports review, according to TUAW.
The proof, TUAW asserts, comes from a Bing cache, which shows a live thread from June 12 in which customers link to the Consumer Reports review and debate the iPhone 4's supposed "defects." The original thread no longer exists on the Apple website; in its place is a message that reads "Error: you do not have permission to view the requested forum or category."
TUAW alleges that Apple has deleted similar discussions several times and demonstrates how a Google search of "consumer reports site:discussions.apple.com" also leads to several error messages in place of threads. PCWorld suggests that these discussions may "violate its [Apple's] terms of service." Engadget adds that Apple deleting unsavory threads is "nothing new:" "Outside of "regular" moderation, the company routinely deletes discussion of hardware flaws that it's not ready to 'fess up to, or just generally negative lines of thought about its product."
However, a search of Apple's Support website found that some discussion threads addressing the Consumer Reports review do still exist .
Calling all HuffPost superfans!
Sign up for membership to become a founding member and help shape HuffPost's next chapter