Amazon and other sites have shown that shoppers consider product reviews an accurate way to gauge consumer experiences, and a site known for independent and trusted reviews reached out this week to marketers.
In an age of social media, brands cannot ignore the voice of the people. The challenge, however, is building consumer engagement that does not game the system.
Viewpoints, a consumer reviews platform, launched Pulse for brands to listen to and engage more directly with consumers.
"For the first time we're giving the brands, the owners of the products, the ability to now claim those products and collect reviews... manage those reviews and promote them," founder and CEO Matt Moog told me.
Viewpoints has collected nearly 600,000 reviews of more than 37,000 products and 450 categories in seven years. The site attempts to verify reviewers, and uses an editorial process before publishing reviews.
Viewpoints reviewers complete a proactive disclosure form, including required Federal Trade Commission (FTC) disclosure of any payments or products received. Beyond this, every review is screened "at multiple points," Moog said. "We also have a number of fraud detection signals... that are automated... We then human moderate every review that comes on the site."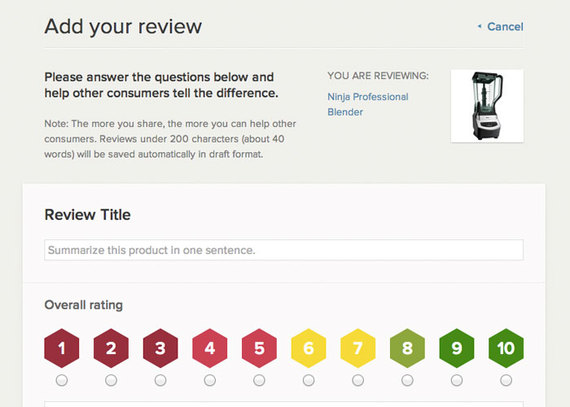 Each review is scored, and about 25 percent are rejected -- 20 percent for poor quality and 5 percent spam, Moog said.
Viewpoints seeks to know its reviewers and build "a rich social profile of them" by collecting reviews "as an independent third party," Moog said, and organizing and curating them to "validate their authenticity" as a "trusted intermediary."
Unlike typical retailer sites designed to sell products, Moog says Viewpoints tells consumers products not to buy, highlights those with low ratings and offers access to negative reviews. By identifying reviewers and their review history and offering reviewer badges (trusted, verified trusted and VIP), Viewpoints is different from retailers.
By having a large number of reviews and active community of millions of users, Moog says Viewpoints limits the impact of an illegitimate review that might initially sneak through. Viewpoints has questioned reviewers, and Moog says "if we're not satisfied that it's a legitimate review, we'll remove it."
"I would never tell you or anyone else that it's a perfect system," Moog said, "but you can certainly over time be able to trust more people who contribute regularly, whose opinions are spread across many different products and categories, who have many interlocking relationships."
Beyond using technology to rate reviewer credibility through their social profile, Viewpoints is much broader than retailer sites. "We cover categories that Amazon does not participate in," Moog said. Viewpoints, for example, reviews cable and insurance provider services.
Viewpoints has been working on Pulse for a year, but the Chicago start-up clearly seeks to take advantage of the regulatory developments that include a recent anti-trust judgment against a competitor.
Online shoppers are not the only ones checking reviews. A growing number of in-store shoppers also read product reviews, survey data from Baynote suggests, and the trend appears to be growing:
...48% of shoppers said that online ratings and reviews always or frequently influence what they buy - a whopping 45% increase from 2012. Not only did online ratings and reviews influence shoppers who were buying online, but 37% of shoppers said that online ratings and reviews influenced their in-store purchase always or frequently; a 12% increase from 2012.
Viewpoints, which has focused on advertising revenues, plans a shift to primarily marketing client services, Moog told Blue Sky Tribune.
While Viewpoints will allow brands to engage with consumers, marketers will pay to add information -- not delete or re-order existing reviews. By creating a corporate account, Pulse offers review collection tools, product description publishing and reply management, analytics and promotion tools through a partnership with Google Shopping and Google Search, Moog said.
The collection, management and promotion of reviews also features social media tools that connect with Facebook and Twitter.
Moog sees the model as having an "opportunity to bring greater transparency and accountability to the market" by shining a light on good and bad products. It's been primarily a U.S. service, so far, but Moog plans to expand into the global marketplace this year.
"When you think about the environment and sustainability and peoples' need to spend money in places where it matters," Moog says, "I'd rather get something that lasted for a long time, that didn't fill a landfill and go spend my money on health care or education rather than disposable consumer goods."
Related
Popular in the Community