This has created a surging market for solar technologies - 2015 was the biggest year in solar in U.S. history. Yet the American solar industry is set to more than double installed solar power this year. It is now economical and indeed profitable for a growing number of Americans to even go off grid.
These solar systems use photovoltaic technology that converts sunlight directly into electricity. The vast majority of these systems are connected directly to the grid. Such grid-tied systems are normally net-metered meaning they provide energy for their neighbors during the day and pull power from the grid at night or during cloudy weather. The solar prosumer simply pays for the net electricity they use from the grid. This can be a boon for everyone as solar is a well established sustainable technology. Solar cuts expensive and polluting conventional power and cuts losses during transmission over power lines, as net metered solar's surplus energy flows to the grid and is consumed by neighbors. Most importantly it benefits all ratepayers by preventing the need to build new, expensive power plants or transmission lines.
Cowardly electric companies are getting nervous that their customers are gaining some power over their "power" and they have used old tricks to make solar less economic and have even attempted to take away fair payment for solar electricity provided to the grid.
This may work in the short term, but a new study released by the journal Energy Policy indicates this could be a disaster in the long term. Solar is not the only distributed technology that has been gaining prowess. Batteries with the help of companies like Tesla have been improving rapidly and have just started cost declines similar to the those seen in solar. In addition, small-scale combined heat and power (CHP) technologies are finally ready for prime time. CHP units about the size of a small refrigerator can provide both electricity and heat for homes economically. This technological triple threat is driving a virtuous cycle of technological improvements and cost reductions in off-grid electric systems that increasingly compete with the grid market.
This is a big change as for the first time in history consumers could actually make money for leaving the grid. An environmental group did a study showing this - but they cherry picked prime states (e.g. California) to evaluate.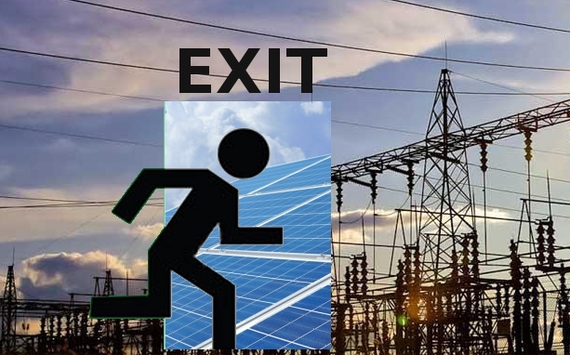 Remarkably, the new study used one of the worst places in the U.S. as an example - the frigid Upper Peninsula of Michigan, where yes it literally snowed in May. Amazingly this study showed that already some households in the tundra of Michigan could save money by switching to a solar hybrid off-grid systems now in comparison to electric rates they are currently paying.
Across the region by 2020, 92% of seasonal households and about 75% of year-round households are projected to meet electricity demands with lower costs.
Furthermore, ~65% of all Upper Peninsula single-family owner-occupied households will both meet grid parity and be able to afford the solar systems by 2020.
What do you think they are going to do?
What this means is that simple economics could spur a positive feedback loop whereby grid electricity prices continue to rise and increasing numbers of customers choose alternatives, particularly in areas where utilities have chosen to treat their customers as threats rather than to embrace customer generated solar energy. There is a name for this effect: utility death spiral. If utilities want to survive and prosper in the longer term their best approach is one of embracing distributed solar power to keep as many solar homes as loyal paying customers as possible.
Popular in the Community