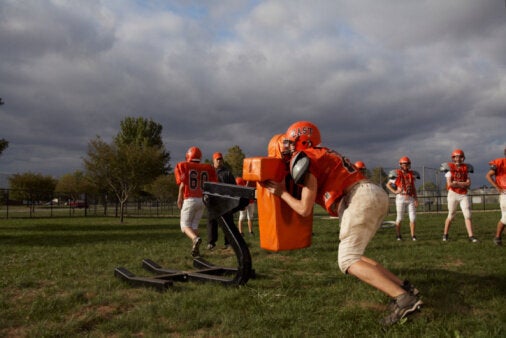 A few posts ago I wrote about the head injuries in athletes and the concerns for children who play contact sports. The Wall Street Journal (8/31/10) reported on a study published in the journal Pediatrics in which concussions more than doubled between 1997 and 2007 in children playing sports despite participation declining. My concern was not that children are playing contact sports, but rather that the sporting aspect of adolescence and maturity is very important to the youngsters' development. What I was attempting to identify is that many parents and children do not understand all the potential dangers associated with sports-related head injuries.
Following my post, new research suggests that athletes who have had multiple head injuries may be prone to developing a disabling neurological disease similar to ALS, otherwise known as Lou Gehrig's disease. The study was published in the September issue of the Journal of Neuropathology and Experimental Neurology. The research, which came out of Boston University School of Medicine and the Veterans Administration Hospital in Bedford has pinpointed evidence of a new disease that mimics ALS in two former National Football League players previously thought to have died of ALS. These findings may mean that athletes previously diagnosed with ALS might actually have had the related syndrome. Clearly, more research is needed.
So what does this mean for our children who are out on the field playing the sport of their favorite athletes? Although sports can cause serious injury to the brain if and when head to head or head to body contact is made, children are more susceptible than adults to injury and its consequences. A child's skull and brain continue to develop throughout adolescence and damage to this vital organ could be irreversible. The brain is a dynamic tissue and damage may not be noticeable until later in life.
Neurologists are still learning not only how the brain works, but how it matures. Chronic trauma to the brain could possibly lead to chronic progressive disabling neurological disorders, such as ALS, later in their lives.
Be careful what you teach and/or encourage your child to do as they engage in sports. Help them understand the value and vulnerability of their brain, and their entire body for that matter. Help them be aware of the subtle sign of brain injury in themselves and their teammates. If a player does not "feel right," pay attention and seek medical help. Teach these youngsters to treat their brain with respect as they will need their brain functioning at its full capacity for the rest of their lives.