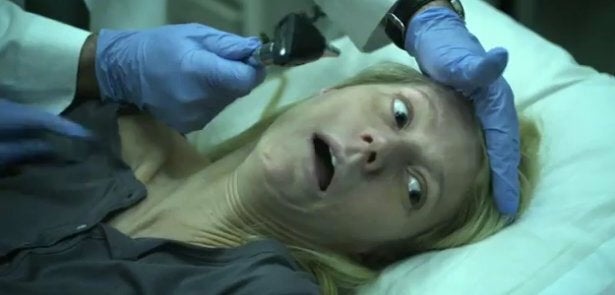 As the first reviews materialize out of Venice, "Contagion" is looking to be what we all expected/hoped -- a satisfying blockbuster directed by Steven Soderbergh. What we didn't expect is that the virus thriller is almost TOO believable. This film will really, really make you want to wash your hands and not touch anyone. So, success?
With an all-star cast including Matt Damon, Gwyneth Paltrow, Jude Law, Marion Cotillard, Kate Winslet, and Laurence Fishburne, it feels like the Oceans films all over again, except this time our stars are fighting life-threatening bacteria and dying.
Soderbergh spoke at Venice about his reasons for choosing such a star-heavy cast: "It's very helpful to have movie stars playing as many of these roles as you can, because you're throwing so many characters and so much information at the audience it's very helpful for them to get a sort of reference point."
Jason Solomons for the Guardian: "I was shuffling nervously in my seat, edging away from the sniffling man next to me. Nobody shook hands or embraced after this screening... This is a straight-up movie, serious but, crucially, also slightly silly in the knowing Soderbergh style, always aware that it's a disaster movie, not a documentary." Grade: 3 out of 5 stars
Oliver Lyttelton at indieWIRE: "Soderbergh creates a kind of tapestry of illness and panic, and the structure works like a charm, the film moving like a train, crossing continents and characters in a cut... the film is the kind of smart, grown-up entertainment that mostly doesn't get made anymore, a firmly entertaining, commercial project made with impeccable craft... it's also got a good deal of substance going for it, and it lingers on the mind, and on the skin, for some time afterwards." Grade: A-
Todd McCarthy at The Hollywood Reporter: A shrewd, unsensationalistic, non-visual effects-dependent global disaster melodrama, Contagion creates a credible picture of how the world might react (and, up to a point, has reacted) in the face of a rapidily [sic] spreading mystery disease for which no cure exists.. the fine cast, likely solid critical reaction and undeniable topicality position this as a robust B.O. performer for the early fall season."
David Gritten for Thompson on Hollywood: "It was well received, but... Contagion felt more like a superior studio thriller than a festival awards contender. On its own terms, it's satisfying... its story is alarmingly believable and it dwells on the science involved in combating such a virus... anyone remotely concerned about the risk of infection in crowded public places may regard Contagion as a thoroughly believable horror movie."
"Contagion" is out in the U.S. on Sept. 9. Check back next week for our review.
Related
Popular in the Community