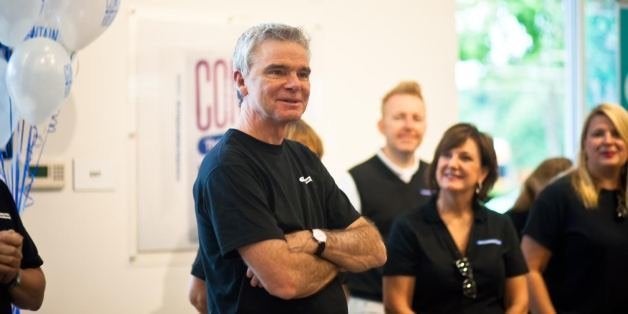 Kip Tindell, CEO of The Container Store, pays his salespeople an average of $50,000 a year -- more than double the retail industry average of less than $24,000. Yet even he has trouble getting his own managers to give raises to deserving employees.
"One of the hardest things to do is to get managers, even in this company, to pay really great people well," the 61-year-old executive recently told The Huffington Post. "They always think they're helping the company by paying them less. There's a sort of safety in paying somebody less. It takes bravery to pay somebody more."
People are afraid to aim too high, said Tindell. Executives and managers limit themselves unnecessarily in a number of ways, such as shunning job candidates whom they see as "overqualified" and thus too expensive. In Tindell's view, that's balderdash. And a bad business decision.
"Nobody's overqualified," he said. "Paying great people well is not an altruistic benefit or sacrifice -- it's a profit strategy. It's a strategy that leads to higher corporate performance for all of the stakeholders."
Last month, Tindell released Uncontainable, a book describing his business philosophy. At The Container Store, Tindell says he runs a meritocracy where an employee's compensation is "directly commensurate" with what the employee contributes. Tindell's pay policies are rooted firmly in the profit motive. By paying his best staffers well, he says, he's able to retain his star employees. He'd rather shell out the dough for one great worker than employ three mediocre ones.
The Container Store, true to its name, sells all kinds of organizational materials, from bins and baskets to crates and shelves. Founded in 1978, the retailer has made it onto Fortune's list of "100 Best Companies to Work For" each of the past 15 years. That's good news for the 6,000 or so employees who work in the company's 67 stores and at its corporate headquarters in Coppell, Texas.
The chain went public in 2013 and saw its stock double on its first day. Since then, though, the stock has slumped nearly 50 percent, and now lingers just above its IPO price of $18.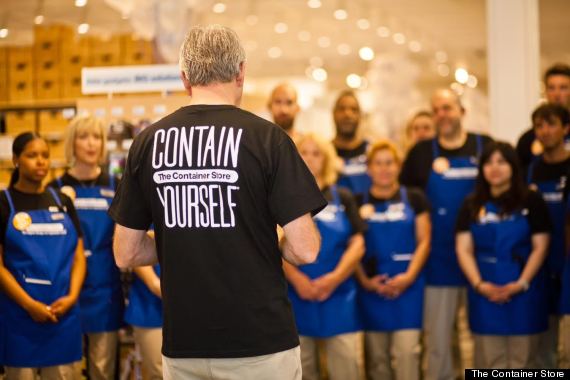 Container Store CEO Kip Tindell speaks to employees. (Image courtesy The Container Store)
Tindell himself made nearly $1.7 million in 2013, with his base salary accounting for $675,000 of that, according to filings with the Securities and Exchange Commission. He says his annual compensation can be up to 35 times more than that of a typical store worker, depending on the performance-based bonuses he receives. According to a report released by the Economic Policy Institute earlier this year, the average CEO of a top U.S. firm makes about $15.2 million a year, nearly 300 times more than the average worker.
Tindell had strong words for executives who squeeze the wages of line workers in order to bolster their own paychecks. When the people in the C-suite accept a lower salary, he said, it leaves more money available to pay everyone else.
"CEOs and top executives in America are overpaid, relative to the rank-and-file worker," said Tindell. "CEOs are important, but not as important as they're made out to be."
REAL LIFE. REAL NEWS. REAL VOICES.
Help us tell more of the stories that matter from voices that too often remain unheard.