 In contemporary programing circles, often dance from the African continent conjures visions of drum circles, tribal masks and rituals. But there is an underexposed world of contemporary dance and performance from the African continent which is growing and shifting as fast as varied African economies from which they come. The arts, like the economies, have had their fate decided by foreign entities, in this case presenting institutions, where the raw resources are extracted and taken abroad, manufactured and sold back to the continent. An economy of 'traditional' dance that replicates itself in the kinds of work that often travel overseas. But this "export/import" method of trade, economic and cultural, has not benefitted either side of the trade equation, limiting opportunities and exposures for both the artists and patrons. But there are some bright lights of contemporary dance from the continent, and the institutions that support them, that can teach us to build a more sustainable partnership between local and foreign bodies.
In the past two weeks, New Yorkers in the dance scene and others witnessed exceptional performances from a sample of African countries with the presentations of "Miriam" by Nora Chipaumire from Zimbabwe with the stunning Okwui Okpokwasili at the BAM, where these two women question the subjugation of the African female body, "Le Cargo" by Congolese performer and director Faustin Linyekula part of Crossing the Line at FIAF, a reflective piece about memory and return. "Voices of Strength," a two part festival featuring "Correspondences" by Kettly Nöel from Haiti via Mali and Nelisiwe Xaba from South Africa, a brilliant collaboration created across geographies, filled with humor and the richness of everyday conversation between sisters. "Quartier Libre" by Nadia Beugre from Ivory Coast about overcoming oppression. "Madam Plaza" by Bouchra Ouizguen with three Aïtas from Morocco, a piece about process and freedom of the body, and lastly "Sombra" by Maria Helena Pinto from Mozambique the role of women who often toil in the shadows, and find their way into the light at the New York Live Arts. These diverse pieces ask spectators to let go of the standard narratives of "Africa" as Professor Joan D. Frosch said, to see the artists as "agents and not victims".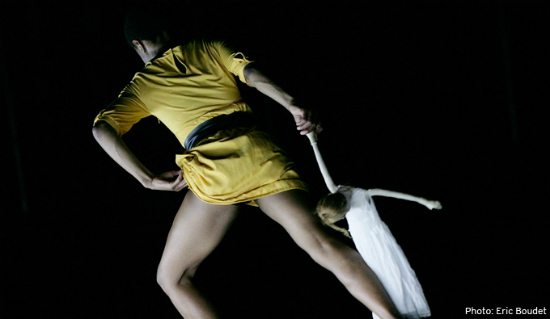 Nelisiwe Xaba, Correspondences
These choreographers and dancers are taking part in a critical cultural dialogue about representation, interpretation and practice. They contribute not only to the rich vocabularies of African dance but to an aesthetically complex and emotionally accessible global conversation. Simultaneously, they are not only working with their craft but also actively building studios and cultural institutions to support their practice and for the next generation of artists.
The role of presenting institutions, their investment, collaboration, and support cannot be overstated. Organizations like MAPP Production's The African Contemporary Arts Consortium strive not to control but to listen and create a reflective space for dialogue and sharing of ideas and opinions, and help the artists create and promote their unique visions. Although we can't deny the influence of that collaboration on both sides, it is that cultural exchange, that makes better work created and better understanding of one another. An artist like Kettly Nöel comes to the United States and makes connections, not only with Americans, but more interestingly with artists working in other parts of the continent, finding "the similarities of trying to do art in a place where there is actually no support." And using the support that they have found in the American context to make work that could have been made no other way.
Calling all HuffPost superfans!
Sign up for membership to become a founding member and help shape HuffPost's next chapter