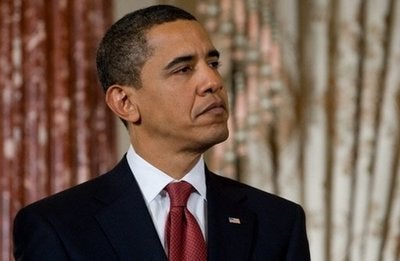 Whenever he does get around to hanging art in his new house, he should go contemporary--that is, pick work made by living artists--and buck the stale tradition of very old, very realist portraits, landscapes and western stuff. Obviously no one's going to fault Obama for putting up paintings of Lincoln and Washington, but surely the mandate for change in the White House applies to art as well?
Oil and canvas is a tiny fraction of what contemporary art has to offer. Today's artists are as likely to go with video, installation, photography, drawing, collage and sculpture as they are to make paintings. Given the new generation Obama represents, not to mention the generation that carried him to the White House, it would be a good thing if he sought inspiration from contemporary work as much as from any presidential portrait.
Bringing the White House art collection into the 21st century would "send a message," as Obama likes to say. It would show that his appreciation of the arts is as progressive as his health care policy. It would convey genuine enthusiasm for contemporary culture, and a willingness to use public platforms to celebrate artists who are making art now. And it would provide, with every Oval Office photo op, a dramatic backdrop for Obama's ambitious agenda.
It would also create a symbolic stimulus package for a group of hard-working Americans who struggle even when the economy isn't crashing. (The average income of a fine artist in this country is somewhere around $10,000--not counting day-job income, which the vast majority of working artists need to get by.) White House acquisitions of contemporary work would signal Obama's interest in the current generation of artists, validating their efforts in the eyes of the public, sparking more general interest in contemporary work, and, potentially, eventually, helping the market rebound.
The First Family is looking for a hypoallergenic dog--what about Jeff Koons's Puppy for the South Lawn? Fellow-Hawaiian Paul Pfeifer's manipulated pictures of basketball players ("The Four Horsemen of the Apocalypse") seem right for the much-anticipated White House hoop room. Sasha and Malia might like Vik Muniz's playful photographs, such as his Double Mona Lisa, painted in peanut butter and jelly, or his Toy Soldier, made of toy soldiers--though they could probably handle his heavier fare, too, like Sugar Children (faces, drawn in sugar, of sugar plantation workers' kids).
When it comes time for contemplation, Obama could turn to Yuken Teruya, who carves immaculate miniature trees out of luxury shopping bags. (Retooling the economy for a green energy policy, anyone?) Or Amy Cutler, whose whimsical, disorienting drawing of forests and folk women inspire new ways to imagine the world. Paul Chan's haunting silhouette projections subtly convey the tragedy of death and destruction, a sentiment worth reinforcing at the highest seat of power. And Kehinde Wiley recasts Old World masterpieces in contemporary terms made particularly and profoundly relevant by Obama's achievement.
The White House can do more, of course, than add a few pieces to its collection. Jackie Kennedy had the White House declared a museum in 1961 and, like any other museum, the White House hosts temporary exhibitions. How about a series of contemporary shows, curated in collaboration with contemporary museums around the country? (The Clintons did this for modern art, tapping a number of museums to curate a multi-year exhibit on modern sculpture, which included some work by living artists.)
And to be sure, there are more comprehensive, serious ways for the new administration to support contemporary art in general. As Tyler Green recently pointed out in his call for a White House arts advisor, we are long overdue for a nationally coherent arts policy and a rededicated federal approach to supporting the country's cultural institutions. But putting some contemporary art up in the White House would be good start.