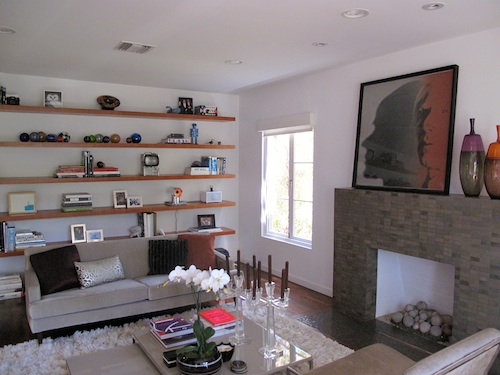 Kimi and Brent's Living Room, with an Andy Warhol perched on the mantle.
The contemporary art world: a multi-faceted universe where noisy distractions like Gallery Girls, glitzy celebrity-ridden parties and prima dona antics co-exist with thoughtful individuals who seek to enrich the world through cultural dialogue. Working in this world can be surreal but, when one comes across kindred spirits who have an authentic appreciation for art, it's refreshing and reaffirms the validity of participating in this dialogue. The other day, I had a conversation with a fellow curator where I confessed having days where I feel completely disenchanted by the art world and irritated (to put it mildly) by its artificiality. Her response? "Yes, we all have days like that. And then you see something that restores your faith."
Recently, I had two such occasions which reminded me of why I love working (and living and breathing) in contemporary art. One was Panorama, the breathtaking Gerhard Richter exhibition at the Centre Pompidou and the other was visiting the home of young Los Angeles collectors Kimi and Brent. Kimi works in publishing and film and Brent, previously an art director, owns several restaurants. In their 30s, they have already amassed an impressive collection including works by Anne Collier, Alika Cooper, Ed Kienholz, Matt Lipps, Dashiell Manley, Carter Mull and Andy Warhol. The fact that they requested not to having their last names, identifying details about their lives or photos of themselves published in this piece is revelatory: these two are not collecting art so they can have their photos and names splashed across glossy magazines and the internet; they prefer the perks of anonymity. Kimi and Brent opened up their home to me on a hot Saturday afternoon in July and showed be around their collection as their adorable new puppy Lupa trotted along following us around. The thoughtful effort they put into each piece they acquire reflects their intellectual curiosity and a love for living with art. And it's not just their art collection that gets this kind of attention: one of my favorite parts of their home is the carefully curated stacks of cook books in their living room, all color-coordinated!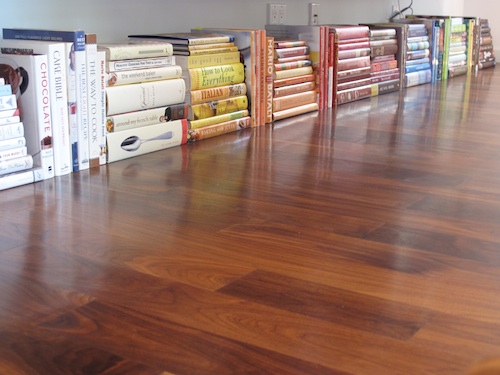 Yasmine Mohseni: Which artist (dead or alive) would you most like to have over to your house for dinner?
Kimi: Banksy. He's an enigma and such a genius. I love his work and find it humorous, innovative, political and incredibly thought-provoking.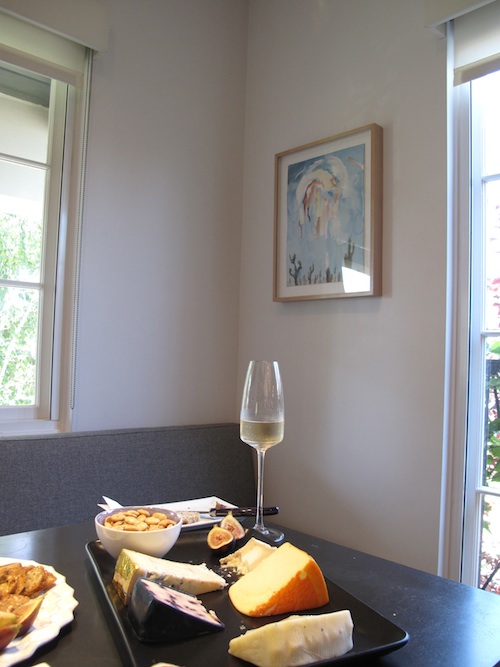 Still life with cheese, champagne and a Tomory Dodge painting.
If you could take one piece of art to a deserted island with you, what would it be and why?
I'd bring Glenn Kaino's boat sculpture [pictured below] with me in the hopes that I could use it to sail back to land. We saw it at his incredible show at Honor Fraser.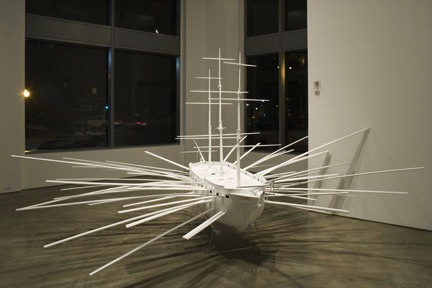 Glenn Kaino, A Plank For Every Pirate, 2006.
Tell me a few words about your favorite piece in your collection
Anne Collier's My Goals for One Year. We bought it in 2007 from Anton Kern in New York, but were initially introduced to Anne's work by Rodney Hill at Marc Foxx in LA. It's hanging in our dining room, where it's a wonderful conversation piece. I'm drawn to it on a daily basis because it challenges me and is incredibly profound, while visually simple and beautiful in that simplicity.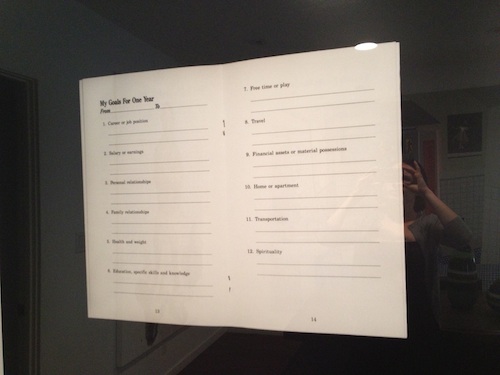 Anne Collier, My Goals For One Year, 2007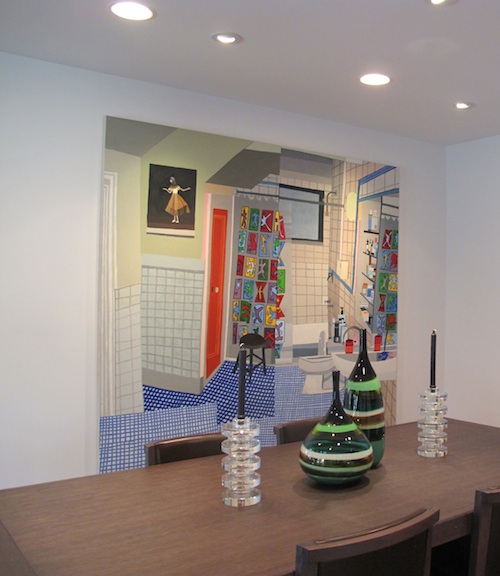 Dining room with Jonas Wood painting
If price were no object, which artist and/or specific work of art would you most love to have in your collection?
A fairly impossible question! The Anish Kapoor sculpture [pictured below] we just saw at the Guggeheim Bilbao titled Tall Tree and The Eye. It's absolutely stunning!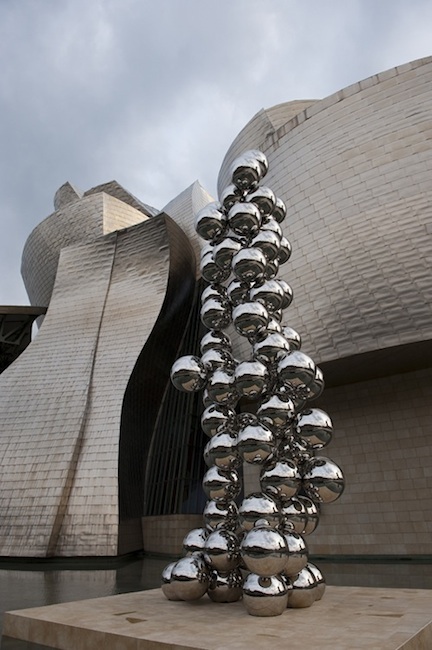 Anish Kapoor, Tall Tree and The Eye, 2009.
What do you look for in a piece of art? What is the deciding factor between liking a piece and absolutely needing and wanting it in your collection?
We look for art that we respond to visually, emotionally and intellectually. We try to buy art that hits all three. And we're interested in works that are unique and progressive in some way... The deciding factor is often a gut feeling, an attraction to look at it everyday and the way a piece stays with us. If we keep talking about it and thinking about it, then we have to have it. For example, Aaron Curry's exhibit at David Kordansky in 2010 was so memorable. I loved how every inch of the gallery was covered in art and was fascinated by Aaron's use of and commentary on technology. Also, he's amazingly skilled in many different mediums. Brent and I were still talking about it two years later, which led us to our newest acquisition The Muscle in My Head Is A Shadow (Painting), which we love. [Pictured below]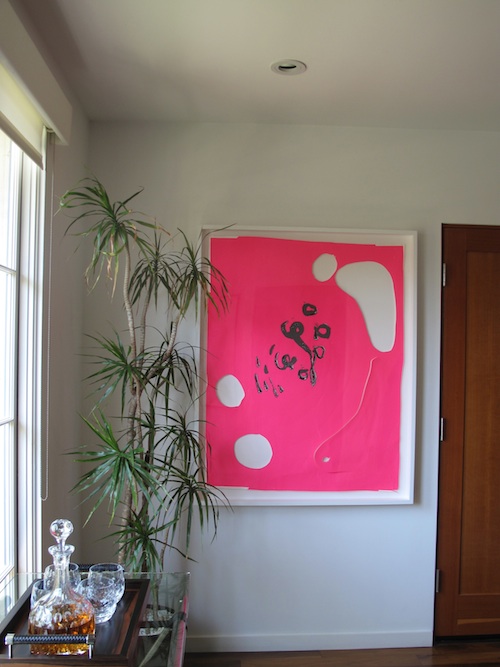 Aaron Curry, The Muscle In My Head Is A Shadow (painting), 2011.
Do you have any advice for new collectors?
Trust your gut and buy what you love.
For more images, please click here.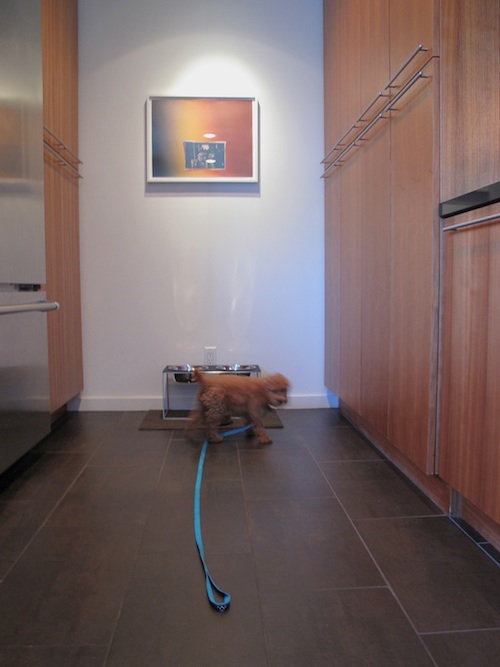 Lupa eating puppy chow below a Carter Mull
REAL LIFE. REAL NEWS. REAL VOICES.
Help us tell more of the stories that matter from voices that too often remain unheard.