A slew of Asia's biggest contemporary art stars are ready to stir the waters of the auction world this week, as works by internationally known figures like Yayoi Kusama, Cai Guo-qiang and Zhang Xiaogang head to the bidding block at Sotheyby's in Hong Kong. The autumn sale of Contemporary Asian Art will take place on October 7th, 2012, boasting several pieces estimated to fetch over a million dollars.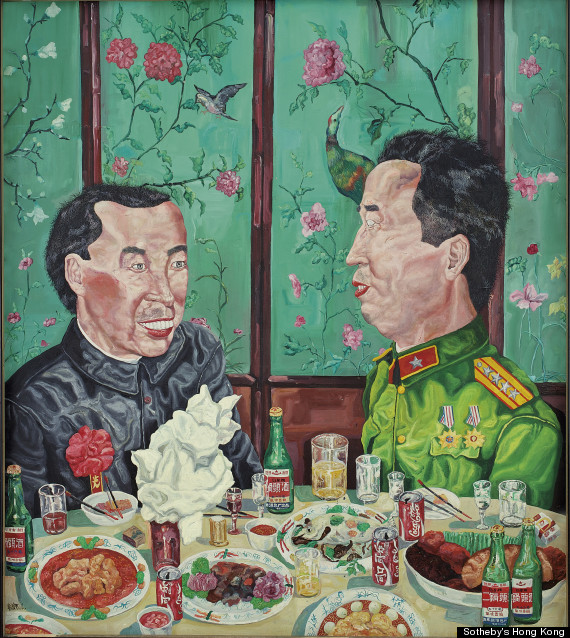 Liu Wei (b. 1965), Revolutionary Family Series – Invitation to Dinner, Oil on canvas, 1992, 183 x 163 cm, Est. HK$12 – 15 million / US$1.5 – 1.9 million
The sale is headlined by a 1992 painting by Chinese artist Liu Wei entitled "Revolutionary Family Series - Invitation To Dinner." The work, which portrays the artist's own father in military garb sharing a Western-inspired meal with a stalwart leader of the People's Republic of China, is an example of what some have called Wei's penchant for "cynical realism." The vibrant oil painting is estimated to fetch between $1.5 and $1.9 million, so get ready for a bidding war.
Wei's masterpiece is actually not the highest flying item on the sale's list, however. A painting by rising star Zhang Xiaogang is projected to bring in at least $1.9 million, with the high end of the estimate figuring in the $3.2 million range. Titled "Tiananmen No. 1," the auction piece represents the surrealist artist's politically charged rendering of the 1989 massacre.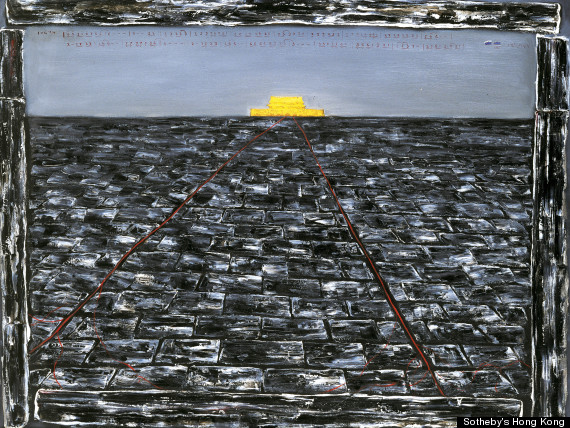 Zhang Xiaogang (b.1958), Tiananmen No. 1, Oil on canvas, 1993, 98.6 x 128 cm, Est. HK$15 – 25 million / US$1.9 – 3.2 million
More million dollar pricetags expected for the Hong Kong event include works by Chinese artistsZeng Fanzhi and Yue Minjun, boasting works estimated to sell at up to $1.2 million and $1.5 million respectively. Like the work of Wei, fellow cynical realist Minjun's painting eflects the period of change in his country, an age where Chinese traditions came in conflict with the rapid commercial growth of the 1990s. The large-scale work depicts a pink-skinned man, nearly nude, laughing menacingly against the backdrop of a familiar, Chinese-style pond.
Other big name art stars round out the list of autumn artists, including Chinese artist Cai Guo-qiang and Japanese artist Yayoi Kusama. Guo-qiang's "Marx Moustache," created using gunpowder on paper, is predicted to sell at around $200,000, with all proceeds going toward sending budding Chinese artists to study in the United States. Kusama, who is arguably the most famous of these artists in the Western world, will see two of her artworks up for bidding -- "Venus Nets (R) and Statue of Venus Obliterated by Infinity Nets (R) (Set of Two)" as well as our favorite piece, "Pumpkin." The latter is expected to fetch around $500,000!
Advertised as a "museum-quality selection of important works" from mostly Chinese artists, the total estimate for all 155 lots being offered is around $16 million, so oil up your private jet and get thee to Hong Kong... Or just check back here for the wild results next week.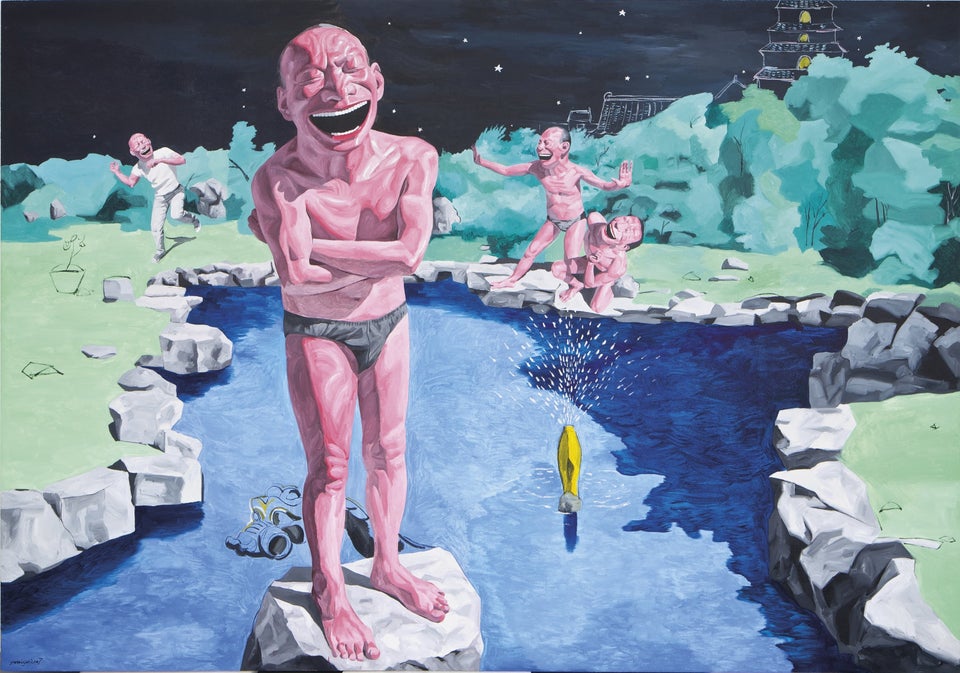 Contemporary Asian Art Sale
Related
Popular in the Community