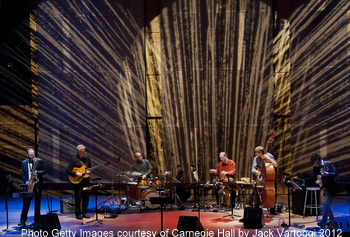 Credit: Jack Vartoogian
As the epicenter of modern jazz, New York City has always been a magical lodestone, irresistibly attracting talented musicians at every stage of their development and careers. The city offers an unparalleled opportunity for musicians to play and collaborate with legendary performers, teaching mentors and talented peers, providing the fertile environment essential for inspiration and creativity.
The composer/bassist Ben Allison came to New York City from nearby New Haven, CT in the late '80s, drawn by the same irrepressible need to participate, to absorb, to create. I first saw Allison performing in the inauspicious basement of the Brooklyn Public Library at Grand Army Plaza, back in April of 2008 (see my Jazz.com review of that show here.) At that time Allison was performing with his group "Man Size Safe," a tongue in cheek reference to a strongbox reportedly kept in then Vice President Dick Cheney's office. Admittedly, being attracted to the audacity of the title of his group, I also found the music surprisingly fresh, intelligently conceived and masterfully executed. Allison was able to attract a variety of talented young musicians who bought into his music, making it come to life.
On Friday evening, February 3, 2012, the Ben Allison odyssey achieved a significant milestone, playing a prestigious concert at Carnegie Hall's Zankel Auditorium. His music has steadily matured. His most recent album Action/Refraction made my best of 2011 list and I was anxious to see his latest group perform "live." On this momentous evening Allison was joined by his long time friends and collaborators, the tasteful guitarist Steve Cardenas and talented saxophonist Michael Blake. His rhythm section was comprised of the effervescent drummer Rudy Royston and the amazingly adroit percussionist Rogerio Boccato. Firebrand guitarist Brandon Seabrook provided edginess with raw, rock-inspired licks, his clever use of electronics and some unorthodox banjo playing. The performer and drag artist Joey Arias, who dressed in both elegant and proactive attire, lent a musical theater-like atmosphere to a few of the numbers.
Ben dedicated the show to his adopted home of New York and started the set with his composition "Roll Credits," a cinematic piece from Little Things Run the World. Saxophonist Michael Blake stated the melody line, with guitarists Cardenas, Seabrook and bassist Allison keeping the ostinato background flowing. Blake is capable of a great range of emotions from his tenor. Eliciting a silky smooth, Dexter Gordon-like tonality one minute, instantaneously changing to a gruff, raw and guttural sound reminiscent of a back alley speakeasy in the very next breath.
Allison's "Platypus" from his 9th album Think Free was next on the playlist. After Ben briefly extolled on the unique evolution of the Platypus, Brandon Seabrook introduced the song with an electronic guitar riff. The energy from Seabrook is frenetic and palpable and Allison seems to feed off the afterglow of this kinetic player. His solid bodied guitar sound can be searing and jagged in stark contrast to Cardenas' more fluid, warmer toned, semi-hollow bodied sound. Blake adds soprano to the mix and the tune grooves behind Allison's bass and Royston's populsive drums which are explosive at the ending. Rogerio Boccato, who I first saw play with saxophonist Kenny Garrett, is an especially intuitive percussionist. Boccato's arsenal of sounds, in combination with Royston's rolling toms and Allison's snapping bass lines create as formidable a rhythm section as you'll find anywhere.
Allison wrote a new tune for this very special concert and he titled it "DAVE" for Digital Awareness Vector Emulation." This is pure performance piece and a likely homage to the Kubrick/Clarke masterpiece 2001 a Space Odyssey for the new digital world. Joey Arias, dressed in elegant drag, sang the droning automatronic words "I cannot allow you to disconnect me Dave." as he danced robotic moves and used controlled screeches to match the errie sounds emanating from Seabrook's guitar and Blake's soprano. The audience was mesmerized, as the group provided mind bending, experimental, musical performance art.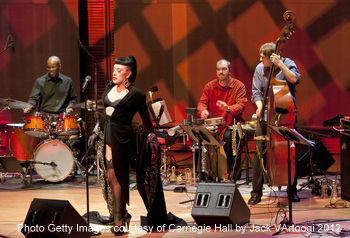 Credit: Jack Vartoogian
One of Allison's most enduring melodies is the rambling "Fred" also from his Think Free album. Brandon Seabrook played an impressive banjo that included some unorthodox strumming and wild bowing. I missed hearing Jenny Scheinman's haunting electric violin from the original recording, but the combined voices of Seabrook's banjo, Cardenas' guitar and Blake's soprano offered their own rewards.
From the Dick Cheney repertoire, Allison revived his song "Tricky Dick" with Michael Blake and Steve Cardenas playing melody as Seabrook and the rhythm section set the background.
The fractured "Broken," from his latest release Action/Refraction, brought Joey Arias back to the stage, this time donning a provocative skin revealing, black lingerie outfit. Seabrook utilized multiple electronic synth-like effects on his guitar. Arias screeched, amazingly in tune, prancing across and fluttering his black stocking-clad legs from a prone position on the floor from center stage. Quoting the audacious queen Joey "Who needs words when you have vibrations."
Often inspired by the music and events of his times, Allison's witty deconstruction of popular songs is one of his most engaging attributes and has let him cross over into a wider audience than is generally afforded most jazz artists. He has included treatments of John Lennon's "Jealous Guy," Donny Hathaway's "Someday We'll All Be Free," Neil Young's "Philadelphia" and P.J. Harvey's "Missed" to his repertoire.
On "Green Al," influenced ever so slightly by the pop/soul singer Al Green and equally borrowing from the cinematic music associated with James Bond movies, Allison somehow pulls off this weird juxtaposition. You find yourself relating to Ben's creative blend of the familiar and the mysterious. The song featured exceptional performances by Rogerio Boccato, Rudy Royston and a tenor solo by Michael Blake that was particularly fetching.
This concert was as much a celebration of Allison the composer as it was Allison the musician. Ben appropriately limited his musical selections to his own compositions. A growing body of work that speaks for itself.
The encore was the brilliant "Man Size Safe" from his album Little Things Run the World. It was a joyous celebration and a good representation of the man's music; interesting, approachable, relevant and fun. The crowd was pleased and gave the group a well deserved standing ovation.
The Ben Allison Group will be on tour through June 22, 2012 at various venues around the country so if you get the opportunity to see them near you be sure to make the effort, you won't be disappointed.
Related
Popular in the Community