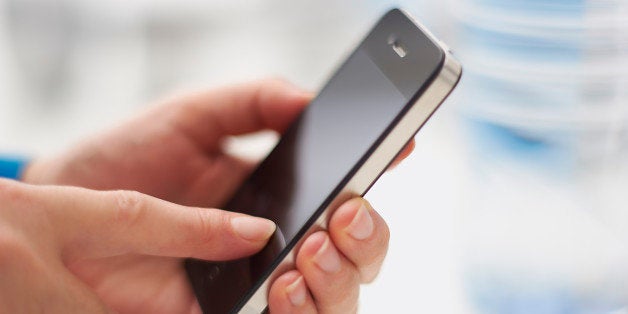 Think of it as public art -- except that it's on your phone.
Thanks to an innovative new initiative from the Chicago-based contemporary classical ensemble Spektral Quartet, cell phone users will no longer be limited to a selection of dreary, muzak-esque sound bites or blaring, regrettable Top 40 clips when it comes to choosing their ringtones.
Spektral Quartet cellist Russell Rolen told HuffPost the project is an extension of a central goal of their ensemble -- to work with living, particularly young composers, juxtaposing their work with those of titans like Haydn, Beethoven and Mozart, and to find ways to marry modern technology to an art form that's been around for centuries.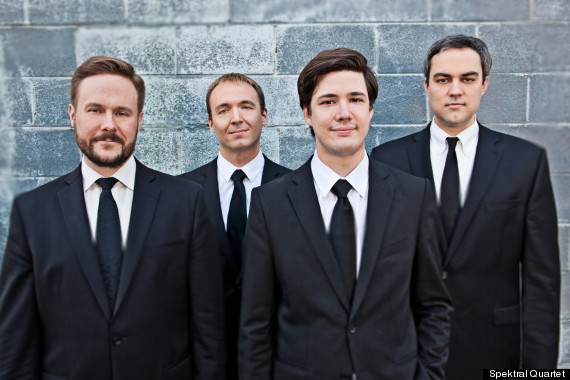 Rolen (far right) with fellow Spektral Quartet members (from left) Doyle Armbrust, Austin Wulliman and Aurelien Fort Pederzoli.
"One of the driving forces behind the project that we realized it could do is to get the music out into the world differently than how classical music usually is," Rolen told HuffPost. "Normally, we're asking them to come into a concert hall and to buy a ticket, taking a risk on some Friday night when they're not sure what they will get, especially when it's a contemporary work… It's meant to pique interest or start a conversation. We hope it's a chance for someone to hear it and be drawn in.
"And truth be told, we are four guys who can't stop staring at our phones like everyone else these days, so this just came out of that," he added.
The project's 64 pieces, Rolen said, range in length from one to 40 seconds and vary widely in style from more mainstream, rhythmically-based sounds to more complex sounds utilizing "weird" techniques, offering "something for everyone." The ringtones can be purchased a la carte for $1 apiece or in a "sampler" bundle of 12 for $5. The whole set can be yours for $20.
"She started writing and said it was like eating potato chips: You can't stop," Rolen told HuffPost of Ran, a composer-in-residence with the Chicago Symphony Orchestra and a faculty member at the University of Chicago.
The reception has been enthusiastic, with the ensemble receiving e-mails from as far away as Sydney, Australia, thanking them for their work.
While Rolen said there were no immediate plans to add more mini-symphonies to the project, he said the quartet is keeping their options open as the they look to the future.
"If the response, I suppose, is really positive and we're approached by composers who want to write little things for us, we wouldn't say no to that," he said. "It's always a joy to open up a score and see what someone has done for you."
REAL LIFE. REAL NEWS. REAL VOICES.
Help us tell more of the stories that matter from voices that too often remain unheard.