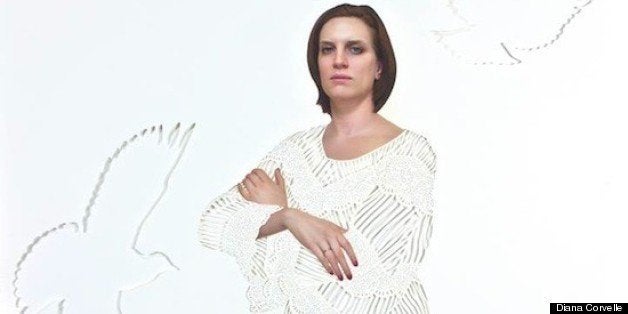 The popularity of figurative painting is evident in many exhibitions currently showing across the United States. The taste and interest of a new generation of collectors is being catered to with exhibitions that feature what Patricia Watwood calls Contemporary Classicism.
Charles Saatchi said in an interview a couple of years ago that he found many rich collectors vulgar in that they were buying art to merely display their wealth and to impress their friends while having no real appreciation or understanding for what they were buying. The internet is opening up the once highly controlled art market and by doing so is producing more informed and appreciative connoisseurs. This is my experience among my buyers. As collectors become wiser and come to trust their own judgment, more of them are discovering a new breed of extremely talented representational painters.
It sometimes happens that one learns about exhibitions by way of a review after the fact. I want to give you a chance, in advance, to make note of several current exhibitions that you will want to see.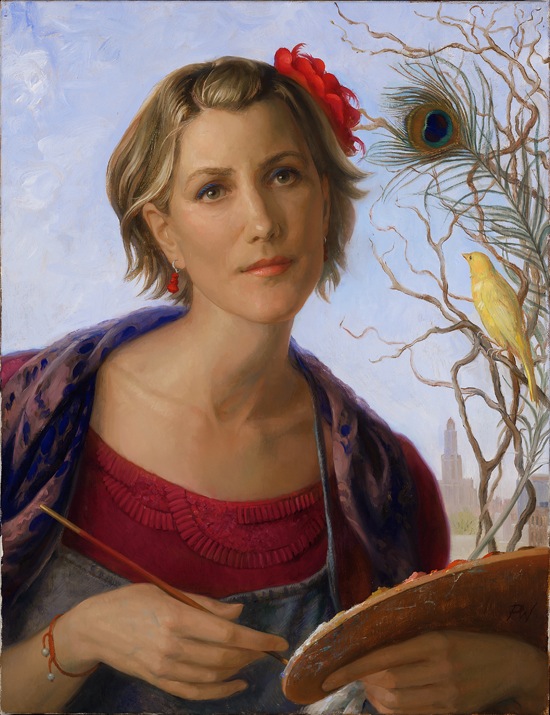 Imago/Imagination by Patricia Watwood
Patricia Watwood is at the forefront of today's classical painting scene. Her work portrays the female figure not only as beautiful, but also as intellectual and spiritual. Her allegorical compositions combine a modern color palette with classical painting techniques with the intention of reinstating the role of beauty in art. Her new exhibition is titled Venus Apocalypse and it opens June 5 at Dacia Gallery in New York City and continues until July 7th.
"At first blush, many unfamiliar with classical representation may lump contemporary realist work in with a previous era," says Watwood, " but my intention is that anyone looking more deeply into the work will see things that resonate with current life and experience."

This quotation was taken from an excellent interview with Watwood by Allsion Malafronte and which that appeared in Fine Art Today, a weekly newsletter from Fine Art Connoisseur Magazine. I encourage you to read it and learn more about how the painter thinks about her work, about traditional classical painting and about the contemporary art world. As she points out in the interview, beauty "can move people and change minds, and inspire action and devotion." Classical painting does not have to be boring. It can be powerful. The dedication and skill that she applies to her work is definitely inspiring!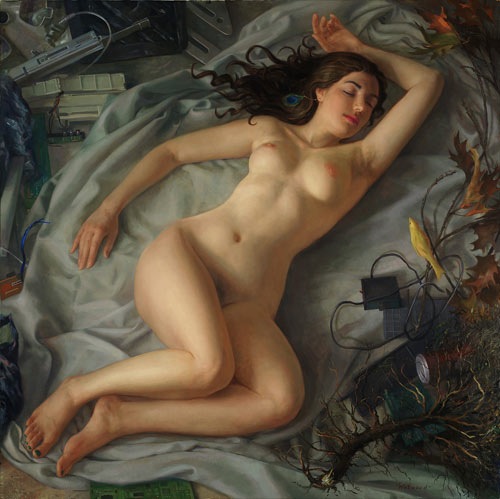 Sleeping Venus by Patricia Watwood
Also in New York is the group show, Compulsions at the Mark Miller Gallery, which has been extended to June 30th. Featured are 16 artists whose work displays beauty, craftsmanship and technical complexity. The work of Diana Corvelle is a perfect example of this. Here she combines gouache painting with filigree paper cutting to produce an intricate piece that is titled, Engagement.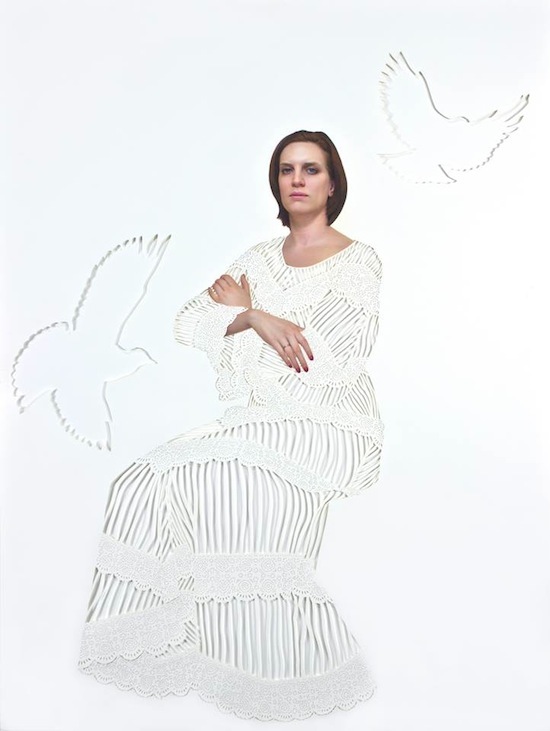 Engagement by Diana Corvelle
"In a world where everything is mass-produced and disposable, these works are a call to action to value the objects that really matter to us", says Maria Kreyn who co-curated the show with Dina Brodsky.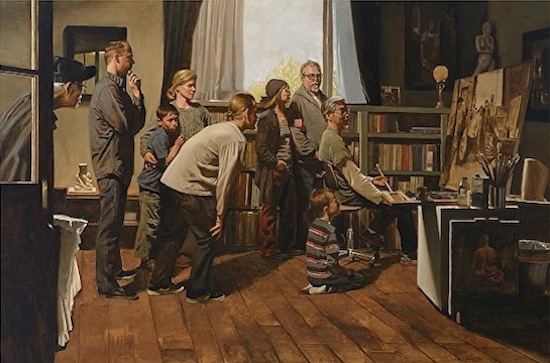 Figurative Arangement by Warren Chang
The California Arts Club opens their 102nd Annual Gold Medal Juried Exhibition on June 2nd at the USC Fisher Museum of Art in Los Angeles. The show assembles a large collection of sculpture and representational painting that include landscapes, still life and figurative motifs. Among the figurative painters represented you will find paintings by David Kassan, Adrian Gottlieb and Sherrie McGraw as well as many others. This show continues until the 23rd of June.
Warren Chang and Max Ginsberg, who are both well known for their narrative paintings, will be exhibiting recent work. Chang's work covers a broad range of subject matter and he often paints the interior of the painter's studio, presumably his own, as you can see above in his painting Figurative Arangement. By doing so he gives the viewer an intimate look into the creative process. Ginsberg believes that realism is truth and truth is beauty. He uses his skills to address his strong feelings about peace and justice, often by composing groups of people involved in dealing with the challenges that they are forced to face in contemporary society. His painting Crossroads which shows people from different walks of life crossing paths will be on display.
A personal favorite of mine in the show is this striking painting by John Nava titled C. Standing. The solitary figure stands unclothed, arms hanging with hands coming together in a peaceful pose, her gaze fixed on the viewer. The look is not uncomfortable or intimidating. There is no need to be embarrassed by the honesty of this interaction for it is very real and beautiful in both the expression and in its execution.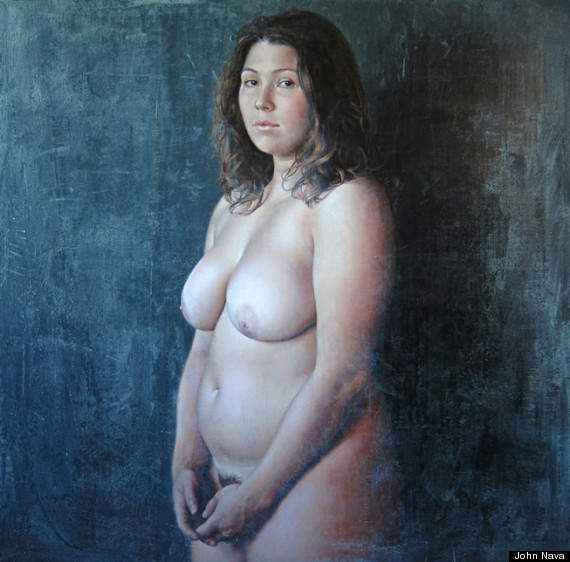 C. Standing by John Nava
Also represented in this fantastic show will be the work of Alexey Steele, Ignat Ignatov and Tony Pro among many others. For those of you who are not familiar with their paintings I encourage you to follow the links, google them, and check out their work. Better yet, go see them in person for that is the best way to appreciate paintings. They are meant to be lived with. It is worth the effort to see first hand what these painters have to contribute and when you fall in love with one, buy it! Trust yourself. Don't wait.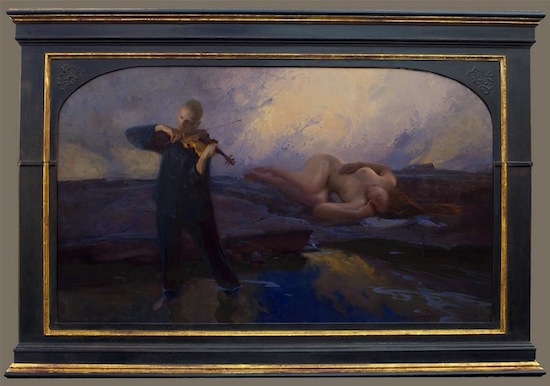 Music of the Storm by Alexey Steele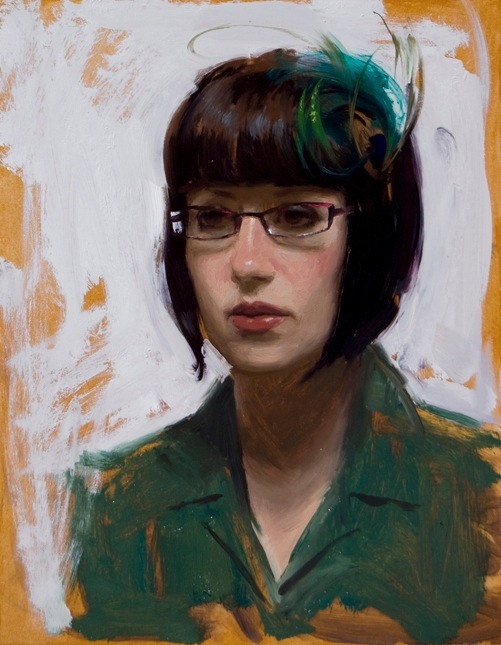 Green Feather by Ignat Ignatov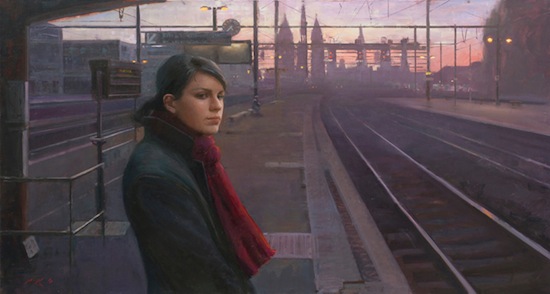 Last Train Home by Tony Pro
The genre of figurative painting is a broad one and trying to define the variety of styles is challenging at best. In Santa Monica Copro Gallery features several different artists whose work is figurative but by no means strictly academic. There is some great quality here for the money. I personally lean toward the paintings of Matthew Grobelsky whose painting Appariton is pictured here but you may find the work of Mark Elliott, Ken Keirns of John Cebollero more to your liking. Follow your instinct. This show closes June 15th.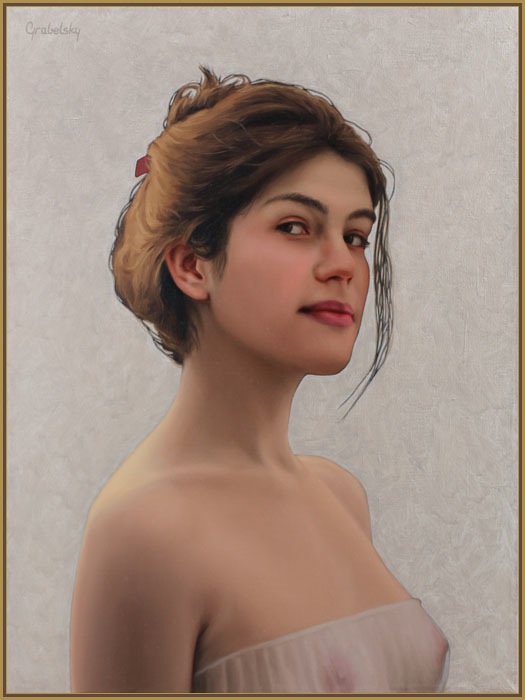 Apparition by Matthew Grobelsky
There is so much happening in the world of representational painting these days that it is a challenge to keep up with it all. I hope that this blog helps you and makes it easier for both buyers and other artists to find the artwork and inspiration they are looking for. As Patricia Watwood says in the interview, "The next 20 years will be a very interesting time to watch this field develop."
Please feel free to add other exhibitions of this type in the comments below.
Calling all HuffPost superfans!
Sign up for membership to become a founding member and help shape HuffPost's next chapter