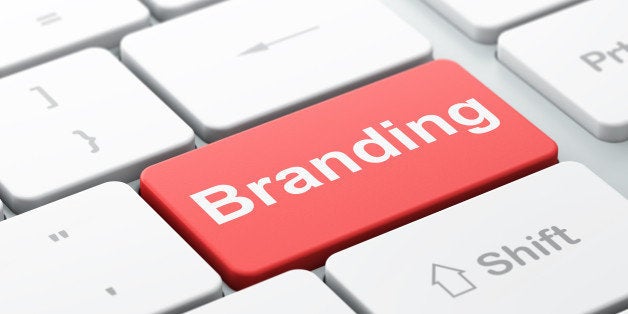 If you work in the media or advertising business, you've probably heard about the rise of "content marketing" and "native advertising." Recent research by the Content Marketing Institute found over 85 percent of marketers at B2B and B2C brands are engaged in some form of content marketing now. Content marketing ranges from adding timely articles on your blogs to placing sponsored posts on sites such as Buzzfeed. The ultimate goal is for brands to engage digital audiences in an authentic way, just like a publisher would.
While some brands know exactly what their content needs are, most brands are relatively new to the "native advertising/content marketing" space and are looking for help with their content strategies. In this post, I'd like to provide a glimpse into NewsCred's process for creating a content strategy framework for brands.
Auditing Existing Content Assets
As a first step, we work with brands on an audit that inventories their existing content assets. This will help content and social media managers understand all the resources they currently have in their arsenal and identify potential gaps in coverage.
Content managers should consider all the types of content that are produced and leveraged across their organization. Assets may include custom YouTube videos, white papers, blog posts, sponsored content, customer guides, licensed news articles and even musings on social media channels.
After you've identified all of your available content, it's then helpful to organize everything into one giant asset matrix. Below is a sample template NewsCred uses when developing content strategies for our Fortune 500 clients: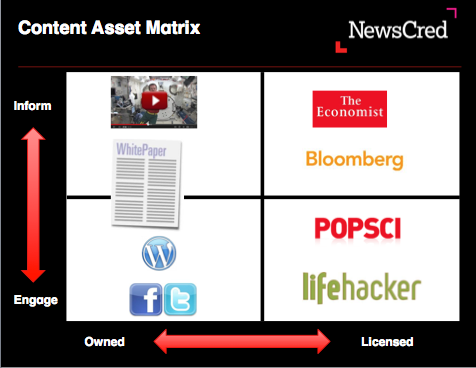 At one end of the spectrum, there is content that informs your target audience about your brand, industry expertise and products. This type of content may be comprised of high-quality educational videos, white papers, market research and reports from premium news publications. These assets are generally "sticky" and, while more expensive to produce or license, they typically have a longer shelf life. As a result, they tend to be the centerpieces of your content hubs,
At the other end of the spectrum lies content intended to engage your audience on a daily basis. Successful publishers inevitably supplement their informative content with buzz-worthy posts on trending topics. Engaging content, ranging from social media posts on topical events to licensed news articles, keeps audiences coming back time and again.
This leads us to another essential dimension in your content inventory: content produced in-house by your team versus content that is licensed from third-party publishers or partners in your network. While we encourage clients to develop content that's written in their own voice, it's impossible to produce original, high-quality content at scale without breaking the bank. Furthermore, digital audiences are savvy and seek content from credible sources and media brands that they trust.
Third-party content could be licensed journalism from a platform like NewsCred or guest blog posts from your customers. This content allows you to scale your content campaigns and more importantly, it creates balance (you'll turn off your audience if you only talk about your brand!), credibility and it will make your site more dynamic.
Content marketing is ultimately about putting your audience first by providing content that they actually want to read and share. As a next step, it's key to map your assets against your audience needs. During this process you may find there are areas where you need more relevant content. For example, you might find that you need witty, engaging content to reach a key consumer segment or demographic.
You may also find that, even though it seems you have plenty of content assets, they may not be the types that perform well with your audience base. For example, many consumer brands are referencing aggregated news articles on their social media channels. However, because they don't have the license to publish the full-text article on their sites, they inevitably send readers off of the page and to an entirely new website altogether (see my colleague Molly Siems' post on the potential liabilities of using unlicensed content).
I'd be interested to hear how others in the content marketing field tackle this issue. Feel free to leave comments below.
Disclosure: I work at NewsCred and we provide licensed content to brands as well as publishers, including the Huffington Post and Buzzfeed.
Related
Popular in the Community