By Genevieve Walker and Amanda Fayer
The execution of content marketing through mobile applications, content hubs, video, contests and social media makes tech headlines, but at its core, content marketing hinges on storytelling. And no company has delivered on storytelling quite like Disney. Based on sentiment alone it's safe to say that Disney is this century's best-known producer of engaging and long-lasting content that is unflaggingly on-brand.
Disney's story begins in 1923 when it was founded by brothers Walt and Roy Disney. What began as the Disney Brothers Studio company, which churned out original cartoon programming, in decades since has morphed into the Disney of today: media conglomerate and iconic brand. Built on a foundation of strong culture, creativity and engaging experiences, many families know the Disney experience as a childhood right of passage.
Disney is now the world's largest media company in terms of valuation. As such, it's fitting that the storytelling powerhouse serve as prime example of what's possible when decades of content meets marketing innovation.
1. Repurpose existing content
Start out by visiting Disney.com. The site is organized around content -- "explore favorite characters" like, watch videos of old cartoons, play games online, check out a slideshow of Beauty and the Beast's Belle, create your own monster á la Monster's Inc. But click on a blue arrow to show the drop-down site map and enter the real constellation of content in this media universe.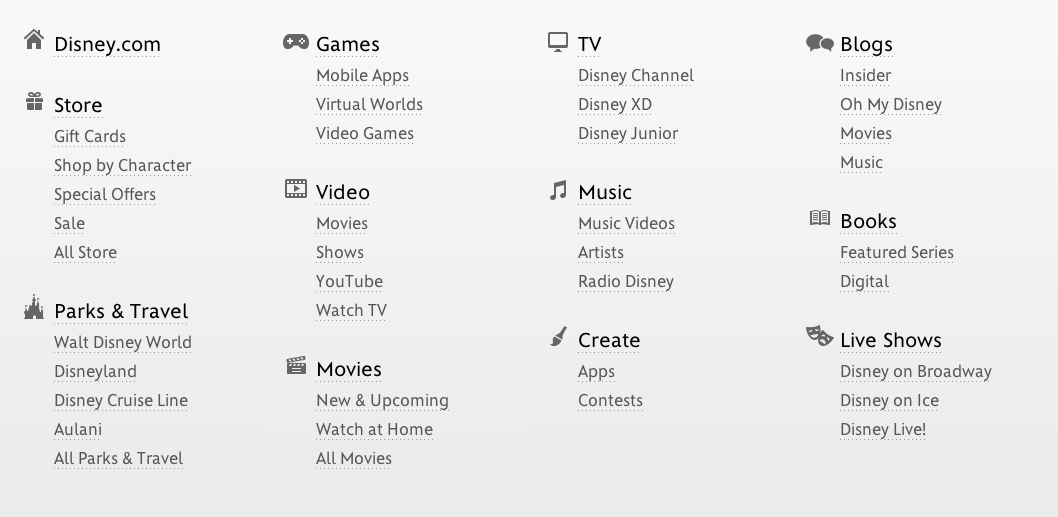 A dedicated video tab takes you to Disney Channel shows, a YouTube channel, Disney XD and more. There's a page for Disney's parks, a store, more shows - the list goes on. But where Disney has moved beyond original content production, is in its blogs.
A series of blogs cover Disney music, culture, history and movies. The Insider blog covers cultural happenings (not employee culture, but red carpet and higher-up to dos), as well as the behind-the-scenes and history of Disney as a company. The Insider also serves as a touchstone for the other media holdings with blog posts like this one, which gives a roundup of Disney's week:
"OMD really delivered some amazing art this week. Their article Mid-Century Modern Disney filters famous animated artifacts through a Danish modern lens. Also worth a look is their collection of Mickey Art for Your Enjoyment from the Where's My Mickey game, as well as this summer's upcoming series of original shorts."
A means of connecting content and redirecting traffic, Disney's reporting on it's own process is also a strategic repurposing of its story, something that is best evidenced by Oh My Disney.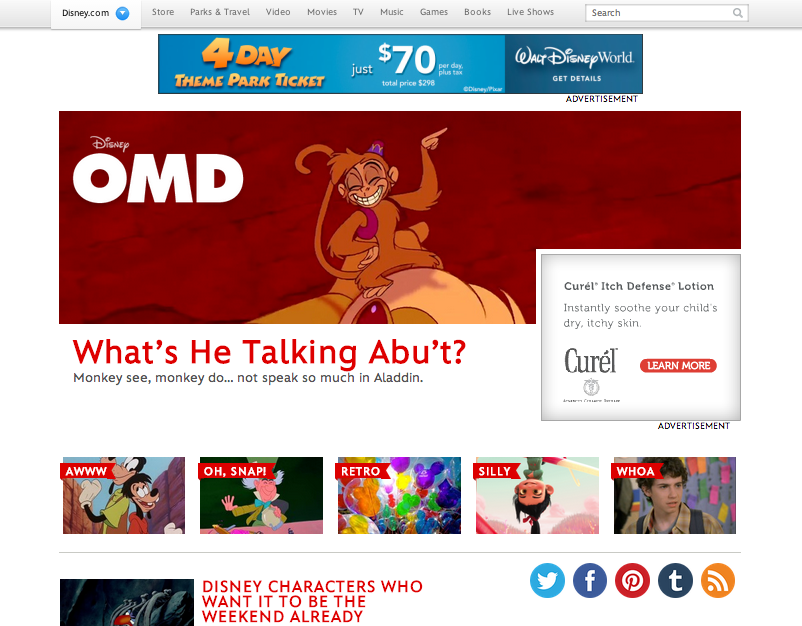 2.) Steal a good idea if it makes sense for your audience

Oh My Disney, filed under "blogs", is dedicated to original content based on Disney stories and characters. Launched earlier this year, OMD is clearly modeled on a Buzzfeed template -- lists, roundups, advice and illustration make up the bulk of the content. Driven by a dedicated team, the site cleverly offers an already loyal audience more of what it wants. Broken into categories ("Awww" "Oh Snap!" "Retro" "Silly" "Whoa"), typical posts include "Guide for Dog Lovers", Disney Princess Horoscopes, and "The Best Dory Quotes."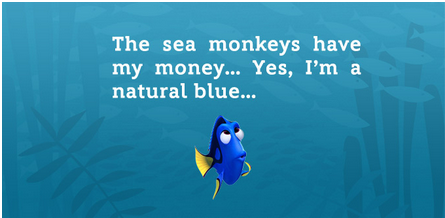 Disney made a shrewd move, recognizing that the Buzzfeed model -- sharable visuals -- directed at an audience that wants sharable visuals (in this case, young adults), was a model that it could emulate for its content marketing. What Buzzfeed does by essentially riffing on what's popular on the "mood-board" of the internet, Disney does by riffing on its stories -- creating subplots and playing along the way a Disney fan would.
3.) Ladder-up social channels -- if you can handle it

OMD, like the Insider blog, has a dedicated Twitter handle (with 5k followers) as well as a Facebook page (with 30k likes). Having many separate accounts isn't advisable for smaller brands or one-off campaigns -- it can water-down a brand presence. But for Disney's content marketing efforts the cross promotion makes sense.
Fans wanting to engage with OMD content, for example, don't want to wade through tweets covering all manner of the media company's updates. Remember the end user does actually want to be targeted, especially when part of an audience is segmented in groups.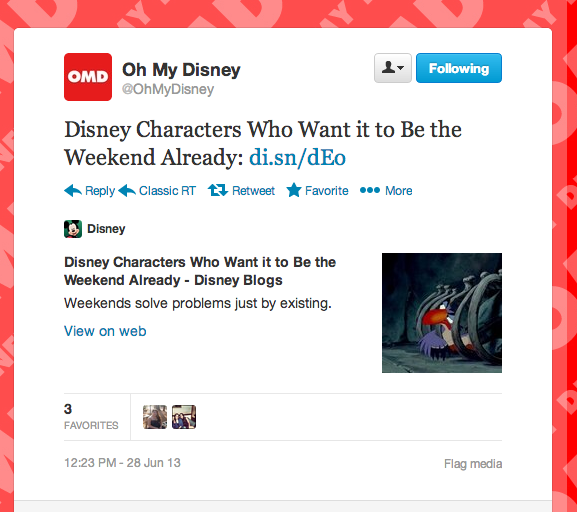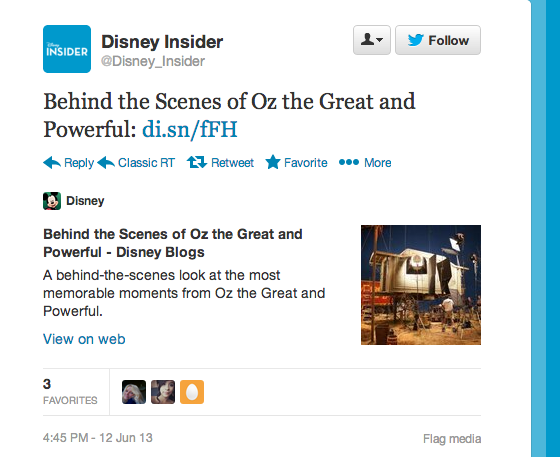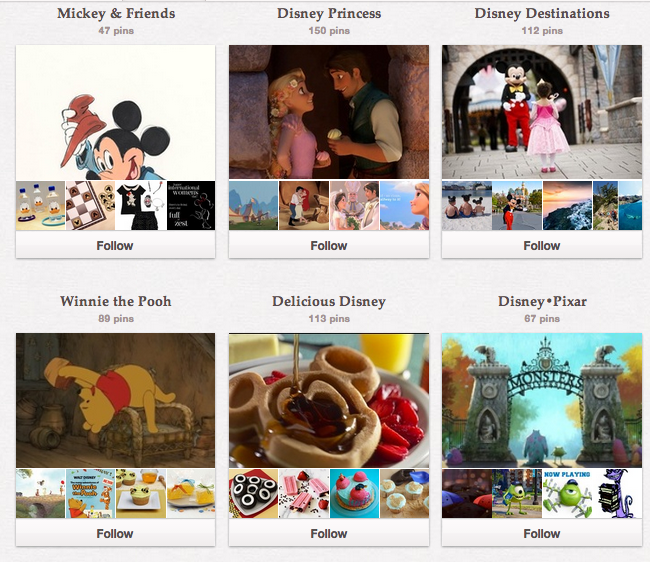 Related
Popular in the Community