"I commonly hear entrepreneurs obsessed with concerns about blogging, twitter, Facebook and other social media endeavors, when they don't have a way to earn sufficient money in their business," wrote Forbes columnist Kathy Caprino.
If you're a small business, social media should be part of your marketing strategy, but not the only part. Social media is not going to save a bad business model. It's essentially just a medium to send out content, and an easy to way to connect with the crowd. Rather than focus so much on social media tools and all the noise around how to use them, consider thinking more strategically about your content.
Here are three rules to help you achieve more results with content. If you're a small business, you won't want to leave these steps out of your equation.
1. Does Your Content Serve a Purpose?
Last week I attended the Get Satisfaction's Customer Success Summit. MindJet CMO Jashca Kaykas-Wolff gave a compelling presentation about content marketing. He opened his talk with the statement, "content marketing is the gold rush."
With everyone digging for gold, it's actually the content creators who think strategically who win. How many of you get spammy seeming newsletters, webinars and facebook requests all too often from the same people? They might be quick to pull the trigger, but I guarantee you their content and lack of thoughtfulness turns people off. While it appears that doing things quickly will bring marketing results, the opposite is true. Take the time to think about what you're doing. Social media helps with word of mouth but it won't be the special sauce that establishes a steady stream of customers. Thoughtful, consistent, informative and entertaining content will generate interest. This takes dedication over a long period of time. Contrary to popular belief social media is never a turn key solution. You can't buy a community.
2. Does Your Newsletter Add Value?
Customers need to remember you. Are you a frequent face in their lives? What value can you add to their lives to make yourself relevant throughout the year? Let's look at one small business owner who has built a community over time with a less is more approach. Jeweler Liza Shtromberg, a Los Angeles-based jeweler known for her organic and exquisite designs -- whose client list includes Nelly Furtado, Rachel Weisz and Keifer Sutherland -- leverages marketing that can be described as not overly aggressive to build her small business from scratch.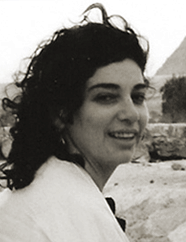 She said, "Our brand attracts people who are not responding to advertising and marketing. We want people who want to shop an independent brand. We don't have any hard sales or anything like that. Cultivate the clientele. Have them keep you on their mind but not in an overly aggressive fashion." Right: Liza Shtromberg
She has built trust with her customers by being thoughtful and measured about her marketing efforts. You don't need to send a biweekly newsletter, but create something valuable for your customers they will look forward to every month. The best newsletters I've seen have little to do with products and more to do with providing guidance and inspiration to readers. One great example is Alan Weiss' Monday Morning Memo. He includes a quote or a didactic short story. He then explains why this quote or story is meaningful for him in a short paragraph. It's not a lot of content, but it packs a punch.
Another wonderful newsletter is Brain Pickings. If my favorite humanities professors from college were to create a newsletter -- and make it applicable to being a small business owner in a creative field -- this would be it. It's like peach pie for your brain. A lot of small businesses make the mistake of thinking people care as much as they do about their products. When you start to make everything you do about your customers and their needs, you will see your business start to change for the better. Ask for feedback from customers, mentors and even people with businesses that are complimentary to yours. For example if you sell ketchup, go talk to the mustard people. Figure out what your customers really need and create compelling content that actually improves their lives in some way.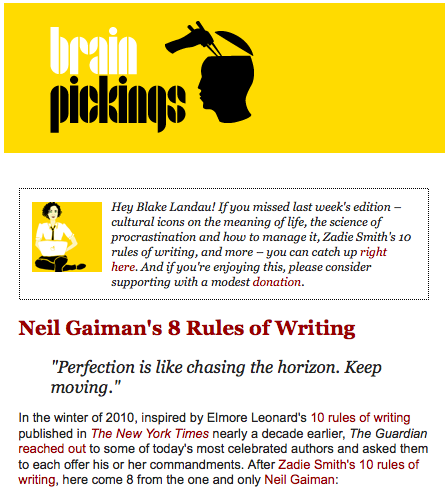 3. Consistent Content Is King
Content creation contributes to SEO rankings, but due to the content divulge, you are competing with much more content than you were five years ago. It can take up to one year of blogging every day for results. Most small business owners aren't prepared to make that kind of commitment. Content marketing and social media should be one of many marketing tactics used to build a community -- not just make quick sales. If you want to own an area of content, consider setting up your own editorial calendar. Make a list of the top blogs and online magazines you can guest blog for. Secure a column with one of the major magazines. Doing all of these things over a long period of time will eventually pay off. When I say "over time" I do not mean six weeks.
No one thing is going to consistently bring in business. You have to keep innovating with your marketing efforts -- pivoting with the market is essential. The web has made it easier to build a community you can easily keep in touch with but that doesn't mean you don't need to treat the outreach with care and thoughtfulness. Slow down a little before you hit publish and you will find that your efforts make that much more of a splash.
Calling all HuffPost superfans!
Sign up for membership to become a founding member and help shape HuffPost's next chapter