Transformation in any part of an organization is a task that very few manage with success. Managing change takes time and investment beyond the monetary. From board level approval through to emotional buy-in, the process can be long, daunting and- for those that don't succeed- a huge drain on resource and a high turnover of staff.
Transformation and reinvention are modern-day marketing terms associated with change in the digital marketing world.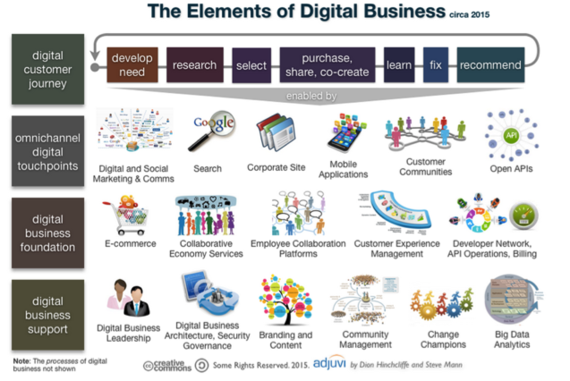 As you can see, transformation is a complex topic and requires a combination of technological and human mastery. It requires culture change, technological and data integration, programmatic and attribution-based modeling, mobile-centric strategies, and much more
For the purpose of this post, I want to focus on content as the key agent of change.
Content Is Digital - Digital is Content
In today's digital and content marketing economy, everyone is a publisher and anyone can publish content in text, image, and video formats. For this reason content is digital and digital is content. As Lee Traupel mentioned in this recent article:
Noise levels are high everywhere and your content has to stand out. Great content and cool images are prerequisites of digital strategy with these hallmarks.
Content is the catalyst that fuels digital campaigns and transformation. Organizations that can measure the performance of content can use this as a pivot point that not only helps transform digital but also transforms the whole organization.
For me, the four points and statistics below tell this story best.
1. The digital transformation challenge
Over 40% of marketers want to reinvent themselves but only 14% know how.
2. Content is digital and digital is content.
Over $135 billion was spent on creating digital content creation in 2014.
3. Content fuels the production and distribution of digital media assets.
86% of marketers are using content marketing strategies in multiple media formats
4. Marketers struggle to measure the performance of their content marketing.
Only 21% say they are successful at tracking the ROI of their content marketing program.
Win On The Content Battleground - Transform Your Digital Organization
Digital marketers operate on a modern day content battleground where companies fight for the prize of consumers' attention, loyalty and retention. While value can be very tangible in an online marketing sense (and the unique way that one organization approaches content marketing may not provide desired results for another), measurement is the imperative that organizations need adhere to to understand demand, optimize digital content, and measure results.
If digital marketers and organizations alike are to transform they cannot simply try to do so by producing more content (more noise). Last week I managed to talk with Maggie Fox, SVP of Global Content at SAP on this very topic following the release of a POV on Content Performance Marketing produced with BrightEdge.
For those that don't know - over 70% of the world's GDP is run through a SAP system and if you have used an Apple device, then you have used an SAP product. For Fox, and her digital team, digital transformation is not a marketing issue but a business issues and to get anything done you need a single source of truth. In 18 months, the team at SAP has transformed their digital business and content has been, and continues to be, a pivotal point in the transformation.
Content is digital and digital is content.
Creating content for the consumer, optimizing at point of creation for findability, and attributing value are key drivers of global content change and subsequent digital transformation.
Executive buy-in and change management are keys to cultural, content, and digital transformation. Winning on the content battleground and placing a value on your digital content marketing efforts gives you that board level approval to begin to transform your digital organization to a whole new level.
Calling all HuffPost superfans!
Sign up for membership to become a founding member and help shape HuffPost's next chapter