Bootstrapped startups don't have the luxury of building robust content strategy teams, but when you're extremely strategic you don't need an army of writers to make an impact and create a buzzing community. To get the scoop on how to scale blog content production without a dozen hands on deck, I looked to two companies with under 500 employees, ModCloth and Casper, to get their content teams' takes on how to create and implement an effective content strategy.
Story by ModCloth is loved for its fashion tutorials, nostalgic recipes, and heartfelt customer stories which bring ModCloth community members to center stage. Natalie Brova, head of writing and social for the indie and vintage-inspired clothing e-tailer, comments, "Our voice and tone is friendly, optimistic, and intelligent. Our most trafficked and commented-on posts are primarily about 'hot topics' such as body image. Writing posts on these topics requires a thick skin (because there will be a lot of opinions on what you say), but it also provides an opportunity to interact with customers which can strengthen brand affinity." Brova insists that getting this kind of first-hand feedback and insight directly from your community is invaluable, and is an important cornerstone of ModCloth's content strategy.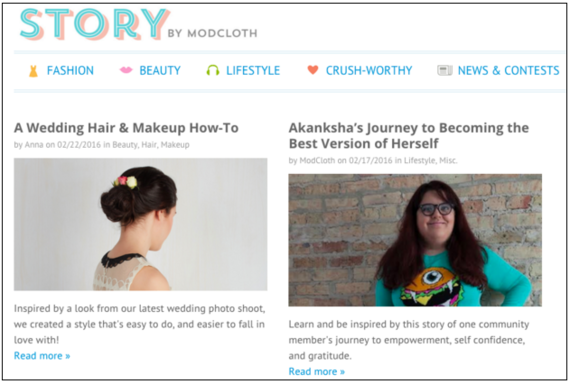 Alyse Borkan, social media strategist and lead contributor to Casper's blog Pillow Talk shares, "As a sleep startup, we knew we wanted to publish articles that would help our customers conquer typical sleep-related health issues. To put our own spin on it, we created a series of 'BedMD' articles that break down the causes and solutions for everything from snoring to food comas. We cover each topic in a way that's approachable, entertaining, and easy to read, without sacrificing authority."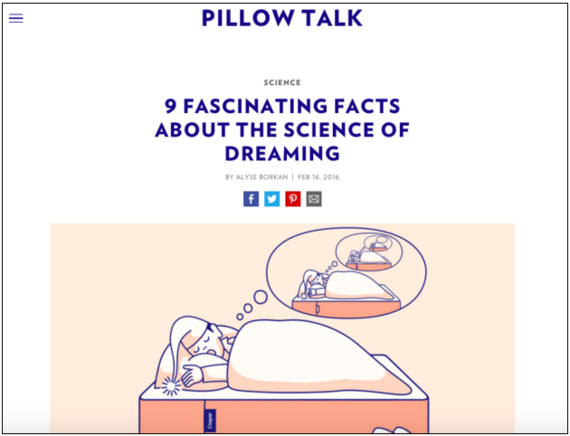 Here, Brova and Borkan share tips on how to create an effective, scalable content strategy regardless of team size.
Invest in a project management tool for content production.
ModCloth uses a project management platform (and the help of a small-but-mighty producer team) to assist in asset production and scheduling. "Because we operate as a small team, a good project management tool is absolutely critical for us. In a way, it forces us to think carefully through each post, ensure that our intentions and expectations are aligned, and get the proper resources allocated to help us succeed," says Brova.
Maintain an organized editorial calendar.
A highly organized and efficient editorial calendar is a must for every blog editor. ModCloth's content team keeps track of scheduled content on the Google Calendar used by the entire company for a transparent approach. "Everyone has enough documents, emails, and projects to sort through, so having the editorial calendar be easy to find and accessible to everyone within the company helps us out in more ways than one! It means that PR, Acquisition, Photo, Social, and everyone else can view what we have slated, and align content with their assets for better integration," says Brova.

Consider creative ways to scale content production.
You're regularly publishing, blog traffic is increasing, and you're even seeing a decent amount of conversion. You just need to do more of it. Don't fret if you can't justify an increase in headcount because you may be able to tap into other existing resources. Borkan shares, "We've published guest articles contributed by employees from a variety of internal teams, worked with freelance writers, and repurposed content created for events and product research." Don't be afraid to republish content that did well in the past. Look at your blog analytics, see what an impact, and republish popular content with a fresh introduction and/or updated links and images. Not only is this now an accepted content strategy practice, it's a highly effective one that enables you to make the most out of the polished work you put so much time into creating in the first place.
Listen to your community closely and reap the rewards.
Casper's customer experience team received ample requests from customers asking how they should wrap the mini fridge-size Casper box around the holidays. In direct response to community inquiry, Casper created a step-by-step, put-a-bow-on-it tutorial. Casper's customer experience team then referenced it as comedic inspiration to those who inquired thereafter. Borkan comments, "In return, we had customers sharing their own unbelievably spirited boxes. One box was painted to look like a tree and another was completely covered in Christmas lights."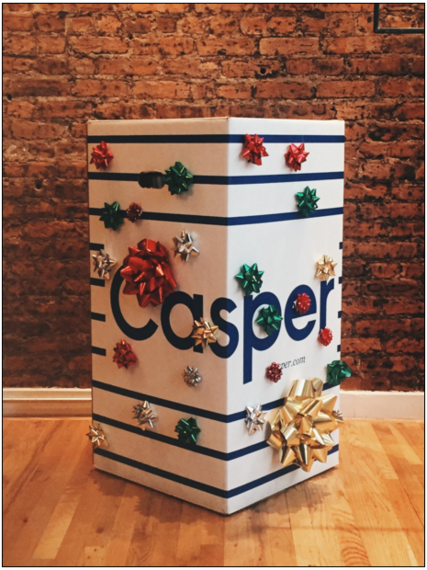 If you're doing it right, your content strategy will turn into a continuous loop where your customers inform what you create and you create based on both what they say they want and the data you're collecting. When content opportunities call, how quick is your brand to pick up?
Calling all HuffPost superfans!
Sign up for membership to become a founding member and help shape HuffPost's next chapter