Upworthy often runs breaking and amazing material that addresses transgender and LGBT issues. Herein, I spoke with Joseph Lamour, a curator at Upworthy, about how the whole process works.
How did Upworthy start and what is its mission?
Eli Pariser laid out an interesting problem in The Filter Bubble: As we all get an increasing percentage of our news from our social feeds, algorithms are proving a poor substitute for the editorial judgment that thrived in media organizations. At the same time, Peter Koechley had early success getting content to go viral -- before YouTube, he had a video seen by more than 20 million people. So they started looking at ways to encourage people to pay attention to topics that matter and share great information discussing them so these important topics don't get lost in a sea of LOLcats and side boobs and celebrity scandals.
Who backed Upworthy at the beginning stages? Who funded it?
The company has pretty much followed the typical growth pattern. First there were angel investors -- I think lots of folks know that Chris Hughes played an important role in helping Upworthy get started. And then a bigger "seed financing" round. And several weeks ago we announced Series A financing led by the really smart folks at Spark Capital.
How do you decide what content to curate? Do you actively search for stuff?
We all curate in different ways. My morning consists of me looking through YouTube, then reading a selection of gay blogs, my old haunt (Racialicious.com), and general news sources. All while Good Morning America plays. By lunch, I usually have enough content worthy of upping, as it were. I basically am searching at all times of the day. I can be out running errands or reading a magazine or at a party with friends where they bring up a video they saw and I am on it to see what it is and if it's Upworthy.
What motivates you to curate around transgender issues?
As a member of the gay community, I often focus on LGBT issues more than others -- although I concentrate a lot on feminist and racial issues as well -- but when engaging and worthwhile content comes up on transgender issues, I leap at the chance to cover it. My first post on a transgender issue was actually a meme I created with another curator, Laura Willard, and the subject of the meme, Kaylie Sorrenti. "A Mom Had Plans To Raise Her Boy Into A Man. But That Didn't Quite Work Out." We had all hands on deck to get as many eyes on the content as possible without causing offense to the community we were trying to bring awareness to, which happens too much with social justice. I have to thank Kaylie for telling us what was and wasn't okay to say in both every facet of the content.
Do you focus more on videos than other types of content?
We actively search for every type of content, and depending on the curator, you'll find a mix of video/imagery/etc. The thing with images, though, is that with rights and permissions, they take a little more legwork to get onto the site, while videos that are posted publicly on the Internet don't require those things. So we see a lot more videos coming through at a faster pace. If the content is engaging and we feel that sharing it can bring awareness to that issue, we work on getting it to our audience. Some of my most thought-provoking hits are image posts, and we always hear that people want more imagery on the site, so we're always keeping an eye out for it. People with Upworthy images, infographics and the like should tweet it at us (@Upworthy).
Do you (or does Upworthy) have plans to do original content?
We concentrate mostly on elevating others' content, although sometimes a celebrity or a writer will say something I want to share on Upworthy (I was the Television/Entertainment Fellow here before I was a General Curator), so I'll whip up a quote graphic to make it more visually stimulating and thus, more shareable. I'm also a designer/illustrator, so I also work with other curators to spruce up their content so we can get as many eyes on important things as possible.
I'm a designer/illustrator and writer. After graduating from Rhode Island School of Design, I did exhibits in the D.C. Museum and Gallery scene, while also serving as the Entertainment Editor of Racialicious.com, a blog about the intersection of race and pop culture. From there, I started at Upworthy as a Fellow curating content from television and film until I was brought on full time to cover the entire media landscape. I gravitate to feminist issues, LGBTQ issues and racial issues, though.
Do you think this is the future of news? What is the impact on the overall media landscape?
We are not a news website or news organization. Upworthy's goal is to bring massive amounts of attention to things that matter. We aren't beholden to the news cycle, and though we often post timely stuff, we just as often post things from years ago. A PSA from the 90s about racism went pretty far on our site this year. The quality of the content is what matters to us, not whether it's "breaking news".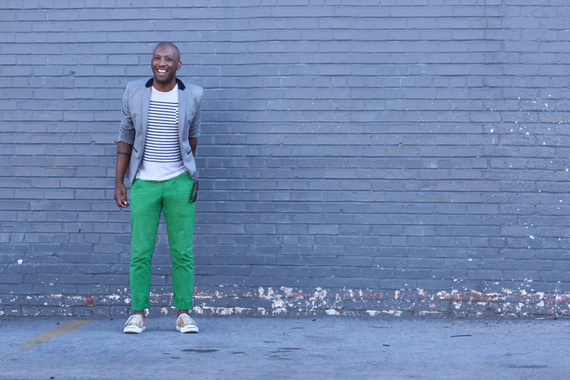 REAL LIFE. REAL NEWS. REAL VOICES.
Help us tell more of the stories that matter from voices that too often remain unheard.