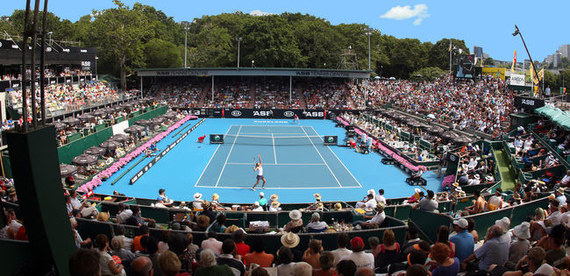 I am writing this on semifinals day in Auckland, and the action has been quite frankly hard to fit in between the rain delays. The rain here in Auckland was torrential at lunchtime, but died down to light falls by about 3 p.m. For the most part the light falls of raindrops were enough to keep play off of center-court for another couple of hours. At 5:30 the semifinal between Julia Goerges and Tamira Paszek was allowed to start. Thankfully Julia Goerges was able to topple Paszek in straight sets, 6-4, 6-2. Because otherwise it is unlikely that the match would have been able to be continued. For Julia, her win means that she has reached her first WTA final since 2012.
The main theme of my article here is the rain delay's, because the delays are the main theme here at the Classic. These delay's have to be causing some headache's for the tournament's organizing committee. But at the end of the day there is not much that can be done about it. The only real hope is that the rains will eventually stop. The tournament does have Sunday up it's sleeve for playing the women's final, but beyond that they haven't got much. All of the weather reports do say that the sun will be out tomorrow. The tournament has to hope that those reports are correct.
These constant delay's are not good for the tournament, especially after the exits at the start of the week of the big stars. In terms of the prospective final on Sunday, the potential player's on the court could pose quite an intriguing battle. Sloane Stephens was leading Caroline Wozniacki 4-1 when the match was called off Friday night. Waiting for the winner of that match, which will be Saturday in the day session, will be Julia Goerges. Goerges will have the benefit of extra rest against whomever she meets in Sunday's final. This will play to her advantage, as will the likely effect of momentum from her straight set semifinal win. The disjointed nature of the Stephens/Wozniacki match will not help either player.
Here's hoping that the rain holds off, so we can get the women's final's action finished this weekend.
REAL LIFE. REAL NEWS. REAL VOICES.
Help us tell more of the stories that matter from voices that too often remain unheard.