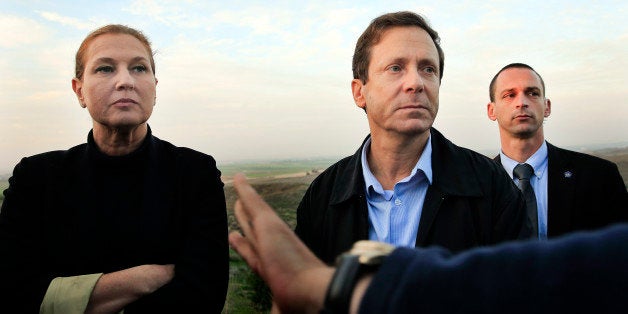 The energy that we feel today in the street during these final days of the campaign reminds me of that magical moment in 1992 when Yitzhak Rabin took the country by storm. In the three years that followed, he left us a legacy that to this day we still hope to revive. A legacy of how if you want to make Israel a better place, you have to work on two parallel missions: to try to make peace with our neighbors, while simultaneously giving all Israelis an equal opportunity to succeed.

Rabin was my mentor, and, ever since being elected as the mayor of the Gilboa regional council, I have tried to follow in his footsteps. I come from a very unique place: the Gilboa's population is 40 percent Arab and 60 percent Jewish, as well as being very socioeconomically diverse. My council area also borders one of the most historically turbulent regions of the Palestinian Authority. Neighboring the Gilboa across the Green Line is the Jenin region, which is infamous for having produced untold numbers of arch-terrorists, notably during the Second Intifada.

I followed Rabin's vision of governance and led the Gilboa down two paths -- the diplomatic path, by creating a sort of economic peace with our Palestinian neighbors, and the economic path, by constantly improving living conditions for the Arab and Jewish residents in my council area.

Inside the Gilboa council area, the ethos behind the model pioneered by us was that Arab villages should receive equal budgets and investment in infrastructure and education, bringing them to the same levels as the neighboring Jewish communities. The result has been booming industry and a robust economy, unprecedented achievements in the education system, and probably the most patriotic Arab population in all of Israel -- many of whom even celebrate Israel's Independence Day with us.
At the same time, I found, on the other side of the border, beyond the slogans and the prejudice, local leaders dedicated to the human beings who elected them. They were and are committed to the education of their children, welfare, better infrastructure, and a better life. Working closely with European governments and with American agencies, we established a joint industrial zone between the Gilboa and Jenin, worked on joint sewage projects, we are cooperating on the rehabilitation of the Kishon River -- one of the most polluted in the region -- and we established a sports league that brings Israeli and Palestinian children together. The industrial park that is under construction will provide jobs for 15,000 Palestinians and 2,000 Israelis. Tourists are also being encouraged to visit the area, and our two communities aim to attract around 100,000 tourists to visit sights such as the biblical pit that Joseph was thrown into by his brothers.
In both cases, with a large Arab population on both sides of the border, in my daily work at the Gilboa city council I have worked on solving diplomatic/political issues with the Palestinians in the Jenin area, while also solving socioeconomic issues of Gilboa residents on our side of the Green Line.

What we have shown is that, with vision, cooperation is not only possible, it is mutually beneficial. During the past few weeks, as the elections approach, right-wing parties repeat time and again that "there is no partner" on the Palestinian side, but we have shown that this is just an excuse used by nationalists who don't want there to be a partner. Both sides may demonize the other, but on a deeply practical level we have shown how to be partners to each other. That's not to say that there will certainly be a regional peace accord -- but even in the absence of an agreement, we have demonstrated that, regardless, it is better to be cooperating across borders and across socioeconomic strata.
The Gilboa is a microcosm of everything this country could be, of how we could do things better here both diplomatically and economically. As somebody who has been dealing with these challenges for 25 years, I am certain that the model of cooperation we have developed is applicable to other parts of Israel as well as on the national level. I believe this applies to the centrist Zionism of the Zionist Union, a school of thought for how to manage our lives better, with moderation, sechel (or common sense), and respect for other human beings. Whether on a local or national level, you can achieve great things using the model we've developed.

This is exactly what the example of Yitzhak Rabin taught me: how you can make peace with our Arab neighbors while fixing everything that's not working on an economic level at home. The incredible energy that was inherent in Rabin's administration, whereby he treated everyone with respect as fellow human beings, was a result of Rabin's recognition that the only way we can survive as a Jewish state is by respecting the Arab population living both within our borders and over the Green Line. And I believe Isaac Herzog is continuing the legacy of Rabin.

The Zionist Union's model is the model that I implemented in the Gilboa. It is proof that common sense, dignity and respect for all can overcome years-long suspicions. Isaac Herzog, Tzipi Livni and all of us on the Zionist Union list are committed to implementing the same ideas on a national level. We cannot promise to solve it all, but we do promise to make Israel a better place four years from now, beginning with the kinds of ideas I have proven to work on a local level.
Popular in the Community