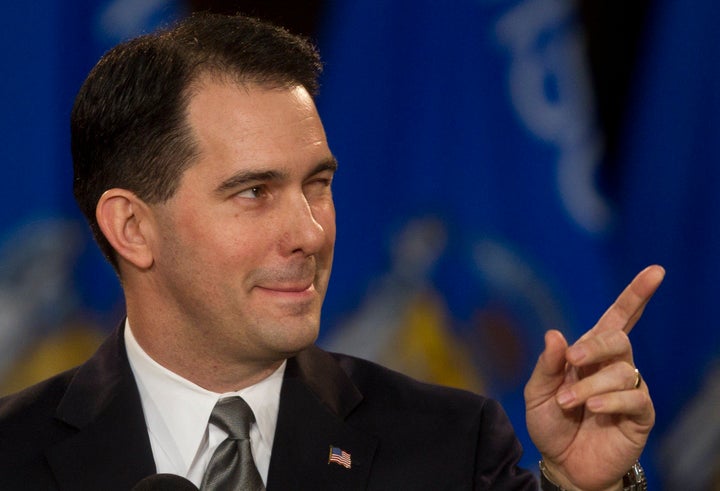 WASHINGTON -- While Wisconsin Gov. Scott Walker (R) continues to wait out the state's Senate Democrats on his budget bill that would strip collective bargaining rights from public employee unions, a growing number of Wisconsin's abortion-rights advocates worry that they have become his next target.
The governor is also proposing the elimination of the Title V Maternal and Child Health program, which receives a mix of federal, state and local funds to provide family planning services. Uninsured men and women can currently receive this care, which includes cervical and prostate cancer screenings, access to birth control and testing and treatment for sexually transmitted diseases.
Walker's budget estimates that Wisconsin would save $1.9 million annually by eliminating the Title V program, whose money goes to family planning centers such as Planned Parenthood. But Planned Parenthood of Wisconsin spokeswoman Amanda Harrington argued that more than 50 health centers in the state would be deprived of a total of $4 million once the federal and local funds are included. (Planned Parenthood receives roughly one-quarter of that money.) In many cases, Harrington said, these health centers are the only providers in the area and deliver critical care.
Planned Parenthood is not a new target for Walker. While campaigning for governor in April, he told the Wisconsin Right to Life convention that during his time as a state legislator, he was proud of "trying to defund Planned Parenthood and make sure they didn't have any money, not just for abortion, but any money for anything."
Walker's budget would also kick uninsured men between the ages of 15 and 44 out of the family planning program of BadgerCare, the state health program that currently provides coverage to tens of thousands of residents who don't receive employer-sponsored care but earn too much to qualify for Medicaid. Currently, men can receive coverage for birth control, cancer screenings and STD testing and treatment.
Matt Sande, the director of legislation at Pro-Life Wisconsin, a group opposed to abortion rights, applauded the governor's proposed cuts.
"This state/federal program provides free, taxpayer-funded birth control to 15, 16 and 17-year-old boys and girls without their parents' knowledge or consent. This undermines parental authority in the sensitive area of teen sexual health and increases underage pregnancy, abortion, and sexually transmitted diseases by encouraging sexual promiscuity," Sande said in a statement, encouraging lawmakers to also raise the eligibility age for women from 15 to 18.
Abortion-rights advocates argue that Walker's cuts are short-sighted and could result in more unplanned pregnancies, meaning more money that will need to be spent. Planned Parenthood pointed to a 2008 statement by the state's health department that said expanding family planning services prevented an estimated 11,064 unplanned pregnancies and saved nearly $140 million in expenditures that would have been used to cover the births and health care costs of those children.
"This shows that the governor has no conception of fiscal responsibility, because when you take away basic preventative health care like cancer screenings from working-class and middle-class women, you're going to end up costing the taxpayers far more in the end," state Rep. Kelda Roys (D) said in an interview with The Huffington Post. "We know that this governor is just hellbent on destroying access to health care and destroying the social safety net. It's just unfortunate that it's really the working-poor and the middle-class who are going to be forced to pay the price on this, in terms of fewer preventions of cancer, fewer health screenings, and more unintended pregnancies."
Walker's office did not return a request from The Huffington Post for more details about the potential savings.
The governor's attempt to defund Title V is similar to a measure that Republicans in Congress are proposing at the federal level. Rep. Mike Pence (R-Ind.) recently introduced legislation that would kill the federal Title X program, which provides funding for family planning programs, including Planned Parenthood. House Minority Leader Nancy Pelosi (D-Calif.) said that Democrats needed to make this issue "too hot to handle" and go on the offense against attempts to take away women's rights. "[I]t's the most comprehensive and radical assault on women's health in our lifetime," she said. "It's that bad."
Support HuffPost
The Stakes Have Never Been Higher
Popular in the Community