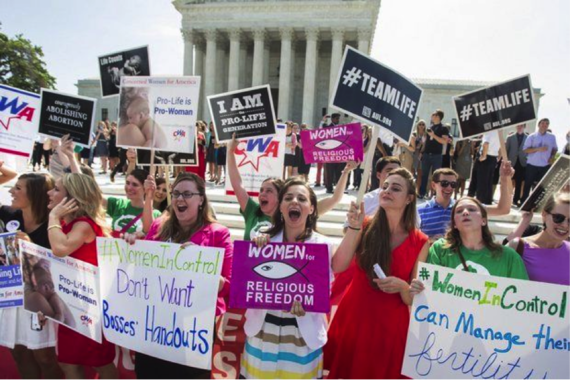 It's unbelievable that in 2014, we're still fighting about whether women should have access to birth control.
Debby D'Arcangelo, President and CEO of Planned Parenthood Association of Mercer, NJ says,
The U.S. Supreme Court issued a verdict in Burwell vs. Hobby Lobby on June 30th that effectively designated women as second-class citizens, placing our health care needs secondary to the personal beliefs of our bosses.
Additionally, the costs of birth control is being effectively paid for by the employees and thus they are being denied a product that they would have paid for.
The Hobby Lobby case and the ensuing debate and legal wrangling attempts to avoid fulfilling the Affordable Care Act's contraceptive coverage guarantee: This is bad for business, bad for women, bad for our economy and morally offensive.
Among the many misguided arguments, skeptics and critics of the policy claim that it imposes a financial burden on employers and insurers. The available evidence suggests strongly that coverage of contraception without patient out-of-pocket costs should not raise insurance costs and is likely a cost-savings. This is because the cost of contraception is outweighed by the savings from averting unplanned pregnancies, as demonstrated by a significant body of research assembled by the Guttmacher Institute. In short:
•The federal government, the nation's largest employer, found that "there was no cost increase" after Congress required coverage of contraceptives for federal employees in 1998.
•Studies comparing the cost-effectiveness of contraceptives find that all methods save insurers money, after the costs of unintended pregnancies averted are accounted for.
•More specifically for private employers, both the National Business Group on Health (a membership group for large employers) and Mercer (an employee benefits consulting firm) published studies recommending contraceptive coverage as a cost-saving option for health plans.
•Likewise, a 2007 National Business Group on Health report calls for coverage of the full range of prescription contraceptive services and supplies at "zero cost-sharing... to avoid real or perceived financial barriers, and to increase utilization." Relying on an actuarial analysis from PricewaterhouseCoopers, the report predicts that savings from this coverage will exceed the costs.
•Buttressing this private-sector evidence is a wealth of public-sector data. Data from the Guttmacher Institute shows that by helping women avoid unintended pregnancies, public funding for contraceptive services in 2010 resulted in net public savings of $10.5 billion, or $5.68 for every dollar spent. Those savings accrue to Medicaid within the first year of providing contraceptive services.
•Similarly, a 2010 Brookings Institution review of government programs to reduce unintended pregnancy found that publicly funded family planning efforts have been effective and cost-saving, and "would be even more so if they could increase the use not just of contraceptives, but of long-acting, reversible contraceptive methods."
Jeffrey Hollender is a leader in the corporate social responsibility world. He is currently the CEO and co-founder of Sustain, a B corp that produces Fair Trade, sustainable condoms. Sustain is also devoted to women's health in the United States, donating 10 percent of its pre-tax profits to organizations that work towards making women's healthcare available to all in the U.S.
Related
Popular in the Community