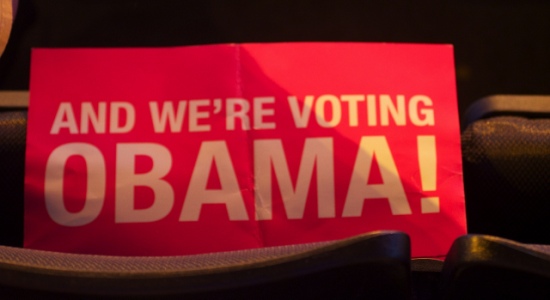 Photo Credit: Youth Radio
You can't spend much time at the Democratic National Convention in Charlotte, North Carolina this week without noticing certain contradictions. This state isn't exactly known for its liberal politics. Barack Obama barely won here in 2008, and this year North Carolina voters approved Amendment 1, which limits domestic unions and expands an existing ban on gay marriage. In buzzword terms, this a battleground state.
I've seen trucks with billboards roving outside the Charlotte convention center touting, "A vote for Obama is a vote for America." But there are similar trucks driving around with what I can only assume are anti-Obama messages, including a pro-life billboard with a giant picture of an aborted fetus, and another with a collage of inflammatory assertions like, "Islam isn't a real religion."
At Sunday's Occupy demonstration, two young men standing on the periphery embodied a different kind of value contradiction, one that was internal. 17 year-old Clifford Martin and 19 year-old Stephan Shellsen are Democratic delegates from Minnesota, who came to Charlotte to participate in the DNC and Occupy (the very same movement protesting the conventions.)
When asked if he felt weird attending a protest against the very event he was a part of, Martin said, "Conceptually yes because it's like 'Well, as as a delegate I'm representing the system, the man, the machine.' And those are largely things I agree with, but I came to the convention because I want to understand how it's designed and what it means to be a part of civic engagement."
Shellsen added, "As a delegate, I want to make a difference. I want to able to change things. But the only way I'm going to be able to do that is if I'm able to see all sides of the issue."
Something else I've noticed is that this isn't the full party-like atmosphere I expected from a political convention, and some young people admit that enthusiasm is a problem. 25 year-old Ayesha Walker is a California delegate participating in her second convention. She first attended in 2008 as a reporter for Youth Radio, and she's concerned that some of her peers just aren't that into it. "It's like a movie they saw already," said Walker. "Young people get excited about new things. In 2008 everybody was so emotional about this election. Everybody felt responsible. And now, it seems like the emotion is not as potent as it was in 2008."
When President Obama took office, the nation was in crisis, and nearly four years later, there are still so many problems left to fix. Walker worries that many young voters are influenced by Obama's sagging popularity. " It seems like people are even afraid to say that they support Obama...but that has to change."
"Change" was one of Obama's campaign slogans in '08. In 2012 the Obama campaign will need to emphasize the changes Barack Obama delivered as president, and it will need to change the perceptions of young voters while also addressing tensions that exist in swing states like this one.
Malachi Segers is a reporter for Youth Radio, an award winning youth-driven converged media production company based in Oakland, California. 
For more of Youth Radio's coverage of the 2012 National Conventions, check out our blog here.
Originally published on Youthradio.org, the premier source for youth generated news throughout the globe.
Youth Radio/Youth Media International (YMI) is youth-driven converged media production company that delivers the best youth news, culture and undiscovered talent to a cross section of audiences. To read more youth news from around the globe and explore high quality audio and video features, visit Youthradio.org
Calling all HuffPost superfans!
Sign up for membership to become a founding member and help shape HuffPost's next chapter