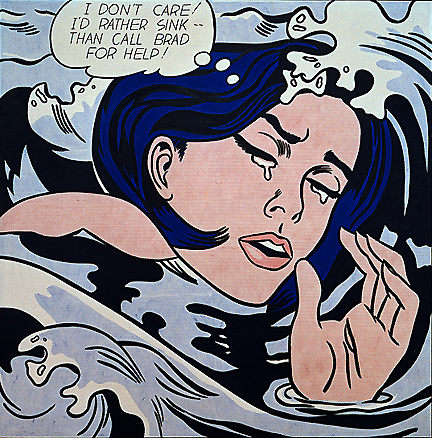 Roy Lichtenstein, "Drowning Girl," 1963. © Estate of Roy Lichtenstein.

When one thinks of Roy Lichtenstein, one naturally conjures the image of an oversized comic strip, a moment of melodrama laden with Ben-Day dots forming a damsel in distress. But an astoundingly comprehensive retrospective at Paris' Centre Pompidou illuminates Lichtenstein as the mimicker, social commentator and innovator he truly was, continually experimenting without ever losing his own style.
Lichtenstein was inspired by everything from Picasso to ads in the Yellow pages to traditional Chinese landscapes, but his greatest influence was the commercial art of mid-century America. "The thing that I find in commercial art... is the energy and the impact that it has, the directness and aggression and hostility that comes through it," Lichtenstein said. Indeed, his paintings strip away the niceties of commercial art, laying bare the combativeness that pressures the viewer, as if shouting "Look at me" with bold colors and jagged lines that, when enlarged and simplified, look quite clean.
With his famous comic scenes Lichtenstein zooms in to an extreme close-up, comprising everything with uniform Ben-Day dots (or what we would now call pixels), flat colors and shading in the least realistic way, increasing the intensity of the drama by breaking the scene into its smallest parts. In "Drowning Girl," Lichtenstein leaves a few areas blank and cleanly white, which immediately draw the viewer's attention. The viewer becomes blind to the busy dots and swoops of color, focusing on the plain white emptiness that is the Drowning Girl's tears.
But Lichtenstein's talent for innovation emerges most in works that stretch beyond paint. He experimented with materials ranging from Plexiglas to Mylar to enhance his compositions' effects. In "Moonscape," for example, Lichtenstein lays a careful layer of paint over Rowlux film to create the moon and pixilated clouds over a powerfully iridescent dark blue sky. Playing with light and texture in this way gives another dimension to the already-visceral experience of viewing a Lichtenstein work. Now it calls to us even more loudly, seducing the viewer for the graze of a touch or, since this is a museum, at least the tender eye.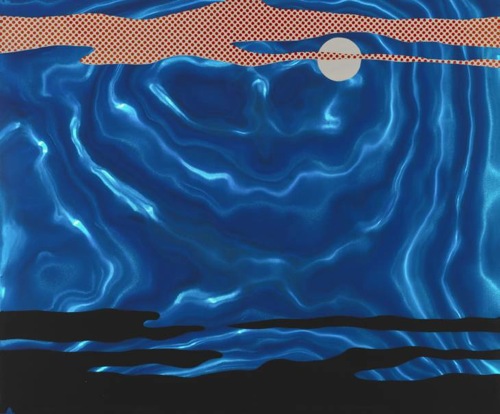 Roy Lichtenstein, "Moonscape," 1965. © Estate of Roy Lichtenstein.

The effect is heightened even more with Lichtenstein's sculptures. Who knew that the man famous for creating gorgeously flat, two-dimensional paintings could work just as well in three dimensions? Yet Lichtenstein remained true to his style and somehow managed to create sculptures that looked like cartoons. His famous dots are translated into latticed metal and large swaths of paint into brightly enameled steel. The sculptures, depicting brushstrokes or explosions, feel at once spontaneous and strict, an impulse lassoed into the stillness of an eternal object.
Other sculptures mirror his paintings: with the gently gradated face of his "Sleeping Muse," in bronze and in paint, and the still life of his goldfish, enameled and on canvas, each echo their counterparts in their frozen simplicity, their quiet melancholy equally powerful in each medium. Lichtenstein's sculptures bring his paintings to life, into our own dimensions, but still retain that barrier of unrealism, like watching a live-action episode of The Simpsons. It's more real, but not more realistic.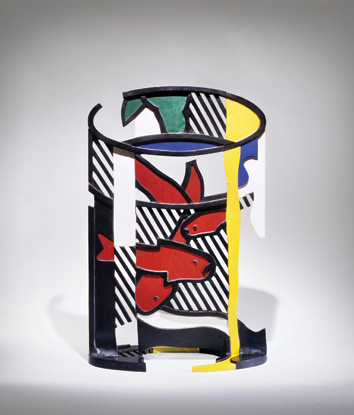 Roy Lichtenstein, "Goldfish Bowl II," 1978. © Estate of Roy Lichtenstein.

Lichtenstein applied his unique aesthetic not only to all the forms of his own work, but to those of other artists as well. He mimicked painters by the likes of Matisse, Picasso, Cézanne and Mondrian, reinterpreting their work into his own style, flattening and "cartoonizing" them to give them a humor and a simplicity. By separating a painting from its artist's style and transforming it under his own pop-inflected thumbprint, Lichtenstein both paid homage and gave new life to the works he admired.
The final decade of Lichtenstein's life saw both thrill and peace in his art as he experimented with female nudes and Chinese-style landscapes. With the latter, oversized canvases seem to swallow the viewer whole as one gets lost in fields of dots, oriented only by a small solitary figure in a corner, perching on a mountain ledge or guiding a canoe. "I'm not seriously doing a kind of Zen-like salute to the beauty of nature," Lichtenstein said. "It's really supposed to look like a printed version." It's good to know that, right to the end, Lichtenstein stayed true to both the emptiness and self-referential humor that set him apart in the first place.
Roy Lichtenstein: A Retrospective is on view at Centre George Pompidou in Paris now through Nov. 4.
Calling all HuffPost superfans!
Sign up for membership to become a founding member and help shape HuffPost's next chapter