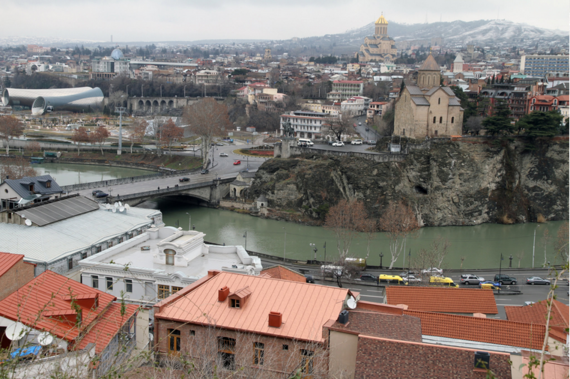 Health care costs are headline news in the U.S. this week as 2017 insurance premiums on the government-run marketplaces are rolled out. With year-on-year hikes averaging more than 20 percent, the debate on the need for systemic reform is revving up again.
As a health care specialist at the International Finance Corporation (IFC), the arm of the World Bank which invests in emerging economies' private sectors, I am fortunate to see a diverse mix of countries - from the U.S. to Brazil to Indonesia to Nigeria - grappling with the same conundrum: how to ensure access to high-quality health care for all in an affordable, sustainable way.
One country whose system I actively looked at is the small Caucasus nation of Georgia. For a decade, Georgia has been trying to get to universal health care. Its experiences and experiments offer some lessons on how to build a sustainable system although for them like others it is still work in progress.
More than 80 percent of hospital beds in Georgia are in the private sector. Yet it is the government -- not the individual patient nor health insurer -- that is the main purchaser of health services. Thus, whether or not Georgia succeeds will depend on how well the public and private sectors mesh together.
In Soviet times, Georgia had a system of universally-accessible basic health care managed and paid for exclusively by the government. After gaining independence in the early 1990s, Georgia's public health care system suffered years of underinvestment. By the mid-2000s it was looking pretty shabby.
A major privatization wave in the late 2000s overhauled outdated public facilities and medical practices and implemented broader private insurance This infusion of capital succeeded in upgrading parts of the health infrastructure and improved access but for only some.
But the new system had problems. In particular, it lacked a safety net to catch all population groups. Lower-income groups tended to lose out. Meanwhile, overall spending on health care increased from 8 percent of GDP in 2007 to 10 percent in 2010 before dropping back again with current spending about 7 percent.
To improve access, the government in 2013 took the bold step of becoming the primary purchaser of health care, paying for it out of general tax revenues. Georgians receive, via universal health care coverage payments, some core outpatient elective services, some emergency care services, and elective inpatient services but within set benefit limits.
There remains a role for private health insurance but it is considerably reduced. Customer volumes have dropped precipitously, from 2.5 million to 500,000, as Georgia transitions to a more government-financed system of social health insurance.
The Georgian experience underscores how for a system to be financially sustainable, health care providers must collaboratively construct a health care infrastructure that is as cost-effective as possible. Cost-effectiveness must be hardwired into the system's architects and operators.
One prudent cost control measure, for example, is to manage the patient appropriately at each point of an integrated care network. Care coordinated via robust primary care with relevant supportive services such as diagnostics referred up and down to specialist levels of care.
As private providers dominate Georgia's health sector, it makes sense for them to do more of the infrastructure planning. But government can still provide a helping hand. For instance, government has at its disposal a wealth of demographic and financial data and analysis that it can share with providers to help them anticipate which services will be needed most and plan accordingly. Having such data will also help providers to calculate how much the government can afford for their services.
How will we know if Georgia is a good or bad poster child for universal health care? In the good case scenario, the government manages to stave off major cost escalations, for instance, of the copayments that patients are made to pay. In the bad case scenario, private health care providers dictate price, access and copayment levels, leading costs to spike to levels that the government cannot afford.
In summary, for countries to hit the sweet spot with health care, they must relentlessly focus on value for money and services, integrating that mindset into their planning and care outcomes.
Calling all HuffPost superfans!
Sign up for membership to become a founding member and help shape HuffPost's next chapter