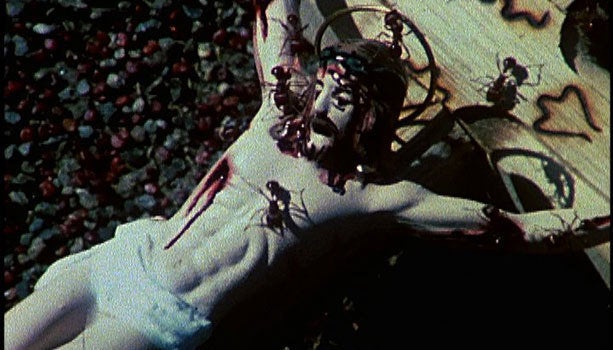 The plot continues to thicken, as it has over the past week or so, with late artist David Wojnarowicz and his controversial video "A Fire In My Belly." Banned from the Smithsonian's National Portrait Gallery, the video, which features an ant-covered Jesus, has sparked an intense debate on both sides of the coin, with supporters decrying the censorship of the work. Opposingly, religious groups and conservative politicians have spoken out against the video on two main points: that the film is anti-Christian because it features a Jesus figurine with ants crawling over and around it and that it is "an "outrageous use of taxpayer money." (NY Times)
Despite being banned in DC, the work will continue to see the light of day. Just after being banned by the NPG, Washington DC gallery Transformer showed the video in its window and began organizing protests.
So perhaps the video is enjoying a wider scope than it would have, had the Smithsonian decided to leave it in the exhibition; even the Courtauld Institute of Art in London is holding an event today focusing on the controversy.
Originally scheduled to be part of the National Portrait Gallery's exhibit "Hide/Seek: Difference and Desire in American Portraiture," which explores the role of gay identity in art, Wojnarowicz' video was removed from the exhibit when House GOP Leader John Boehner spoke out. Almost immediately following the museum's announcement, galleries, museums, and the art world at large cried out against the suppression of the work.
New York gallery PPOW, which represents the Wojnarowicz estate... condemn[ed] the NPG's decision to take down the video, calling Catholic League president William Donohue's inflammatory statement that "A Fire in My Belly" was "hate speech" an "insult to the legacy of Wojnarowicz, who dedicated his life to activism and the arts community."
Where do you stand in this debate? Is it art that shouldn't have been censored or is it offensive to show work like this in a federally funded museum?