From Berlin Wall to Firewall
Since the Internet became a common tool, the world has become smaller. Because we live 10,000 kilometers apart, the Internet is the most efficient way to communicate to my family in Turkey, as it enables us to be as close as the click of a mouse.
In the bigger picture, it is a significant tool for all of humanity to have equal access to information and ideas. It can bring equality, justice and transparency to societies. We cannot deny the importance of the Internet as a tool for freedom of speech. Yet, a deputy from the ruling Justice and Development Party (AK Party) has now introduced an amendment to Turkey's Law No. 5651, which is related to Internet content and cybercrime. It would give the transport and communications minister the power to block websites deemed to be violating privacy, as well as compel Internet service providers to retain information on their customers' activity on the Internet.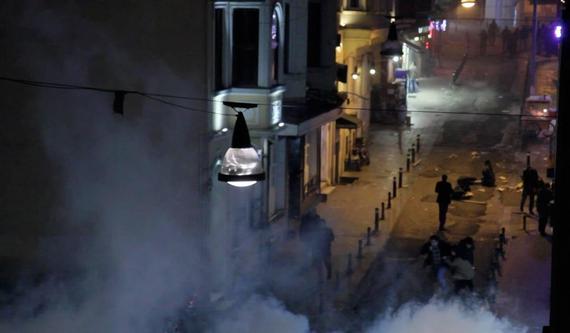 Photo is taken by Bobby Esra at the demonstration against internet censorship in Istanbul, Turkey on Saturday January 18, 2014
"Our content on the Internet would be subject to censorship more than ever, and our access to the Internet would also be restricted to an unidentifiable extent," said Burçak Ünsal, an IT and telecommunications lawyer and member of the bar in New York and İstanbul, when I spoke to him. He added: "There is a URL definition to enable the courts to block access to specific content. This definition, however, is only a misrepresentation, because the court will be able to block an entire service or platform if it prefers to do so."
It feels like Turkey is moving in the direction of censorship-savvy China. Ünsal, who is also a representative of the nongovernmental organization Democracy and Justice Volunteers, pointed out that Turkey is a party to the European Convention on Human Rights (ECHR), the Council of Europe Declaration on freedom of communication on the Internet and the Convention on Cybercrime (the last one has not been ratified), and although Turkish legislation with respect to the struggle against crimes committed on the Internet should have been in compliance with such international agreements, the current situation far from that.
"Although Turkey should have used this opportunity to amend Law No. 5651 to improve its compatibility with EU regulations, to enhance the digital economy and basic human rights, unfortunately it seems like what the government has in mind is the opposite," Ünsal said, noting, "If these amendments are enacted, freedom of expression, access to news and Internet investments could be very adversely affected."
In a recent Financial Times article, Daniel Dombey claimed that trying to bring censorship to the Internet is just part of an effort to cover up corruption in Turkey. He wrote:
Some critics have alleged that the legislative initiative is part of a general trend in which the government of Recep Tayyip Erdogan, prime minister, is concentrating more power in the wake of a corruption investigation that has targeted a host of figures connected to the government, including four former ministers and Mr. Erdogan's own son, Bilal.
Of course, the latest move by the Turkish government has also raised concerns in Washington. "The U.S. supports the desire of the Turkish people for a legal system... where no one is above the law and where allegations against public figures are investigated impartially," said U.S. State Department spokeswoman Jen Psaki last week, expressing the frustration of U.S. President Barack Obama's administration with Mr. Erdoğan. "We've expressed our concerns about some of the events that are happening directly, publicly and privately, and we'll continue to do that."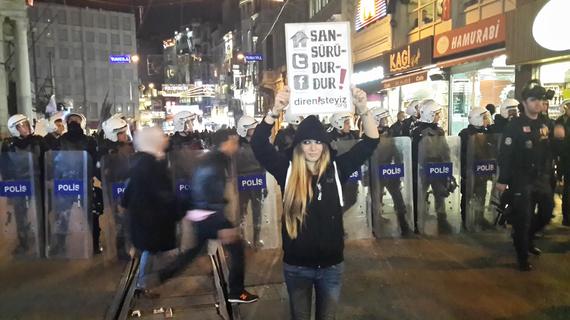 On the other hand, last Saturday a peaceful demonstration turned to a disaster. Police used water cannon and fired teargas to disperse hundreds of protesters that gathered in Taksim Square, Istanbul for a rally to protest a bill that would tighten government control over the Internet. The demonstration was stopped by the police before it started.
The bill that includes the controversial law was backed by a Turkish parliamentary committee on last Thursday will be discussed by the National Assembly in this week. Yet, there is no way to be hopeful about it since freedom of speech is already in struggle in Turkey in many ways through restrictions, arrests of journalists and alleged pressure by politicians. A report by a committee to protect journalists (CPJ) defines Turkey as the "world's leading jailer of journalists" in 2013 and in the same year, Turkey ranked 154 out of 179 countries in the Press Freedom Index by Reporters without Borders.
Well, censorship is like isolation -- it is as bad as dividing countries with a wall, like in Berlin during the Cold War. However, what the Turkish government must realize is that the Cold War is over and the "wall" was knocked down years ago. The only remaining culprits using their power to implement such isolation are those the world calls dictators, like North Korea. If the people's will was strong enough to smash the Berlin Wall, it will also overcome any government firewall. You can filter the Internet, but you can't filter people's minds and their desire for information and freedom of speech!
Related
Popular in the Community