ANGOLA, La. ― This gated penal village has no hotel, no fast food restaurant and no bars, but it does have "the wildest show in the South." 
The Angola Prison Rodeo, the nation's longest-running prison rodeo, has been packing in thousands since its inception. The controversial event is also considered a highlight to inmates housed within the 18,000-acre Louisiana State Penitentiary, as it gives them a slight taste of freedom.
"It really gives them a feeling of being a man and standing on their own two feet, even though they're incarcerated," Francis Abbott, a corrections supervisor with the prison's re-entry program, told The Huffington Post.
Officials also credit the rodeo for positive behavior changes in the compound, which they claim is helping distance the facility from its reputation as "The Bloodiest Prison in America."
"The rodeo helps us give the guys something to look [forward to], and the fact that we bring a human aspect to the way we treat them," Abbott said.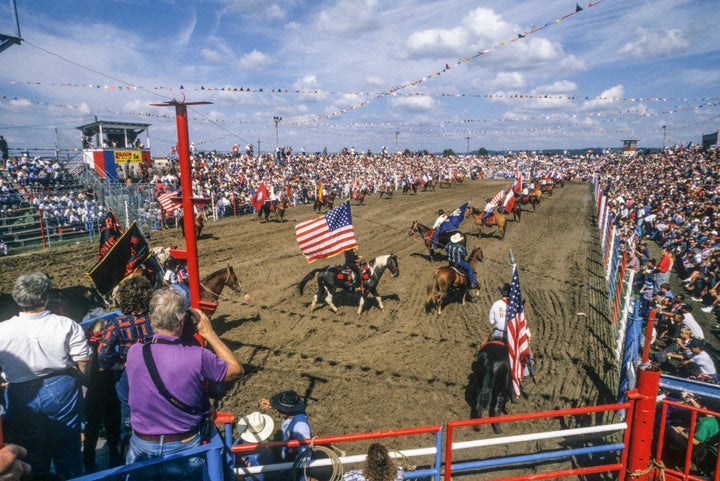 The semi-annual rodeo ― held each Sunday in October and one weekend in April ― is typically a sold-out event, with nary an empty space in the 11,000-seat arena.
Inmates who participate told HuffPost it gives them a break from the monotony of prison life.
"It's an awesome experience," said inmate Steven Garner, who is serving a life sentence for second-degree murder.
"I love the fans and the crowd," said Brian Richards, another lifer. "It's my second year of being in the rodeo. It's great to have fun … [and] come out to be with family." 
Angola primarily houses inmates like Garner and Richards, who may never be released back into society. Nearly 75 percent of those incarcerated here are serving a life sentence, meaning their only chance of leaving prison, other than the slim chance of judicial intervention, is in a pine box.
Louisiana State Penitentiary, the United State's largest maximum-security correctional facility in terms of population, was once a working slave plantation and has been criticized for its handling of inmates.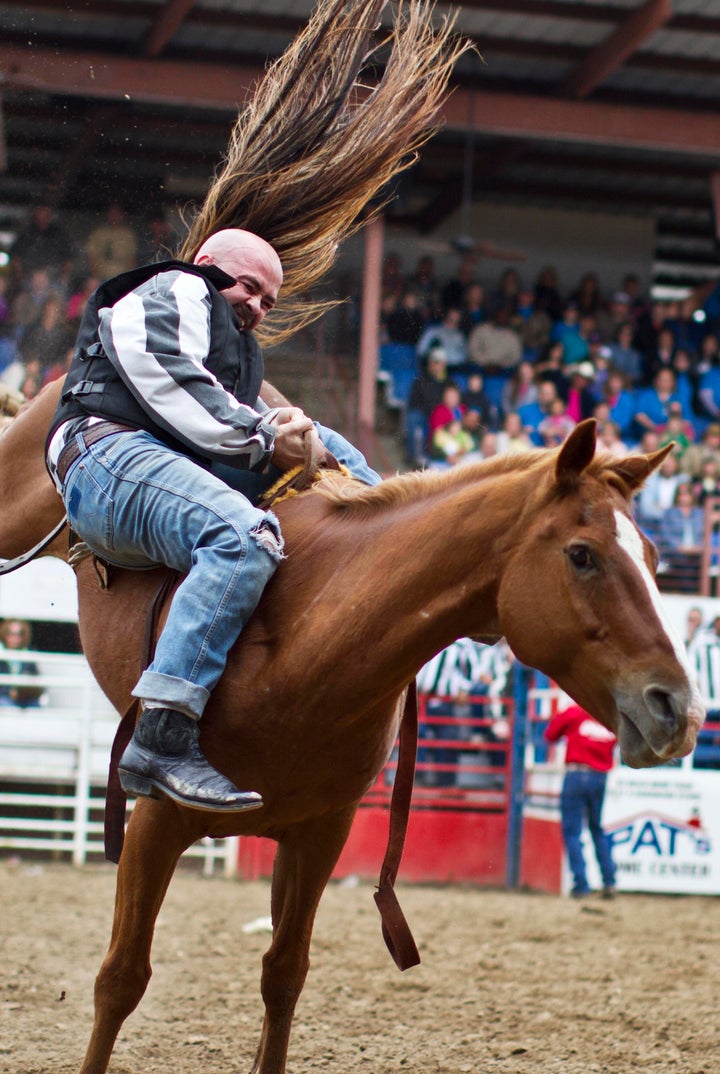 The rodeo, born in 1965, has also received a lot of criticism in recent years. The Guardian has referred to it as an "American spin on the Roman Colosseum" and The Daily Reveille has called it "barbaric at best." Last year, an online petition asking Louisiana Gov. Bobby Jindal to "Stop the Angola Prison Rodeo" over its treatment of the bulls garnered 1,285 supporters.
"People tend to have a very simplistic response to the rodeo ― either rejecting it out hand as [a] barbaric exploitation of people or being totally blind to those things," Marcus Kondkar, associate professor of sociology at Loyola University New Orleans, told HuffPost. "And people who are totally blind to those things tend to see it as a free choice."
The event, according to the Angola Museum website, is a "professionally produced rodeo" that uses livestock and judges provided by rodeo stock contractors. 
"You'll be hard pressed to find an inmate who participates in this who has anything bad to say about it," Kondkar said.
Danny Richardson, a 30-year-old inmate who is serving a life sentence for second-degree murder, was a participant in the 2016 rodeo season.
"This is the choice I make of applying myself to something positive," Richardson said. "I mean, it's [exciting] … a lot of people do it for the glory of name recognition or bragging rights, [but] I just do it from the heart, for me."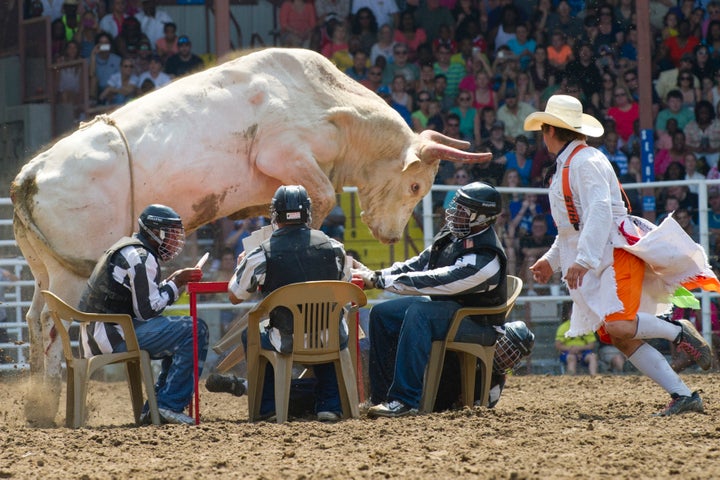 Inmates also have the opportunity to earn more in a single day than they'll earn in an entire year working at the prison. The monies can be garnered from the sale of arts and crafts ― with daily sales sometimes grossing $300,000 ― or by risking their neck in the ring. 
An event called "convict poker," in which a bull is released on four inmates at a poker table, can earn the inmate who remains seated the longest $250. Another event, considered one of the most dangerous at the rodeo, is called "guts and glory." Participants are tasked with plucking a poker chip from between the horns of a charging bull. A successful attempt can net an inmate the $500 grand prize.
The cash prizes are substantial sums, considering inmates are accustomed to receiving pennies per hour. The rodeo, officials claim, is also beneficial to the West Feliciana Parish, in that it brings in much-needed tourism dollars.
Proceeds from the event ― which can bring in $150,000 per day in ticket sales alone ― go beyond covering its expenses, according to Abbott. They are used not only to supplement the Inmate Welfare Fund, but also to fund the state's re-entry program, which is intended to help nonviolent offenders re-integrate back into society.
"That to me is state of the art," Kondkar said. "And [it's] primarily staffed and run by lifers, who really are giving something back in a meaningful way. The future of corrections is re-entry."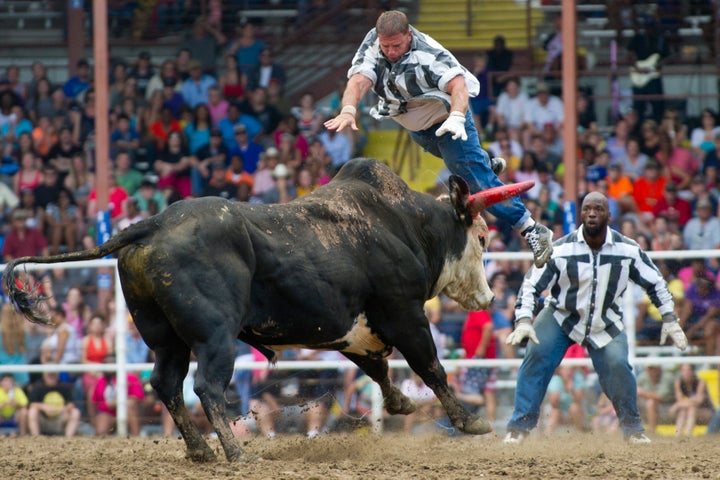 While he is in support of the program, Kondkar said he feels its reach is somewhat limited.
"The problem is it can only reach a small portion of the population that's coming out of the prison every month," he said. "Even if it's wildly successful, it's just too few people."
However, Laurie White, chief judge of the Orleans Parish Criminal District Court and co-founder of the Re-Entry Court Program, told The ABA Journal that the initiative, which is only a few years old, already appears to be having an impact on recidivism.
"Our success rate seems to be in the numbers way above 60, 70, and 80 percent," White said.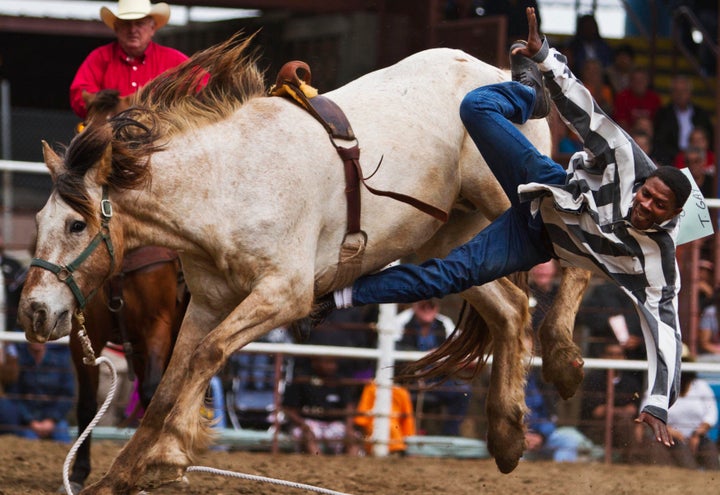 Inmates at Angola also speak highly of the program, even those who will not benefit from it.
Aubrey Sikes, a former Marine, was 18 years old when he was arrested in the 2008 love triangle slaying of his lover's husband. Convicted of second-degree murder, Sikes is serving life without the possibility of parole. He's the youngest inmate to win "All Around Cowboy" at the rodeo, and when he's not battling bucking horses and angry bulls, he's teaching at the prison automotive school, which provides technical skills to members of the re-entry program.
"The re-entry program is a way for guys that are in Angola like me, with a life sentence, to actually give back to the community and to teach those that are younger than us," Sikes told HuffPost. "By me being 27, I can kind of outreach to those that are their age and give these guys that come in for drug offenses a chance to get a job and to actually be closer to their families."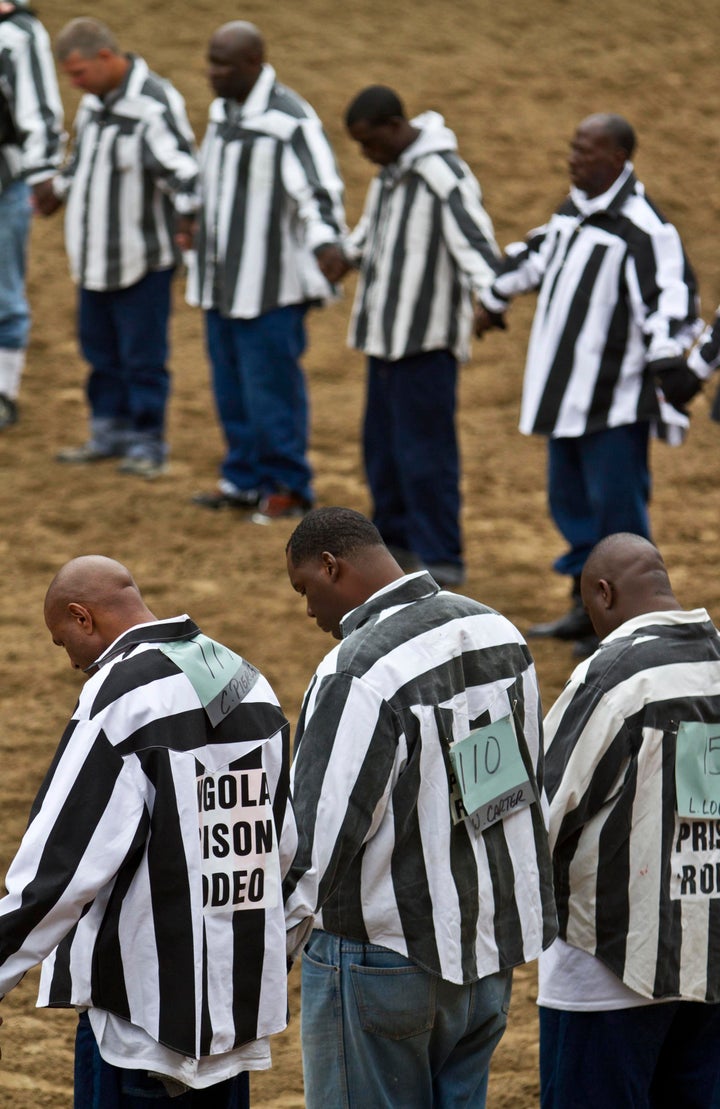 The end goal of the program, says Gary Young, acting assistant warden of programming at Louisiana State Penitentiary, is to break the cycle of incarceration.
"If a child has an incarcerated parent, there's a 60 to 70 percent greater chance that that child, too, will become incarcerated," Young said. "Ultimately, at the end of the day, we will have less victims of crime."
The old Southern slave plantation-turned-prison touts itself on being born again and has, for all outside appearances, accepted rodeo as one of its saviors.
"This rodeo is so important to them ― so important to their growth ― because they don't want to be remembered for the worst thing that they ever did," Young said. "They take a great deal of pride in being able to be out here and associate with the public and let the public see that redemption is possible."
Calling all HuffPost superfans!
Sign up for membership to become a founding member and help shape HuffPost's next chapter
BEFORE YOU GO
PHOTO GALLERY
The Most Humane Prison in the World?