A major U.K. retailer is taking big steps to address the issue of gender stereotyping in children's clothing.
Over the weekend, Twitter erupted following reports that the department store chain, John Lewis, had removed "girls" and "boys" labels from its children's clothing and signage separating that department into "girls" and "boys" sections.
As John Lewis' head of children's wear, Caroline Bettis, said in a statement on Monday, "We do not want to reinforce gender stereotypes within our John Lewis collections and instead want to provide greater choice and variety to our customers, so that the parent or child can choose what they would like to wear."
John Lewis also launched a unisex baby and toddler wear line, which features dinosaur dresses, science shirts and more.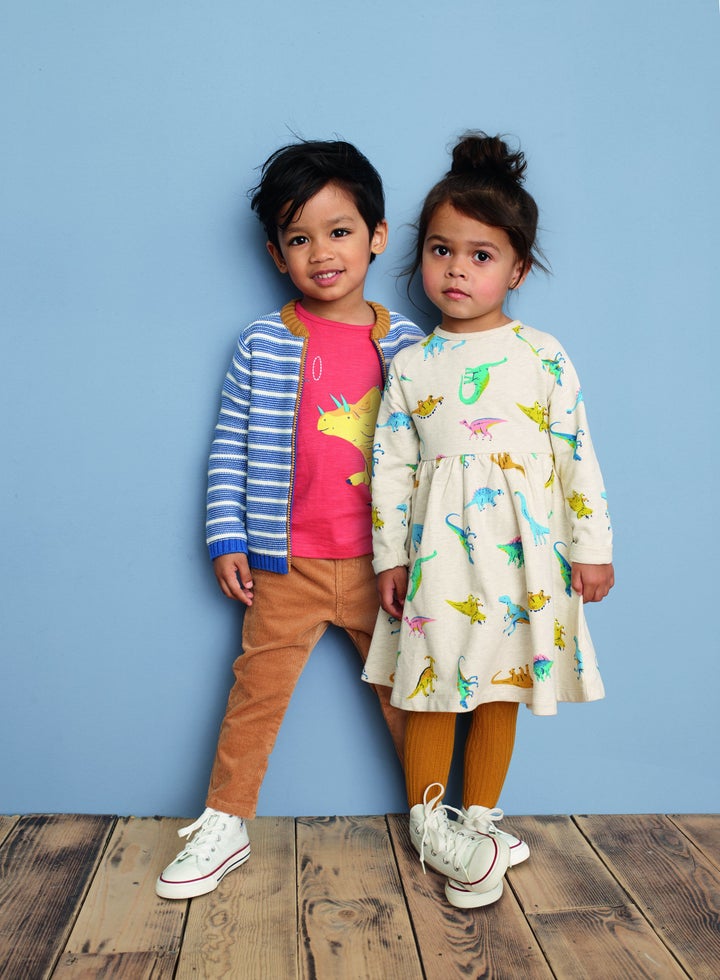 In response to these reports, many parents, child advocates and activists expressed their joy on Twitter. Several parents noted that their girls often feel embarrassed about wanting to buy clothing designated as for "boys" and vice versa.
John Lewis' system means that all kids can select whatever style of clothing makes them feel comfortable ― whether it's a floral dress or a space-themed T-shirt ― without the labels of "boy" or "girl" to designate who is supposed to wear each garment.
This system also generated criticism as well, with many Twitter users expressing deep outrage at John Lewis' decision to replace the "boys" and "girls" labels on its children's clothing with "boys and girls" labels.
Piers Morgan declared that "Britain is officially going bonkers." Conservative Member of Parliament Andrew Bridgen said in an interview, "I have no idea what would possess John Lewis to do this. Boys and girls labels and signs are informative. I think removing them could be very confusing for the consumer."
He added, "It appears political correctness continues to march and, whether it is going in the right direction, is a point for debate. I cannot see many customers buying a dress for their six-year-old boy."
This Twitter uproar has been somewhat confusing to the folks at John Lewis.
"We're surprised by the reaction these changes have received this weekend because they were introduced over a year ago," a spokesperson for the company told HuffPost, noting that John Lewis introduced non-gender specific labels in its own brand of children's clothing at the beginning of 2016 and subsequently replaced the "girls" and "boys" signage in stores with photo of children modeling the clothes.
The unisex baby wear line was introduced in January 2017. Apparently these earth-shatteringly radical changes went unnoticed for quite some time.
"In our shops, girls and boys clothing are still positioned in the same way as they have always been and online customers can search by 'girl' or 'boy' if they choose to," the spokesperson added. "As our customers would expect we're still selling a wide variety of children's clothing including traditional clothing for girls and boys. We haven't made any changes to our website but continually review how we display products online to make searching as easy as possible."
Highlighting the purpose of these decisions, the spokesperson concluded, "We want to provide greater choice and variety to our customers so that parents or children can choose what they would like to wear."
Many Twitter users also responded to the critics of John Lewis with clarification, humor and the signature British sarcasm.
The organization, Let Clothes Be Clothes ― which focuses on removing gender stereotyping in children's apparel and marketing ― also issued a statement in response to the John Lewis debate.
"The move by John Lewis to remove gender stereotyping is not about gender-less children, it is about gender-less clothes," states the press release. "The gender neutral term is misleading. It's not about making all kids the same, it's acknowledging that all children are different. Selling 'children's' clothes rather than 'girls' or 'boys clothes enables children to be themselves without restrictions."
Advocate Cheryl Rickman notes, "Gender neutrality is about giving all children equal opportunities and acknowledging that all children are different and unique."
John Lewis' commitment to helping kids be individuals with their own interests and tastes marks a big step toward empowering children . The response on social media shows that parents care about these issues and want their children to to feel comfortable as they are.
Ultimately, however, one Twitter user addressed the question that's really on everyone's mind.