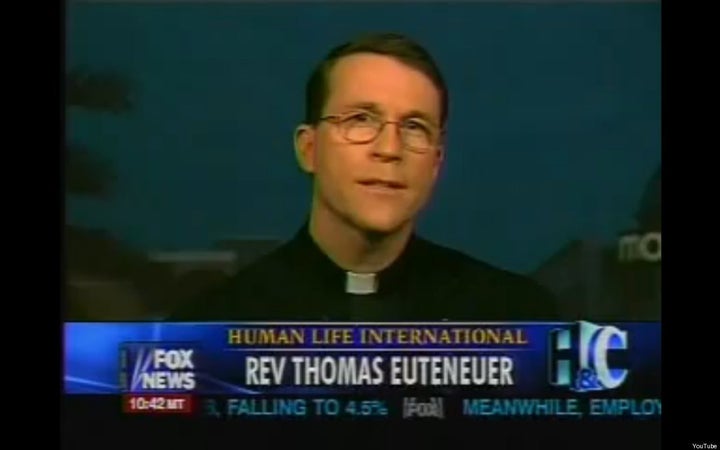 An increasingly shrill and sometimes threatening tide of Catholic online debate about the reasons for the sudden and unexpected Aug. 27, 2010 departure of Father Thomas Euteneuer from his post as president of Human Life International led to a flurry of official apologies, explanations and defenses of both Euteneuer's past behavior as not only the superstar of the international pro-life movement, but also an exorcist for the Catholic Church.
The Internet crescendo peaked in the wake of a Jan. 27th medical emergency at HLI's Front Royal, Virginia headquarters described by emergency medical responders as a "medical seizure" and by some witnesses as a "demonic possession" of a past female associate of Father Euteneuer's. Five days later, as the Catholic blogosphere exploded with theories and accusations against the priest, attacks on both the priest's critics and alleged victims, Euteneuer broke the five months of official silence with an admission of one instance of moral failing during his performance of an exorcism.
"The circumstances that led to my departure from HLI were related exclusively to my own decisions and conduct within the ministry of exorcism that I carried out independently from my responsibilities at HLI," Euteneuer began in a Feb. 1 post on the website LifeSiteNews. While adding that the "vast majority of my decisions and conduct, both personally and in this ministry, were morally sound and consistent with all standards of pastoral care of persons," Euteneuer added, "I must acknowledge, however, that one particularly complex situation clouded my judgment and led me to imprudent decisions with harmful consequences, the worst of which was violating the boundaries of chastity with an adult female who was under my spiritual care."
Euteneuer took "full responsibility" for his "weakness and sinful conduct" but added a denial of some specific online accusations, such as the presence in a rental room in his parent's home of a woman alleged to have been the subject of repeated exorcisms by the priest.
Within 24 hours both Euteneuer's bishop and Human Life International had issued statements on the matter, explaining and justifying the past silence, acknowledging the situation -- and in HLI's case adding to the mixed reaction to Euteneuer's statement with the admission of multiple accusations targeting Euteneuer, the priest's immediate admission to improprieties regarding the initial accusation, and a justification for a doctrine of silence on such matters as the direction of Catholic Canon.
"The good and safety of others, respect for privacy, and the common good are sufficient reasons for being silent about what ought not be known or for making use of a discreet language. The duty to avoid scandal often commands strict discretion. No one is bound to reveal the truth to someone who does not have the right to know it." (Catechism of the Catholic Church, 2489. Emphasis in the original.)," the HLI statement said.
"Although Father Euteneuer is somewhat remorseful, it doesn't seem to me he is ready to take full responsibility for the episodes or has even grasped the full gravity of his involvement in them. For the diocese to keep quiet and let people continue to believe he is a saint is one thing, but the fact that Father apparently is not in a 24/7 care center is troubling, because it means women are still vulnerable to his advances," said Catholic blogger Tom O'Toole.
"We're furious," another blogger with personal connections to Euteneuer's ministry as an exorcist said of her family's reaction. "Adele", who asked us to keep her family's name and location private had created a blog stream, "Journey to Therese" that was perhaps the most contentiously posted in the weeks leading up to the official statements on Euteneuer.
Online Debate and Threats
On Jan. 30th "Adele" told us she did have some concern about the tone of some posts both attacking alleged victims and those posting about their plight.
"Everything comes in God's time, not your time ... didn't Jesus have to wait for His Father on the Cross??? ... but you're looking for blood ... you'll get it but it will be yours," one anonymous blogger posted to Adele on Jan. 28. Adele prefaced the post noting it sounded like "a death threat" and that it had originated from a woman in Florida -- "I will be reporting this to the proper authorities," she added.
Between April 2008 and prior to Father Euteneuer's 2010 departure from HLI, Adele's family paid Euteneuer directly for as many as 15 visits to their mid-east home to deal with what they believed was the demonic possession of a family member, she told us.
While they experienced nothing that could be termed sexually abusive, both Adele and her family now wonder if their trust in the priest and his healing abilities wasn't misplaced idealism in a man one blogger said was treated like a "rock star" within the pro-life movement. Adele reflects on episodes she now perceives to have been counterproductive and emotionally bullying. Those incidents varied from threats to withdraw from the exorcism process due to the subject's heightened emotional state; to several behind-closed-door accusations that the female subject "had a problem with men" due to her jerking her hand away from Euteneuer's as they prayed together during the exorcism ritual. She added that after such episodes and tensions surrounding the family, the next time Euteneuer was in direct contact with them "it was like nothing had happened."
Both Adele and her husband agreed the family saw little positive impact from Euteneuer's repeated exorcism interventions. However they added that once another priest became involved the situation seemed to reach a positive conclusion in fairly short order.
Euteneuer gained national notoriety for attacking Sean Hannity as a failed Catholic on the Fox News commentator's own television show. In 2007 Euteneuer blasted Hannity for his stance on birth control as an acceptable alternative to abortion for non-Catholics.
"Let he who has not sinned cast the first stone," Hannity repeated several times to Euteneuer during the infamous TV encounter. Euteneuer dismissed Hannity as a "heretic" and "social Catholic" during his scathing appraisal of the newsman's stance on birth control among non-Catholics.
Hannity was later reduced to a one-word response -- "Wow" -- to the priest's assertion he would refuse Hannity the sacrament of communion for that stance.
On March 15, 2010, Father Euteneuer posted this online reflection on that moment in the national spotlight.
"I still pray for him and hope for his conversion. What I hope and pray for even more is a total return to fidelity of all Catholics to the Truth on the critical issues of life, marriage and family, and the sacrificial commitment that alone will bring America out of its moral decay."
Related
Popular in the Community