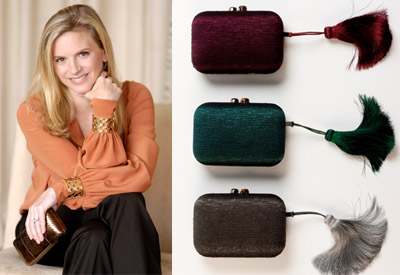 Hong Kong-based designer Fiona Kotur has been making waves in the handbag industry ever since she launched her line, KOTUR, almost seven years ago. What started as a small collection of clutches and minaudieres has turned into a mini-empire of full-blown day and evening bags. She recently announced her collaboration with American retailer J.Crew.
"We chose two silhouettes of minaudiere exclusive to KOTUR for J.Crew, in a dozen or so colors and materials. The price points range from $300-600. The assortment is a perfect combination of our aesthetics. The silhouettes are classic, and the whimsy and personality come through the texture and color of the covering material from guava shagreen, miniature sequins and grey flannel," says the American-born designer, who previously held posts at Ralph Lauren and Old Navy.
She also created a line for the Home Shopping Network called Fiona Kotur Muses, which will debut on HSN on September 14. "It consists of 12 day bags for fall, priced between $200-450. I am excited about these bags -- they turned out really well, and they have their own distinct style that does not look like anything else currently offered by HSN. I do think they look like they could have been bought in Barneys or Bergdorf," says Fiona who does a good job of balancing the roles of wife, mother of four boys and designer with style.
Below, Fiona fills in the blanks of my questionnaire.
When I wake up... it's like the starting pistol at the Kentucky Derby has just been fired -- a mad dash to get everyone ready and out the door.
Before I go to bed... I share a glass of Bordeaux with my husband on our very, very long sofa, lounging toe to toe, with only the lights of Hong Kong and its skyline through the window... very peaceful.
A well-dressed man/woman... should never look like they're trying too hard.
Women should always... write hand-written thank you notes.
Men should never... go more than a week without calling their mothers... advice to my four sons upon maturity.
The best thing that's been said to me... was when one of my sons proposed to me... obviously he was very young, but it was so sweet and touching.
The biggest misconception about me... is that I shop a lot. I don't have much time, and I actually have a small-ish wardrobe. But I collect accessories, so the same few pieces of clothing are easily transformed beyond recognition.
If I weren't doing what I'm doing today... I would love to be a sculptor, though certainly I would be a starving one.
My legacy... are my beloved children... and a few little handbags that I hope will still look new and fresh even when I am old and wrinkly.
A great idea... is usually simple and touches the imagination.
Botox is... fine but sometimes creepy when overdone.
My mother... is a cross between Coco Chanel, Auntie Mame and Lucille Ball, with Syd Charisse's legs... Michael Kors even commented on her 'great gams'!
The soundtrack of my life... Sinatra singing "Fly me to the Moon," Cole Porter's Anything Goes and Bernstein's On the Town with a bit of "Amazing Journey" by Pete Townshend tossed in.
Happiness... is being inspired.
There's a time and place for... sleep, and I look forward to it.
There is too much... noise and cyber-stimulation. I work best and think most clearly at night when the world is asleep.
In the end... it all boils down to the simple things.