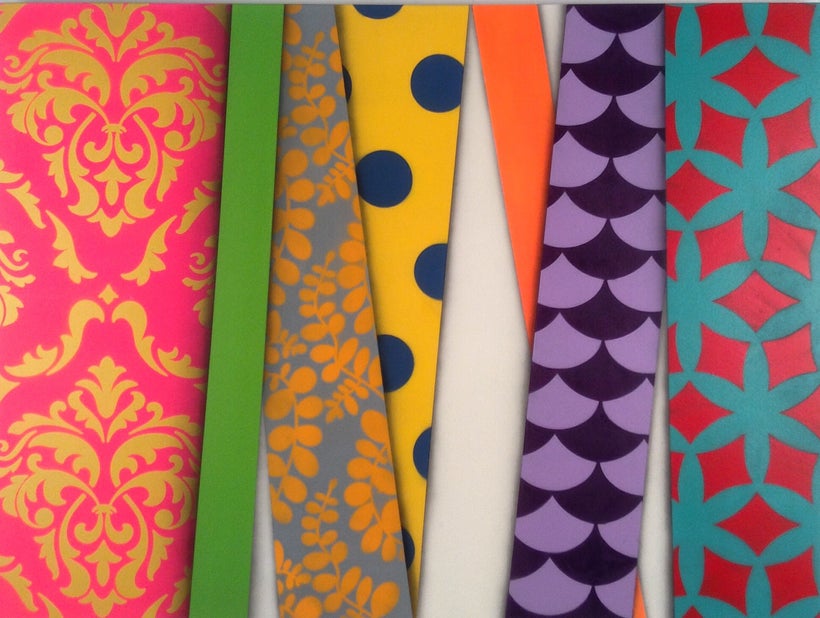 Below is an excerpt of a conversation I had with my old friend JMikal Davis over a Google doc. He's a brilliant painter who is taking abstract art to it's next place. You should consider familiarizing yourself with his work.
MN: I understand you recently had a show in San Francisco as well as a mural project at the World Trade Center. How did that go?
JD: The show in SF was great it was with 1AM (First Amendment) Gallery. I painted 2 murals while i was out there . The name of show was Remnants and it was the largest collection of the new Demos (series) i have been working on. They are an offshoot of a new painting series called Post Punk. Inspired by the band Orange Juice's line "rip it up and start again". The paintings are a lot looser than some of the stuff I was working on before and I am having a lot of fun with them.
MN: So you did the World Trade mural right on top of September 11 fifteenth year anniversary. Let's start with the mural at 4 World Trade. Give me some stats. How big? How many rooms?
JD: Yeah was humbled to be asked and participate given the anniversary and all. I was here and saw all of it happen, so to be able to do anything in return was a privilege. The World Trade Center Gallery and Joshua Geyer teamed up and curated the artists. My mural was 10' by about 60' long. It was in an open corridor by the elevator bank. The floors were yet to be rented so they brought up some artists to add a little something something to it. There was a vast array of amazing other artists from New York to LA along with international artists from as far away as Japan. The view was amazing up there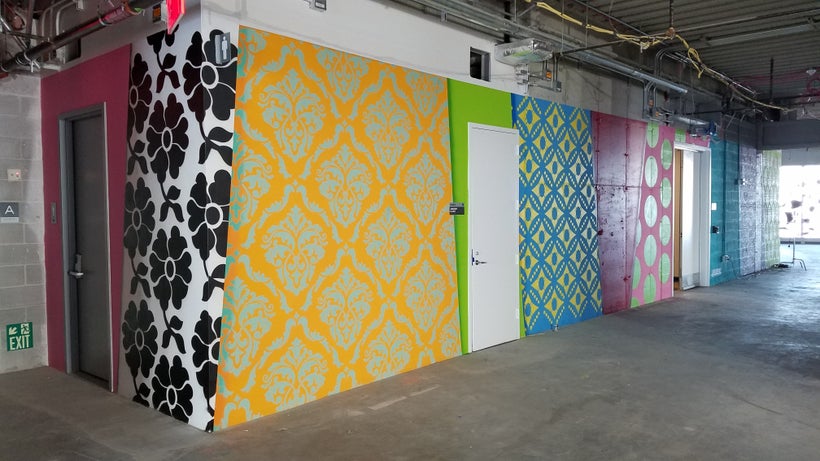 MN: With something like this do you generally have a concept right away? Over the years I've seen some impressively large site specific pieces. Didn't you do a crazy big one at a racetrack somewhere here in NYC?
JD: I used to approach these murals like paintings and just go for it. But as the murals have gotten bigger I need to plan them out, especially if I got people working with me. That way I can just hand them drawing and we can all go at it and knock it out. I do scale drawings and have all the math and measurements worked out, it just makes it easier, not to say that shit doesn't change along the way.
I did do a big mural in Ozone Park, Queens at the Aqueduct Racetrack. That was great it was about four stories and yr so close to JFK it felt like the planes were right on your head! Another awesome aspect was talking to the cats going to racetrack and hearing about what they thought of art. It was nuts.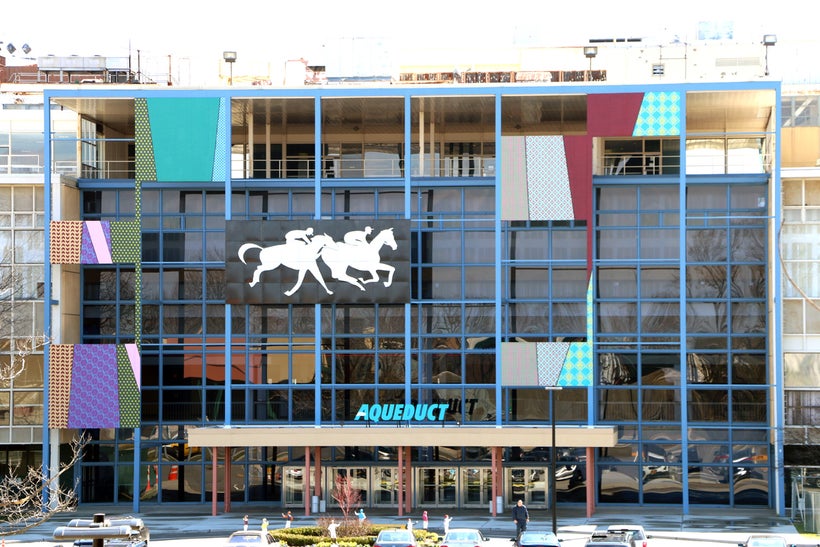 MN: Tell me about the one in Jersey City. I thought that was really impressive.
JD: Thank you! Meenakshi Dash approached me about a mural project she was heading up in the Little India section of Jersey City, right by Journal Square. She was working under Brooke Hansson who is director of public works there and the one responsible for bringing a ton of murals to Jersey City. Meenakshi is originally from India and this section of Jersey City was very special to her and she wanted to celebrate this vibrant community. In my design I incorporated some traditional Indian block print designs and motifs that the community would instantly recognize, luckily my loud color pallet was already in line with Indian cultural norms so it was a perfect fit. The project was amazing and the community really dug it. I just loved the fact that they were bringing me and my team mango lassis every hour!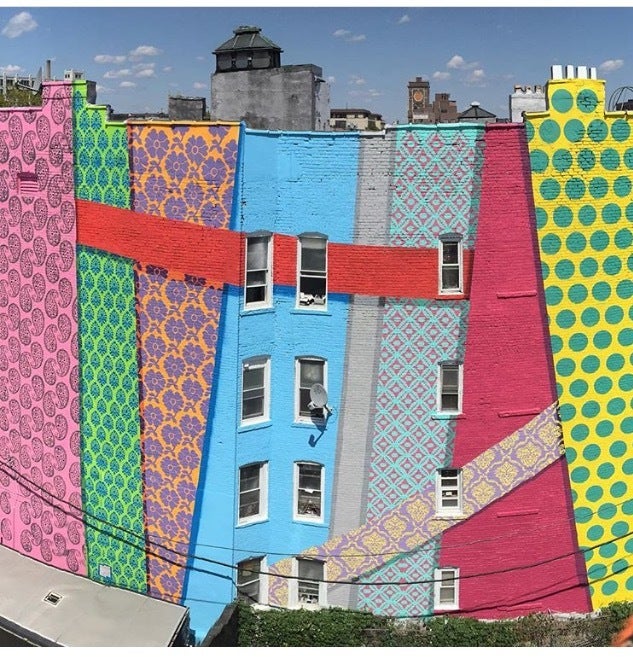 MN: Tell me about the team? What kind of logistics go into a mural of this scale? I imagine it's like being a film director in that there are many moving parts.
JD: I have a few guys I like to work with, but on this one in particular it was me and another amazing artist in his own right named NDA, he has helped me out on most of my larger projects. And the 2 of us busted that out in 5 days, with the help of our lift operator Bang Bang! Yes, from seeing you work on your films it does seem like I am directing. When I was doing that mural for Ralph Lauren I was mostly on ground doing just that as it came together, but I'm still in there rolling out colors and spraying stencils, but at times you need to be able to get back and make sure it is happening like you want it to.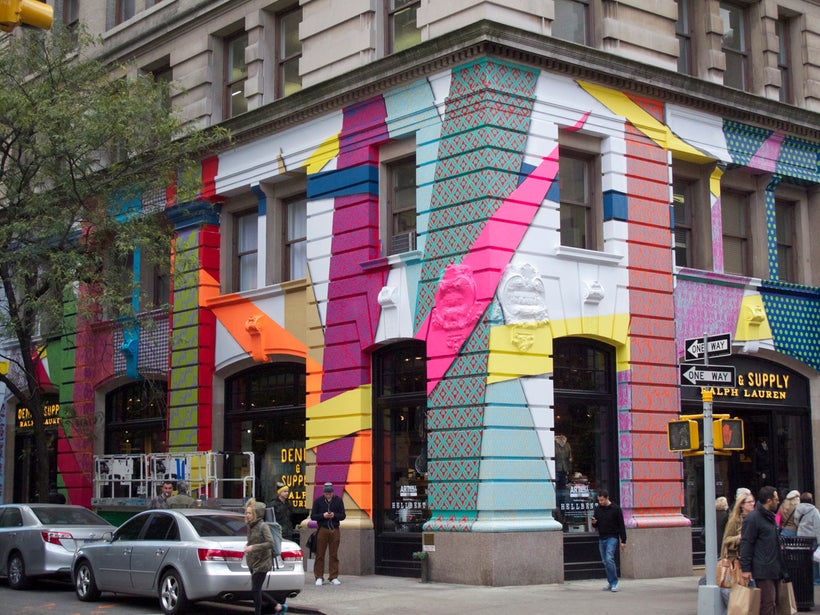 MN: When we were roommates and we were considerably younger and druggier, you did mostly figurative work with abstract pattern elements. At some point the patterns took over. How exactly did you get to this original style? Which I see biters copying everywhere by the way.
JD: Haha, I know it's getting pretty ridiculous, Jeffrey Deitch was even fooled by one these assholes, guess he was in LA too long and lost his edge. I was doing the pieces you mentioned when we were slumming in Bushwick (close to 10 years ago!) and putting them in the street. However I had been collecting the tape I had been using to mask over those central elements because it had amazing overspray of patterns. I was using (the oversprayed tape) as backgrounds and arranging them in my sketchbook. I really dug them but wasn't sure if I could put these up in the street and how it would go over because it was so different than anything going on. I had an opportunity to do a mural on a collectors wall in LA and decided to go for it. All pattern and color, pure abstract and I was super happy with it and got a good response. Been rocking them ever since.
MN: The paintings are both edgy and decorative. I really like stuff where you can open up different markets. There's always prints and recently I saw some rugs that licensed some designs of yours. It's all very Andy Warhol.
JD: Thanks my dude! Yeah, really excited about the rugs. I think they look great and a perfect vehicle to show the art. I have been approached about some different projects and have been a little bit choosey. I am careful because I don't want to cheapen the work but I think it is advantageous to open up some different avenues to get the art out there, yeah a lot like what Warhol was doing.
MN: Can you tell me about what you are doing in San Francisco? What's the concept behind the show.
JD: So, as I mentioned the show is the largest collection of Demos I have displayed, and only Demos. The name of the show is Remnants as it is all collaged 3M blue painters tape from various murals I have created this summer and some bus stop ads I have been creating to go in the bus stop windows. While there are some of earlier style of Demos, more linear and hard edge just to show the transition to the newer ones that are a lot looser and more painterly than what I had been doing. They still retain their vibrant colors. The patterns are still there but more stymied as they are from larger murals.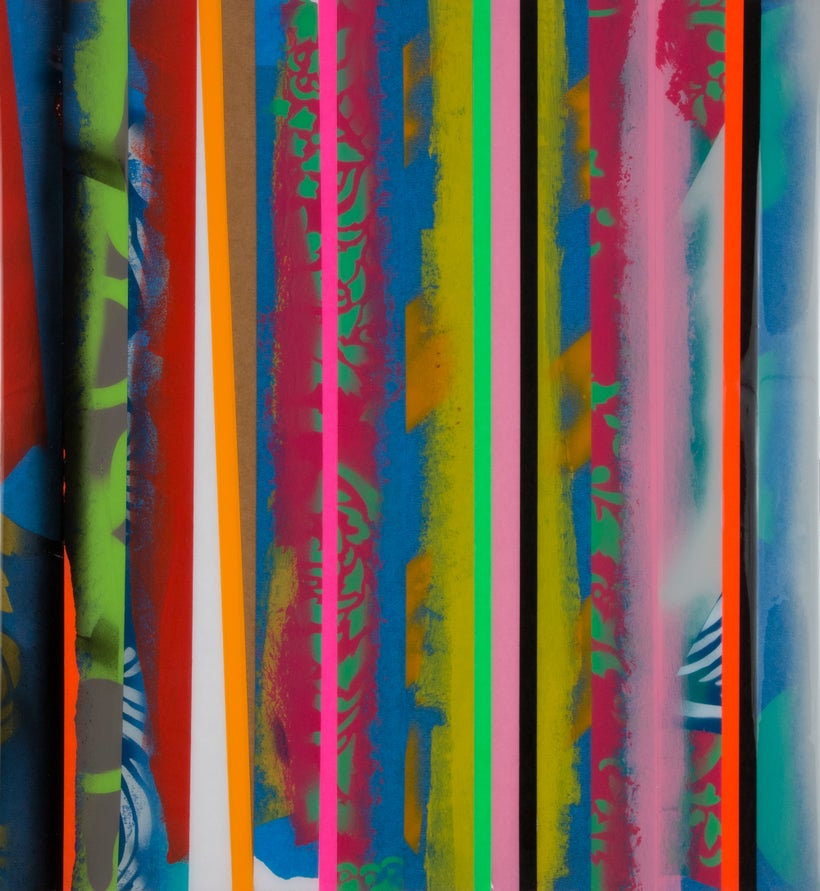 MN: A sculpture in Greenpoint? How's that going? I've never seen you work in sculpture.
JD: It's in process. It's exciting as I have been wanting to take the work from representational into the third dimension for a while now. It's been a huge learning curve and I'm lucky that I have had help from people who know about steel and welding. Our mutual homies at 4x8 workshop have been integral to the process. It's been a lot of planning and designing on the computer and that shit makes me crazy, I don't know how you don't loose it sitting through hours of footage, but I just got to make sure it is perfect
MN: Yes. I find editing total hell. By now the world knows that you are the infamous Hellbent. Do you still go out bombing or are you too well known now? Are you a totally legit muralist now? Old habits die hard.
JD: Haha, I still get my kicks sometimes but it's few and far between. I have a daughter now so I can't afford to spend a night in jail anymore. I do have a few things planned for some ad busting stuff which should be pretty fun, I just need a few spare minutes so I can execute. Hopefully soon.
MN: You've mentioned some collabs in the mix lately. Can you tell me a little about that?
JD: Yeah, super excited about these. I have been working with my friend NDA who is out of Philly now and we been playing around with some stuff. We are working on some things to go into bus stop advertising space. I work on some send them to Philly he works on it, might come
Back to BK or goes up in the street. I have also been talking with a friend here, Rubin 415 about doing a mural but it has yet to materialize. He has a newborn and both super busy, so hopefully it will happen. Logistics are bitch!!
MN: Lastly what are mango lassis?
JD: Haha, it's like an Indian milkshake but yogurt and no ice cream. I'm going to have to take you out for one you'll dig it!
REAL LIFE. REAL NEWS. REAL VOICES.
Help us tell more of the stories that matter from voices that too often remain unheard.
This post was published on the now-closed HuffPost Contributor platform. Contributors control their own work and posted freely to our site. If you need to flag this entry as abusive,
send us an email
.