Christopher Bessette's compelling new film Trade of Innocents will be presented as an advance screening at Trade of Innocents: A Global Perspective on Human Trafficking Symposium at Yale Law School from April 12-13, 2012. The film stars Dermot Mulroney and Mira Sorvino as a husband and wife at work in Southeast Asia to rescue young girls from human traffickers and the tourists who pay for their services. The symposium will feature a series of panels about the efforts of law enforcement and NGOs to combat domestic and international human trafficking. They will also discuss victim-centered models that incorporate the direct involvement of community-based organizations with law enforcement agencies. Writer/director Christopher Bessette and the film's star Dermot Mulroney kindly agreed to answer a few questions about Trade of Innocents and this complicated issue.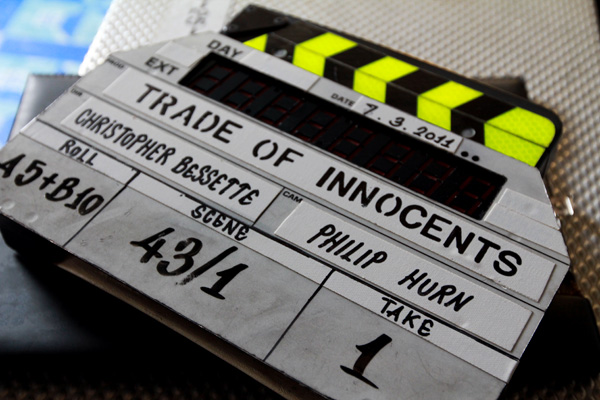 A Conversation with Christopher Bessette:
Nicki Richesin: You've pulled off the impossible by creating something of a magic trick in Trade of Innocents. You've written and directed a film that's a Hollywood thriller, but it also enlightens its audience about the widespread exploitation of young children through human trafficking. How did you first approach this film when writing your script?
Christopher Bessette: Thanks. For me everything begins with truth. Truth outlines the boundaries in which the story unfolds; it outlines the boundaries where my characters meet and battle with their own needs, wants, desires and motives. It sets the framework for everything that follows.
NR: As a storyteller, how important is it to you to make films about the stories that people don't want to acknowledge and often ignore?
CB: I've always had a heart for the underdog, for the one without a voice. At some level most of us know what it's like to be outcast, bullied, mocked, made fun of, ignored. I'm the guy on the playground that says, "Enough! I'm standing with them in their defense." When enough of us do the same, the world will take notice.
NR: You said in the Behind the Scenes video for Trade of Innocents that you love to see characters speak moments of truth on screen. What were your favorite "moments of truth" in the film?
CB: There are so many "moments of truth" in the movie that it is hard for me to say, this is my favorite. (Potential spoiler here: You'll find this odd, but there is a standoff at the climax of the film where the character Duke has seconds to make a decision... seeing the weight of that decision on the face of Trieu Tran who plays Duke, literally brought me to tears when we were shooting the scene. As a director I won't stop until I see that from my actors. It is a subtle change of expression that comes across the actor's face, when you know they are speaking from their soul.
NR: In the beginning of the film when Dermot Mulroney's character Alex Becker meets undercover with a trafficker for the first time, the audience doesn't know whether Alex is a pedophile or not. Why did you choose to hide his identity in this way?
CB: There are multiple reasons for concealing Alex's character. The real life investigators doing this work collect evidence posing as customers. It's incredibly dangerous and heroic. From a cinema goers point of view; in the first scenes it's a shock seeing Dermot Mulroney (Alex) negotiating for a child.
NR: Although a thriller, Trade of Innocents captures life's fragile beauty and danger. With remarkable vulnerability and compassion, you present Alex and Claire Becker as grief-stricken over the loss of their own child, but still struggling to remain open to the world by helping to save trafficked girls. Did you intend for freeing the girls to be a sort of salvation for these characters?
CB: Alex and Claire battle to overcome their own wounds in order to ensure others are spared. In that, Alex and Claire may find the redemption they are looking for. It is selfless and sacrificial but something that each of us must do at some point to make a real difference in the world. If you follow each character in Trade of Innocents, you'll see that thread of redemption running through the story. They are all looking for it, they all want it. Even on deeper levels of imagery, symbolism and color, the thread of redemption, freedom and hope flows through the story.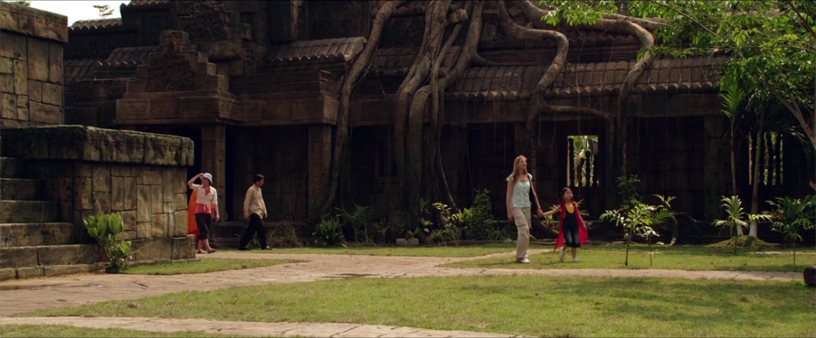 NR: How did you find shooting on location in Bangkok? You're uncovering the harsh reality of trafficking there yet this problem exists all over the world now. Did you feel a responsibility to portray the young girls as survivors rather than victims?
CB: I loved filming in Bangkok. The crews are talented and passionate. The problem of human trafficking is all over the world. Slavery is alive and well in the 21st century; it's time we as a people put an end to it. It's definitely time modern day abolitionists made it known we are not going to turn away from it anymore. As for the portrayal of the girls in the story, I looked for balance in the entire story, even with the girls trafficked. You'll see courage in the face of adversary. You'll see beauty rise from very dark places and in an unsuspected twist some of those girls bring the closure and healing my character Claire (Mira Sorvino) is looking for. So you can say the ones there to rescue, are rescued themselves.
NR: Congratulations on your film and best of luck with it!
CB: Thanks, I sincerely hope Trade of Innocents finds a huge audience worldwide and opens eyes.
A Conversation with Dermot Mulroney
Nicki Richesin: What did you think when you first read the script for Trade of Innocents?
Dermot Mulroney: Having read thousands of scripts over the years, what I immediately noticed about Trade of Innocents was that it hit on a topic and opened a lot of closed doors on a subject that has not been addressed in the American cinema. As I read the screenplay, I became more and more horrified about the situation being depicted. I knew very little about the trafficking of children for the sex trade. The screenplay for TOI was as much a teaching tool for me as it was a ripping good thriller. In the end, I'm happy and thrilled to be in a film that has as much social impact as TOI. Jobs like this -- ones that open eyes as well as entertain -- don't come around that often.
NR: In your role as Alex Becker in the film, you found an incredibly brave and compelling character. What did you find the most challenging part of portraying him?
DM: Without a doubt, Trade of Innocents had its share of production challenges -- long hours, intense heat, tough locations -- but these challenges paled in comparison to the real difficulty in making TOI -- the content. It's not often for me to lie awake at night contemplating the days' work but in the case of TOI, I was frequently kept up by thoughts of the real children going through what we only suggest in our film. The faces of the actors playing the little girls in this movie stuck with me the most... and they were just the actors!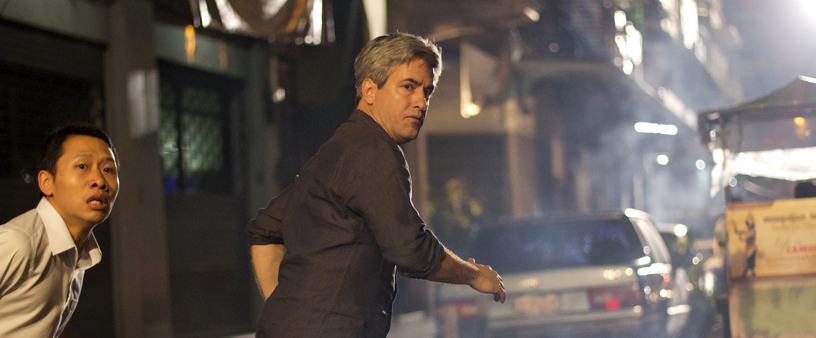 NR: In doing research for this film, you met with a man, like Alex Becker, who works with NGOs and investigates and prosecutes human traffickers. What did you discover about trafficking from working with him? How did you deal with the disgust you felt towards these perpetrators? Did you approach playing Alex any differently as a result of your research?
DM: Some of the most important research I did in preparation for this role was to meet with one of the operatives in the fight against human trafficking. He shared hidden video of actual encounters with children forced into child prostitution. When you see something like that you can never forget it, I assure you. This man's dedication and those like him inspired me to take an even more serious approach to this part. I recognized that if a man like this can go into these hovels in Southeast Asia to bring these children out, then I could certainly summon the courage to portray that person. Beyond that, the content of TOI alone was enough of a challenge for any actor.
NR: As the father of two young daughters, it must have been very difficult to act in the scenes with the little girls in the film. How did you prepare for the more intense scenes?
DM: In fact, because of the kind touch that Christopher Bessette brought with his direction, I found it quite easy to work with the young Thai actresses who portrayed the sex trade victims in TOI. I never felt uncomfortable in any way and, more importantly, none of the young people did either. I credit Christopher fully for this.
NR: The film does an excellent job of demonstrating the difficulties investigators encounter in prosecuting traffickers. How do you hope the film will raise awareness of this critical issue?
DM: As you look deeper into this issue you learn that there are so many sides to the world of human trafficking. You begin to realize how many tiers of victims there are in the chain of abuse and criminality. The brave people working on this issue around the world are beginning to try to stop the flow of people and money "further upstream." To save one little girl from a life of forced sex slavery is, of course, a triumph but the more effective (and vastly more difficult) strategy is to keep that girl from being pulled into the trade in the first place. This means the lethal chain of corruption, greed, poverty and sex crimes MUST be broken before individuals are victimized.

For more information about Trade of Innocents, visit www.tradeofinnocentsmovie.com and for details on the advance screening, please go to: Trade of Innocents: A Global Perspective on Human Trafficking Symposium at Yale Law School on April 12-13, 2012.
Popular in the Community