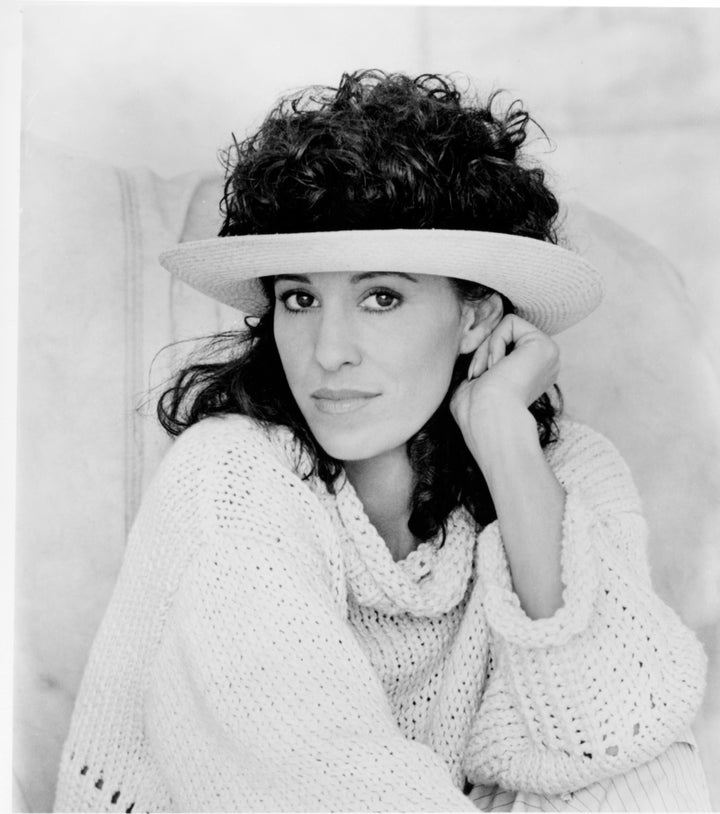 A Conversation with Rita Coolidge
Mike Ragogna: Rita, first off, congratulations on your book, Delta Lady. It captures its time period perfectly. You also have a couple of new reissues—your album Full Moon recorded with your former husband, Kris Kristofferson, plus your Beautiful Evening—Live In Japan album. Full Moon is considered one of the great albums of the seventies.
Rita Coolidge: There was something about the recordings that Kris and I did together that did seem to end up in everybody's house. We did three albums together and I think that they're still being played everywhere. To have this reissued on CD is really great.
MR: Can you remember anything about those sessions? What was it like recording with him? How did it come together?
RC: Kris was signed to Monument records and I was signed to A&M, so when we began singing together on the road during our concerts, it became evident that we needed to probably do some records together for our audience. It had really become "our audience" because we traveled together—I would open and then Kris would do his show. When we started recording, A&M and Monument Records kind of worked it out that they would alternate who was going to put the records out. This one was an A&M release. We always recorded the A&M albums in Los Angeles at Sunset Sound. By the way, I just recorded the record I'm working on now at Sunset Sound as well.
RC: It was great going back there!
MR: Where were the Monument releases recorded?
RC: When we recorded for Monument Records. We would go to Nashville. It was just kind of living between Nashville and LA with these Kris and Rita records.
MR: What was the atmosphere like in the studio recording with Kris? This being your first album together, there had to be a lot of expectations and a lot of romanticizing of what that album was going to be.
RC: I think that we were still fairly new in our relationship as well, still trying to find our way through the studio together, as it were. A lot of our musicians were California musicians there; they would be Nashville musicians if we went to Nashville. We would use some of our band but we would also use some studio musicians. I kind of knew my way around LA studios and the way things were run, and David Anderle, who was my record producer also produced the Kris and Rita records. He was just the loveliest man and such a great peacemaker in the studio. There were times that we just kind of needed a peacemaker. [laughs]
MR: Really? What's an example of that?
RC: Kris and I would be in different vocal booths sometimes because he would be playing guitar and I would be singing. We weren't always in the same vocal booth when we recorded. I remember one time he was upset with me about something and called me an ugly name. I didn't say anything back but David turned up the reverb and it echoed for about five minutes.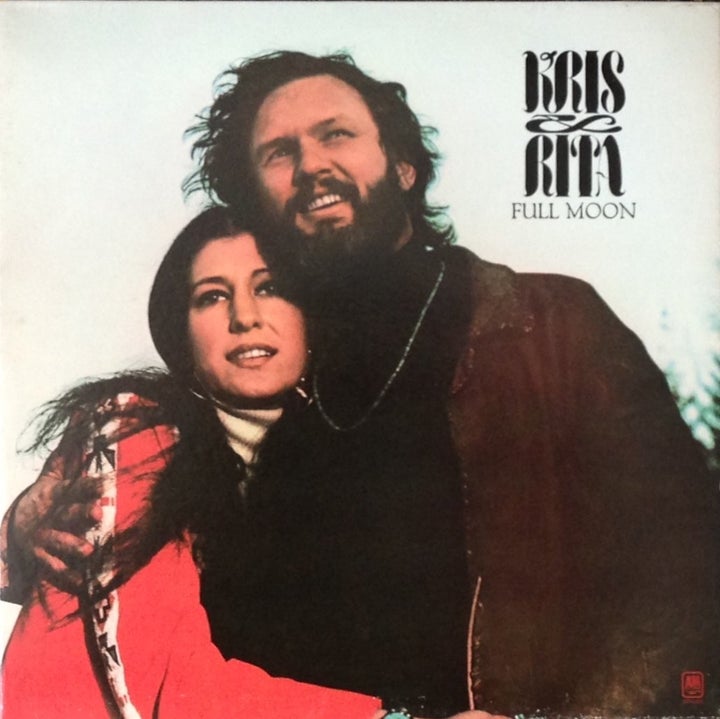 MR: What were some of your favorite tracks from Full Moon?
RC: I love "Hard To Be Friends." That was one of my favorite songs. "Loving Arms"... We won a Grammy for "From The Bottle To The Bottom."
MR: Another of the album's great tracks, "I Never Had It So Good," was recorded by a lot of people, but I think yours was the most popular. And "Loving Arms" was one of the highlights of the record.
RC: It was definitely one of our hits. I still play it today with my drummer in my concerts because I think it was an important record for me and Kris. It was one that people still want to hear so much.
MR: On the album, "It's All Over (All Over Again)" and "I'm Down (But I Keep Falling)" are two songs that you wrote together. What was it like writing with Kris?
RC: It was kind of rare that we did that because Kris was away doing films a lot and I was at home with our daughter, but I think it was always a great experience. I know for a fact that Kris didn't think that I was nearly as good as he was as a songwriter, so I was a little bit intimidated when I would come up with an idea. He would come home from being away and I would play some chords and play some ideas, and he'd usually come around. But I just think that our writing style is different. He was more of a country writer and I was not but we did have a nice time. He would be very sweet.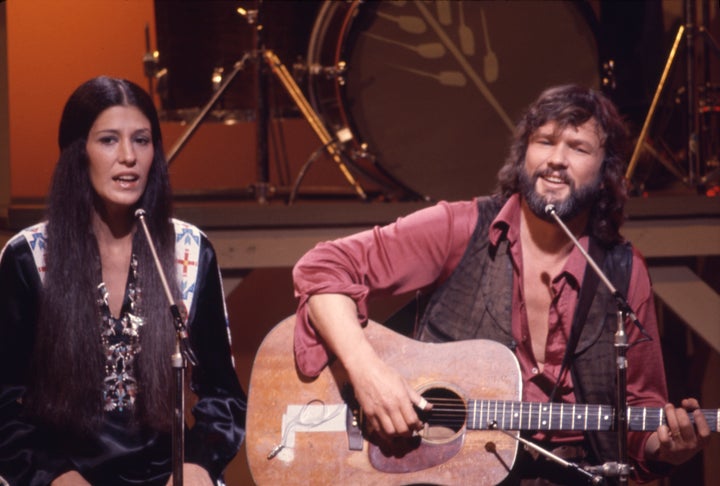 MR: Do you imagine you learned things from each other during the process?
RC: Well, I know I learned a lot from him. I'm pretty sure he already knew everything.
MR: Nice. There was a focus on the two of you as a cultural couple. You were rock royalty like Paul & Linda or James & Carly. Did you guys feel that as you made albums together? What was your concept of "Kris & Rita" at the time?
RC: I think at the time, I did have some awareness that Kris & Rita were a separate entity from me and my recording career. My only confusion, Mike, would be when we would be in airports and these women would just come screaming like Beatles fans and literally knock me down. I would try to get the baby off of Kris' shoulders before they got to him but they had absolutely no sense that they were invading our family or that we even were a family. They used to just absolutely frighten me. But I think when we were performing, it was a completely different thing. A lot of the screaming and running for Kris had to do with his film career because people do that. They just assume that if they've seen you on the big screen with emotion and going through some difficult life circumstance that they know you and they can come up and talk to you about their lives. I find that with music, it's not so manic.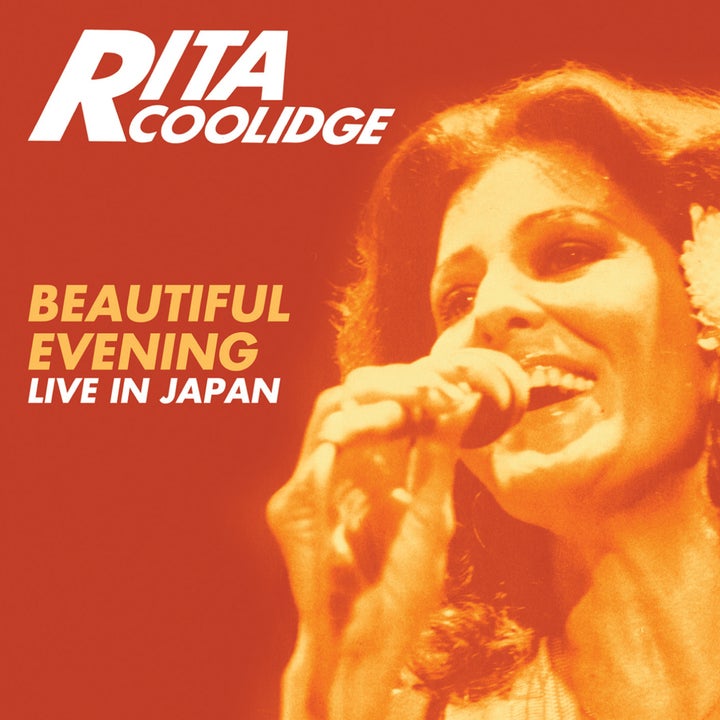 MR: Let's now separate Rita from Kris & Rita. We know about your many studio recordings throughout your prolific recording career but Rita Coolidge on stage, performing live, is a whole other experience. What comes out of you when you're on stage versus when you're recording?
RC: I love to perform live! I've been doing it for fifty years now. If I'm at home for too long and not on the road and not having that relationship with my band and with audiences, I feel like I'm falling down on my job, in a way. There's something about performing live, it's taking place right now. It's probably Broadway as opposed to film. Every single concert is different. The songs may be the same and even the order of the songs may be the same, but the way that they're presented and the way that they're received is always different. Because it's a different audience, a different room, everybody's in a different place in their lives, even the band. I have always had incredible musicians. My keyboard player with me now has been with me for twenty years. He just finished the album that I'm working on. It's always important to me to be surrounded by people that I not only believe in as great musicians, but they also have to be like family, which happens over a period of time if they're the right people. I just have a great band and we have such a great time when we're playing music. I hate the packing; the traveling has become excruciating. But once we hit the stage and we're in the moment and playing the music and people are singing along, my heart is lifted. It's great.
MR: When you're in the moment, does it feel like it might as well be 1969 again?
RC: Yes, that feeling never changes. If anything, it's better now because I know more about my craft and know more about performing. I feel like I'm still learning, Mike. It's really incredible just because of the way technology and everything changes. Twenty years ago, I didn't look out at an audience and see everybody holding up their phones and know that it's going to be on YouTube before I get home.
MR: [laughs] Do you think that the people holding up their phones know your Anytime, Anywhere" album or is that a generation or two back by now?
RC: I think there are all kinds of people in the audience. I see the demographic going from young families whose parents or grandparents played the music for them and they loved the genre and the time of music. I think they grew up with it and their parents grew up with it and it's just something that's still around. I'm so grateful for it because I can't tell you the number of little kids and teenagers that come up to me while I'm signing CDs and books after the show and talking to people. I know how much it means if I go and see somebody I love, to be able to shake their hand after the show and say, "God, you changed my life again tonight." It's important to me to be able to reach out and I see people of all ages. The funniest thing to me is when people my age or maybe even older come up to me and say, "I have your first record. Oh my God, I'm dating myself." I say, "Don't act like I wasn't there!"
MR: [laughs] Are they singing along with your huge hits like "Higher And Higher" or your James Bond classic, "All Time High"?
RC: Absolutely! They'll sing along on anything that I ask them to sing on! "Fever," "The Way You Do The Things You Do," "How Sweet It Is," songs that I know that people love to sing... It's fabulous! I think they like to be a part of the show. Keb' Mo' is one of my favorite recording artists and performers and he always draws people in. When I've seen him, I'm so excited when I get to be a part of his show, in the audience.
MR: Is there something that you're overtly trying to do creatively either on stage or in the studio that's exposing another layer you want people to know about Rita Coolidge?
RC: I don't think it's anything that's overtly happening. If it's happening at all, it's something that I'd say is evolving as we do this new record. In writing the new songs, I've felt kind of a shift in my songwriting and in my interpretation because I feel like I'm always learning. I have a record producer, Ross Hogarth, who just pushes me to the limit, to my very limit, and that's a good thing.
MR: Let's talk about the new album. Do you have a tentative name for it yet?
RC: Well, I have one, but the record company hasn't gotten back to me on that, so I probably shouldn't say anything.
MR: What label will it be with?
RC: A label called Blue Élan. They're an independent label in Los Angeles, a marvelous record company. I feel as at home as I did when I signed with A&M; there are actually people there in departments. They have an art department and a marketing department and young people that are just so fired-up about working for a record company that's actually contained on two or three floors of a building in Beverley Hills. It's something that has kind of been absent as far as I know. As far as record companies being the way they were, they just don't exist anymore. It's hard for an artist to have a relationship with a record company president or with individuals. When I go into a meeting with my record company and there are twenty-five people there I know, there's a staff of people that are going to work for me and for this record. It's great! It's like a journey to the past there. I love it.
MR: That kind of energy was what established artists in a solid way in the past.
RC: And their commitment! I signed a three-album deal with them. It's not just, "We're going to get a record and then cut you loose," like a lot of record companies do. "We're going to get the best of you right now and then we're going to move on." I have a future with these people and I'm very excited about. I'm excited about this record more than anything I've done probably since the seventies. It feels really good. I feel like I'm twenty-five years old. It's great!
MR: Are you co-writing or writing some songs on your own? And overall, how's the recording process going?
RC: We finished recording the basic tracks in the beginning of June. This summer, I've been finalizing my vocals. I'm doing them very tediously, I might add. [laughs] The producer wants everything to be absolutely perfect. He says, "I want this to be the best record you've ever made, so anything less than the very best of what you can do is not going to be on this record." I'm like, "Okay." I wrote a couple of tunes with Keb' Mo' and Jill Colucci, another song with Stan Lynch, they've just found songs from writers in Nashville... There are some amazing songs and there aren't any covers. It's all new material and there's not a dog in the bunch.
MR: Who are some of the musicians on it? Did you get Keb' to play on it?
RC: Well, Kevin did the demo with me and we will be taking the music to Nashville. Kevin's going to do the guitar work on the two songs we wrote together and, hopefully, he's going to sing, too. He's just fabulous and the most wonderful human being to work with. it was just a dream come true. I became aware of this group last summer called The Brothers Landreth, they're a Canadian group—two brothers and a rhythm section. They won the JUNO Awards' Best New Group of the Year in 2015. They're amazing. Their guitarist is a fellow named Joey Landreth, who sings better than anybody I've heard in a really long time. The record company let me bring Joey in from Canada about ten days ago to do some slide guitar work and sing on the record. It's just over the moon fabulous. Most people in the US probably don't know The Brothers Landreth. They've been very successful in Canada and Joey also has an EP of his own. That was really exciting. David Grissom, who is out of Austin, played guitar on the record, and we did one of his songs. He's also done some solo work. Bob Glaub played bass, Ryan McCloud was on drums, and John Talmus was on keys. People who were walking by when we were recording at Sunset Sound said, "Wow, you've got the A band here, don't you?"
MR: Did you pull anybody unexpected in out of the blue?
RC: No, we pretty much stuck with our little team because we knew what we were doing. Everybody had the music ahead of time. We were out having lunch one day and Florence of Florence and the Machine was playing basketball. [laughs] I wasn't even brave enough to go up and say, "I love what you do." I just stood there with my mouth open.
MR: Are there still acts that make you feel like the shy schoolgirl when you meet them?
RC: Absolutely! I was when we brought Joey Landreth in since the only reason I got to meet him and work with him is because I'm making a record, and I've made twenty-five records, but the idea of bringing in this kid from Canada who is just going to be hotter than a fire cracker any minute now... Then he came in and loved it and had a great time and was the nicest guy in the world. The whole time he was in the studio, I was still kind of a big old huge fan, because I am a fan. There are people that do take my breath away.
MR: I've been reading your book and some of your adventures are amazing. Working with Leon Russell, Joe Cocker, Delaney & Bonnie... That was a pretty iconic gang that you were in, the Mad Dogs & Englishmen. You had to have a good amount of courage to get you through all the wild stuff that occurred in your life and career back then, no?
RC: I was in Memphis, I had only been there for a little over a year, and I knew what was going on in Los Angeles. I could hear the music coming from there. I felt like I had kind of reached my limit as far as growing in Memphis because Martin Luther King had been killed and Stax Records had pretty much shut their doors so the place where any color of people could go and hang out and play music together kind of shut down. It really was great for me because of course Delaney & Bonnie, especially Bonnie, who said, "You've got to go to California and work on our new record at Elektra," at the same time Leon and I were starting to see each other. When he asked me to go to California, it was also at the invitation of Delaney and Bonnie. Leon said, "You can drive out with me, because I'm by myself." He bought the blue Thunderbird in Memphis and wanted me to drive out with him. At that time, I didn't take everything. I just packed a suitcase because I didn't know if I was going to be staying. I got there and it became apparent relatively soon that California was definitely where I wanted to be. For one thing, when I got to California, I had a number one single ["Turn Around And Love You"] and I thought, "This doesn't happen on this little label that I recorded on in Memphis." It was a regional hit in Phoenix and Los Angeles and maybe one other city in the United States, but it was just like a sign. When I got there, I immediately was in the studio with Leon and Marc Benno and I would jump out and do TV shows for this single. It was like I had just landed in the place where I was supposed to be all along and Memphis was just a learning ground for that year and a half I was there. When I got to LA, I felt like I was where I was supposed to be.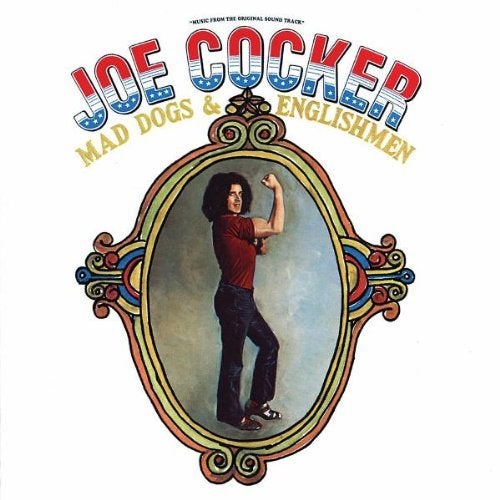 MR: And look at the group you ended up with. At least initially, you must have felt like, "Oh, my God, I'm not quite understanding what's going on here but I'll just roll with it?"
RC: Absolutely! I ran through every door that opened. For the year and a half that I was in Memphis, I did a lot of studio work besides just singing jingles and going through the exercise of reading music with a group of singers. There was some schooling that went on in Memphis, definitely. When I got to California and did the first Delaney & Bonnie Elektra record then went on the road with them, that was my training to go through Rock 'N' Roll University, which was the Mad Dogs & Englishmen. There were steps and stages where I was able to learn and understand which doors I should walk through and which ones I should stay far away from, and which groups of people were a good thing for me to be with and which people I should not spend time with because I knew they were ultimately dangerous people. Not that they were going to hurt me but that they wouldn't be a good life choice.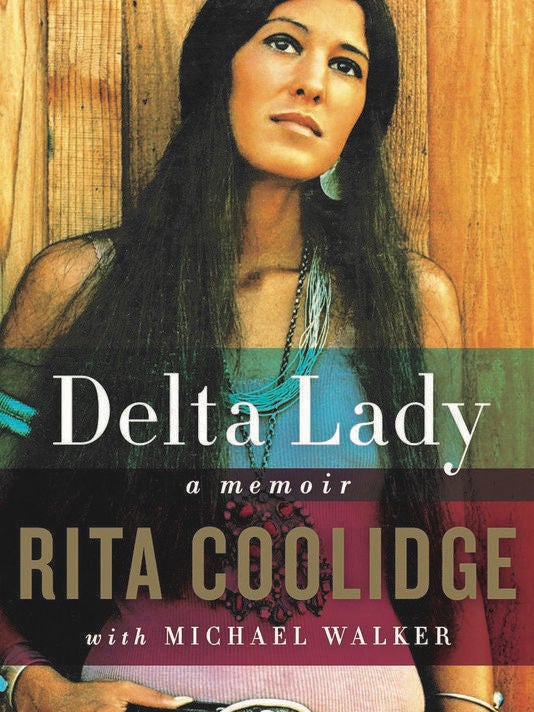 MR: One of my favorite stories in your memoir was about your relationship with Graham Nash, his coming off living with Joni Mitchell. Was that hard for you?
RC: I was fine with that. I think the fact that Graham and I were such great friends, we never had any problems when he would say, "I'm going to go up to Haight-Ashbury for a week, do you want to come or do you want to stay here?" "I'll just stay here," because I had my group of friends. We were an exclusive couple up until the time that I went off with Mad Dogs & Englishmen. Graham moved up to Haight-Ashbury and was up there more of the time and we just kind of drifted apart. But he never, ever hurt my feelings one time.
MR: He basically wrote his album to Joni Mitchell—Songs For Beginners—while living with you. Didn't it feel odd for him to write songs about another woman?
RC: Well, he was writing about Joni Mitchell, who was, you know, Joni Mitchell. [laughs] She was only the most beautiful, perfect, angelic woman on the planet. I totally understood why he wanted to write a song about her.
MR: [laughs] I don't know...where's your share, you know?
RC: No, he was always so kind. "Does this bother you, love?" "No! I'm absolutely thrilled because this beautiful music is being written." It was great.
MR: And I'm being facetious because Graham is such a great human. Over the years, he's contributed so much in ways that many of the musicians of your era have, including you. You are in a class of artists that really left a mark and changed the world, Rita.
RC: And I must include Leon Russell because as far as musicians' musicians, I think he changed more people's lives within the music world than any one single piano player. I think that I felt it when it was going on and I have felt it as time has gone on through the decades since then. There hasn't been anything like that. There are some phenomenal musicians, obviously, but there are so many! It's hard to find your way through the forest of bands and musicians and really find the spectacular, life-altering people. I think at that time, music was not as thick and as crowded as it is now. We also had record companies and radio, so we were all listening to the same thing. I think it was obvious, the Jimi Hendrixes and Bob Dylans. There was never anybody like them before and never anybody like them again. It was powerful. It was a powerful time to walk on stage with those people and be a part of that or to be in the recording studio with them and to really feel the power that it actually held and still holds. I'm eternally grateful to have been a part of that, just to have been a fly on the wall, but I actually got to be in the middle of it and sing music and write music. It was great and it is the single reason, I'm sure, that I'm still doing it. It is my calling, it's my purpose in life and I don't ever plan on stopping.
MR: Rita, what advice do you have for new artists?
RC: If you can possibly do anything else with your life, then I would say to make that choice. If you're in the middle of saying, "Gee, I'm either going to be a professor in science or I want to be a singer-songwriter," I would say go for the education and go for that because that's probably a sure thing. There are millions of singer-songwriters competing in every venue you can think of, from television to online to festivals to almost walking up to your front door. I think there are some people like myself who could not have done anything else. I would have always been singing and writing music because I think music called me, I didn't call it. That's what I always tell kids when they say, "What do I do?" "Treasure your gift and thank God for it every day." These little girls who walk up to me and want to sing me a song and they're great, I say, "That's fabulous, keep that instrument working, but learn something else."
MR: Spoken like a good mother?
RC: [laughs] Well, my gosh, Mike, my daughter has had so many reinventions of herself. She's still teaching ballet and still dancing, which she's done for the past fifteen-twenty years. But she's now in a bluegrass band and I'm hoping when I walk up to the mailbox today, I'm going to have their CD. Their group is called Yellowfeather. It seemed that mine and Kris' daughter had chosen to have a stay-at-home life with her family, raising her girls and being a teacher, teaching ballet. She was a homeopath. She also continued to write and play music but I never expected the music to win and it's winning.
MR: What will the future bring for Rita Coolidge?
RC: Right now, I am making a big life move. I'm selling my house in California and heading back down to the South, to North Florida.
RC: Well, I lived in Florida when I was in high school and I graduated from Florida State. North Florida, to me, has always been so beautiful. There's one key word and it's called "Water." There's water in Florida.
MR: Rita, there's a lot of water in Florida sometimes. Are you concerned?
RC: Yeah but up in the panhandle, we don't get flooded. There are beautiful rolling hills and gigantic oak trees that are a hundred years old and draped with Spanish moss, and canopy roads and wonderful seafood and fishing and all things that I like. I'm looking forward to it.
Transcribed by Galen Hawthorne
DENI BONET'S "LIGHT THIS CANDLE"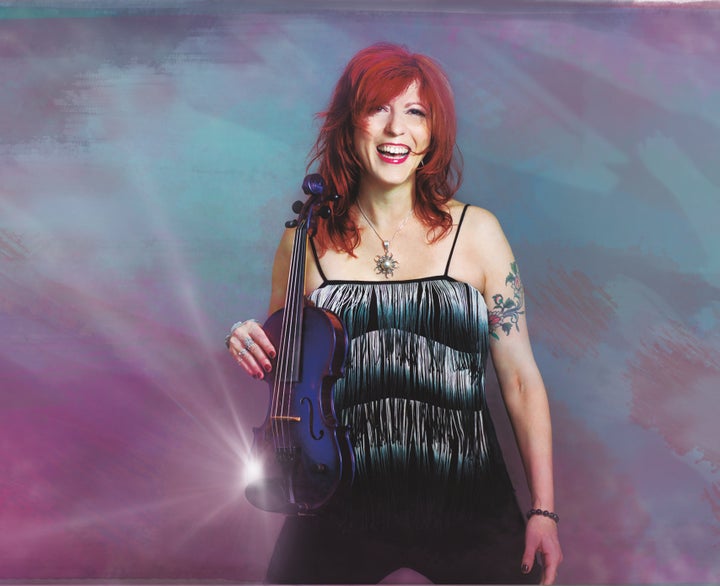 It's said that classically trained Deni Bonet left the classical world because she hated having to wear black and sit still. Perhaps that's stretching the truth but she was an original cast member of National Public Radio's Mountain Stage and performed with guests like Richard Thompson, Warren Zevon, the Indigo Girls, and Luka Bloom. She also has recorded and toured with Cyndi Lauper, R.E.M., Sarah McLachlan, Robyn Hitchcock and many others.
Her latest album, Bright Shiny Objects, was recorded with Grammy-winning engineer Robert L Smith, and Emmy-winning producer, Paul Bevan Deni, and co-writing and/or performance contributions came from Steve Gaboury (Cyndi Lauper), Liberty DeVito (Billy Joel), Richard Barone (Bongos), Shawn Pelton (SNL), Will Lee (Letterman), Matt Beck (Matchbox 20), Steve Holley (Paul McCartney), Graham Maby (Joe Jackson), Ben Butler (Chris Botti), Mike Visceglia (Suzanne Vega).
According to Deni Bonet...
"The first person I reached out to as a co-writer was my friend, Grammy-nominated composer Steve Gaboury. We worked together in Cyndi Lauper's band a few years back. He's a remarkable musician and I knew he'd encourage me to stretch out as a violinist. We called our song "Light This Candle" because we started writing it on my birthday and finished it on my birthday a year later. When we were sequencing the completed record, we decided to put this track first because it was the first one finished, and then someone brought up the quote from astronaut Alan Shepard, the first American in space, who said, "Let's light this candle!" while he was waiting for blast-off; at least that was what happened in the movie The Right Stuff.
"I've been touring out of the States quite a bit since the CD was released. I've observed that people are universally drawn to New York City and since I live here in the city, I thought it would be fun to shoot this video all over town guerrilla style! Anana Kaye, who is also a wonderful singer/songwriter as well as a videographer, did the video, makeup and editing. We didn't have any permits for shooting, so there were a lot of shots where I had to jump in and play quickly before we got ticketed. We had a lot of fun having me play in crowded places in the city, including on a moving 'A' train between 125th and 59th Street, Times Square and the West Village. We only got kicked out once, and as you can see in one part of the video, even the cops were too cool to bother stopping me! Just another day in New York City!"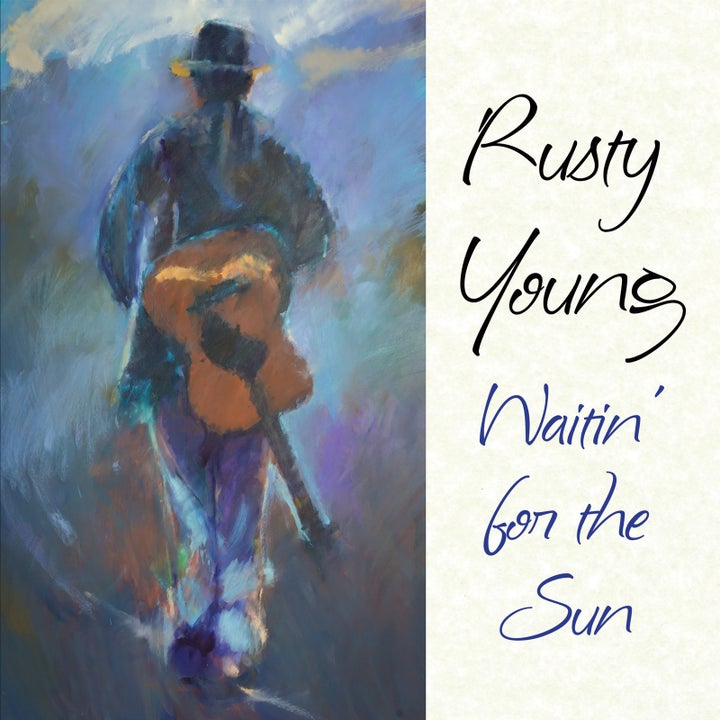 A Conversation with Rusty Young
Mike Ragogna: Rusty, many of your Poco fans have been waitin' for Waitin' For The Sun for a while now!
Rusty Young: [laughs] Isn't it great? I love that.
MR: Speaking of the sun, where were you during the eclipse?
RY: We were right in the zone of totality for the eclipse, too.
MR: Really, Where were you?
RY: In Missouri. We have some friends who have a lake house, so we had a bunch of friends out on a boat on the lake and watched it go down. It was really, really cool.
MR: Did you have the sunglasses?
RY: We had all the stuff, all the glasses. At the total eclipse, it got dark, and cool. The temperature went down about fifteen degrees. It was really neat. It was neat sharing it with friends, too.
MR: Even more important than that silly eclipse, 2018 is the fifty year anniversary for Poco, right?
MR: And 2017 brings your first solo album. Rusty, I never considered that you never had your own solo album until now. Congratulations!
RY: Yeah, the interesting thing is that of all the guys in the band, I'm the only one who hasn't done solo records. When Jimmy Messina left the band [Poco], he did his stuff with Loggins & Messina and all his solo records. Randy Meisner, when he left, he did all his stuff with the Eagles—like "Take It To The Limit"—and then he did his solo stuff. Richie Furay, too, with all his solo stuff, and Paul Cotton, and Tim Schmit. All these guys have gone above and beyond Poco. All along, I was offered the deal to make a solo record and it finally hit me, "Maybe it's my time." Maybe this is the right time for me to do that. I started writing songs and they were coming out really well, so I decided this must be my time.
MR: Did you feel like it wasn't your time until now because Poco was your creative outlet?
RY: Exactly, and keeping the band together. It was important to me to keep the band together, so that was my main goal—to have great musicians and fill the Poco name with great music. We've got these really loyal fans called Poconuts that I really didn't want to let down. I really wanted the concerts and the music that we wrote to be great. That was really my goal. But then, like I said, it suddenly hit me. This is the time.
MR: With that in mind, was your song "My Friend" a bit of a nod to all those friends?
RY: That's exactly it. I wanted to write a song about these last years. I'm still friends with Richie, Tim and Jimmy. Richie and I still play together once in a while. Tim will pop up. I play shows with Messina once in a while, we're all friends. I think about the days when we were all struggling in the late sixties and early seventies, barely making it, trying to put Poco together and finding the right people and the right chemistry. All that we'd been through all these years, if you think about it, everybody's been so successful. All have succeeded. It's so lucky. How many other bands have that fortune? I'm the only one who hadn't done anything solo, so I started thinking maybe it's my time. So I started writing just to see and songs were coming out really good and really pretty fast. I had something to say. I decided, "This must be the time for me to do Waiting For The Sun."
MR: The you were trying to create something more personal to you than the vehicle of Poco could provide?
RY: It is! It really is more personal. I got to explore more different things than I normally do on a Poco record where I have maybe three or four songs. This time, I wrote like twenty songs and picked ten. I got to talk about things like my daughter and her wedding. I wrote a song for it. "Waiting For The Sun," the title song, was about the process of writing.
MR: And "Sarah's Song" was the song you wrote for your daughter?
RY: Yeah, that's my daughter's wedding song. I have a daughter and a son and when she was getting married, she asked me if I would sing a song at her wedding. Like a fool, I said, "Well ,how about if I write a song?" It was really hard to do. It's really hard to write a first dance song for your daughter but I got a really good one. I'm really happy with it. Friends of mine who are familiar with it are actually doing it at weddings. That's something that I wouldn't put on a Poco record. The same with "Down Home," which is about the cabin in Missouri that we live in and about my wife. It's very personal. The title tune, "Waiting For The Sun," is about the process. "It's just another morning, waiting for the sun to shine." I usually get up about four or four-thirty in the morning and start writing. I'll write in the darkness, sitting there with my pad and pencil and my guitar and watch the sun gradually come up. I get inspiration from that. "Waiting For The Sun" is all about the process of writing this record. "Gonna Let The Rain Wash It All Away," the very last song, is about things that I see going on that upset me and then looking out over the forest and thinking about how it doesn't change, it just stays there and lets the rain wash stuff away. All the stuff on the album is pretty personal.
MR: Is there anything you've learned from recording a solo album versus a Poco album?
RY: Yeah, it's different from a band album where you contribute three or four songs. A lot of times, people contribute two songs. With a solo album, the whole focus is in your hands. The pace of the record, where people can sit down and listen to it and not, after three or four songs, be tired of your voice or the kind of music that you're making. It's not all the same. The flow is really important. Performances are really important, moreso than when you're only responsible for two or three songs and you don't really have control of the flow or the message, truthfully. When there are three writers, you just don't have that kind of control. It was a challenge but it was one that I really enjoyed meeting.
MR: After you finished your project, did you wish you'd done a solo project earlier?
RY: I actually was offered solo deals in the seventies and I turned them down. Now that I look back, I'm not sure. I don't think if "Crazy Love" had been a solo song from me that it would've been as big of a hit as it was with Poco. At least up to this point, I think I made the right decision. I'm really proud of a lot of the records Poco made. The Legacy record that we made, the reunion record in '88, I love that record. I'm really proud of it and I'm glad we did that. I don't really look back. In that song "My Friend," I talk about "Times may change, you know they do, but life's been good for me and you," and that's the truth. I have a really great life, and all our guys do. I'm really thankful for that. The other thing for that song that I think may be important was I wrote it thinking about me and my friends. The guys and I started singing it in concert and I realized that's an experience all of us have shared. All the people that are in the audience that come time after time to see the Poco concerts...we've all lived this life for fifty years. They've been a part of it for at least part of those fifty years. All the things that are in that song are really things that relate to the Poco audience as well as the guys in the band. It just surprised me when I discovered that it's just such a universal message for music fans.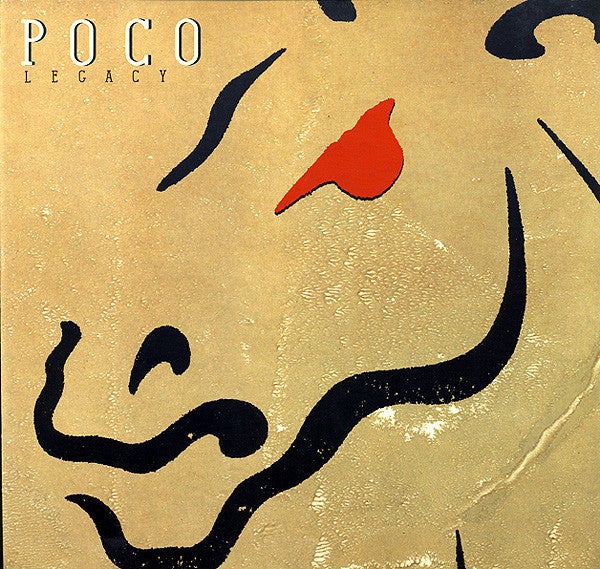 MR: Do you feel that Poco, in its fifty-year existence, has been a training ground for artists to go on to huge acts like The Eagles or Loggins & Messina?
RY: It kind of has, hasn't it? I just think there was probably too much talent for it to last. When Jimmy left and did his Loggins & Messina thing, he couldn't have done that in Poco. It was just too big. Same thing with the Eagles, with Timothy B. and Randy Meisner. They are so talented. It was great for them to be able to do that and record their solo records. I think that at several points during our tenure, the guys in the band were just so talented, they had to move on. Listen, if the Eagles called you up and said, "Hey, you wanna come play?" I don't think many people would've said, "No."
MR: Well, the Eagles name-checked The Byrds as their big influence, but I think it was Poco.
RY: You know what? It's the truth. Glenn [Frey] and John David Souther opened for us at The Troubadour. They used to come to our rehearsals in the afternoon. There was a clear connection. That's why they hired Randy Meisner, our bass player. It was because there was such a connection to Poco. I've heard Glenn say before that Poco was a big influence on him and the different songs that were influenced by Poco. There was that competitiveness that overshadows some of the things that people say.
MR: And they seemed to have had a solid machine behind them at Asylum and with Irving Azoff as their manager, whereas Poco had a lot of label changes. It seems your various labels, such as ABC, Epic and RCA, were dedicated and able to put some muscle behind Poco, but apparently, not enough to match the energy, machine, and money generated by the Asylum/Irving Azoff machine.
RY: Yeah. You know, to tell you the truth, I think we just didn't write hit songs. We were a different kind of band. FM radio was very popular then, and we were very popular on FM radio. The Eagles were popular on AM radio where hit singles were important and that's what they looked for. When they couldn't write them and didn't write them, they went to Jack Tempchin, they went to JD Souther, they went to other great songwriters to find hit singles and to stay in that vein. We were an FM band and didn't have writers who were writing hit songs. I think that's the real truth. You can say we were too country for rock and too rock for country. There are all kinds of excuses you can come up with. But when "Crazy Love" hit, it was a hit song, and there was no denying. That was the point. When Poco was probably at its lowest and the label was about to drop us, we had a huge hit with that song because it was a hit song. I just think we didn't have a hit song before "Crazy Love."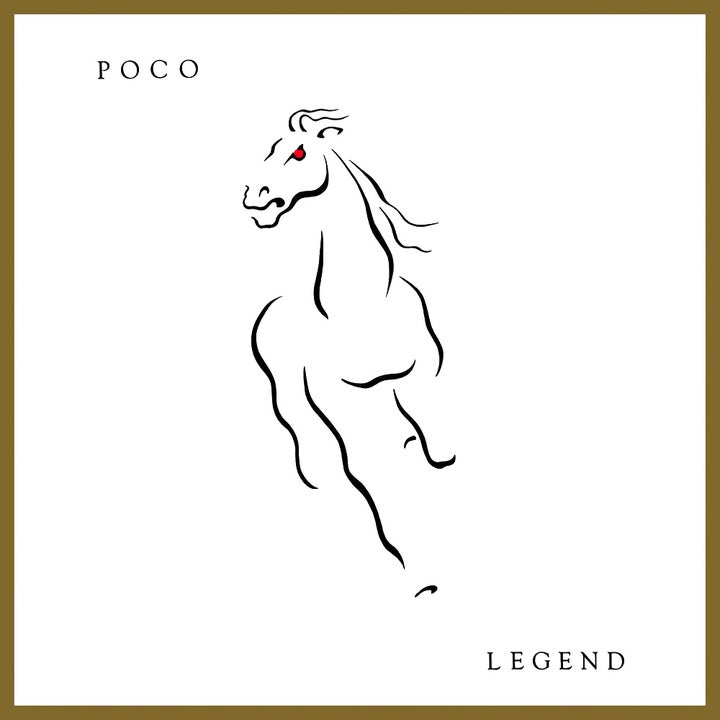 MR: How was ABC going to drop you when your Legend album on that label featured so many potential hits such as "Barbados," "Little Darlin'," "Spellbound," and others like "Heart Of The Night" that also became a hit?
RY: It was the music business. MCA bought ABC and that actually killed the album because back then, they had record stores, like Tower Records, and apparently, they hadn't been paying their bills. So MCA stopped sending records whereas ABC had been. You couldn't get a Poco record. Pretty much everybody got out of the MCA part of it except us and we were hoping that if we showed some loyalty, they would follow through. But that killed our record. Purely business. That happens all the time and it happened to us a number of times, where the business part really hurt our progress as an act through our careers.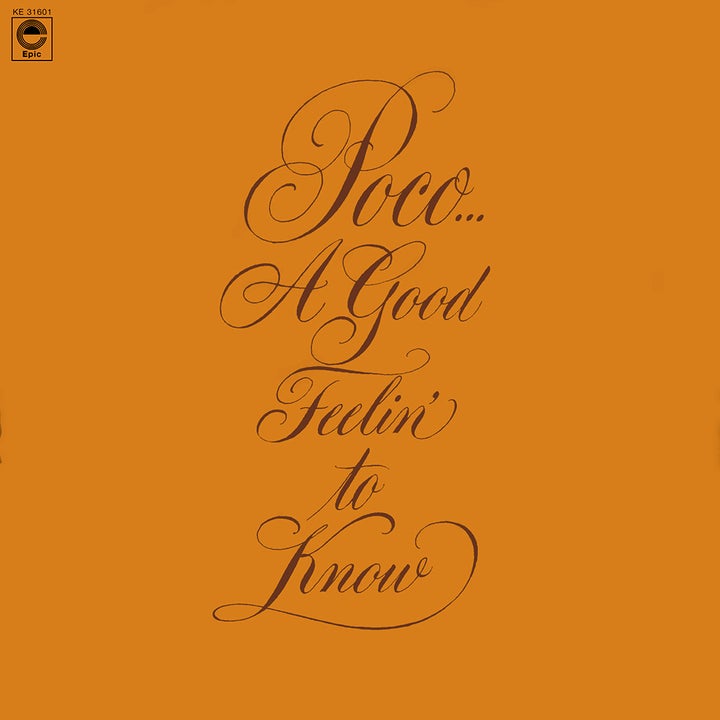 MR: I was introduced to Poco as a kid with your A Good Feelin' To Know album. That was another one with a lot of potential hits. And it seems like many artists tried to cover that project's "I Can See Everything." I'm still waiting for that song to be a hit.
RY: [laughs] The funny thing is that was such a great Timothy B. song and when he did "I Can't Tell You Why," I'm thinking, "Why wasn't 'I Can See Everything' a hit? He sang it so well and everything on it was really cool."
MR: Poco's "Bad Weather" was another potential single that should've been huge.
RY: It's a classic song, a great song.
MR: Rusty, most bands don't last fifty years. You might as well be The Rolling Stones at this point. Okay, maybe The Grateful Dead?
RY: [laughs] We're starting to look a little like that. I just don't like excuses. I don't like trying to find excuses why things didn't happen. Sometimes things don't happen. The bottom line is like in my "Friends" song. All of us that have been in the band and all we went through... We have great lives. We still get to play music and we get to play music together now and then. I just can't complain. I wish I had a ranch in Aspen like Don Henley. But you know, I can live without it. I'm okay.
MR: You guys are like a 101 for many. "You wanna learn how to sing vocal harmonies? Go look at Poco."
RY: Oh, thanks. I had a lot of great teachers. All those guys sang so well. Richie Furay and Tim Schmit... Randy Meisner's one of my favorite singers of all time. I love his voice. Paul Cotton, of course, has that great, huge voice. I got to watch these guys put vocals together and harmonies, primarily Richie Furay. I learned from those guys. It's really fun to do.
MR: What about your solo album's other songs?
RY: There's a song called "Hey There" that I really like. That's a song about meeting my wife for the first time. It's that thing I think we all know about—seeing someone for the first time across the room, your eyes meet, and you think about what could be, and in the beginning, how you don't know where things are going. The chorus goes, "I can't promise you love that's true, but I'll be there for you if you want me to." It explores that beginning of a relationship. I had that guitar riff that's in there for a year and all of a sudden, those lyrics seemed to match that guitar riff, so it seemed to come pretty quickly. "Down Home" is a song that I have to have one of on every album. It's a real classic Poco feel and it's a song about Missouri. I lived in a log house we built in the Mark Twain National Forest overlooking a park called Red Bluff Park. It's a beautiful, beautiful place so I wanted to write a song about "Down Home" and all the people that we've gotten to be friends with in this area who are important to us. It's like "Hoedown" from the early Poco records. That was important to me. There's a song on there called "Honey Bee." It's named that because one morning in the dark, I was thinking about my grandmother and my grandfather, who were musicians back in the twenties. I was thinking about the kind of music they played and the influence it had on me that I can't even feel but I know is there. I wrote that song "Honey Bee" because it's a song my grandfather could've played back in the thirties. I'm bringing everybody into the picture from my daughter to my grandparents.
MR: What did you learn generationally? What did you inherit?
RY: My grandmother played piano for silent movies. You'd go to the theater to see a silent movie and they'd have a piano player there playing live. That's what my little red-headed grandmother did when she was young. My grandfather had a big band in Colorado that played up at The Waldorf and all these different places up in the mountains for rich people back in the twenties and thirties. My parents didn't play music but it skipped a generation, as they tell me it does, and came to me. I started playing when I was six. It was kind of obvious I was gifted at playing steel guitar. By the time I was twelve years old, I was playing up in the mountains in little country bars. My dad had passed the hat and I would make ten dollars on a Sunday afternoon. I was the richest twelve year-old I knew! It just seemed like it was destined to be. I went to college, I went to CU. I was there about a year and a half and it was just like, "This is really crazy, because I know what I'm meant to do and it's not to be a business major." It's just always been there.
MR: So do you think the spirit of Mark Twain helped with the songwriting?
RY: [laughs] That's interesting! Who knows? And it hasn't stopped. I'm getting new songs now as this process of releasing the record is going on and I'm thinking that I'll be doing another one pretty soon.
MR: What about recording a live project that allows you to revisit some of your works with Poco and get out some songs that may not make solo albums?
RY: I feel like I'm on a roll and I kind of don't want to break it. The music is just kind of flowing through easily. That's the trick to writing music. I wrote "Crazy Love" in about half an hour. It was about the same with "My Friend." I think really inspired songs that are kicking around in your soul, they come out really easily and they're the very best songs, moreso than ones you struggle with. I feel like I'm on a roll and the music is coming and I'm not going to close that down until I'm not rolling anymore.
MR: The label Blue Élan has you now. How did that happen?
RY: Boy. You know, I just feel so lucky. That's one thing in music that I've learned—being lucky is as important as being anything else. I was playing a concert with Jim Messina when Kirk Pasich, the head of the label, came up and asked if I'd be interested in doing a solo record. He's a Poco fan and a fan of mine. He signed Gerry Beckley from America. He has Jack Tempchin. He's a real music professor. He knows his music and more about music than I do. He was telling me about songs I'd written for different movie projects and different people I'd played with over the years. He knew so much about me, I was just blown away. Kirk is coming through. The label is artist-friendly. You want to be a part of that family. We're all working hard to make this a success and I know they're working hard.
MR: I think in Poco and beyond, you were really blessed by having people who truly cared about you in your mix.
RY: Yeah, absolutely. We had some great people who believed in us and worked hard for us.
MR: Rusty, what advice do you have for new artists?
RY: Perseverance to me is the key. It's been fifty years so I have perseverance. You're going to get turned down a lot. You're going to have dark moments but you've got to believe in yourself. The thing to me about it is over the years, I've been around some people who have been incredibly successful, like Don Henley. Steve Martin was an opening act for us. When they were nobody, all these guys had so much faith in themselves that no one could shoot them down. Steve Martin believed in himself so completely that in his mind, there was no way he was going to fail and he didn't. Of the really successful people I've been around in my life, man or woman, they had that same attitude. They believed in themselves and they weren't going to let anyone tear them down. They weren't going to let anything get in the way and they just kept working at it. So keep working at it. That's the biggest lesson I've learned over these fifty years.
MR: What was the best advice given to you?
RY: David Geffen actually gave me the best advice of my entire career. He was managing us and we were living in Colorado. We flew out to have a meeting with him at his office in Los Angeles. He calls Richie Furay into his office and we're sitting outside on a couch. Geffen comes out and he says, "Richie Furay is quitting the band," which was a devastating blow to all of us. Then he looks at Timothy B. Schmit and he said, "You sing and write songs, don't you?" Timothy said, "Yes." Geffen said, "Don't worry, Richie is leaving but you'll be just fine. Paul Cotton, you write songs and you sing, don't you?" Paul said, "Yes, I do." He said, "Hey, Richie's leaving, but it'll be okay for you. You'll be fine." Then he looked at me. At the time, I was on the cover of Guitar Player magazine. I was in their gallery of greats with Eric Clapton. I was at the top of the game that you could possibly be as an instrumentalist and he looked at me and he said, "You don't sing and you don't write." I said, "No, I don't." He said, "You're in trouble." That's when I realized the importance in music is being a singer-songwriter. You can be the greatest guitar player in the world but the guys who are singing and writing those songs are the ones who make the machine run. That was the day I decided I was going to become a singer-songwriter. That changed my life and I'm so glad because that's really been the most important thing in my life. I have to thank him for that.
MR: Wow, great story. Okay, it's been fifty years. What do you think Poco means after all these decades? What was its contribution to music culture?
RY: I just saw an interview that someone did with Kim Bullard, a piano player of ours. He's playing with Elton John now. He said that at one point, he was a journalist and was talking to all these country stars. He told them that he had come from Poco and said they would all go crazy and say, "Poco influenced me in this way...." I think that Poco's had a great influence on music. I'm really proud of that and proud of the people who have done that. I've got great guys in the band. Michael Webb, our keyboard player, is a brilliant session musician and an artist all on his own in Nashville. Rick Lonow, who played drums with Flying Burrito Brothers, is a session drummer and a brilliant artist and singer. Jack Sundrud, who's been with us since 1985... These guys are so, so good that every night I am proud to be a part of it. Other artists that we're playing with on some of these shows will come to the dressing room and talk about our influence or say, "Wow, I can't believe how good you are!" That's really the payoff for me, that I know Poco is as good as it's ever been. Those guys are working hard. They help me record the album, they're out there helping me promote it. I'm proud of the whole thing. I'm proud of where Poco is at in 2017 and 2018.
MR: To your point, Poco is revered in a way that its story is practically mythology at this point. You may even have a bigger mythology than The Flying Burrito Brothers. Perhaps in hindsight, Poco's album Legend was appropriately titled.
RY: Thank you! The shows that we do are always sold out. Sometimes we add a show and it's sold out so people are coming to see the band. I don't know if it's because of the legend or the fact that they've heard how good the band is that word gets around. It's really exciting and fun. Like I said, the band is so good and the shows are always sold out, so it couldn't be better, really. Well maybe it could, a little bit.
MR: Any closing thoughts about Waiting For The Sun?
RY: I'm really, really proud of the new CD. We were playing it out on the boat as the eclipse went by. Everyone was hearing it for the first time and I am just so proud of it. Every song that went by was so powerful and so right on. To me, it's Poco music and Buffalo Springfield music. You can hear Beatles influence, you can hear Stones. All my influences are shown on this solo CD in a way that they never were on any Poco CD. I'm really proud of this record and I want to do all I can so that people listen to it. Check it out. I think people will love it.
Transcribed by Galen Hawthorne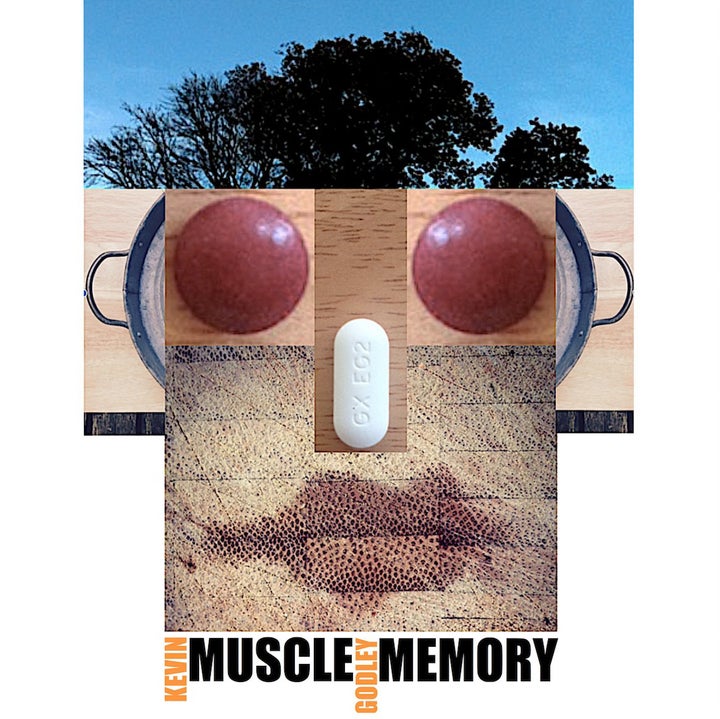 A Conversation with Kevin Godley
Mike Ragogna: Kevin, your new album Muscle Memory will be assembled from tracks you co-write with musicians, artists and fans who send you material to work with. Although recording artists do send tracks to each other and even co-write online, this is a level interactivity that's quite unique. How did you come up with this idea?
Kevin Godley: It grew out of two unexpected collaborations that took place in the last 18 months or so. Out of the blue, I was sent a couple of instrumental tracks recorded by two artists I'd never met. That's Luke Mornay and John Moulder, from France and the USA respectively, and they both asked if I'd be interested in writing and recording songs over their music. I was and I did and found the experience and its results to be far better than expected. These two songs were my first real efforts at songwriting outside my comfort zone, which is sitting opposite people I know really well and sculpting air. With Luke and John, I had the nitrogen and carbon dioxide—I just had to add the oxygen and argon. I'd also been thinking about making some more music for a while and these songs were the ideal catalyst.
MR: Are you concerned with the complications that might spin out of this process, for instance, contributors wanting to change what you've molded employing their work, etc.?
KG: Not too much, no. Obviously each track / writer I choose to work with will bring their own personality to the process but I'm keeping the T&Cs governing the project relatively direct in that I will decide the level of interactivity that takes place between us. There will, I'm sure, be some discussions, tweaking and mutual experimentation but I will have final say over the finished content.
MR: With both 10CC and Godley & Creme, you've approached audio and video recording from boundary pushing perspectives. How are you pushing the envelope with Muscle Memory? And how does the premise of "muscle memory" apply to this project?
KG: It's too early to say but what I can tell you is that I've already been sent over 60 tracks that jump between EDM, rock, electronica, swing, ambient, folk, you name it. As for envelope pushing, if you're lucky, that's a by-product of trying to make something as good as it can possibly be.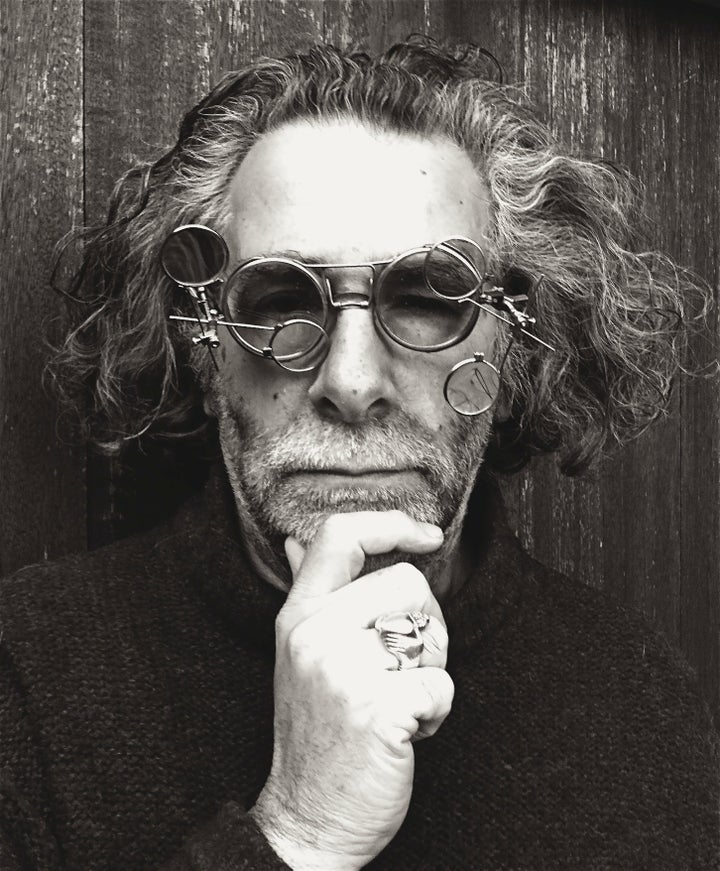 MR: What is a typical day's mission once you once you get a track/song from a contributor?
KG: At the moment, I'm just a collector and curator. I'm amazed by the positive response to the idea but I'm holding back on any real evaluation until I assemble folders of all the material in preparation for a marathon listening session.
MR: Are you planning on videos for Muscle Memory? Will your old 10cc pals appear on or contribute to the new project?
KG: Video is definitely on the cards. As for old pals contributing, that's up to them. I'm not trying to recruit anyone on the basis of competency or reputation. Magic can come from the most surprising sources and Muscle Memory is 100% democratic, anyone can send me music and I'll choose the most stimulating sounds to work into.
MR: The plans are to release Muscle Memory as an LP as well as CD and digital. Are you a fan of vinyl? And though it seems to be the latest "fad," do you believe vinyl is still the best delivery system for music, even if mastering only is working with digital sources?
KG: Every audio delivery system is valid for different reasons but vinyl is attractive, not just for its warmer sound but for its sense of history and connection to the fundamentals of recording. The needle, the scratches, the precious black object rotating hypnotically and the touching, owning and playing of something tangible, not to mention artwork, lyrics and whatever else is included in a vinyl package. Jack White can probably eulogize its virtues far better than I.
MR: Do you have any behind the scene stories about any of the material on Muscle Memory?
KG: Well, I've only completed two recordings so far, the ones I spoke of earlier. The rest await the PledgeMusic financial target being met so I can begin work in earnest.
MR: What are some of your favorite recordings from the 10cc, Hotlegs and Godley & Creme catalogs? What are your thoughts about both configurations?
KG: That's a tough one but…10cc: "Somewhere In Hollywood," "Old Wild Men," "Rubber Bullets," "The Worst Band in the World," "Une Nuit A Paris," "I'm Not in Love." Godley & Creme: "I Pity Inanimate Objects," "Punchbag," "Under Your Thumb," "Cry," "Foreign Accents," "Business is Business," "Get Well Soon."
Hotlegs was a proto-10cc that had 1 peculiar hit record. Unfortunately, we didn't appreciate the nature of its strangeness and went on to make two forgettable singles and an album of Beatle soundalikes. We were aping our heroes like you do until the real you emerges.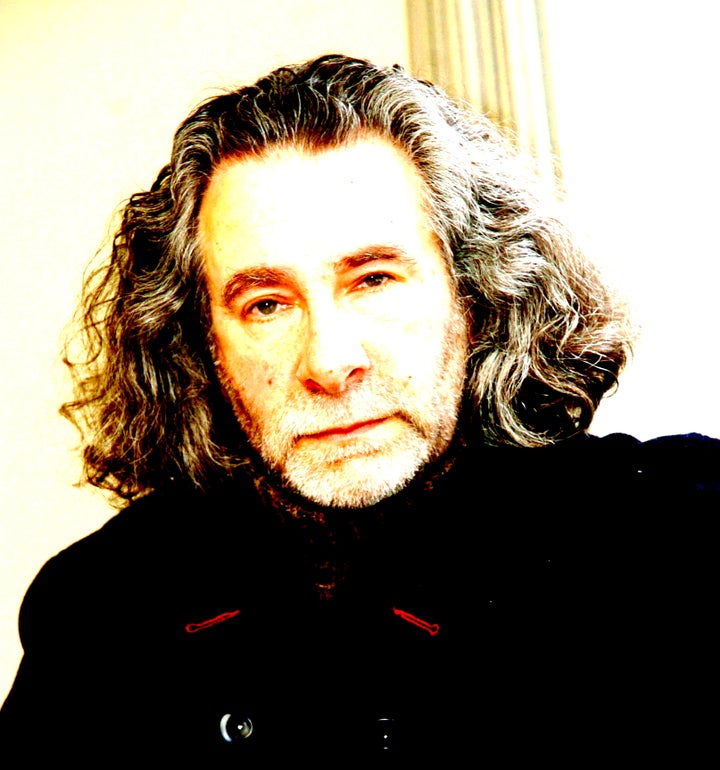 MR: What are some of your favorite videos that you and Lol worked on and do you have a story or two about them?
KG: My God, there are so many. But three of my favorites are "Rockit" (Herbie Hancock), "Every Breath You Take" (The Police), and "Two Tribes" (Frankie Goes To Hollywood). The reason they're special is because of the amount of freedom we were given to interpret the music. There was zero interference from artist, label or management as the medium was experiencing its golden creative phase and directors were all trying to better each other artistically. I guess we were doing the same but we were also intent on breaking whatever rules currently applied. We weren't there at the birth of rock 'n' roll, you see, but we were there at the birth of video and we wanted to make it count.
Three short anecdotes: "Rockit": Nobody knew what we were doing and that includes me and Lol. It was a leap in the dark across the board as hardly any black acts were being shown on MTV and it was our job to change that. Think about it. The chances of a bunch of drooling, grotesque, deformed robots helping a major jazz artist get a hit record was highly unlikely, right? Wrong! A fistful of MTV awards later, we figured we'd done something right.
"Every Breath You Take": The black string players featured in the clip were using a dressing room recently vacated by the three Police stand-ins that we'd been using to lineup camera angles and the stand-ins had been wearing blonde wigs to look the part. When it came time to shoot the string section, they all trouped out wearing the blonde wigs and they were pretty pissed off too. Thought we were trying to make them look stupid. A funny but exceedingly awkward moment…
"Two Tribes": Unexpected violence towards the end of the clip when two extras went rogue, got into their roles a little too much, and started beating the crap out of everyone.
MR: What memories come to mind regarding the Strawberry Studios days and can you go into those early, formative years?
KG: Delightful memories. We were kids with a new toy and were keen to see what the toy could do beyond what it said in the manual. We used whatever time was available between "paid for" studio bookings to test our audio theories, and we became house band/producers for a procession of bizarre local acts that needed musical help. Football teams, ventriloquists, comedians, you name it, we produced it and learned our chops creating oddities for oddities. I think the lack of rock 'n' roll acts recording in the Manchester area gave us a distinctly cheesy show-biz grounding in the fundamentals of making music that, I believe, fed into whatever the 10cc audio footprint turned out to be.
MR: If you were to point to any artists, singles or albums that heavily influenced your creative vision, which were they?
KG: The usual suspects, initially—The Beatles, Dylan, blues, jazz, The Beach Boys, Paul Simon, George Gershwin, Hendrix, The Who and more. They all had a unique approach that elevated what we believed pop music could and should be. Later, it was David Bowie, Devo, Lou Reed, Scott Walker, Zappa, Tom Waits, The Pogues and more. In my case, the biggest was Orson Welles. He nailed it first.
MR: Orson Welles, awesome! Do you have any thoughts in general about creativity, any credo or philosophy?
KG: Simply this. Be amazing!
MR: Kevin, what is your advice for new artists?
KG: Don't aim for good because you'll probably reach "okay." Aim as high and as wild as you can because there should be bravery and jeopardy involved on the way to greatness. Your reach is what defines you so don't be governed by what's easy, what's been done or what's obvious. There is so much noise out there and to be heard or seen, you need to stand out. So, above all, be original.
MR: What was the best advice given to you?
KG: If you want to be an artist, challenge yourself. Keep doing things in different ways until something unexpected comes out of nowhere and makes the hairs on the back of your neck stand up. That's what you should always be chasing. Anything less is disposable—unless you just want to be famous, in which case, none of the above applies.
MR: Just curious, The Original Soundtrack 10CC album was supposed to sign with Virgin Records but instead went with Polygram. Why the last minute label switch?
KG: We—the band—all went on holiday and left power of attorney with our management to sign with Virgin. While we were away, Polygram offered a richer deal and our managers acted like er…managers. Need I say more? Still smarting over that one.
MR: All these years later, there is still one mystery for humankind: Was "One Nuit In Paris" some kind of comical reply to Queen's "Bohemian Rhapsody"?
KG: Actually, it was the other way 'round. Queen, so we we've been reliably informed, were inspired to create "Bohemian Rhapsody" after hearing "Une Nuit A Paris." Funny old world, huh?
MR: Wow. So what other projects are you working on?
KG: Writing an Irish Film Board backed screenplay about Orson Welles. Designing covers for the recent 10cc box set Before During After and an up-coming Godley & Creme box set Body Of Work. Exploring creative involvement in video games. Planning a hard copy version of my e-autobiography Spacecake and moving house. Man, that's the hardest of all!
Related
Popular in the Community