A Conversation With Emeli Sandé
Mike Ragogna: Emeli, it's like you came all the way from Scotland to have this conversation with us!
Emeli Sandé: Yes, across the world! Hey! hello!
MR: Thank you very much. So "Every Teardrop Is A Waterfall." There's a little Coldplay interaction here.
ES: Yes, I'm a massive fan of Coldplay, and "Every Teardrop..." is definitely my favorite song of last year. I love the lyrics so much that I do my own cover.
MR: Can we give a little history lesson? First of all, let's tell everybody that you're an international star already...
ES: Yeah, I released my debut album in February in the UK and the success has been amazing. It really blew me away. So I guess now, we're just trying to spread the word and take the music across the world and see if anyone else likes it.
MR: Another song that is familiar to the US might be "Next To Me." Would you tell us what your creative process is? When you're either writing songs or singing, what's going on inside of you?
ES: Well, I think when I write, it's the one time when I really just allow things to come out. I guess it's more of releasing control and letting whatever you're going through subconsciously come through in the music. I don't really have much of a process apart from sitting at the piano and trying to be as free and as open as possible.
MR: Now, your career got a little boost due to...I believe it was a chipmunk?
ES: Yes, there's a rapper in the UK called Chipmunk, and that was my first commercial release. I sang the hook for him on that one. That's how I introduced my voice to the UK. That was great. That was kind of how I got published, and that was where the door opened for me in the music industry.
MR: Nice. You've had a few hugely successful singles including "Next To Me." "Heaven" was your first solo single, right?
ES: Yeah, that was the first one. That was out a year ago in the UK. It's hard to believe that it was only a year ago but that was a really exciting summer for me. I was just really introducing myself to my country with my first song, so I'll always remember that song with fond memories.
MR: And of course, you have a couple of number one records, "Read All About It" and, again, "Next To Me."
ES: Yeah, the album came out and it's all just been an exciting ride so far.
MR: Can we reveal a little secret about your name to the readers?
MR: Your first name is Adele, as in Adele Emeli Sandé. Did you have to go and duke it out with the other Adele on who was going to use that name and she won?
ES: Before all this, I was studying medicine, and at that point, Adele was coming out. I kept hearing this buzz in London about "This girl Adele, Adele, Adele, Adele..." and people kept ringing me saying, "Yeah, we heard your song on the radio!" I'm like, "That's not my song. That's another Adele." Then she did so well and she won the British Critic's Choice award. That's when "Diamond Rings" was coming out, and they asked me what name I wanted on the record and I thought, "Well, it's going to be a bit silly to have two singers from the UK called Adele," so I took my middle name which is "Emeli." Considering how phenomenal her career's been, I think it was a good move.
MR: You know what, you've officially outsold her in 2012.
ES: Yeah, which is something I didn't expect, because that record is just selling like crazy. I'm very excited about this year and about the success of the album.
MR: You're on Alicia Keys' new album--her fifth, I think. How did that come together?
ES: I've always been a massive fan of Alicia Keys since she came out. I remember as a kid in Scotland hearing "Fallin'" and I was just blown away. Last year, I opened up for her. She was doing some really intimate gigs for the celebration of ten years since Songs in A Minor came out. So I opened up for her at the Royal Albert Hall in London and from there, she heard about my music, invited me over to New York, and we began writing with each other. It was a really great collaborative process, a real meeting of minds. I'm really excited for people to hear what we're working on. I think it's going to be a beautiful album from her. It's such an honor to work with someone I'm in such admiration of.
MR: Nice. And speaking of collaborative efforts, it seems that you and the Olympics also got together.
ES: Yeah! It was a real honor to be asked by Danny Boyle to perform in the opening ceremony, and then also to be asked independently by the closing ceremony to perform. It was just such an amazing time, such a fascinating buildup for me to see a vision come to life like that. To be involved in such a humungous production was really just very inspirational.
MR: Did you get seasoned, so-to-speak, when you were on tour with Coldplay this summer?
ES: Well, yeah, performing for such big crowds with Coldplay helped, but I don't think anything could have prepared me for eighty thousand people in that stadium and then on top of that, thinking about how many people were watching down that camera lens. It was all very immense.
MR: That was like a billion people.
MR: What advice do you have for new artists?
ES: Know what you want to say. Make sure you know exactly what type of artist you are before you pursue any type of record deals, all of those types of things. They'll always be in place for you to take, but knowing what you want to say is probably the most important thing. Also, perseverance and patience are two virtues you have to have as a new artist, and really believing in what you do, because that will keep you strong. That will keep you going.
MR: Let's also mention that you won the Critic's Choice category at the Brit Awards.
ES: Yeah, that was incredible. The Brits is such a massive thing. Back home, it's something I've watched since I was a kid, so to win a Brit is really like a childhood dream. I'm still pretty blown away by that one.
MR: And you also were on the UK's X-Factor and The Voice.
ES: Yeah. I performed on both of those shows. This whole year, there have been so many things that happened that I've dreamt of doing for a very long time. So I just need to take some time, I think, and really contemplate and take it all in.
MR: What are you predicting the next year will be like for Emeli Sandé.
ES: God, I don't know. I could've never imagined all of this, this time last year. I was just thinking "Man, I want to release a single and I want it to go well." I think I just want to take it day by day, because I think that's the only way you can and make sure you're going in the right direction. I don't know how I can top this year. It's been pretty phenomenal, so I don't even want to make any predictions.
MR: I really appreciate your time, Emeli, and all the best. Let's do this again when the new album comes out here.
ES: Yeah, that would be great. Thank you.
Transcribed by Galen Hawthorne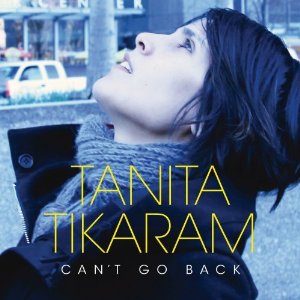 A Conversation With Tanita Tikaram
Mike Ragogna: Hello, Tanita, how are you?
Tanita Tikaram: I'm good, how are you?
MR: I'm okay. Might we have another guest in the background?
TT: No, it's just me I'm afraid.
MR: Oh, I thought I heard a dog bark.
TT: I live next to a park, so there are lots of external sounds.
MR: Some interviews feature not only a guest, but their dog, so I was just wondering.
TT: I dream about dogs. I have a fantasy dog. I think he looks a bit like the dog in The Artist.
MR: The Artist. Wasn't that wonderful?
TT: Yes. I'm actually a big fan of silent films, so it was kind of amazing that that film had such a huge success. It was very charming.
MR: By the way, before we leave that subject, what are a couple of your favorite silent films?
TT: Well I just recently saw Doctor Caligari's Cabinet. They often do silent movies in England with live music accompaniment. Obviously, Metropolis.
MR: Ah, Metropolis, one of my favorites. I love Modern Times and The Kid as well. I've been a Charlie Chaplin fan for a long time. Anyway, enough of that, let's get into your new album Can't Go Back. The song that starts the album, "All Things To You" says, "I want to be all things to you." Is that about a relationship that you're in right now?
TT: No, it was really...you know the riff? I was playing that on the piano and my guitarist started to play along and I said, "That sounds like a song to me," and I started to sing, "I want to be all things to you." I think it's my "Let's Get It On" song, really. Promises that you make ardently. It's that kind of a song.
MR: Now, you have a couple of singles on this album. One of them...
TT: ..."Dust In My Shoes?"
MR: Yes, I love the sentiment of that song because to me, it's about just wanting to let go of everything.
TT: Absolutely. I think even if you fail, the attempt is very beautiful. That's really what the song is about. It's a very simple "I just want to let go and know how it feels to be free." It's not always possible, but it's a lovely idea.
MR: Have you found that in your life and in your career, you have been able to do that once in a while?
TT: I think I have relative freedom. I think about so many people who have very difficult conditions to actually even do simple things or even to be able to have access to freedom. So I consider myself very, very lucky. But there's another kind of freedom, which is just the freedom to be free of the conventions of your social surroundings, or what other people think of you, or your own emotional baggage, which you have no control over, from the minute you're born. So I think it works on many levels, the sentiment of the song.
MR: Why, it's like shaking out the dust in your shoes.
TT: Exactly. Nothing's going to hang onto me, hopefully.
MR: Now, Tanita you are an influential artist who, weirdly, is not as popular in the States as you are overseas, but...
TT: ...Can't Go Back is actually made in America.
MR: Right, that's where I was going! On this project, you are embracing all things Americana.
TT: Yes, like a lot of English artists, most of the music I've grown up with is actually American--lots of soul music, country music, rhythm and blues. When I came to recording this album, it became obvious to me that I should really record it with American musicians and with an American producer. It was already there in the music, and the tension between my Englishness and that American sound would probably work. So that was the idea.
MR: Who are the most important influences to you?
TT: It changes all the time. At the moment, I'm in love with Roberta Flack; I love a lot of Motown, I love Etta James, I love Aretha Franklin; I love Gladys Knight, I love Patsy Cline, I love Don Williams, I love Cole Porter, I love Ella Fitzgerald. I love the history of American music, really.
MR: Yeah. I'm going to throw something out at you, which is that you mentioned Roberta Flack first, and I think you have something in common with here as far as the quality of your voice. There's a suspension of time when you sing. Do you know what I'm talking about?
TT: Well, if that's true I would love that. I think she's unbelievable. She's a singer that didn't make sense to me when I was much younger. I didn't really appreciate what an extraordinary singer she is and now, as I've matured, I'm like, "Wow!" She's so elegant; that's the other thing about her that I love. There's such an elegance and an economy of expression in her voice. It's just extraordinary.
MR: And if you listen to the First Take album, songs like "Hey, That's No Way to Say Goodbye," "The First Time Ever I Saw Your Face," and "Compared To What," that's what I mean by the suspension of time. It's like you were so wrapped up in the singer's voice that it's almost like you have to step out of the mindset you're in to fully appreciate it. I'm saying that I find that quality in your voice on this album.
TT: Well, if that's so then I'm really flattered because that's a big compliment.
MR: It's being so wrapped up in the roundness of the voice, that you can't help but only be in that moment.
MR: Like in "Can't Go Back."
TT: Yes, "Can't Go Back." It's very poetic, and I think at the beginning, that comes off, that suspension of time that you're talking about. It's one of those magic things that happens and you don't really know why, but it kind of works.
MR: Right, like a Karen Carpenter's "Superstar" moment.
TT: Oh my God, she's extraordinary, another extraordinary singer. I think it has a lot to do with the way things are recorded as well.
MR: Right. I love the concept of "Can't Go Back," that you can't go back and change people, you can't go back and re-live something. But don't people spend an awful lot of time going back thinking, "God, if only I could have done this," or "what if they had done that differently," or...?
TT: Yeah, I think it's irresistible to try and rearrange your past, and it's quite futile. You can't go back and pray that people change. I guess the song is kind of resigning yourself to today and accepting today. But I like the song because the idea is you can't go back and pray that people change, but you inevitably will go back and pray that people have changed. It's just our dilemma as human beings. It's just one of those ambivalent songs.
MR: You recorded this with producer Paul Bryan and so the dynamics in the studio were a little different from your previous recordings, right?
TT: Yeah. He's such a lovely man. You might know him because he worked with Aimee Mann and Grant Lee Phillips. He's very confident in the musicians he uses and allowing them to play and keep the recording machine recording. He's not a fiddly producer, it's all very live. It's just more about the pre-production, choosing the right players and having a great engineer, which is Ryan Freeland, and those are the ingredients. It just makes a very comfortable session. I really felt that old-fashioned approach, which comes from a deep knowledge of the people you're working with. That's what, I think, a great producer has to have, is something that is inspiring for me. I feel that working by layering tracks for twenty-four hours for six months in a studio isn't really the best way for me to feel connected to what I'm doing. I don't feel connected to that. I feel a bit lost.
MR: Yeah, it seems like if that's the environment, there's more stress going into the record than performance.
TT: Yes, exactly, and lots of making bizarre choices. It's much easier to be with people and actually feel like you're having a musical conversation.
MR: Mark Creswell comes back on this one, too.
TT: Exactly. He's a lovely guitarist and he co-wrote the songs on this album, too. I thought it was very important to have real movement and lots of groove on this album, and I thought just playing off somebody else would add that to the writing.
MR: And you include musicians Jay Bellerose and Keefus.
TT: Crazy Keefus! They both have an extraordinary sense of structure. That's what I realized working with them. They hear a song once and then they throw it back at you absolutely like they know it inside out. It's very impressive.
MR: Speaking of going back, I want to go back to Ancient Heart, your breakthrough album in 1988. In this country, you made some noise with "Twist In My Sobriety" and there were other memorable songs on the project like "Good Tradition," "Cathedral Song," and "World Outside your Window." Did you feel like the pressure was on since you had such a strong debut? Did you feel a little of that as you were moving on to your next projects?
TT: I didn't actually. Maybe I should've. I was very young. I was eighteen years old, so my idea of normality was just what was happening to me. I just thought you made an album and it was a huge success. I didn't even appreciate that it was a critical success, I just thought that's what happened. So I went on very merrily making albums and not really understanding that they actually were commercially less successful. I guess I was very innocent. Maybe that innocence protects you in a way.
MR: It does, especially if you don't have wolves in your camp and you are able to grow in a natural, creative, artistic way.
TT: Yeah. I hope that people still can, because things happen so quickly now; it's slightly different. At that time, they still had the idea that you were building a catalog of work. I don't know, it's very funny. At the same time, you're so young, you have that youthful thing that anything you do you think is interesting and maybe it isn't. I don't know. I'm more sure of what I do now, if that makes sense. When you're young, you just kind of go around in a daze--a happy daze--but it's very, "Oh, I wrote a song, isn't it good?" Now, I think I edit more.
MR: What did you think when Liza Minnelli covered your song "Twist In My Sobriety"?
TT: I love Liza Minelli. That was a total moment. I think she's extraordinary. Her life is extraordinary.
MR: It's very confessional, her recording that song.
TT: I think so. When I wrote the song, I was just a kid. I didn't realize that in America, "sobriety" had a very specific meaning. In England, it doesn't have the same association with alcohol or drugs. It just means to be serious. So I think for her, it was much more of a statement about that, really, so that was interesting.
MR: You've also had collaborations with Nick Lowe among others.
TT: I'm excited about the new collaboration. Grant Lee Phillips is on "Keep It Real" and on "Can't Go Back," and I just think he sounds amazing. And that was a total accident. I think it's funny how well two voices can really work together. You can never really plan that. It always surprises me.
MR: It is always interesting when even disparate voices work together.
TT: Yes, exactly. You can really put on paper, "Oh this should work," and so on, but it's like chemistry on a film. You can't really tell until you hear the two voices together on the record. He was just lovely. All my stories are "Oh, he was lovely," "Oh, she was really nice." They don't have a punch line. But he was lovely.
MR: Okay, Can't Go Back has a variant with an additional disc of acoustic mixes.
TT: Yeah, there's kind of a bonus disc. Last year, I did some kind of a podcast from my website, which was just acoustic versions of old songs. On the special edition of the album, there will be this bonus CD that contains some performances from those podcasts.
MR: Back to the songs. "Make The Day"?
TT: "Make The Day" has a very expensive chord in it. That's what my band says to me, "That's the song with the expensive chord." So I'm very proud of that chord. That's basically why I said "Make The Day" and I think it's a very nice sentiment.
MR: "Only The Ones We Love." Can you go into that a little bit?
TT: I remember writing this in Paris. I can remember I had rented an apartment in Paris and I was having my intense French movie period, so I have a memory of writing this. It's quite a nice sentiment, really. We reflect our capacity to love, maybe.
MR: So you were born in Germany, you live in the UK, you record in the US, you write in France... You're a bit of a UN, aren't you.
TT: I'm very modern, yes. I'm the UN. I have a friend in the UN. I'm a bit Benetton. Can we say that? I don't know. I'm a Londoner now, I'm all cockney. It's the Olympic spirit. Everyone wants to be a Londoner.
TT: I was glued, it was amazing. It was so amazing because, like most people in London, I was all moody about it, "Oh, it's going to be dreadful," you know? Actually, it turned out to be the most amazing thing.
MR: What was your favorite thing about the Olympics?
TT: Ah...my favorite thing was Mo Farah. She's just awesome. And Jessica Ennis. She was amazing. When she won the heptathlon and then she did the lap of honor with all the competitors, I thought that was very classy.
MR: Did any major records get broken this year?
TT: Yes, the men's eight hundred meters.
MR: Cool. During most of the Olympics, I was at something called ComicCon in Chicago, so I'm still playing catch-up. What is your advice for new artists?
TT: Ooh. Well I hate to be boring and practical and unromantic, but I would say have a great lawyer. That's always my favorite one. And creatively, just learn as much as you can from the people around you and follow your instincts and always tell your story, because that's actually what's interesting about anybody creatively. Just to have your own story.
MR: Is this what you'd tell the eighteen-year-old Tanita Tikaram?
TT: Yeah, I think so. I think as I get older, I understand that in a funny way, it doesn't matter what kind of voice you have or what your playing style is. What's important is that you have an authentic voice. That's what people connect with, I think.
MR: And speaking of being out of time...
TT: Yes, that was a good one, "Out Of Time," a single by Chris Farlowe.
TT: It was a Rolling Stones song on Aftermath, wasn't it? He did a good version of that.
MR: If I ever do a show centered around music trivia, I have to have you guest.
TT: I'd love to! You have to get me and my brother together. We will answer those questions very happily. But I don't even know why I said that, "Out Of Time." We are out of time?
MR: (laughs) Yeah, that's where I was going with that. Hey Tanita, his has been a real pleasure. All the best with the new album Can't Go Back and everything.
TT: I had a real pleasure. It was actually very fun for me as well. Thank you.
TT: It was a real pleasure, honestly. Any time. Absolutely. You have a lovely, I don't know...what time is it?
MR: It's afternoon still. But it's night for you, huh?
TT: Yeah, I'm going out to the movies.
MR: Going out to see a silent movie?
TT: No, I'm going out to see that documentary about the Chinese artist. I think his name is Weiwei. He's quite famous in England because he did a big installation at the Tate Gallery. It's a documentary because he's always in trouble with the Chinese government. It's all about his political life and his artistic life.
MR: Bam, that's our next interview, we'll talk about that movie.
TT: All right! That's a deal!
Disc 1
1. All Things To You
2. Dust On My Shoes
3. Make The Day
4. Rock & Roll
5. Science
6. Keep It Real
7. Can't Go Back
8. Heavy Pressure
9. One Kiss
10. If The World Should Want For Love
Disc 2
1. My Love
2. Valentine Heart
3. Wonderful Shadow
4. Only the Ones We Love
5. Twist in My Sobriety
6. To Drink the Rainbow
7. Play Me Again
8. Love is Just a Word
Transcribed by Galen Hawthorne
TAKING BETH HART TO HEART
If you've seen Beth perform or listened to one of her albums, you know that she is real. Beth sings from the depth of her soul, and her voice tells you stories and paints pictures that come from her life and experience. Beth states that "at times, I've been really down in my life, but you know, once you deal with it and make sense out of it, it gives you tremendous power'. Beth's songs emotionally resonate and create a shared experience with her audience.
Beth has had tremendous success in the UK and Europe with singles such as "LA Song (Out Of This Town)", "Leave The Light On", "Take It Easy On Me", "Sister Heroine", "I'll Take Care Of You and "Your Heart Is As Black As Night" (both with Joe Bonamassa). Here is an exclusive of the video for her fan favorite "Over You."
REAL LIFE. REAL NEWS. REAL VOICES.
Help us tell more of the stories that matter from voices that too often remain unheard.