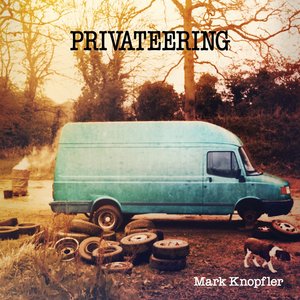 A Conversation with Mark Knopfler
Mike Ragogna: Hello, Mark and thank you so much for the interview, I really appreciate it.
Mark Knopfler: Oh no, it's my pleasure, Mike, how are you?
MR: I'm fine today, how are you doing?
MK: Well, I'm actually very happy because I'm in my studio in London and every time that I am, I just feel like the luckiest man in the world in this place.
MR: Yeah, and apparently you have a really beautiful studio, British Grove.
MK: Yeah, it's just such a great place to be able to come and turn around in. It's wonderful. It's my big paint box.
MR: Nice. Let's talk about your new album, Privateering. "Privateering," loosely means an authorized attack on another ship in the name of whatever country. Now, you've conquered a lot of territory on this album from blues to roots to rock, so beyond it being a track on the album, is that the reason for calling it Privateering?
MK: I suppose, yeah, in some ways it is. I've always been a roots enthusiast really, it's always been based around the blues and folk music, so there are large areas of influence there. I didn't just want to just make a straight blues album. I'm sure I could've done that and I'm sure I could now, I could bring one out next week, I suppose. But it was great fun doing those songs because we put them down on the floor the way they should have been done and what you're hearing is pretty much exactly what happened. That's very exciting to be able to have a band like that. I had a great time with Kim Wilson and I had Tim O'Brien where I wanted a mandolin, it was just a lot of fun to do. To make the whole record was tremendous fun because again, a lot of it got the band on the floor playing and that's tough to beat.
MR: Right, and this double disc takes on a lot, especially subject-wise. Many of the people you write about are living hard lives with deep stories. You ended up with a "bigger picture" album.
MK: Yeah, it is. Some of them, I suppose, are just continuations of themes that I've had in lots of records before. There's a song on Privateering called "Yon Two Crows" and that's just a hill farmer's song, but I had a song on a record before called "Hill Farmer's Blues," which is the same kind of character. I'm just not finished with him. I had a song called "Song For Sonny Liston" on an earlier album and yet there's a blues on Privateering about, basically, the same character that maybe, as a writer, I haven't necessarily finished with. It's unfinished business. I also had a song about Tom Parker on an earlier album called "Back To Tupelo." Then I have a song on the Privateering album called "Gator Blood" that's about him as well, so again, it's all unfinished business.
MR: Mark, other than being a musician, do you think one day, you'd also want to be a novelist?
MK: You know, I think I'd be a terrible novelist. The thing is that just because you can write a song doesn't mean you can write like a novelist. It's a different set of muscles, it really is. The same applies to poetry. A poem is different. When you're working as a lyricist, it's a different thing. To give you an example, a poet would use certain words from the lexicon that a songwriter just wouldn't use, or I certainly wouldn't use. Songs employ a different vocabulary that seems to have been dictated over time. A poem is probably more of a meditation on mortality or on time and it can get quite complex. Although, I have to say, I think that getting older, I am probably working more in an area where I'm thinking about time more, and you look at the past from a different perspective. When you're young, you look in front a lot of the time, at what's coming towards you and what's happening to you. When you get a little bit older, you're able to look at the past and you see something different and time becomes much, much more interesting to you.
MR: And perhaps having more life behind you gives you more references from more experience and knowledge of the world to flesh out characters better. Maybe that tempts you to write songs that are continuations of earlier characters.
MK: Exactly, maybe it is to do with that, that's exactly it. But also, with your own life and your own experiences in life, you reach points where the past becomes, in some ways, more important than the present.
MR: I also noticed with the songs "Privateering," "Dream Of The Drowned Submariner," "Haul Away," etc., it seems like you're working metaphors for life on the high seas, so, I guess you've still got a lot of traveling and journeying in you right now.
MK: Yeah, I think that's absolutely right. A lot of my towns have been river towns, from Glasgow to Newcastle to London to New York. I don't suppose I could settle in anywhere else. I think it would have to be a river town.
MR: There's that identification with the sea coming from your roots. But does the nature of the sea, its qualities, also speak to you?
MK: I think so, and also, the fact that my music is so transatlantic all the time. It's a kind of transatlantic blues that I'm playing all the time and thinking about all the time.
MR: By the way, you scored Local Hero. I think it's one of the best scored movies of its era.
MK: Oh, wow, that's very sweet of you to say. The only thing that I can say about that is that Celtic music never seems too foreign to me. It never seems far away. I guess mine is probably more Scottish than anything else but it's still basically Celtic music. It seems that I can compose it, I can somehow get it from somewhere and I guess that's possibly from hearing Scottish country music from a very early age, like Jimmy Shand And His Band.
MK: It would be connected with that somehow I think.
MR: Mark, given your experience in life and given music these days, what advice do you have for new artists and people who want to pursue music?
MK: Well, I think that it always was hard and time will be the judge, but one thing I do know is that everybody gets their shot. It may be a little harder to get gigs than it was being on the minus side, but on the plus side, you've got the internet, you've got Facebook, and all of that. So I figure I would be doing exactly the same thing, I'd just be trying. I'd just be going and trying and trying. It's a very frustrating thing, trying to get a band going and it can be a very frustrating thing having one and just fighting to get a gig and all the rest of it. But basically, what will happen is what will happen if you've got it, whatever "that" is, and they start queuing down the stairs, out into the street and around the corner and you turn up for that. You're out there doing it, then the word gets around and you're away. So I think everybody does get their shot.
MR: Beautiful. What's your next journey? What's left for Mark Knopfler to conquer on the high seas?
MK: [laughs] You know, I'm looking at a file of songs, there'll probably be about sixty of them and I'd just like to try getting some of those songs made into good records. You hope that some of them will be good songs and that is as exciting to me as it ever was. That doesn't change. The idea of writing a good song and making a good record of it, that doesn't change.
MR: And I imagine when a creative idea comes to your mind, you have to get on it, don't you.
MK: I do actually get on it, hopefully, if I haven't forgotten what it is by the time I've finished shaving. It's not like being a musician, really. You're kind of lumbered with all of this stuff going around, but I wouldn't change it for anything else. I love it, but it's not the same as being a musician. A lot of it's really mysterious. A lot of it, you can't really explain. I would choose songs to talk about. I was telling you the song about the boxer, "Today Is Okay," that was the other Sonny Liston story, and I could talk about that because it's fairly straightforward. But a lot of the other stuff, I just couldn't, because I'd start to explain it to you and we'd just end up deeper in the mud than when I started. So honestly, if there was a formula to it or if it was explicable, I promise I'd tell you, Mike. Do you understand it? I actually love the fact that I don't understand it. If I created section A, then where does section B come from?
MR: It's almost like the continuation of a sentence, isn't it?
MK: Yeah, it is. The first thought gives rise to the second, something like that.
MR: Do you understand your place in music history at this point?
MK: Well, I think that everybody just takes their place in the chain. That's all it is. When I went to see Son House when I was at University, I was sitting in the front row with Steven--Powerline Steve--who I was playing blues with. I was sitting there watching Son House, I was just six feet away from him and he was an old guy playing a guitar. That's what I figure I'm soon going to be, just an old guy playing a guitar. If anybody wants to listen, that would be great, but I've got the feeling that I'm just an old guy playing his music, and I'm not really too worried about whether people are going to listen to it or not. It's just what I do, you know? I don't really have the choice. I don't think I could hang it up.
MR: Yeah. Well a lot of people will be happy to listen as you play on that porch, I'm sure.
MK: Oh, well that's very kind of you, Mike.
MR: This has been very enjoyable, I don't want to take up any more of your time. I really appreciate this interview and I hope we can do this again in the future, Mark.
MK: I hope so. All the very best to you.
MR: You too, all the best. Take care, man.
Transcribed by Galen Hawthorne
GALEN HAWTHORNE'S CONTROL REVIEW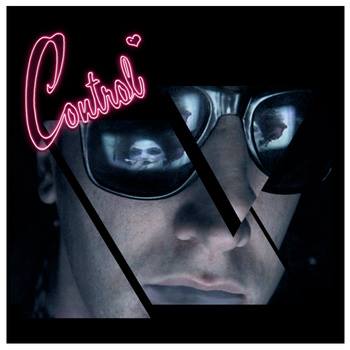 The year is 1986. Your best goth friend has just alphabetized his casette collection. Then, in a drunken fit of equal parts passion and apathy, he smashes every plastic casing and Frankensteins the magnetic tape confetti of New Order, Depeche Mode, Soft Cell, Pixies, Orchestral Manoeuvres In The Dark, Morrissey, and countless other groups together in a chic post punk synth pop dark wave pile. In a flash of futuristic neon dance-powered magic, it reconstitutes itself into a shining black CD with one word printed on it: Control.

Control is a dark album. The music, the vocals, and the production all create a certain shadowy feeling, a dark corner in a night club for the ghosts of the living. Refrains like "I can't run far enough from you," "Your love's a corpse," and "Drown in me" betray a dusk of soul not often heard in a record with so many potential singles.
Control is a poetic album. Each line of each lyric seems as though it was crafted and tweaked a million times for perfect scansion and emotion. Heavy lyrical phrases like "Raise your bottle to the sky, to your love, to the death of a god who sat and watched you suffer" ride far lighter than they should on an upbeat and danceable wave of synths and guitars.
Control is a theatrical album. Driving down the strip at two AM watching the traffic lights blink yellow to the beat of "Wednesday Night Break-In," your world melts into the movie you wish it was. Each track tempts the listener with just a glimpse of another facet of the musical artistry of Joseph Mayfield, Dominic Rabalais and Joey Del Re. As the record winds down, Joseph reads an excerpt from his short story Decisions Of Skin, the gloomy humor of which breaks up the record and prepares one for the last few tracks, setting you down in a satisfied shadow.
For a first release, Control is as solid as it gets and there's no telling where they'll be able to go from here with the right fan base. If you have a single dancing bone in your gloomy, gothy body, consider picking it up, because for a group so dark, the future is bright.
DAMIEN ESCOBAR'S "FREEDOM"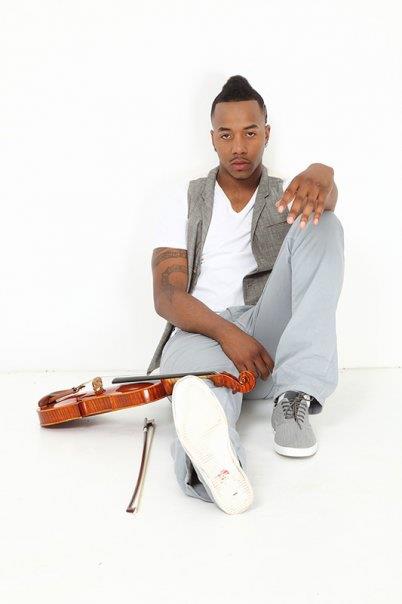 Photo Credit: Eric Chen
"Damien Escobar is taking over Twitter and having the online world buzzing with his latest #WhoAmi? social experiment campaign. The two-time Emmy award winning violinist put on mini pop-up performances for unsuspecting audiences around NYC. The fun part: not many onlookers knew they were being entertained by a world-famous violinist, but got clued in with the help of a simple sign held by a member of his street team. The sign reading: #WhoAmi? encouraged onlookers to share their experiences and take to their social networks to find out more about the not-so-nameless pop-up performer who put on an incredible show and made three minutes of their day a little more exciting. Damien says, 'My goal is always to give the fans a show they will never forget. This is a special show because I'm popping up and performing all over New York City for the new fans, and those who have been rocking with me for years. I put a lot of thought into making this perfect for all audiences. I hope everyone loves it as much as I love to play for them.'
"Through Nuttin' But Stringz, the violin duo of Damien and Tourie, the Escobar brothers went on to sell more than one million albums, earned two EMMY awards, performed for two US presidents, placed 3rd on season three of America's Got Talent, and secured endorsements. Damien is now working on his solo career, and you can expect his solo album debut in early 2014."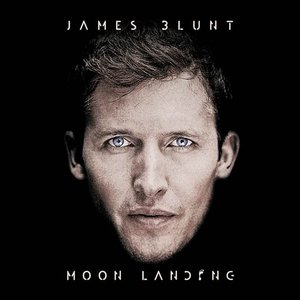 A Conversation with James Blunt
Mike Ragogna: So James, I think a moon landing is probably one of the greatest triumphs of mankind.
James Blunt: Well, thank you. It only took me a year to do.
MR: [laughs] And as far as your fourth album, coincidentally titled Moon Landing, do you consider this one of your own major triumphs?
JB: Yeah, I do. I'm British, so I try not to brag or have any kind of swagger, but I think on a personal level, it's a collection of songs which I feel are the strongest songs that I've ever written. I've recorded them as beautifully as I've ever hoped to do. It's taken a year in the studio to make and it's been a really amazing personal journey. For me, it started out almost ten years ago when I started as an independent artist on an indie label called Custard Records with an indie producer called Tom Rothrock who recorded and produced other indie artists like Beck, Elliott Smith, Badly Drawn Boy and me. We recorded, together, this indie album called Back To Bedlam that on it had a song called "You're Beautiful," that stripped it of its indie roots and took it to a dirty place called "mainstream."
MR: [laughs] Yeah, I think I heard that recording once or twice.
JB: It sent me on this incredible journey of three albums and three world tours. The second album was recorded with my touring band with all the beautiful musicianship that they brought to that album, and a third album, which I wrote, really, with the audience in mind and the venues in my mind because I was playing in large arenas across the world. I wrote songs to fill those spaces, a frontman of a band playing the electric guitar writing songs that I anticipated you wanting to hear, in a way, writing the words that I imagined you needed me to say. It made for an amazing experience, an incredible third tour, but I felt like it was with the audience in mind and I needed to write songs and words that meant something to me and that moved me, and wasn't what you wanted to hear but what I needed to say. I wrote some very, very personal songs, and I also needed to find a way to record them in a very honest and genuine way, not hiding behind musicians as I perhaps had done on my second album, but to play the instruments myself, not hide behind production, but instead let a song shine on its own. So that's where I went back to Tom, the man who started this journey with me and we recorded an indie sounding album.
MR: What was the reunion with Tom like and how did it feel to going back to that earlier approach?
JB: It was such a release to meet that person again and record in that way again. The reason I got into music in the first place and the reason I thought of working in music in the first place is that he is a man of incredible patience who really was drawing from me what I was trying to sound like. A Tom Rothrock album doesn't sound like Tom Rothrock, it sounds like the artist he's recording. That's a very special quality. An example would be, in the studio when I've got a microphone there and I'd say, "Tom, you know, I'm struggling a bit, I'm struggling to connect here with my audience because I can't see them." In a live show, it's easy. You're there and I can look you in the eye and I can sing directly at you. But in the studio, no one's there. I'm guessing, I'm imagining it as if they're in the next room or beyond that and I'm really struggling. He would say, "You can't second guess your audience or imagine them, if you want that connection, sing to me." So through the glass, I would sing to Tom, to my producer and friend for ten years, and that intensity of singing to him was where I found that honest moment and that glass became like a mirror. I could see my own reflection. In many ways, when you see yourself, you can't lie to yourself. You're confronted by yourself. What you're really hearing on this album is a very direct conversation between me and my producer as I'm singing to that person, a direct conversation, or you're hearing the madness of someone talking to himself.
MR: [laughs] What about the madness of a conversation between two good friends like you and Ryan Tedder?
JB: Yeah, that's a great song, I went on his tour bus to go and write "Bonfire Heart." I traveled around Europe and wrote the song in Amsterdam and Luxembourg and, in many ways, I was like a groupie to the OneRepublic band. But we traveled around and that's where I wrote the song. It was a great experience.
MR: By the way, you also worked with another producer for the album, right?
JB: Three of the songs I recorded with a producer called Martin Terefe who recorded with Jason Mraz and KT Tunstall amongst others. He was important to me because I went to him to begin with and recorded these songs, for instance, "Blue On Blue," that I recorded in his studio. He records kind of live in an open space and his sound desk is even in the studio, too, his sound desk is not even behind the glass. That live recording gave me the confidence not to hide behind production and that gave me the confidence to go back to Tom actually, so I have to mention him.
MR: It's like a puzzle, fitting it all together.
MR: Do you think your focus is a benefit from having been a soldier?
JB: No, I don't think so. There is a song of mine called "Blue On Blue," which is a military reference, like friendly fire, when two soldiers in the same fire shoot at each other by mistake. I related that to a relationship, sometimes we hurt the ones we love the most, so I had references to my military times in my lyrics. But no, this recording process was not the soldier, this was the artist finding his way.
MR: One of my favorite tracks on this project is "Satellites" because, to me, you're using it as a multiple reference. What is your creative process as far as lyrics? How are things hitting you these days?
JB: It's really hard to describe. I don't write well on tour because I like to confine myself in a studio or a quiet place where I haven't got friends around, and I hang out with musicians who might write with me or I write on my own. I wouldn't go as far as saying it's meditation, but it's definitely a moment of trying to really feel something strongly and relay it genuinely. Emotions are so difficult to describe in words, so it is trying to find things that really inspire me emotionally and then find a way of conveying that in music and words and put it in terms as simple as I can. "Bonfire Heart" is the idea that people [??? 9:51] whatever your sex or sexuality or color or creed that all humans actually have a need for connection. The human condition is to need connection. So the lyrics are simple, "People like us, we don't need that much/ Just someone that starts, starts the spark in our bonfire hearts." And then another great moment for us for that song was when we went to make a video. We recorded it in Wyoming and Idaho, we were in two states coming hundreds of miles on motorbikes, I love motorbikes. And I didn't want to use just actors. The greatest bit was at the very end when in the bar of the carpark was a wedding taking place, the wedding party spilled out into the carpark and asked, "Hey, what are you doing?" and I pulled out my acoustic guitar and I introduced myself by playing, "You're Beautiful" and they said, "Christ! You're that guy who plays that song!" And then I played "Bonfire Heart" with the cameras rolling in a circle of friends and family and all the people we met on the way and the bride and groom had their first dance of their wedding in the carpark and that's what we filmed and that is my video.
MR: Beautiful So this is not just your personal story, this is an album where you really tried to get to the root of how people feel, theirs and your emotions.
JB: Yeah, exactly that, and all the things that inspired me along the way.
MR: In one of your songs, "Miss America," you sing about Whitney Houston. How did her death affect you and what inspired you to write a song about it?
JB: As a singer, I can relate a little bit to the intensity of people watching and people thinking that they know you and the pressures that apply to anyone. I wrote that about Whitney Houston as someone for whom that intensity has become so extreme that it had taken over her life and the great sadness associated with that. Her story is the same as Amy Whinehouse and, in many ways, the same as Michael Jackson's or even Princess Diana's to a degree. These stories repeat themselves. Marilyn Monroe... The common factor in all of these stories is you and me. We are the ones who spectate and we are the ones who perhaps enjoy spectating a bit too much.
MR: With you song "Face The Sun," for me...you know how a plant needs to be nurtured and face the sun to get its life source? That's sort of how I took the song. Was that a little far off?
JB: It's exactly that. You hit the nail on the head. It's as simple as that. Whatever goes on in life, there are very simple things that we need. I originally wrote that song for the third album, but we never quite captured its life and its fragility in the recordings, but I hid it up my sleeve and then recorded this fourth one. It starts off with that motorbike going past, which, to me, is cool. The album starts to take you on a journey as well. I was inspired by the KLF album Chill Out, which has those samples from across Midwest America heading down to Mexico, so I went out with my friends and recorded wherever I was in the States, recorded these natural sounds. I've got them throughout the album to take you on this journey.
MR: So this album quite literally was also about your personal journey.
JB: Yes. And that countdown into "Satellites"? It's actually a pedestrian crossing just off the Santa Monica Pier.
MR: James, I ask you every time, so let's do it again. What advice do you have for new artists?
JB: Get the right manager. The music business is a business where you need someone to look out for you while you concentrate on your bit, which is being a musician.
MR: Looking back, do you think "You're Beautiful" could've fit on this album also?
JB: Yeah, I suppose, sonically, in many ways, yes. The sounds on both albums are stripped back and are organic, so yes I think so.
MR: What about the concept?
JB: Well, I'm almost ten years older. I don't know if I would behave the same way in the encounter on the underground or if I would've changed the course of history then.
MR: Thank you James, I really appreciated this interview.
JB: I hope I get to talk to you again.
MR: You got it, and all the best.
Transcribed by Galen Hawthorne
"The opening song of the gig we played with the fantastic Royal Concertgebouw Orchestra in Amsterdam, and one of our favourite tracks from our recent album Perfect Darkness. Such a great experience kicking off the show with this song, classically arranged by the legendary Jules Buckley. You can feel the excitement in every note. Love it. Check out the whole album, Fink Meets The Royal Concertgebouw Orchestra out Oct 14th on Ninja Tune Records"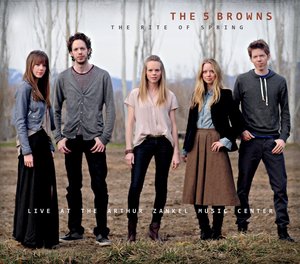 A Conversation with The 5 Browns
Mike Ragogna: What a coup! I have five of five browns on the phone today. I'm an old guy, so please can we do the role call so I can keep up?
Desirae Brown: [laughs] Sure! I'm Desirae.
Deondra Brown: I'm Deondra, I'm the second out of the five browns, I'm the oldest.
Gregory Brown: I'm Gregory, I'm the middle child.
Melody Brown: I'm Melody, I'm the second youngest, I'm the fourth out of five.
Ryan Brown: And I'm Ryan, I'm the youngest.
MR: I guess that makes you the baby of the group. I mean, age-wise only, of course.
Ryan: [laughs] Yes, I am.
Desirae: Would you rather we said our names before we answer questions?
MR: Yeah, please. I got Melody and Deondra's voices mixed up immediately. That age thing.
MR: All right, let's start with The Rite Of Spring, Live At The Arthur Zankel Music Center. This is a live album, as opposed to a studio recording. Would it be fair to say that the live environment has brought out qualities over a strictly studio recording?
Gregory: I think it definitely brings out different qualities, that's for sure. Whether one is better than the other, I can't really say, but I know that when we're performing live versus in a studio, there's a different kind of energy because you're not doing take after take and you've got hundreds of people there watching you. There's an energy about live performance that can't really be captured in the studio, at least not very well. It was actually really fun for us to be able to try a live recording like this and have one shot at it and hope for the best. It was a really cool experiment.
MR: That's wonderful. What's the story behind the album?
Melody: It's been a hundred years since the debut of the "Rite Of Spring" and it had such a riotous debut in Paris in 1913. We've been wanting to play this piece as a group ever since we started playing together, which was ten years ago. It was one of the first pieces that was ever actually talked about amongst the five of us to be arranged for five pianos. So this year, we finally felt like we kind of had enough time as a group to tackle it because we knew it would be such an epic work to tackle. We finally decided to do it this year. It wasn't actually until after that we realized it was the Centennial year and that a whole bunch of orchestras and performers have made it the year of Stravinsky. So it really just made sense, and then the album is quite amazing because we performed it live at that concert on the same day, May 29th, that the first performance happened. It was kind of like we were really acting it out, like we were part of it even though it was a hundred years ago.
MR: Awesome. What event in 2013 would be similar to what happened then?
Desirae: I think the riot that happened at Paris at the time was so crazy, people were so thrown off by it, that's what makes this work so monumental. I don't think there's ever been a concert or experience like it to really top it. Maybe you guys disagree, but I don't think there's anything happening now that could really top it. This work changed music forever, it really ushered in the modernist movement and if it hadn't been written music, today would be totally different.
Gregory: The only thing that I can think of is if you brought a classical audience into a concert hall expecting classical music and then you got Metallica instead and there was a mosh pit in the middle with all old people.
MR: Hey, I resemble that remark!
MR: Now, you guys are very studied, you went to Juilliard and all studied under the same teacher. And having a piano ensemble is such a unique thing for recordings, it seems like the only possibility for something like that to occur would have been in a conservatory. What is the secret of The Five Browns, and how do you pull this unique concept off?
Deondra: I think we've all had very similar training over the years that has kind of added to the fact that we all approach the keyboard in a similar way. I think that when you get into our own individual interpretations of our ideas we're all vastly different. I think that's what makes the music come alive. We go through a process together of weeding out the best ideas from amongst everything and when we come together as a group and perform onstage, it's a culmination of what we feel are our best ideas. I think we kind of feed off of each other's energy. I think the fact that we share the same DNA, we can kind of read each other. Just the slightest look of your eye or a head nod or anything like that and we can kind of feel what each other is thinking; that kind of adds to it. And I think just the fact that we enjoy playing together and we enjoy hanging out together... It's always a difficult thing for a lot of quartets over the years of performing to continue wanting to spend time together and I think the fact that we do kind of brings a certain amount of harmony to not only the group and how it functions but also as a musical entity.
MR: Holidays must be pretty wild at the Brown house when you all just play to have fun together. So who's taking cues off of whom? How does that even become gelled?
Ryan: Like Deondra was saying, we've had very similar backgrounds since we all started at the same age of three years old. It was kind of like a coming of age thing. Growing up, our house was pretty noisy. We started out with one upright piano, but then as more kids started coming into the family, the practice hours started increasing and we had to get more pianos. We kind of all shared the same passion growing up and it was about ten years ago that we all decided to start playing together. We wanted to share that same passion and try to bring together all of our best ideas. That's how The 5 Browns was pretty much created. We wanted to go into the business together to bring music to as many people as possible and doing that together made a lot of sense.
Deondra: And the funny thing is we always try to keep our relationships as siblings first priority even over The 5 Browns. So when we come together at holidays and birthdays we try really hard not to talk about work-related issues; we just enjoy being together and have fun. If somebody does want to start tinkering around and playing something on the piano, we'll talk about music as a whole. But in general, we just try to enjoy each other's company and do other things outside of just the music related.
MR: I also wanted to work in that concept of "improvisation." Are there improvisational moments within the family during the creative process?
Desirae: We don't do a ton of improvising as classical music because you're playing music off of a score. But creative and interpretive improvisation happens a lot on stage. Somebody will turn a phrase differently. There's a lot of freedom in how a live performance plays out. We follow each other. I think that's why knowing each other so well helps. We allow each other that freedom, we can follow their body language, the expression on their face, where they're going with music because we know each other so well. So in that way, we do improvise a lot as far as interpretation goes.
MR: Which reels us right back into the live album. It happens to be on the label "Steinway And Sons." How did that come about?
Melody: Steinway And Sons have been not only a huge support to us, but we're what they call "Steinway" artists, which means they sort of sponsor us in the sense that they're bringing pianos around for us. It was just in the last couple of years that they have formed this record label of theirs through Archive music. It's been such an amazing thing for us to work with them because they understand everything; they understand the piano and they understand what's needed in an album like this. It just made so much sense. I know for both of us, we are so excited about the project with them being a newer label and with us being able to finally make our dream project. This is, literally, our dream project. We've been talking about it for ten years. We've been wanting it to happen, and it was so amazing that it happened, not only through Steinway And Sons, but also through the Saratoga Arts Fest and Skidmore College. They really made it possible because they have an amazing hall up there and worked with the Grammy-award winning producer Adam Abeshouse. Between all of these things, lining up it was just like the stars aligned and this dream project was made and here it is.
MR: What do you ladies and gentlemen think of the state of classical music these days?
Gregory: I think the five of us, or at least I am of the opinion that classical music is here to stay, really. I think throughout the course of musical history, it's had ebbs and flows of popularity, and obviously, our main goal is to get young people involved with classical music. The music is so good, just like any other piece of art from the history of the world, and things like that stick around because they're so beautiful and so moving and people really can relate to them. I don't think people will ever stop wanting to hear this beautiful music and we'll keep playing it.
MR: Do you feel that there are composers out there who are knocking on the door of immortality? Who are your favorite modern composers?
Desirae: Oh sure. We know that there are living legends and it's amazing that they are still here, like Philip Glass or John Adams or Steve Reich. These amazing composers living today, it would be a dream to have one of them writing for us, just because I know once they pass, we'll be like, "Why didn't we have one of these living legends write something for us?" There are also young composers like Nico Muhly who composed the "Five Piano Concerto" for us that we premiered with The Chicago Symphony under James Conlon, and he's having his Metropolitan Opera debut with an opera here in New York City in just a couple of weeks. So there are young composers carrying on the tradition of these great composers still living and it's just amazing to live in a time like this.
MR: It is. Also with social media the way it is, your dream of having a Philip Glass or Steve Reich or any of these people compose for you is really only a tweet away.
Desirae: It could happen!
MR: I'm serious, whoever your managers are, they should be sending out emails when we hang up.
MR: I have a traditional question, and it's an annoying question, and yet I will ask it because I know you'll forgive me afterwards since you're all so cool. What advice do you have for new artists? Please, I'd love each of you to answer, if that's okay.
Deondra: Sure, sure! My advice for new artists would be just to find what type of music you love, what you feel you can attach to, and play it as genuinely as you can. Don't take "no" for an answer. If you get somebody who doesn't want to be your manager or you get declined here or there for your album, just keep out there. The relationships that you form are so important. Nico Muhly, for instance, like Desirae said, composed the piece for five pianos and orchestra for us and we met him back at Juilliard. So go out and meet people and make those connections. You never know when you'll be working with these people. The music business is full of artists who are performers and then went and took their talents in a different direction. Feel free to, just as much as you can, get yourself out there.
Desirae: I remember some of the best advice we ever got was from one of our teachers at Juilliard. He said, "Find your niche." You go to your conservatory and you're expected to play Bach and Beethoven and Mozart, this full range, but it doesn't mean you have to make your career doing that. We made our career playing five pianos. Who does that? Don't be afraid to think a little bit out of the box. Find your space in the music world and just enjoy living there.
Gregory: What I would say is don't be afraid of doing things differently than everyone else has done them. I know we had multiple discussions early on about what direction we wanted to take our careers and sometimes, it was hard making some of the decisions that had been made because they hadn't been made before and people weren't doing those things. But we decided that we should be ourselves and go about our career the way we want to even though that's not the stereotypical way. I think people understood the authenticity of that and they can see that we're just having fun and playing music the way we want to play it, and I think that resonated with audiences. If people are just authentic with themselves and they're not afraid to do something new, then I think there's a possibility they're in there.
Melody: I think a big thing is to be "current." For instance, in the classical music world, you go to school and you think, "I'm just going to be playing my Bach and my Beethoven and I'm just going to lock myself in a practice room and that's all I'm going to do." But what you don't realize is when you get out of school, suddenly you're supposed to be able to relate to an audience. Suddenly, you're supposed to be wearing clothing that relates to younger people, like Yuja Wang, the famous pianist that's making the rounds right now. Not only is she an amazing, amazing artist, but she's cool. She's wearing cool clothes. Don't take for granted the avenues of social media. We're just finally starting to get more into it and it's funny because all of these elements of being current, of being able to be connected to your audience through social media and being able to be marketed in a way that gets people excited, all of those things, I think, are really important and when you're in school nobody tells you that. Nobody tells you that you're going to have to learn to do all of these things, learn how to work with a website, learn how to work with managers, just be "people" people. A lot of times as musicians, we just want to be introverted and lock ourselves in a practice room and that's just not how it is these days.
Ryan: I'm the last one, so there might be some similarities to what other people said, but I think that for young musicians or musicians just starting out, it's important to still have fun with the music. I know that a lot of kids get inundated with how much work it takes and the practicing behind it, but it's important to try to find, like Deondra said, some pieces or music that you personally want to learn, not just what your teacher wants you to learn. Also, work with your teacher to find out what suits your personality best. I think that can cause a lot more fun in the practice room and in your performances as well. Also for young musicians, I feel like it's important to try other types of music, like singing, playing the violin or piano, try different instruments and see what you take to the most.
MR: Very nice! Obviously, you guys are all well edumacated, ain't yuz.
Desirae: After we talk about old people in a mosh pit, yeah right.
MR: [laughs] Who are some other artists outside of classical music that you guys appreciate?
Melody: My husband and I are huge into indie bands right now, for instance, The Lumineers are bigger, and we just went and saw them a couple of nights ago. We're huge fans of a band called Other Lives. There are just so many of these great acts. We're into the indie band scene right now. I'm also really loving Punch Brothers, they're so awesome; they're like folk a little bit but still rock, it's great. They're like a less popular version of Mumford & Sons with a really good lead singer.
MR: Actually, I interviewed Chris Thile the other day. He released his first classical album.
Melody: Oh that's so cool! I'll have to check it out.
Ryan: I'm also watching The Avett Brothers, The Civil Wars, The Head & The Heart, and The Lumineers as well. Lots of fun.
Gregory: I like to listen to a lot of old American folk music and bluegrass. I like The Carter Family and The Delmore Brothers, just really old school stuff. It's really fun.
MR: Are you familiar with The Louvin Brothers?
MR: The Louvin Brothers, basically, were a very influential, kind of bible-banging country duo who were very popular decades ago. Kind of still are. And if you're into Americana, there's also a guy named Colin Gilmore, Jimmie Dale Gilmore's son, who put out a record that I think is the Americana album of the year.
Gregory: Okay, cool, I'll definitely check that out.
MR: So what do we need to know about The 5 Browns that we never knew before?
Melody: We're all thinking real hard.
Ryan: Individual or as The 5 Browns?
MR: Either way, but I guess the easiest would be as a group.
Melody: You kind of stumped us!
Desirae: Just to throw something out there, and I'm sorry to pick on you Melody, but she's not a morning person. She's almost late every time we have to leave a hotel for a flight.
The 5 Browns/MR: [laughs]
Desirae: She also sets her cellphone alarm to wake up in the morning probably two thirds of the time.
Deondra: Let's see, as a group, though, one thing we haven't talked about yet is that I feel like we've come into a much more authentic phase of our career. I think when we started out, we were all young and fresh faced--and we're still kind of young--but we were just wanting to be fun and please people. But now, we've been through a lot and we just want to play the music that we love. Some of that might be a little darker as we grow into a more mature phase of our career; maybe we're just darker people emotionally. But we're still hopeful for the future. We're having a really fun time with this album and the stuff that we're playing in concerts is really being true to who we are right now. And like I said, we're playing together almost ten years later and we're still enjoying it. We still have great moments on the stage. There are times where if you watch closely, you'll see some of us laughing because we caught a funny look from one of us or there's an inside joke or something. We're still laughing, we're still attached to this music and we still feel passionate about it. Even ten years later, our relationships are still amazing with each other. Hopefully, we'll be able to perform for some time to come. We have our Carnegie Hall debut in a few weeks, which is really exciting for us as a group. To think that we sat as teenagers and as students at Juilliard watching amazing musicians on Carnegie Hall stage and to be able to be on stage ourselves, living our dream to perform there and play the Rite of Spring there. It's like we have to pinch ourselves. It's amazing to be able to do these things together.
Melody: Maybe that's also something a lot of people don't realize, we've been performing for ten years and this is our first time playing in Carnegie Hall. That's kind of cool for us.
MR: Oprah's in this picture somehow.
Melody: We were on Oprah a long time ago.
Deondra: And we did a special that aired on the O network maybe a few weeks ago. But other than that, we've done a few press things leading up to The Rite of Spring project, which we're super excited about. This will be our first time performing in Carnegie Hall together, so we're soaking it all in.
MR: Congratulations on that. And I also want to say that you're no slouches on the big stage, because you had The Chicago Symphony Orchestra with you.
Desirae: Yeah, but there's something about Carnegie that just makes you a little nervous. When you know you're living one of your dreams, that's a cool feeling.
Deondra: It's kind of like we said before, here we are ten years later finally getting to debut at Carnegie Hall. You kind of have to keep at it. Sometimes things don't happen overnight, but you just keep doing what you love and eventually you'll get there.
MR: That's beautiful, although don't you feel, I don't know, a little guilty? Carnegie Hall is a rival to Lincoln Center, which is associated with Juilliard.
Deondra: Yeah, I guess we are a little bit, huh?
Melody: It's funny because we've traveled the world playing bigger halls like The Beijing National Theatre, that amazing egg-shaped building, but for some reason, feeling like we grew up in New York, having Lincoln Center and Carnegie accessible in our neighborhood, it feels like, "Oh my gosh," that much bigger of a deal, even though you've played in all of these crazy places around the country and around the world.
MR: Yeah, wow. Okay, you did this dream project, but something tells me you've got another dream project up your collective sleeves. You don't have to tell me what it is, but do you guys have plans as far as follow-ups and what you'd like to do next or over the next few years?
Gregory: I think we do. We're always keeping things in mind. Whenever we get together, we're always talking about different things that we could do or different ways that we could challenge ourselves. Even with the Nico Muhly concerto and The Rite Of Spring album and the Carnegie appearance, like you said, these are all dreams and they're all things that we've hoped for and talked about for a long time. There are definitely more of them, and we'll see if we can live those dreams as well. Some of them are recording projects and possible commissions; others are just, like, winning a Grammy. That would be freaking awesome. I don't know if that will ever happen, but there are all sorts of dreams.
MR: Wait a minute, you've shortchanged yourselves on the Grammy front. And don't forget you're tweeting Philip Glass the second we get off the phone. Look, you guys are the only game in town as far as what you're doing, and you have such a unique perspective with your interpretations. At some point, that has to get acknowledged, even by a body like the Grammys.
Melody: Well, thanks for your encouragement. The nice thing is we don't focus on it; we just keep performing and doing the things we love and if it happens, great, if it doesn't, we still enjoy performing together and life goes on and we continue doing amazing projects together.
MR: Nice. That's a really sweet last line, let's leave it there. This was fun, and all the best, 5 Browns, with everything you do.
NOTE TO PHILIP GLASS: Come on, man. Five pianos, young smart musicians who adore you, what more do you want?
Transcribed by Galen Hawthorne
PIERS FACCINI'S "BLACK ROSE"
According to Piers Faccini...
"'Black Rose' is a song about the kind of longing that consumes lovers as they search for each other through the darkness of the night. Blind to all else around him, slowly burning up in the smoldering ashes of his desire, the protagonist sings to his ghost lover, invoking the past through the echoing maze of his memories."
Popular in the Community