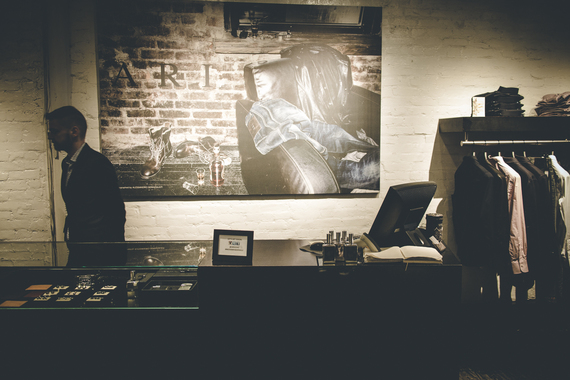 What does the ultimate shopping experience look and feel like? Maybe, being greeted by someone who can simply look at you and select pieces that fit you perfectly? Maybe, being offered a taste of an exclusive whiskey while you await pieces that are being pulled for you? Maybe, a full set of swatch books being laid out in front of you so that you can select materials and textures for your next shirt, jacket or even pair of shoes.
Well this is what you will experience when you walk in to Ari Soho, something custom and thoughtful.
Sitting with the founder of Ari, Moshe, I was able to get an exclusive look into a menswear shopping experience, something I think many women's brands should take note of.
RM: What inspired you to start the brand?
Moshe: I was born in Israel, my mother was a custom tailor by trade. Growing up in a family where we didn't have much money, everything I wore as a kid was custom made. This is where I got my love for clothes.
Then when I came to America at the age of 22 I started working at a couple of shops and at age 26 I opened my first shop. I use to carry all the major brands, Dolce & Gabbana, Roberto Cavalli but I realized I wanted to provide a different type of product for my customers. So I began to travel to Europe where I could research product and began working with small companies, no names, where it was solely about the product.
RM: How did the process change for you? What was the first thing you ever produced?
Moshe: The benefit of working with small companies is that you have an in to the process from start to finish. Most of the time things could be modified for my needs and my customer's needs.
The first thing I ever produced was leather pants, 5 pocket leather jeans.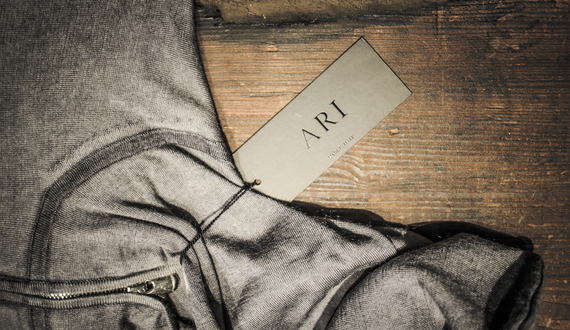 RM: How would you describe the feel of Ari?
Moshe: I call it classic with a twist. There is some aggression to the look. You're not looking like everybody. We focus on the silhouette and the way it fits a man who takes care of himself.
RM: What sets you apart from other brands?
Moshe: We try to offer a different experience when shopping. The staff is very knowledgeable. Men like simplicity and they like a good experience. They want to know that when they walk in a store you know their size and understand their fit. We also produce pieces that work well for our customer. We are known for a shop that has many buyable items. We have a lot of returning customers.
RM: When did you move your store to SoHo and what did that mean for the expansion of your brand?
Moshe: In 2001 we moved to SoHo. At that point we were only doing researched product. Name brands weren't our focus anymore. We wanted to focus on giving someone the best for their money.
With the move we started to go into production. We started customizing for the shop with shirts and jackets. 5 years ago we started to do everything from A to Z. This included shoes, jeans, bags etc. We use the best materials, we stick to luxury because our customer deserves it. Everything we make is made in Italy. We produce in the same factories that produce for Hermes and other large brands. We are going to have 2 locations. We are now in the expansion stage. Its time for us grow.
RM: So you've been in business for 15 years, what has been the biggest lesson that you've learned in that time?
Moshe: Number 1, you've got to keep moving. If you're not progressing you're not growing. Number 2, don't delay, don't push it off. The reason you push it off is only because you really don't want to do it.
All images courtesy of Ari