RACHAEL SAGE & JUDY COLLINS' "HELPLESS" EXCLUSIVE
According to Rachael Sage...
"I don't do many cover songs--because I've been writing my own compositions since I was a little kid, it's just not really my thing generally, and I can count the ones I've recorded on less than one hand. But there was something about this song, after I was invited to perform it at a Neil Young tribute at NYC's Highline Ballroom, that just slayed me. It's so essential, and has so much space built into the song itself which must be why so many artists love to reinterpret it; it breathes in such an effortless way, and sounds as expansive as what it's describing. It was such a thrill to record this track with Judy Collins, who has not only been a generous and inspirational mentor to me through the years, but who is also such a great master at making the songs of others her very own. We had so much fun singing 'Helpless' together as a duet in the studio, and it was also an honor as a producer to work with such a legend and do my best to capture what I can only describe as a feeling of pure joy."
******************************
A Conversation with Peter Asher
Mike Ragogna: There's a British Invasion tour that you're a part of, you having been the "Peter" of Peter & Gordon. How did it come together?
Peter Asher: A couple of friends of mine, Keith Putney and Andrew Sandoval put it together. They had asked me to do it last year and by the time they asked, I was so booked that I was only able to do the first one which was here in LA and the last one, which was somewhere else but I couldn't do the tour properly. The ones that I did do, I ended up MC-ing and hosting as well as doing some of my own songs. It was fun, I enjoyed it and the audience seemed to like it. All went well. This time, they asked me in plenty of time if I could put two weeks aside and do the whole thing, so I'm able to interrupt whatever projects I'm on because there's a deliberate gap in there. I can zip out and do these two weeks, it'll be fun.
MR: And you're both its host and performer.
PA: Yes, I host it and I do four or five pieces.
MR: You've been a producer, a manager, a background vocalist, a songwriter, and have worn even more hats. Which hat is your favorite?
PA: My favorite thing is the fact that I get to do them all. I don't do much management these days. I consult for a lot of people but I don't really do day-to-day management, but other than that I still do everything and that's actually my favorite. But to answer your question more accurately, if I had to choose one particular avocation, it would probably be producing records. I love being in the studio. I think I would pick that if I was obliged to for a desert island occupation, as it were. But I very much prefer the fact that I'm able to do everything.
MR: As a producer, you've been associated with many iconic artists including James Taylor and Linda Ronstadt. What are some of the differences between how you produce acts now and how you produced years ago? From your perspective, how has your production style evolved?
PA: Gosh, I don't know. One hope is that with practice, you get better, but I don't think the producer's job has really changed that much. The tools that you use to do the job have changed drastically, but in the end, once you sit down with the act and you figure out the song that you're going to do and the best way to do it, your job is to frame the track and the record to be the best possible version of that song by that artist and to give the artist a track that they're comfortable to sing on. Then you hire the right musicians, you put the right track together, in the modern days you've got to program the right stuff beforehand, whatever it is. The methodology might have changed, but the mission I think remains the same.
MR: One of your earlier gigs was as the A&R guy for The Beatles' Apple Records and you have an impressive knowledge of music. When you're working with an artist, what is your process when it comes to what's going to work or not? How much of the intuitive comes in?
PA: Well, first of all, you very rarely ever feel like you know. It's a best-guess situation. One always has to be ready to backtrack. Indeed, I think one of a producer's main attributes is knowing when to stop. Knowing when an idea isn't working and when to move on or try a different course or maybe the song isn't as good as you thought it was, any of those things, quite apart from the fact t that in the studio the same thing applies. You need to know when to stop overdubbing, when to stop mixing, when it's done. Of course you make mistakes, but sometimes you do feel confident that something's starting to shape up, and it's, "Wow, we have a good one here," and that's exciting. But to some extent, it's always a process of trial and error. One just has to try and keep the error to a reasonable minimum.
MR: As producer, do you have those moments when you know you're making magic, for instance, with the JT or Heart Like A Wheel albums? As you're working with an artist through the process, do you ever think, "This is going to be fantastic"?
PA: Yes, you do, and it's thrilling. But you don't always know. JT was a fun album to make. James was in great form, we had just changed labels, we knew we were going to embark on a new leg of the career with Columbia records after Warner Bros. There was a certain exhilaration going on, and yeah, he delivered some great songs. Some of that's captured on the album. In the case of Heart Like a Wheel, it was the first album I produced with Linda from beginning to end. I'd helped her finish the previous album and when we were doing "You're No Good," for example, we did have a feeling of, "This is sounding pretty good, if this doesn't go on the radio I will be surprised." But sometimes you feel that way and it doesn't go on the radio and you are surprised. You never know.

MR: Before we leave Linda Ronstadt, there are moments on Prisoner In Disguise that are pretty unique sonically and production-wise for the singer-songwriter era.
PA: Yes, that was JD Souther and Linda, it was remarkable.
MR: It must have been an amazing era to be at the heart of. And you've handled the careers of icons like Carole King and Joni Mitchell. You really dug into what I guess you could call "intelligent pop."
PA: That's a nice turn of phrase. Yes, I hope so. I was lucky in the sense that the artists you mentioned are quite remarkable as writers and people. Luckily, they all remain friends of mine. I saw both Carole and Joni the other night.
MR: And more recently, you worked with Pharrell Williams, Hans Zimmer, Dave Stewart... You continue to have your fingers in a lot of pies.
PA: Luckily, yes. I like to keep working. I'm seventy years old, so officially, I'm past my prime days, but I have no intention of taking up golf or moving to Florida. I really enjoy what I do, so I feel very lucky that I do still get asked to do stuff. And I'm busier than ever, which is fantastic.
MR: And this tour brings you full circle back to your musical roots as a performer.
PA: Yes. I'm in middle of doing the next Steve Martin and Edie Brickell album but I'm stopping that for two weeks and jumping out there on the road. I'm actually taking three consecutive days off in the middle and jumping over to London because I've got this CBE thing, I have to go to Buckingham Palace and get my CBE from the queen and jump back on the road. It's going to be an exciting mixture.
MR: So how do you feel about gaining Commanderhood?
PA: You can't ask for more than that. It's thrilling. I was astonished the day I got the phone call.
MR: How does one decide something like that?
PA: I don't think anyone really knows, but it's not a vote. None of that democratic nonsense, this is a monarchy! I don't exactly know how it happens.
MR: I know this is going to be good, so here goes. Mr. Peter Asher...THE Mr. Peter Asher...what advice do you have for new or emerging artists?
PA: It's all changing, but the aim is the same, it's just to get people to hear your stuff. The ways you can do that now of course are myriad and varied and more than they ever were before, but the downside of that is those same windows of opportunity are open to everybody. The amount of stuff out there is just colossal, but it means any gig you can do, any club you can do, anyone you can open for, any online avenue that opens itself up to you, making a cool video and hoping to get some YouTube hits and putting tracks up there for free and giving your music away, all that stuff, just do everything. That's why it's important to get on this site and that site, "Should I be Tweeting all the time? Should I be blah blah blah?" The answer is yes. To every single one of those questions. It's the only way to do it.
When James and I started, there were less opportunities, but we took any kind of gig he could get. I remember one night I had him opening for The Who and people thought I was insane, but the slot came up and we took it. I realized, yes there twenty-thousand people there, and maybe the back fifteen-thousand weren't paying any attention to a lone acoustic guitar player, or the back eighteen-thousand, who cares, they might have been all chatting, but if the front thousand people heard this guy and went, "Hey, who's this? This is pretty cool," that's more people than we would've been playing to in a club and we made more converts. We would just play everywhere we could, and it worked because he was just that good. If you pursue all of those opportunities for long enough and nothing happens, it probably means the music just isn't fascinating enough because the competition is intense, no question.
MR: Having been a producer, manager and A&R guy, when you look at new artists, do you find yourself thinking, "Well, if they tweaked this," or, "If they did that..."?
PA: Sometimes, but usually my reaction is more visceral in the sense of, "Wow, this is great," or "This is a bit boring," just like anybody else. I don't necessarily think in terms of fix-its, but what's exciting to me is when I do somebody for the first time who's astounding. The first time I heard Ed Sheeran or the first time I heard Bruno Mars, the first time I heard Miguel. There are acts out there now who are just unbelievably good. You hear a song they wrote and just go, "Thank God it's still going on." Everything I felt about James forty years ago I feel about people like that now. There are fantastically brilliant people who pop up--Mark Ronson's a genius--for whom I have the utmost admiration. That's what makes it all worthwhile.
MR: And with you being the MC for the tour, it's almost like you can't put that particular hat down either!
PA: Well, no. I have no problem speaking, as you're discovering, and talking about people or introducing them, and I've got stories to tell about each of these friends who are on the road. We're a friendly group. We all know each other and, in many cases, have known each other since way back in the day. There's that sense of camaraderie and enthusiasm that tends to pervade the tour. In the couple of gigs I did last time, we really had some fun. That's why I'm looking forward to getting out on the road with them this time. And, of course, the fact that we're playing these relatively small places means we get to hang around afterwards and meet the audiences and sign stuff. It's a jovial enterprise. We have a good time. And because the nature of the sixties was such that it was fairly optimistic and enthusiastic music in general, that creates a certain tone that makes it, we hope, a fun evening.
MR: When you're in the midst of performing those songs, it's got to be beyond the reunion. I'll bet it's also flashback time for you.
PA: Sometimes, yes. And obviously, part of that is I miss Gordon. I'm singing songs I sang with an old friend who is no longer there. There are dismal aspects to it in that regard because it does take you back, but that's the same thing that it does for everybody. Before we'd done any of this, before Gordon and I got back together after what was actually a thirty-eight year gap in our career, I never thought it made much sense to sing the old songs. But when we did, which was for a benefit that Paul Shaffer got together, he persuaded us to get back together after this big gap. I was kind of astonished that you would look out into the audience and see people crying and laughing and smiling and whatever because it would be, "This was the song when I proposed to my wife," or "This song reminds me of my mother," or whatever it was. You are re-reminded of the visceral, intense connection that music has with parts of your brain, and one part of that brain, certainly, is memory. Music has a direct connection to that. That's when I kind of went, "Hey, this isn't an unrespectable thing to do," to sing these old songs and stir up old memories and emotions. It's an enjoyable thing, a cathartic thing.
MR: What are you most proud of?
PA: I don't know. That's a hard one to say, I think. I'm not immune to pride, none of us are, and I'm delighted at the various things I've managed to accomplish over the years, but I don't know if I could pick out specific highlights. That would be weird. It's been a good time so far. Like most people, the thing I'm most enthusiastic about is the thing I'm in the middle of now. I want this new Steve Martin & Edie Brickell album to be better than the last one, I want to win a couple of Grammys instead of one--last year they won one for "Best Song." I want to win one for "Best Americana Album" this time, please. My pride and ambition, in that sense, remains unabated. I'm only human.
MR: You're on the Barry Levinson project Rock The Kasbah, that's coming out this year, right?
PA: I actually don't know when it's coming out. Barry's been dividing his time between working on the movie, which is going to be hilarious and is great, and also the musical version of Diner opened to rave reviews. I'm actually not sure when the movie's going to get done, but when it does it'll be great.
MR: What else is coming out that you've had a hand in?
PA: Let's see... Once I deliver Steve and Edie, there are a couple of Hans Zimmer projects that I can't really talk about yet, movies he's about to embark upon. These days, they like to shroud a movie in secrecy before they put out press releases. I can't really remember what's next.
MR: Your radar is always up, isn't it.
PA: Yes. We've just come off Grammy week, too, which is a little crazy.
MR: And it has to be a major reunion night.
PA: Yeah, I'm a Trustee of the Recording Academy, so I go to all this stuff and we have a bunch of meetings, but the event itself was fun. There are all the other concomitant events like the Clive Davis one, and the Lifetime Achievement Award which was great. The whole week was thoroughly Grammified.
MR: Peter, don't you want to go into the studio and make some music of your own? Not necessarily as a commercial product, but at least for fun?
PA: No, not really. I get enough leeway and flexibility I'm constantly working. These new songs that Steve and Edie have written between them are so great. I've got Steve's banjo and Edie's vocals, I get the freedom to add stuff and try out stuff. I feel that way about going into the studio, anyway. It doesn't have to be my project; it just has to be a project I'm involved in. I get the pleasure of picking great musicians and making suggestions and trying stuff out and trying sonic ideas with my engineer and all that stuff. I'm working with such an amazing team that that, to me, is what makes it such a pleasure.
MR: What does the future look like for you? Are there things you want to get to that you haven't gotten to yet?
PA: I'd love to produce more with people as amazing as those I got to discover in the past. Make a record with somebody new and brilliant of course, but the thrill of discovering new music is something we all feel. If I were able to discover someone new and help them be their best, that would be very exciting for me.
Transcribed by Galen Hawthorne
******************************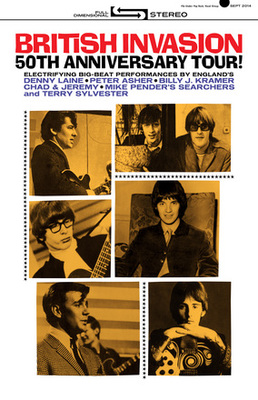 A Conversation with Denny Laine
Mike Ragogna: So Denny, you're on the British Invasion tour roster. What brought everybody together for this one?
Denny Laine: I've never done a sixties tour before, but I really like this guy called Andrew Sandoval who used to be a big time Rhino person who reissues all the old songs. He knows every song that I've ever done and everybody else has ever done. He's a real connoisseur. He put this together with Keith Putney and another company called the Agency Group. Keith Putney is a close friend and agent and also looks after Peter Asher. I use Peter Asher's backup all the time, most of them are on this tour as a backing group and Peter is on the tour as well. I've worked with them for quite a few years, so that's how it's come together musically and agency-wise, but as I said, I think it was Andrew Sandoval's dream to do something like this because he loves the music so much. I was quite surprised to be asked because I'm not necessarily looked up on as having had a lot of hits in the sixties like a lot of the other people did. I was more of a seventies person, but The Moody Blues' first album, The Magnificent Moodies, is the main material I'll be working from, and a couple of other things I wrote and had minor hits with--or someone else had a hit with one of my songs. But my set doesn't involve the seventies except maybe for the ending. I don't want to go into too much detail. I want to leave some surprises. Anyway, that's really how it came about. We did one set of dates and it went really well, so we're doing it again with the same people.
MR: What do you think about that era in general and how did it influence you?
DL: Well, it's when everyone in the music business started. Everyone started in the sixties. We're all part of that big roller coaster ride.
MR: And you were inspired by Django Reinhardt, right?
DL: He wasn't my main thing. It was just that I had a friend at school who taught me how to tune the guitar and his father was a jazz guitarist, so through those people, I started to listen to a lot of jazz guitar. Django Reinhardt was kind of my favorite I suppose, but not of all of them. I listened to a lot of people in those days. I was very much into modern jazz and gypsy jazz and all that sort of stuff. Ella Fitzgerald and Wes Montgomery. I was a fan of musicians moreso than singers, really. I also went from there into skiffle because I liked Lonnie Donegan and all that American music being rehashed. That's basically what we did, we took American music and we rehashed it and put an English feel to it and that became sixties music. I just loved to be able to sit and learn old songs and have a jazz approach to them. It's a little bit like the blues; you have a simple melody and then you embellish that melody and you take it everywhere you want to take it so that you learn all of the different styles of improvisation, musically and rhythmically around a very simple tune. That's what Django Reinhardt represented to me, amongst others, and that's why I liked it.
MR: Were Denny Laine & The Diplomats a product of all of that?
DL: Well, the Diplomats were more like a Birmingham band. We were required to be more commercial to get the work, but we weren't as commercial as a lot of bands. We decided to be more of an R&B and use obscure records that we found in our material. We were doing a lot of R&B stuff rather than pop stuff, but pop bands were the ones that got all the work and played all the hits. We didn't do that and I think we got more popular because people admired us for being a bit more inventive.
MR: From there, you moved on to The Moody Blues. How did that jump work?
DL: They approached me. They were looking to put a band together to go back to Germany. They had just come back from seeing The Beatles in Hamburg and hanging out with them. I decided that I needed to get out of my band because none of them wanted to leave Birmingham, except Bev Bevan who ended up doing ELO; he was the only one who wanted to take any chances. So Mike and Ray encouraged me and we formed The Moody Blues and it went from there and we got discovered. We were doing blues and R&B music as well in Birmingham, but we got discovered and taken down to London instead of going to Germany.
MR: What motivated you to leave The Moody Blues?
DL: Boredom, in a way. I was tired of being on the road all the time and I wanted to go back into the studio. We owed Decca another album anyway, but there was so much work that we were tied up to do, I just said, "Look, I want to go off and do something different. I'm just kind of bored with all this going on the road and playing the same songs every night." It was a time in my life when I was more experimental, I wanted to do something different. I didn't fall out, I just moved on. In fact, the first thing I did live without the Moody Blues was opening for them. I had Electric String Band and I played the first set and they played the second set. The weird thing was they were still doing the material that I used to do with them and that just said everything to me. I said, "At least I'm doing my own material now." They got to the point where they couldn't do that material anymore because people were just laughing at them. So that's why, for their own good, they were forced to change their material. That's why they wrote Days Of Future Passed. It was all in the cards, really, that that would happen. I was enjoying being a solo artist and doing my own thing.
MR: And to that point, Electric String Band had a couple of hits of its own. You even opened up for Hendrix and Procol Harum and others.
DL: Oh, yeah! That particular show was at the Saville Theatre. On Sunday nights, Brian Epstein used to have rock bands there. I think I was on a second Jimi show, and Paul and John and Peter Asher were in the audience. It was shortly after that that I got the call from Paul. If I hadn't had that call from Paul, I probably would've just gone on doing that, because I was getting pretty successful with that band as well. I'd been offered a deal in Holland from Philips Records but I didn't sign it, I was sitting on that offer and then I got the call from Paul and I went in that direction instead. That was just because I knew Paul and it sounded like he needed somebody he knew to get something together. I knew it wasn't going to be anything we'd done in the movies with The Beatles, I knew it was going to be all new material, so I went for it.
MR: I know the tour is going to be about your material from the sixties, but do you think you'll mix in one or two of your Wings songs?
DL: Maybe at the end, but I'm not going into any details on that. It is primarily a sixties tour, but I've got another tour coming up in the summer where I'm going to be doing more of a seventies kind of thing. It's two separate tours, really.
MR: Speaking of Paul McCartney, what do you think was his motivation for bringing Wings together? And what do you feel you contributed most to the band creatively?
DL: I think the most I contributed to start with is the fact that I knew Paul. We went to see Jimi Hendrix when he first came to England. We would go out to the clubs and see people play, so socially I knew him very well. That made it easier for us to work together. That was the first relief for him, to have somebody who knew him from the old days. It made it easier for him to put the band together. Then there was the fact that I was doing my own thing and he appreciated that from seeing me at the Saville Theatre. I think that made him feel like he could be more experimental and I would probably help him in that way. I didn't necessarily help him with a lot of the writing, but more with the ideas and the arrangements. Then I started to get into the writing a little bit more but I kind of left most of it up to him because he was a prolific writer.
If I'd been doing my own thing, I would've been doing writing for my own thing, but I looked at Wings as his thing, really, and I felt like I was the younger brother who came along and helped him do what he was doing. I learned a lot more about the studio, a lot more about playing different instruments, I went on to playing a lot more keyboards and bass and all different instruments within the Wings camp. In The Moody Blues, I was purely the singer and guitar and harmonica player, but with Paul I was more of a bit of everything, and, of course, I was involved a lot more in the harmonies than the lead. It was a completely different job altogether, and it was more interesting in some ways. In fact, there was more pressure on us as well. It forced us to come out with a hell of a lot more material in a much shorter time, but it was successful. If we had tried to copy The Moody Blues' success or The Beatles' success, it would've been a different matter.
MR: And with Wings, you had some of the biggest records of the era. Band On The Run was huge.
DL: To this day, I still don't get it. It was just the fact that the two of us put the music together that got us that feel. We were thrown in the deep end, really, because the two guys out of the band that were supposed to be turning up didn't turn up. We were thrown in the deep end and we had to restart. Paul had all the cassettes of the rehearsals they'd already done on some of the songs, but we had to start again fresh. It was very, "Let's get it done and get the hell out of here." As I said, no one's more surprised than me that it's one of the biggest albums ever. Who knew?
MR: What do you think about all of these sixties and seventies revival or tribute bands?
There are a ton of them out there. What do you think it is about that era that remains so popular, so much so that people who weren't of the era want to perform its music?
DL: I'm not going to knock it for people that want to go watch it, but it's not the sort of thing I would go and watch. I would rather go and watch the real deal, the people from that era who are still out there doing it. I would rather go see what they're doing now than what they were doing in the past. It's a nostalgic thing, it's like reading a book. You see the words but your mind is going somewhere else, remembering all the things they did in the sixties and seventies. As far as the musical tributes, they're all trying to sound exactly like the records and I find that really, really annoying. It's just not my thing, but I don't knock the market. Good luck to those who do it but I always wanted to be in my own band writing my own material and getting hits on my own. Thinking about the old days just makes me feel old.
MR: Denny, what advice do you have for new artists?
DL: When we were in bands, we never used to talk about this stuff, really. We weren't into the music, we just did that for a job. When we did interviews, it was everything other than music that we talked about. But regarding that advice stuff, the fact is that when we do shows and we're explaining how the songs came together, there's a lot of that storyteller stuff around. There's an educational side to it. The main thing is I didn't slay everything on the album...who knows what half of us did? We kind of threw ourselves into making albums. Sometimes Paul played lead, sometimes I played lead, it was experimental. We decided that we wanted to be experimental and not just go the simple route. You might not think that your own material is as good as what's out there, but it really is if you just develop it.
You have to have the ambition to develop yourself to the point where you're professional and what you're doing is as good as what you're listening to. That way, you're not so much a copier, you're more of like a sponge, you absorb all your influences and wring something out that'd got your own speciality in there that's just your thing and nobody else's. That's what I keep trying to encourage in people. The other thing, of course, is all of the administration, the management, the publishing, the agencies, all of those things are part of the whole thing as well and people have to know about that stuff. It's something you have to find out about as you go along. You can't just jump in at the top of the ladder and appear in the music business like you know it. You can only give a certain amount of advice. It's different for everybody. You've got to experience it yourself.
MR: Do you ever see an act that you like and think, "Gee, if only they did this little twist..."
DL: Eh, not really. I used to when I was younger and we'd see a lot of bands, but we don't get to see a lot of bands these days, we're just doing our thing. But I work with a younger band, a couple generations from me, and they're all music teachers and very, very good musicians who go down really well, it's all original material, too, but what they don't have is the same exposure of traveling around the country or traveling around working every night and doing it as a full time job. If you're not a full time thing it's harder to make it, and yet these guys do have that ability to be a big band. They just don't have the ambition to do it as their thing. You have to turn professional. There's a lot of good music out there, it's all down to how determined you are to make it.
MR: Are you surprised by the amount of success you had in your career?
DL: You're not aware of it as you're doing it, you're just doing it. I can't realize how much success it is at the time. You're just in the studio, you're making an album, you're on tour, you're in the studio, you're making an album, you're on tour. It's a repetitive thing and you're just slowly moving forward, whereas when you look back at it you can see it form a distance and that's when you really realize what you've done. Especially with all of these re-releases of albums you start reminding yourself of all the music you've done. With the new Moody Blues album out now I'm listening to all our songs and realizing what a good band that was, how tight and together we were, how good the harmonies were and the arrangements. It's looking back, I think, that you realize the success you've had.
MR: Have there ever been discussions of doing some gigs with them again?
DL: The Moodies? No, but I've actually been in touch with Mike and Ray a lot recently because of a new box set release. Steven Van Zandt and I have been talking about maybe doing a show and bringing in some guest artists and I might ask some of them if they want to do a song, but I don't know yet. You never know what might come about later on, but they're all kind of retired. I just do my own thing. If somebody asks me to do something then that's another story, but I don't go out and ask people to do things.
MR: What's the future look like for Denny Laine?
DL: Well I've got this tour and then I've got a seventies tour in the summer and I've also got an album that I'm going back to wrap and then I've got a musical I'm working on at the University up in Buffalo, New York, so I'm going to be pretty busy, but the new music means I can start thinking about doing other styles of shows now. That's exciting to me, to think that I've got new material to go out and play, as long as people want to listen to it. I've also got a CD that's about to come out, it's called Valley Of Dreams, and the musical I'm doing is called Arctic Song and it's an environmental piece. Those are the two things that I'm looking forward to doing, they don't involve the past so much.
MR: Arctic Song has an environmental theme?
DL: I've had this thing around for twenty years, I actually wrote it with a friend of mine years ago, but I ended up doing most of the work because he got too busy doing other things. We did present it to various people, and we had more charitable events where we used some of the songs from this musical. It's basically about the environment and saving the planet, the same old thing, but in those days nobody wanted to touch it. Now it's much more relevant, so people are interested in doing it. It's just seventeen songs about the environmental problems around the world set to the different styles of music that come from those areas. It's basically ...Space Odyssey meets the environmental artic regions of the world where all the problems are the most relevant. The north is where all the gases and pollution gather as the Earth moves slower up there. That's where the main problems are that we don't think about, like the ice melting and all that stuff. That's the concentration of all the problems. It's called Arctic Song because that's where it all begins and then it expands through the rest of the world.
MR: You had a sense of all this twenty years ago?
DL: Well, my friend, who used to actually work for Peter Asher in his bookshop, he went north to do research for a kids' book, Journey Round The Arctic Circle. He came to me and said, "Would you put some music to some of my ideas?" and he gave me a lot of ideas and a lot of song titles and I did just that. I ended up writing a story, an extension of his ideas, and I took it to another level. I wrote most of it myself in the end, but it all came through him, his name is Chris Hill. I'm trying to put it in all the universities that I can in America. I've got it in Las Vegas and now these other people are scoring the music as we speak.
Transcribed by Galen Hawthorne
******************************
GOODNIGHT, TEXAS' "HELLO, NEBRASKA"
According to Goodnight, Texas bassist Bobby Kendall...
"I'm certainly inspired by the music of Goodnight, Texas, considering I've been lucky enough to tour the country and record with them as a bassist. I have always had a deep love for making videos, art--specifically drawing and coloring--and more recently, puppeteering. The 'Hello, Nebraska' video is a combination many of my favorite forms of art. The song inspired me to start by researching Nebraska landscapes, getting a giant sketchbook, and drawing and coloring a bunch of different backgrounds. Once the Nebraska setting got clear, I drew, colored and cut out all the characters. I created custom limbs on the band members with strings attached for puppeteering, and attached most all the characters to wooden sticks. My wife and I filmed ourselves puppeteering the characters on several different backgrounds, trying to outrun our many chasing shadows. 'Hello, Nebraska' tells a witty, funny story. I just wanted to tell that story, using paper puppets."
According to the Goodnight, Texas camp...
"Hello, Nebraska" is off Goodnight, Texas' sophomore album, Uncle John Farquhar, released last summer that made several best of the year lists (Pop Matters, the SF Weekly, Ear to Ground Music, the Digital Fix etc.) and received lot's of attention for the band's signature storytelling songwriting (Jambase, Relix, The Washington Times San Francisco Bay Guardian, Guitar World, CMT, Bluegrass Situation, San Francisco Chronicle, No Depression, Blue Ridge Outdoor Magazine, Country Standard Time and more). Goodnight, Texas are on tour with Wild Child through 2/22 and will be ending their winter tour on 2/27 at the Mercury Lounge.
******************************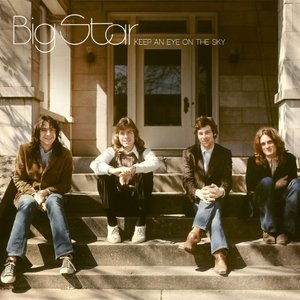 A Conversation with Big Star's Jody Stephens
Mike Ragogna: Jody, Rhino is re-releasing the Big Star box set Keep An Eye On The Sky as well as the deluxe edition of Chris Bell's solo album I Am The Cosmos. What's the story behind the reissues?
Jody Stephens: The boxed set was a labor of love put together by Cheryl Pawelski and crew. It tells Big Star's story in a way words never could. We all encouraged the reissue.
MR: Big Star--at least the original line-up--released relatively little material and yet the band is legendary. What do you think it is about Big Star that keeps it relevant? And are you surprised how much love Big Star gets after all these years?
JS: Life is full of discord. Music seems to return it to some emotional harmony; even discordant music can do it. While people might describe Big Star's music in different ways the common denominator is still their emotional response. Emotions are always relevant.
MR: There may be some people reading this interview that haven't explored Big Star's material or had a history lesson. Being an original member who was there through it all, can you tell the story of Big Star's origin, signing and the creative and recording process for that first album?
JS: Chris, Andy and I got together around March of 1970...17 and 18-year-olds. We had music and a sense of purpose in common plus we had John Fry--Ardent Studio's owner and Big Star's mentor, engineer. We got to develop as a band at Ardent. I would suggest that those not familiar with the music start with #1 Record. Chris was pretty much the producer of that album. We would lay down tracks as a band, then vocal arrangements and other instrumentation. Alex, Chris and Andy wrote great songs so I didn't have the inclination to write. John Fry captured it on tape and mixed.
MR: What do admire most about the band or Big Star brand all these decades later? And do you have any favorite band adventures, original lineup or beyond?
JS: Contrary to what the names Big Star and #1 Record might suggest, we and our music weren't shaped by a commercial goal. Being in the studio was the big adventure. The destination was always a revelation.
 
MR: There have been a few musicians that have occupied a couple of Big Star member spots over the years, at least live, like Ken Stringfellow and Jon Auer. What do these musicians bring most to Big Star?
JS: Jon Auer and Ken Stringfellow are brilliant players and singers in addition to being great human beings! They helped us bring the spirit of the band's live presence back to life. I met them around 1992 and they gave me a vinyl single of The Posies covering "Feel" and "I Am the Cosmos." They were very true to the original Big Star and Chris Bell versions. Their agreeing to join Alex and me in 1993 really gave me a sense of how Big Star's music has touched some people.
MR: Any favorite high points or moments in the box for you personally?
JS: The moment on the boxed set would be "All I See Is You." Andy brought me over to Ardent for the first time. Chris and Steve Rhea were working on that song.
MR: Jody, what advice do you have for new artists?
JS: Enjoy the effort and participation. The reward for me is being a part of the creative process. Having said that, I am glad if people hear it and like.
MR: What are you currently working on and what does the future bring for the entity known as "Big Star"?
JS: Continuing John Fry's legacy of "quality recording" here at Ardent Studios. Check out Greyhounds on the Ardent Music label.
Those Pretty Wrongs--Luther Russell and I--have a 7" coming out April 16 on Burger Records and have a couple shows planned for SXSW. Big Star's Third Live--Chris Stamey, Mitch Easter, Mike Mills, Jon Auer, Ken Stringfellow, Skylar Gudasz, Brett Harris, Charles Cleaver, Django Haskins, I and guests--continues to perform. As Big Star no longer exists, Jon, Ken and I have played a few shows under the banner of "Songs of Big Star" and have plans to play a tribute to John Fry and John Hampton here in Memphis. When confirmed, the date will be announced on Ardent Studios and The Levitt Shell websites.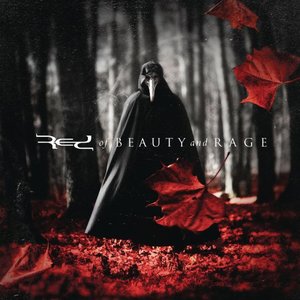 A Conversation with Michael Barnes
 
Mike Ragogna: Michael, Red has a new album, Of Beauty And Rage? What's the percentage of beauty to rage?
 
Michael Barnes: I would say it is about even. The first half of the record is more Rage but even in those songs you can find Beauty. There is a small intermission called The Forest and the you have the more uplifting and redemptive songs that talk about reconciliation and overcoming your fears.
 
MR: This is your 5th album, how did you approach it differently from your previous ones?
 
MB: When we first started talking about this album it was early of last year. We had a few demos done for it but not a lot of direction yet. We met up  with our producer Rob Graves in Maine when a snow storm hit and it was 40 below 0. We ended up at a ski resort that his family always rents a condo every year for winter. At first it was just reminiscing and getting reacquainted but shortly after that we were right on it talking about a crimson forest that we had discovered in Poland that has these twisted black trees. Then the idea of a plague creature  chasing you came about. So inspiration was hitting us pretty hard visually at first. From there the songs started to shape and mold over the entire year. We made sure on this record that all the songs had time to breath. 
 
MR: What are your personal favorite moments on the new album?
 
MB: I love all the bridges on this record. Almost all the songs have like two or three sections in the bridge. We really didn't want to stick to any kind of formula on this record. Sometimes the song goes from the second verse to the bridge instead of the chorus or we don't even add a last chorus and just go straight to an outré. We really wanted the songs to take you on a journey and to tell a story. 
 
MR: Are there any songs that especially showcase what Red is all about these days?
 
MB: I love "Shadow and Soul" on this record. It is one of the most emotional songs we have written. It is a very painful song about lost love that you will see someday. What "You Keep Alive" is my favorite intense song on the record. It pulls you in right away talking about this thing that is dragging you down. It tells you that you need it and it brings you pain. Haha, pretty intense. I love at the end the person kills the need and triumphs. A very empowering song and sad at the same time. 
 
MR: Do you think your albums interlock in some way?
MB: It's cool that we have a storyline going to help bring the records to life for everyone. I think the goal of this band is to explore the human condition and find redemption even in the bleakest of situations. 
 
MR: How hard can this band get? Can a CD hold the level of rock Red can muster?
 
MB: I would say more then searching to go harder, we strive to pull out the emotion in every song we write. In this record we explored some pretty dark parts of our lives. When there were sad parts we made them sadder. When there were angry parts, we made them more ferocious. 
 
MR: Do you feel that your music or the band has a mission?
 
MB: Our main goal is to inspire change. I was brought up in the Church and became a Christian at an early age. So ultimately we tell people how Jesus affected our life and reached into the darkest parts of our life. 
 
MR: In your opinion, what is the state of Christian radio and even its music scene these days? 
 
MB: I think Christian radio and radio in general is going through an interesting period of finding its place. Radio was a big thing of what I listened to growing up. Now there are so many avenues of music with social media that it can be hard to keep up. I know that most of our listening audience goes to YouTube to stream there music. So it's hard to say what radio will do to adapt and survive. 
 
MR: Why did the band originally choose this path as opposed to being a secular rock band?
 
MB: I feel its because of who we are as individuals in the band. We share with people about God and how He has changed our lives. When we tour though it is mostly in the secular rock band market. We reach out to the people that may be on the fence about Christianity. Never do we try and cram down religion. We like to build relationships with our fans and show the love that was shown to us so many years ago. 
 
MR: What advice do you have for new artists?
 
MB: Get ready to make a lot of sacrifice. Lol. You really need to be focused and passionate about what you do to make it. It takes so much hard work and thinking on your feet because everything is always changing. 
 
MR: Would you have taken that advice?
 
MB: I think ten years ago of course there would have been things you say, yeah probably should have done that differently, but everything is 20/20 in hindsight. It's learning from our failures and not being afraid to take criticism and improve each step of the way that has made us a better band for it. 
 
MR: What does Red's future look like?
 
MB: I hope and pray that our future can continue for us making passionate music that we love and sharing it with our fans. I would love to be a musician for the rest of my life. I know with of Beauty and Rage we created something new but familiar at the sometime for new and old fans alike. The bandmates and I are so ready to hit the road and start cranking this music around the world to eleven. 
Calling all HuffPost superfans!
Sign up for membership to become a founding member and help shape HuffPost's next chapter