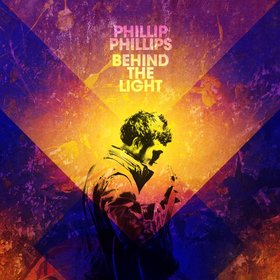 A Conversation with Phillip Phillips
Mike Ragogna: Phillip, the songs on Behind The Light--not exactly a light album--seem deeper or a little more introspective than those of your previous album, The World From The Side Of The Moon. What was the creative process like for this new one?
Phillip Phillips: The title itself, as you said, it's not as light as the first album, but that's what makes it special; it's different and it has its own character to it. In this process, I had a little more time to play with the songs and really learn how they wanted to build themselves up, instead of me just forcing them together. It was a lot of fun because I brought my band in for a couple weeks. I wanted it to feel like a band record instead of just me. The first album feels a little like a band record, but not quite like I wanted it to. I grew up playing with bands because I don't like being the center of attention. And all the guys who played live with me imbued their character and emotions in the songs instead of me telling them, "Play it like this." That's what's beautiful about music to me, and how this whole album came out was very organic. We did it in about six or seven weeks, and the first one in three weeks, so this one had a little bit more time, but I'd been writing these songs since last summer and I was excited to get them all recorded. It was so much fun. It was still stressful, though, because you want to make everyone happy but also do your own thing. I learned a lot about writing, and writing singles in particular. "Thicket" and "Trigger" have really cool meanings and a cool music sound. But when it came down to focusing on, "What can a single sound like?" it had to be right, and I feel like we did that on this album.
MR: And Greg Wattenberg really helped you hunker down on this project overall?
PP: Absolutely. By the first album, he knew what I wanted, but with this one we had more time to sit with the songs and talk about what to change or tweak. It was just me and him, and we were basically producing and writing it at the same time we were recording it. I'd be writing it in one room, cutting drums in the next room, and singing in another. We had a cool process going, and he knew I wanted it to be more like a band record, and I feel like that's how portrays itself when you listen to it.
MR: From "Searchlight" through "Open Your Eyes," it feels like there's a progression or journey or storyline threading these songs.
PP: Definitely, yeah, and that's cool you said that. That's how I want people to hear it. It's more about the meaning and the emotions of the song. It takes you through all the different emotions of somebody's life, some of it my own, some of it not. There's a lot of heartbreak, a lot of personal experiences and sadness, but there's also a lot of light at the end of the tunnel.
MR: When you were growing up and writing songs, who were your biggest influences?
PP: As I was growing up, it changed so much. When you're young and pick up a guitar, you're excited and innocent; you don't know anything but you want to learn as much as you can. I would listen to AC/DC, Led Zeppelin, Stevie Ray Vaughan, Eric Clapton, Joe Satriani. Then when I really started to write songs, I listened to Damien Rice, Dave Matthews, etc. Then I would go back to a lot of those older acts like Vaughan and Jimi Hendrix, and kind of listen to more of the songs instead of just the guitar. That's how I've learned a lot about writing. No matter how many albums you put out, you still learn a little about writing, every time you write a song. But those are some of the influences, and when I was writing this album I was listening to a lot of Radiohead and Peter Gabriel. You want to listen to different musicians and artists to get inspiration.
MR: Were to evaluate or describe your musical self, would the term, "singer-songwriter" cover it?
PP: I definitely try to sing and I definitely try to write, yes, but again, it's more about the band in the live shows instead of about me. I have a kind of "jam-oriented" style; I don't like all the attention, but music itself is such a beautiful thing. The voice is an amazing instrument to listen to, but it's also nice to hear a cello, guitar or organ solo. Whenever we do a live show we really represent that. Sometimes it's free jams, off the top of my head, and sometimes it's something we practice and make it challenging and keep it tight. So I guess I'm a "Jam-oriented singer/songwriter" who's weird and doesn't really know what he is.
MR: [laughs] You've had a great run so far from your pre-American Idol days to now. What advice can you give new artists?
PP: When I go back home, there'll be people playing at some of the places I used to play. Before Idol, I would play shows non-stop because that was my income and that was what I loved to do. I loved to travel, too. I say you've got to get out there and be who you are, and people will like it. You want a record deal or whatever, but it's got to be right. You don't want to get it and then not know what's going to happen. Know what you want out of your career and out of your own music. You want to represent yourself. You start learning more about yourself every time you play a show. I had a couple years, even before Idol, and I knew; basically it's the same thing I do now, it's just a little bit of a bigger scale.
MR: Are you a little shocked at how big a hit "Home"became and how huge your last album was?
PP: Oh yeah. I just got the plaque not too long ago, "Over One Million Albums Sold." It's a huge blessing, and I'm so thankful for everybody who's out there supporting me, especially with the album. I'm more proud of that because it's a whole piece. I'm not trying to brag or anything, but it's like an unreal moment, you know? A million albums, dang. I'm so thankful for that.
MR: What would you tell Phillip Phillips right before he went on American Idol? Any advice you'd give that guy?
PP: Just keep doing what you're doing, but do it a little bit harder.
Transcribed by Emily Fotis
O.A.R. and PHILLIP PHILLIPS 2014 SUMMER TOUR

DATE CITY VENUE

6/12/14ThuSt. Louis, MOFox Theatre
6/13/14FriKansas City, MOCrossroads
6/14/14SatMorrison, CORed Rocks Amphitheatre
6/15/14SunCouncil Bluffs, IAHarrah's Stir Cove
6/17/14TueColumbus, OHLC Pavilion
6/18/14WedPittsburgh, PAStage AE
6/20/14FriCleveland, OHJacobs Pavilion at Nautica
6/21/14SatChicago, ILFirstMerit Bank Pavilion at Northerly Island
6/22/14SunSterling Heights, MIFreedom Hill Amphitheatre
6/28/14SatCincinnati, OHRiverbend Music Center

7/2/14WedLewiston, NYArt Park
7/5/14SatGilford, NHMeadowbrook
7/6/14SunMashantucket, CTFoxwoods Resort Casino
7/10/14ThuBoston, MABlue Hills Bank Pavilion
7/11/14FriWantagh, NYNikon at Jones Beach Theater
7/12/14SatHolmdel, NJPNC Bank Arts Center
7/13/14SunRaleigh, NCRed Hat Amphitheater
7/16/14WedCharlotte, NCUptown Amphitheatre at the NC Music Factory
7/18/14FriPhiladelphia, PAFestival Pier at Penn's Landing
7/19/14SatColumbia, MDMerriweather Post Pavilion
7/20/14SunPortsmouth, VAnTelos Wireless Pavilion
7/24/14ThuGlen Allen, VAInnsbrook After Hours
7/25/14FriCharleston, SCFamily Circle Magazine Stadium
7/26/14SatAtlanta, GAChastain Park Amphitheatre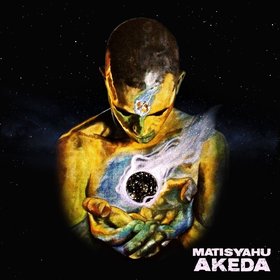 A Conversation with Matisyahu
Mike Ragogna: Akeda is your fifth album and your quote about it is, "The record and [that] period in my life deals with madness, listening for and following the inner intuitive voice." This is a huge project for you.
Matisyahu: Yes. Every album I put out I feel like is going to be huge and I treat it as if it is, but I think this is certainly a shift musically for me into a domain that feels really natural and comfortable. A lot of the experiences I had in my philosophy provided much of the content for the record and it got me out of writing about ideas and instead taking the stories and symbols and making them a little more real, more emotional. So in that sense I think people are going to connect with it. At this point, I think my fans come from such diverse places, and the ones who have really stuck by are the ones who really connect with the words and the depth of the songs. I think they'll be happy with this record in that sense.
MR: And hopefully they'll be identifying with the topics and what you went through.
MR: What does "Akeda" mean?
M: It refers to the story of Abraham and literally it means "Sacrifice."
MR: How are you able to whittle down what you went through into a coherent project?
M: I kind of go into a creative state where I'm not necessarily trying to produce anything, but my ears are perked up; I listen to a lot of music and see what I connect with, and I try to live my life without any sort of strings attached. As time goes on and I start creating music and listening to it, I find it comes out very naturally; the songs, stories, ideas, lyrics start to flow and I enter into more of a productive process where I start writing a lot. It's a lot of experiencing/writing, experiencing/writing, and putting it all together in the end. You really craft out the songs and pull the lyrics from different places and put it all together.
MR: Is that where your "inner intuitive voice" comes in?
M: Yeah. When I speak about that voice, I'm talking in reference to the story of Abraham. Abraham hears the voice of God, and it tells him to go do something that's kind of crazy. I think that following your own path, trying to do what you know is right, correct or true is the experience you need to have to grow and evolve. Not everyone around you will always understand that, and there can even be consequences.
MR: Do you feel that that is the lesson in the story of Abraham?
M: In the religious circles where I was first introduced to the story, it's sort of looked at as this very glorified thing, that Abraham hears the voice of God, doesn't question it, and goes right away to sacrifice his son, and how hard that must have been. But then his wife has a heart attack when she finds out, and Isaac goes blind on the mountain, and they don't really talk anymore after that, in the Bible; there were a lot of consequences to what he did. People thought he was completely crazy, after all those years of not having a child; and he has to go for three days with his son on this journey, and he's thinking about what he's going to do. It sort of personifies the story and makes it real, and that's how I tried to write on this record with regards to the religious symbolism.
MR: This album comes off like an analog album of the past, although it has electronics, etc. Was that the goal? Did you think that would get you a warmer feel, a more personal approach when you were recording?
M: Yeah, I definitely was going for the more personal, stripped back, raw kind of feel to go along with the emotion and the theme of the record. So while we have electronics and programming, there's not much layering. It gets pretty stark at times. Working with Joel [Hamilton], one of the things he does really well is translating some of the electronic stuff and incorporating the analog stuff. So while I had a lot of the electronic stuff happening with Stu Brooks, who produced the record, I had also put together a group of musicians I've worked with in the past, and recorded with Joel and got the rock sounds with the organic feel.
MR: You also brought Aaron Dugan, Rob Marscher and Mark Guiliana into the creative process.
M: That's correct, that's the band I was referencing.
MR: On the tracks where you're featuring a couple of guest artists, how did that come together?
M: I toured with Collie Buddz and Zion I last summer, both of the artists that are featured on this record. So I had a relationship with them after being out on the road with them for a couple of months. I knew a lot of my fans would be excited by a collaboration with Collie Buddz; with Zion I, we were looking for someone to do something on the record, so we sent him the track and we loved what he came back with, so that's how it went.
MR: In the end, Akeda represents what you went through in the past, but what does it represent as far as your moving forward?
M: A lot of it is about the process that we go through, and the cycles, as we go from record to record; creating a record, promoting, performing, going back in and writing again. A lot of it is about the process.
MR: Your first album was Live At Stubb's on which you interacted with the listeners. Is that part of your mission as a recording artist, to keep a connection with the fans?
M: Yes. That's the only way any of us has the ability to do what we do; it's because of the people we connect with, and the lives that we touch. That's very important to me. And the meanings that the songs begin to acquire as people begin to ascribe meaning to them, and have real experiences to the music. It makes the songs become multi-dimensional and grow in a way that you as the creator could never do on your own.
MR: What advice do you have for new artists?
M: For an artist who's developing oneself and their voice or their artistry, the main thing is just spending time with their instrument, and expression, and living life without getting caught up on figuring out how to do it. I, at one point, was so focused on, "How will I make a profession? How can I do this? How can I get exposed?" I gave in and got focused on my life and my own spirituality and what it was that I wanted to share with the world, my own music and expression; and once I was ready to come out into the world, I felt like the world was ready to hear what I had to say. I think the main thing is to work from the inside out, as opposed to trying to work from the outside in. For an artist who's already sort of established, I think it's really the same thing. You have to stay inspired and alive. If you do that and trust your artistry, then you know that you'll create what you need to create. The harder part is how to stay inspired and in that creative mode.
MR: Are you keeping aware of, or do you just let it be, your "evolution" in your spirituality as you're moving through life?
M: Yes, and my music is the way in which I'm keeping track of my life, with the exception of Facebook and all the internet stuff. I can look back on my life and say, "Okay, I was here, I was there, this is when I looked like this, or believed that." But mainly the music is the place in which I'm able to log what is it that inspires me and where I'm being influenced. So when I go back and listen to those records, I can see the evolution, and it is nice.
MR: Is there a point where you feel that artists will start relating more to the spirituality in their own music?
M: I think so. I definitely think there's a movement now where a lot of people are writing songs that are important to them; there's a lot of great music out there, and with the internet, it's definitely easier to access all of them. That's played a big role in my own inspiration, the access I have to new music that I never had before.
MR: Where is this all heading? Is there a big goal, or are you just living it day to day?
M: I'm always striving to be the best that I can be at what I do, so for me right now, the songs have been created, and thank God; I'm really proud of them. I feel good about the songs, and now it's about getting them across to the people so they can connect with them.
Transcribed by Emily Fotis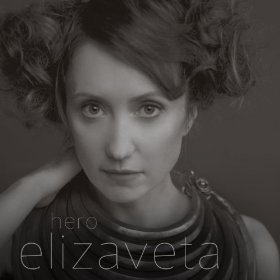 A Conversation with Elizaveta
Mike Ragogna: Elizaveta, would you take us on a little tour of your new EP Hero?
Elizaveta: Sure. "Hero" was the first one I put together. I produced it and did all the arrangements, and I had a lot of fun making it because I knew the choir for the song. If you listen to the song you'll hear at the end of it that there's a large choir singing. I couldn't really afford to hire a choir and record them, so what I did was crowd source it. I asked my fans--my email list, specifically--to record themselves singing this little snippet of music that I posted for them privately, and to send it back to me. A number of people recorded themselves and sent it to me, and we mixed them all together and I ended up having a choir.
MR: That's wonderful, I've never heard of that done before. What a creative idea.
E: It was great. There were maybe only a hundred or so people who ended up doing it, but it was really fun and people were really excited. Another thing a few of them did was film themselves singing. Some were just singing into their phone, others sitting in front of a river and singing. I asked them to be creative. I don't have a music video for that song, and may not for a while because it's a pretty epic song, so it would kind of need an epic video. But I'm going to make a fan-oriented music video, and that footage is being edited right now. It's a way for me to connect to my fans and give back.
MR: You've had thirteen million views for a little thing you called "Superman with a GoPro."
E: Yeah. I collaborated with two electro-duo DJs who work together, called Pegboard Nerds. They really loved my upcoming single and wanted to make their own remix of it. They had the opportunity to collaborate with the YouTube channel CorridorDigital that has a lot of subscribers. So it was perfect because it's about Superman who's flying through the air wearing a GoPro, and they made a pretty cool remix and the video went viral. That was a first for me, to know that thirteen million people have heard my voice. That's really pretty cool.
MR: You're using interactive methods and social media in ways that push the boundaries a little bit.
E: I don't know if I'm pushing the boundaries on that. There are a lot of amazing artists who are very much ahead of the curve. There are a lot of people doing these things. I think you just find your own avenues, and for sure I would not be doing these cool things right now were it not for social media and the ability it gives me to connect to people around the world. Because I'm not on a major label--at the moment I'm on my own label that I started for this release specifically--it's given me an opportunity to connect to all sorts of interesting, surprising and resourceful people who then show me the way elsewhere. But you're right, it's a pretty amazing world out there.
MR: You don't seem to be glued to your classical upbringing. Were you tempted to go into classical music but then decide you needed to do something more than that?
E: Well, I did do a record on Univeral in 2012 with Greg Wells. That was kind of already a collection of different things, with certain sensibilities, my vocals, and specific writing holding them together. I think "Hero" takes it a little bit further. I just really love different styles--I go with what the song in my head asks me to do. I only hope that it's not too jarring as far as the transitions go. But even on the more electronic songs I try to use organic textures like vocal arrangements, strings and other instruments, trying to connect different worlds. I think that, more than ever these days, it's something that's happening all over the place. Back in the day the word "Interdisciplinary" was kind of a new word; even in education, if you went to university and you mixed up your majors, that was unusual. But now everything is a mash-up, and I think that music is no exception. So as long as it sounds good, and as long as it makes sense to the listener from song to song, lyrically and emotionally, I hope it's okay.
MR: This is an EP, so I'm imagining an album is on the horizon at some point.
E: For sure. I'm coming back to the States next week, and will spend some time working on some more tracks that I have in mind. Making this EP was a huge learning experience. I'm happy with the result, but I think I can do even better. Maybe a couple songs will be remixed or repositioned in the final album. Even though these days it's all about the single, where people can go on iTunes and go from song to song...I feel that putting out an album that makes sense and is not just a collection of songs but has something linking those songs--whether it's emotional or historical--I still feel like there's a place for that. And if it's genuine and it's good, people connect to it.
MR: When you see your music used in placements in films and TV shows, how does it hit you, being the composer and recording artist?
E: I want to do more of it. I'd love to write some things that are specifically customized, because I think I also write visually. For me, all songs are vignettes of some sort, and if you listen to my songs--whether it's the record Beatrix Runs or Hero--there's somewhat of a cinematic quality.
MR: You're of Russian descent, so what are you thinking when you're looking at what's going on in Russia and the Ukraine these days?
E: First and foremost, it's pretty painful. None of it really should be happening. And secondly, a lot of it's also confusing. There's a lot of information coming from a number of sides, and it's not always easy to process. And it's difficult for me because I have Russian roots but I have a life in the US, and on top of that I also have Ukrainian heritage.
MR: That must be very disconcerting to see the chaos that's going on in that part of the world right now.
E: For sure. It's something that will play out, and I hope that in the end nobody wants any really serious conflict. My hope is that it will work out and people will sit down and talk and decisions will be made that, while they may not make everyone happy, at least will bring some compromises to the table that will keep the peace happening.
MR: What's your advice for new artists?
E: It's all about the song. If the song is there, you're more than halfway there. Now as far as everything else, I think it's important to be aware of your own potential. And it's also important to be as persistent and disciplined as possible. The days of the so-called "Free-spirited artist" who doesn't have a care in the world are maybe not completely over, but certainly it's a rare artist that gets to have that kind of luxury. You really have to have a good, sober head on your shoulders and be aware what's happening business-wise, and how you can take care of your own rights. I'd also advise an artist that it's best to retain as many of your own rights as possible, especially when it comes to publishing. The day of the major record label is not coming to an end, but it's a different age and everything's switching to streaming, and recorded music doesn't have the same value it used to. So the artist still needs to eat. Maybe they can live on music and poetry and sunlight and air, but if not, then it's important to know where the income comes from. Normally it would come from the live performances and publishing.
MR: What's your future look like?
E: You're really tempting me to say "World domination" right now! [laughs] Frankly, I would like to continue doing music and know that I'm getting better and better at it, and keep receiving recognition for it. On this tour, I've been opening for--and singing pieces with--a veteran Russian rock band called Bi-2. They're really wonderful guys and they've been around more than twenty years so they have a huge fan base and they tour all the time. This last tour was with a full symphony orchestra, and there was one stop in Belarus--in Minsk--where I have some of my roots. This was a ten-thousand-person arena that was chock full of people, and I got to play my thirty-minute opening set and then perform with and do one of my own songs with the symphony orchestra in the middle of their set. This was my first time performing in an arena, and I can tell you now that my goal is to sing in arenas at some point not too far in the future because I loved every second of it.
MR: I hope you get that, and maybe you'll have a symphony of your own someday.
Transcribed by Emily Fotis
A Conversation with Kristian Day
Mike Ragogna: Filmmaker, director, producer Kristian Day, what is all this slick stuff you're doing with making movies on iPhones?
Kristian Day: It all started when I had some equipment stolen a couple years ago in the middle of a production while I was camping. I was licking my wounds and thinking "How am I going to do this?" because I couldn't replace these cameras. I had this idea that maybe the iPhone had been developed enough over the years that there might be some potential there since technology changes so quickly; people are using their phones more than point-and-shoot cameras now. So I did a little research and found that there's technological benefits to the iPhone, like being able to encode at fifty megabytes per second, and its portability, etc. It's still a phone, though; I'm not trying to say that it's the be-all-end-all by any means, but it gave me this idea for artistic freedom with being able to shoot anywhere. I shot a pilot for a punk rock cooking show called Crowding the Pan, with Sam Auen, who's a big, bearded, burly, tattooed ex-Army motorcyclist. He and I had a lot of similarities and I said, "I don't want this to be 'clean.' I want it to be rough and dirty and I want everyone to feel like they can watch it and not get bored." So we shot his entire pilot with the iPhone, which was a trick because I was trying to figure out work flow and what I needed to do to make it work correctly. When you shoot on an iPhone it doesn't always come out correctly. I had to get the right apps, had to convert the footage to the right format, had to have external audio, etc., but with a two or three man crew we shot the pilot, sold it and it ran for thirteen episodes. It was originally kind of a joke. I have a lot of buddies in the film industry in Iowa who would talk about trying to get sponsorship from various businesses for many thousands of dollars, and when I started doing the iPhone stuff I said, "You know what, I'm going to shoot a show entirely on the iPhone and it will cost me nothing and I'm going to sell it."
MR: Did it literally cost you nothing?
KD: It cost me nothing, if you're not counting my time. I didn't spend any money. I did it all myself. I've always gone with the idea of, "DIY or die," so we shot it, edited it, close-captioned and did the final encoding. It was a three-day process that was go-go-go.
MR: Did you get the "DIY or die" idea from somewhere else or was that your own idea?
KD: I've always been inspired by Roger Corman, so I attribute it to him. You hear about him making Little Shop of Horrors in two nights and three days, something like that... if I could be in charge, I could do this in no time, but that's not necessarily how a production works. You gotta work with a team in most scenarios, and sometimes you run into the situation where everyone's in the same place as you, with the attitude of "Let's do this and let's do this right and not mess around," and that's how Sam and I work. In the end, he and I were the production team and it was his and my show. We ended up going wireless with the mic; for the first couple episodes we had a boom, but we wanted to simplify it even more. When we got the show rolling, after the third episode we got it down to where we could shoot in two hours, I could start encoding, I'd edit in one day, close-caption and get the show to the Hearst affiliate that had bought it.
MR: Do you see this as something where other people will be inspired by what you did and try to do their own thing?
KD: I think everyone should do something like that. I don't want people to be held back by technology, and technology has become more affordable. Even in the early to mid '90s, in order to make a film, it would cost you seven to ten thousand dollars, but with the iPhone--and you still have to have some skills like framing and knowing what's good lighting and audio--you can get decent quality, and the picture in the end is what really matters. It's very possible for anyone to be creative and not be held back.
MR: Is the resolution good enough for people to be looking at it on a fifty or sixty-inch screen?
KD: Oh yeah, it blows up really nicely. You hear about DLSR cameras, which are a big thing. But a DLSR can only encode up to thirty-two to thirty-eight megabytes per second, I think. The iPhone can encode up to fifty. Obviously the lenses are better for the Canons and DLSRs, while all you can do with the iPhone would be to add lens filters and lens attachments, but when you start color-correcting it doesn't break up. So I can blow it up on a giant screen and it still holds together, it's not pixelated or anything.
MR: Rumor has it that you used a microscope for filming one of your projects.
KD: I did. It was a project called I See What Is Here that screened at the Mobile Innovations Film Program that played at the New Zealand Film Archives in Auckland. It went down to the Melbourne International Film Festival in Australia. A lot of my films I really push into that market because some of the stuff I do is a little obscure and is testing the waters, especially the short films, and I can send them overseas and they do really well.
MR: You have a collection of short films and documentaries you've done, don't you?
KD: Yeah. I've done two feature documentaries. One was Capone's Whiskey: the Story of Templeton Rye, and then Brent Houzenga: Hybrid Pioneer. The ...Rye documentary was probably my biggest release; it showed in forty-three theaters, and I had a television spinoff on Iowa Public Television; when Ken Burns' Prohibition aired, Templeton Rye: Iowa's Good Stuff was the sister film to it. And I've done a number of short films over the years. For a while there, I could shoot three or four or more a year. There were all different, and the microscope stuff was really an experiment. I'd gotten this microscope lens for six dollars on Amazon and I just wanted to see what it looked like. The things you could see with it were amazing. Six dollars on Amazon; and free shipping if you have Amazon Prime! [laughs]
MR: When you film, are you looking to innovate?
KD: Yeah, I'm trying to see more things. I want to see what else I can do. I shoot footage all the time; I have collections of things, and sometimes I'll make short films and cut things together because I always figure I could use it. I think if you can do it this way and find a way to make it work, you can really create new worlds, see new things you wouldn't otherwise be able to see, and you're not really spending any money. It's up to you to and, you have this piece of technology that can do wonderful things.
MR: Are you like this naturally, or did you have mentor or were you inspired by anything in particular?
KD: I was always into a lot of SciFi movies when I was a kid, like Forbidden Planet and any of the Godzilla films. And Barron Christian was kind of my mentor; he's an actor, producer, director and voice actor. He lived the Hollywood life in the '60s and '70s. He was in a lot of different stuff, and he taught me a lot about creativity; he said "The rich have a lifestyle that comes with being rich, but you shouldn't necessarily go that route; you'll probably live a happier life if you pursue creativity," which is something that he didn't. He's always inspired me to do films and he's narrated a number of them like Templeton Rye and Hybrid Pioneer. I've snuck his voice into different things I've done as kind of a "Thank you" for pointing me in the right direction.
MR: What advice do you have for new artists, filmmakers or screenwriters?
KD: I like to tell people to first be realistic. I've worked a lot with the the David Lynch MA film program producing films, and I always just say don't be held back by anything, but also be realistic about what you can do. You can be realistic and still be very creative with everything that you pursue. Also, the first project for anybody is sort of an "Ego" piece - you know, they want to have all this expression. I encourage that, but in the end it's not necessarily what it's all about. You can create amazing films and you have to decide what you want out of it. Do you want to be "Mr. Hollywood," or do you be the creative artist? I always tell people to ask themselves that before they do anything. Figure out who are trying to be. If it is to be that Hollywood playboy, admit it to yourself first.
MR: What does Kristian Day want to be?
KD: I don't know! I went from making films to having this theater. I'm still making films and producing television shows, doing post-production work. Again, I go back to Roger Corman; he never won an award until he got an honorary Lifetime Achievement Award from the Academy. He had never won anything. No one said anything to him about any of the things he did, except word of mouth from the people that worked under him. He's made more movies than anyone in the world at this point, I think. And I look at that as maybe the more grounding way to do things.
MR: What are some projects you would like to make to feel even more fulfilled?
KD: There are a few other documentaries I'd like to do, and there's this one scripted piece that deals with understanding mental illness. I've always had an interest in whether people who have a mental illness realize they have a mental illness. I had one of the worst dates in my life back in 2009... first date/last date type of situation. I was asking this girl, "Wouldn't it be interesting if people who have Down Syndrome or some mental illness don't realize they have it? What if you and I, who think we're living a normal life, had something wrong with us and we never realized it, and we were living a life thinking everything was normal to us?" I wrote a script that deals with a fantasy life of a young man who's unconscious throughout this film. He dreams of a romance, but he has Down Syndrome. It's about how he sees things. Everything's very simple, but the emotions are very powerful. So this is a project that's been sitting on paper for far too long, and I'd like to make it.
MR: Where do you think film is going these days?
KD: I think it's really going short subject, such as with the Youtube generation and people's short attention spans. Like an album going to a single. There's so much gold on Youtube, but I don't know where the money is with it yet. You know, you can have a million Youtube hits and make two dollars. They need to find a way to monetize it to make it work. Also, as much as I love choice, I feel like choice destroys economy, too, especially in the entertainment industry. What made old television shows work? That was the only thing that was on. You had four channels, you watched what was on. But now everything's on demand and there's so much content.
MR: You can also argue that that's what hurt the music industry. People say it's the MP3, but I think it's also the delivery system antiquating.
KD: Totally. I've been making music for over ten years. I've done soundtracks and things like that. That's what got me started were soundtracks. Now, I can tell my albums on iTunes right next to anyone else. In the end, it doesn't necessarily make me much money, but it could potentially hurt someone who needs to sell X-number of records. And I think a lot of it is that the industry has pumped so much money into these things and they're looking for a return faster than they can get it.
MR: Is there any advice you would give to yourself at this point?
KD: Chill out! I'm twenty-eight years old and I've made a lot of sacrifices to do what I've done; personal, relationship, family, financial; and part of me wants to go backwards and say, "Maybe I need to take a few minutes and not do it this way." As much success as I've had, some things have happened that may have hurt people, or put me in precarious financial positions. I wish I could go back and just say, "Calm down, it's not a race."
MR: I think a lot of that could be myelination. A brain isn't done forming until it's twenty-five, so sometimes you probably just can't help it.
KD: Absolutely, and that gets me on a whole other subject about people who experiment with different types of drugs and they do it at such a young age. I almost want to tell them that if they want to do that, at least wait until after their brain is fully developed. You're just causing so much damage. If you want to trip, I aencourage you to trip, but do it after you're twenty-five!
MR: [laughs] Have we covered absolutely, positively everything?
KD: I'm working on a small project right now. I do what some consider fancy film work, but then I also do very behind-the-scenes stuff, including closed-captioning and final encoding for delivery, etc. So we have a show that aired Friday, May 9th on FOX KDSM 17 called What's up with WOZ. I do enjoy doing that stuff, because I forget there's all sorts of nuts and bolts that go into these things. And even though closed-captioning is a slow death for me, I do enjoy it insofar as it reminds me of all the things that go into this.
Transcribed by Emily Fotis
Popular in the Community