According to Blue Note president Don Was on Gov't Mule...
"The Mule holds a unique and lofty berth. They have roots that run real deep--drawing from the entire history of rock 'n' roll going all the way back to Robert Johnson and the Delta. Yet, despite their mastery of past idioms, they have managed to rearrange those elements into a whole new thing. So while the music they make is quite contemporary, I dare say they have deeper roots than other bands that are creating new music. According to the Blue Note manifesto written by our founder Alfred Lion back in 1939, our label is dedicated to the recording of 'authentic music.' I don't know how much more authentic you can be than Gov't Mule! It's an honor to release their records on the Blue Note label. On this new album, they've elevated their songwriting, playing and production values to a whole new plateau. It's gonna blow people's minds!"
According to Gov't Mule...
"We shot this soon after signing with Blue Note earlier this year, with our friend the filmmaker William DeVizia. It's a good look at what drew us to the label and vice versa, and how that all went into the recording of Shout!"
A Conversation with Portugal. The Man's John Gourley
Mike Ragogna: Why "Portugal" The Man?
John Gourley: When this band started, we hadn't been out playing. We had just talked about David Bowie and The Beatles, those are two of our biggest influences. Zack [Carothers] and I always loved the idea of Ziggy Stardust and St. Pepper, like this alter ago. I was a shy kid growing up and I liked the idea of playing under this alter ego, like I could be Ziggy Stardust, but I also knew I could never be Ziggy Stardust. I was never going to be on my own, there is always going to be a band. And the country thing came about, because a country is an individual in the world, but it represents a group of people. Portugal just kinda came out, we were hanging out and I said "Portugal" and we said, "That sounds good, that's our guy's name." The Man is just a statement, he's the man. The period in the name, huge mistake I know. We didn't think about that. We never thought we were going to be written up in magazines. The second we saw it in print, like what a mistake man.
MR: Nah, pretty original. And I love that you're making music with Danger Mouse. I used to love that cartoon! Aaaand obviously we are not talking about the same Danger Mouse.
JG: I like to see what people think. That's one of the first Google alerts that we put in, let's see what comes up for Danger Mouse. So much was about that confusion, like who's producing the record, a cartoon character? Obviously, Danger Mouse is the producer Brian Burton. He is just iconic, he really is one of the greatest producers ever, and I totally believe that. I watched the way he works and as music fan. And you see it, you really see it. The way Tony Visconti worked with David Bowie and with Mark Bolan, and the way George Martin worked with The Beatles. You see The Black Keys interviews as well. Brian is the third member of The Black Keys, and the 5th or 6th or 26th member of Portugal. The Man.
MR: Love that the title of the album was Evil Friends. What was it like making this album together?

JG: I'll tell you the way I remember it happening, we really haven't talked about it. I just give my side of the story. It's funny because we had already started making the album. We were in El Paso or Coreno, Texas...anyway at Sonic Ranch. And I got a call from Craig Kallman from Atlantic Records and he says Danger Mouse wants to meet up with you. The first thing that came to my head was, "What the f**k man! Who's talking to Danger Mouse? We are already making our record!" We were under this impression that we were trusted with this job, we're going to make our own record that is self-produced and put this thing out. But when an opportunity like Danger Mouse comes up, you don't turn that down. You get to go meet this guy whose records you listen to. I flew out to New York, it was literally the next day. It's one of those things that a kid from Alaska doesn't think about. Never in my life did I ever think I was going to be in that position, to meet some of these people. I flew right to New York and got to meet him the next day and he was an hour late for our meeting. When we met, he said, "Hey man, just so you know, I don't really want to work with another rock band." I mean he worked with The Black Keys, like, I totally understood it. Well, he said that to me, and so first of all, why did I fly out to New York? And thank God I don't have to talk about making a record with this guy, you know. He's Danger Mouse, man. I walked in like, "I get it man, you got your records and you're wondering why we're out here." He can pick and choose. He is one of those producers that should pick what he works with. I mean, that's why he is so great. He'll talk to people and he'll listen to your music and get into your head. He wants to know what records you listen to and what makes you want to play music. That was, basically, our whole day. We just listened to music the whole day. He had asked what type of record are we making, what type of music. I said, "I don't know man, I want to make the best record. It might not be Dark Side of the Moon, it might not be Thriller, but I want to make the best music we can." That's what playing music is about. It should be a basketball game, it shouldn't be just "because." There's no making art for art sake, you've got to make the best art you can. He and I laughed about it because, f**k, we're not going to make Thriller or Dark Side of the Moon, but why not try to break new ground, why not try to do something new for our band. We did the best we can.
MR: It seems like he didn't change what you're about, but he did add layers of production and hints of psychedelia that weren't as emphasized in the earlier recordings. It seems like this was a new creative stew, is it fair to say that?
JG: That's what everyone thinks Danger Mouse is. But when we put out our first single, people were so quick to say as soon as they heard it, "Right away when I heard it I knew it was Danger Mouse." It's the funniest thing. People either want to tear it apart or latch on to it. That's just the way it works. People think they know his sound, he doesn't really have a sound, and that's what's really amazing about him. That sound that people heard, those comments we got on YouTube and Facebook, and the messages we got. That sound was literally the vibraphone that The Beach Boys used for Pet Sounds. Dude, Danger Mouse is getting credit for The Beach Boys vibraphone of Pet Sounds. Their biggest f**kin record. That's amazing to me. He is really, really great at hearing that thing. If the tone's wrong, he'll tell you. He's just saying that sounds good, and that doesn't sound good. He is really great at that, he'll say no so quick. He says no in the best way. When people tell you, particularly in the studio as an artist, you have to be offended, you have to think, "What do you mean man? That's what I got, that is good, you don't know." For some reason, the way he says it, He'll say no but it's like, "Oh, man Danger Mouse thinks I can write something better. I can't believe it, I can't believe I am in this position where he thinks I can write something better than I know is my best. It's the basketball game. You know you've got to jump from the free-throw.
MR: I need a little tour from the artist's perspective, what were you talking about topically on this album and what was the goal?
JG: Over the past few years, for the people who know it, this band has been through a lot. For the people that don't know it, we've had members come and go from this band since the beginning. It's always been about collaboration and it's been about just playing music with our friends. If you want to go on tour and come out with us, we'll play music together. Over the past few years, we've been playing with Ryan Neighbors and Jason Seacrest on drums almost for the career of this band. And both of them left right before this album. Right after we made In the Mountain And In The Cloud, we did two tours and they left to do different projects. It was a big deal for me; it was me taking a step back. I tend to push people, a little bit harder than they want to be pushed, more than I want to be pushed, for sure. It has been constant touring from the beginning, and this change is really massive for me. It caused me to take a step back, and say, "Am I pushing people to hard? Am I the reason they left the band?" We always think that; I know the reality is Ryan is an artist, he wants to make his own music, and I need to make my music, I can't stay away from that. I can't hand that over to anyone else and it sucks. People would probably say the same thing about The Beatles, like, "Why isn't Paul writing songs," "Why isn't Ringo writing songs?" "Like, George is my favorite Beatle, he needs to write more songs." "But John did it." Evil Friends, this album, was more about myself and listening to the bands that I love and looking at what we do. It's been two years since our last record; we have never done that. It's only been a year or less between albums. We took our time. When it comes down to it, Evil Friends is about David Bowtie, Pink Floyd, The Beatles, reading those books, watching those movies. It became what it did. It's basically about band life and what it's like to be on tour. Basically, to have family that you didn't grow up with.
MR: What advice to you have for new artists?
JG: I'm the worse to be advising, because my advice is to don't do it! Just don't do it, its way more work than you expect it to be. The thing is, being in a band is the hardest job you will ever have. There's a reason so few bands actually make it. I mean, we haven't made it and you have to look at it like that. The Black Keys haven't made it; they haven't made until they make it over and over. They haven't made it until they're David Bowie. To come to that point, it's a realization. I sleep zero to five hours a night; a good night for me is five hours a sleep at most. So the advice that I have is work hard, it's not a job built for people who just want to party and hang out with girls and do that thing that you think rock star life is. Keith Richard f**king worked, The Beatles worked 10,000 hours; that's a very serious thing. So if you want to do it, you got to do it.
MR: In the future, will there be a Portugal. The Man Plus Woman?
JG: We'll see. I got my girl on tour with me and my baby. That's part of the rock star life as well. I have a baby! When I had my baby Francis, it really changed things about the band, it did it in the best possible way. It doesn't mean that I'm going to make songs about babies and family life. You look at things and go, "I have to f**kin say something because this kid and every other kid has to grow up in this world. If I don't make the best music I can, if I don't do the best I can for this kid, I'm not doing my part. I think that's a really amazing thing. We have the most respectful groups of guys in this band. It wouldn't work out with every group. Not every group can bring a kid on tour and live that life. That's a part of who we are; we were raised on respect and hard work.
Transcribed by Amy Laudicano & Friends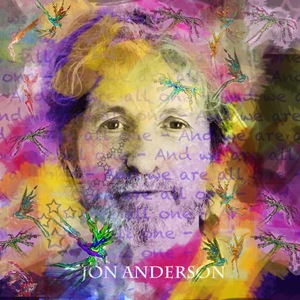 A Conversation with Jon Anderson
Mike Ragogna: Hello Jon. So what's all this about a cruise in February?
Jon Anderson: I know! The idea is I've been asked to do it now for the last three years and I keep saying, "I'm not quite sure," but then one of the main guys from the Transatlantic band said, "Come on, Jon, we can do the show together, do a couple of Yes songs with you guys," and I said, "Well, alright, and I'll do a sort of meet and greet and then I'll do a conversation with the audience kind of thing because you're on the boat together. And at the end, I'll be happy to get up and do a couple of songs together and it'll be fun." It sounds like a fun experience for everybody and the people that run it are very, very professional, so we won't be rowing the boat.
MR: [laughs] When you guys were making your music together as Yes and also as Jon Anderson, did you ever in your wildest dreams predict that this music would be cruise bound?
JA: [laughs] No idea at all. You never think of these things, but actually years ago, these guys came to us, maybe twenty years ago, and asked us if we'd do a cruise where we could stop at every port along the way and do a concert on a cruise around the world. We thought that would be a cool idea but it never happened.
MR: Hey, give us a catch-up as far as Jon Anderson. I know there was the Wolfgang's Vault event happening in Vegas. What was the concept behind that?
JA: Oh yeah, it's called "Raiding The Vault." The last thing I would think of would be going to Vegas to sing in a show, but I checked it out and it's a really good show. It's the ages of rock 'n' roll from the sixties and seventies and eighties. I just wanted to be involved and get up and do three or four songs. I just said, "Well, maybe it'd be fun to do." I'm in that state of mind where if something comes along and it feels like fun, I'm going to go along and do it.
MR: You know, even internationally, I think it's every guy's fantasy to be dressed up in a tuxedo singing on a Vegas stage with all of these beautiful women with fans dancing around him, isn't it?
MR: [laughs] Then again, just look into how much it costs to hire fan girls. It might be cost prohibitive.
JA: Oh my gosh, at my age, it's all very frightening.
MR: [laughs] What else are you up to these days, Jon? Catch us up.
JA: Well I'm in the middle of large-scale projects, I just finished one yesterday. I just started working on a project called Violin Stories. It's about this street violinist who finds a crystal violin in a dumpster and every time he plays it, it flies to a different part of the world and gets to know the indigenous life. I just finished the first rough sketch of that yesterday; it took me about two weeks to finish. But I've been working on it with a friend of mind, Bill Kilpatrick, who actually orchestrated it for me for the last couple years. It's one of those parts of my life. I'm working on another thing today. You see, over a period of time, you begin working on a lot of projects and they build and they build. It's like building a big castle of music, you know?
MR: Yeah. Yeah, yeah yeah. At this point, how do you view your old castles? You've built a lot of castles.
JA: Yeah, I'm totally proud of what Yes has done musically over the years. I'm very proud that I was involved for so many years. Somebody sent me a link to The Yes Story--you can watch it on YouTube and it's quite amazing. It's everybody that was ever in the band talking about being in the band. It's quite a wonderful experience, it's like going through your musical life. It's quite extraordinary, the amount of music that Yes did over the years, and my work with Vangelis, re-releasing the last two albums we put together. So you get to the point in your career where people are looking back and seeing what you've done and all that I do is look forward to what I've got to do.
MR: So looking forward to what you've got to do, have you ever been on a cruise?
JA: No. It's going to be exciting. We'll see what happens.
MR: Now that you've committed to it, what are the plans?
JA: It's just me and my wife Jane happy to be together and we've got a separate suite with a balcony so we can just hang out there most of the time and look at the weather and the birds flying by and the water.
MR: Are you looking forward to the other music that's going to be on the boat, too?
JA: Yessiree! I've been watching and listening to everybody. I'm thinking about getting together with a band of musicians over the next couple of years, so I'm thinking about going out with a band. I've been solo now for the last five or six years and I've been very happy doing that. But something inside wants me to be within a band, so that could be part of the experience, you meet musicians and you try out working together and we'll see what happens.
MR: Jon, what advice do you have for new artists?
JA: It's very, very simple: You practice, you practice, and then you practice more. The breaks will come if you keep working. There's no point in sitting around waiting to be a star. It's not going to happen. You've got to work on your craft and you've got to go out there and perform. I'm working with a young guitar player at the moment. We've been working together for the last three years on and off; he's a beautiful guitar player and I've got him into playing classical guitar and we've written two concertos together. They're mostly his ideas and he works on the arrangements with orchestras himself. It's wonderful to work with young people. Next Spring, I'll be working with Studio House up in Woodstock, New York. It's working with Paul Green who started School Of Rock and we're working with a bunch of young musicians again and doing a performance together. So these things are part of my life. I love working with young musicians.
MR: So you love this mentoring role?
JA: Yeah! There's some great music out there, there's a lot of young music out there. It's got nothing to do with the pop charts, it's just young people out there doing festivals and things like that and people love it.
MR: What do you gravitate towards when you're listening to music now? I imagine it's not the pop charts.
JA: Well, now and again, there's a great song. I love Bruno Mars, I love Katy Perry; she's got an incredible voice. There are always great songs, it's a never-ending flow, but for bands that are really pushing the envelope and trying different things, there's a band called Battles that I like. There are a lot of young bands out there really pushing the envelope musically and there always will be.
MR: Jon, what is the future of prog these days? How is it even defined?
JA: It's funny because now there are different styles of prog, because you've got the progressive music of the seventies bands, progressive music of the eighties style bands, and then there are very, very progressive modern musicians now who are really doing sort of soundscape music with the rhythms and not so much the obvious progression of music, it's something different. I like the whole scope of it. It's like a never-ending library of musical ideas. The prog rock thing has now become a stated sort of style, that's the seventies and eighties, that's what is but you do get a lot of young musicians pushing that envelope, which is great.
MR: Yeah, there's a group called Mew out there that I like a lot.
JA: I'll Google them now as we speak.
MR: "Prog" is such a tricky category too. For instance, when a jazz musician attempts it, it's "fusion." Chick Corea comes to mind.
JA: I love Chick Corea. I think he's one of the greatest. It's just one of those things, he's fabulous.
MR: Do you think that maybe jazz is one of the areas that prog went to or one of the places where prog is developing more than anywhere else?
JA: Yeah, I really think so, because when Yes started up, we were listening to Frank Zappa, which was rock jazz. But we were really listening to the great jazz players like Bill Bruford, a great jazz drummer. "Jazz" means free-form. I don't particularly enjoy the jazz that's written out and you know what it is. I like the free-form crazy wild jazz. There's a band in Philadelphia, they used to have about thirty people in the band, called Sun Ra Arkestra, do you remember them?
JA: That was one of my favorite jazz experiences.
MR: Doesn't it sort of tempt you to want to explore jazz a little bit? Isn't it one of the last fields that would be really interesting to hear Jon Anderson's voice on?
JA: Well it depends. I've always said I wanted to work with Jack DeJohnette and Keith Jarrett. I'd love to sing with them, man, that'd be so cool.
MR: Is there anything that you feel strongly about right now that we can get the word out on?
JA: Gosh, there are so many things that I'm excited about, it's hard to pinpoint one specific event. I just know there are so many incredible shows out there--theater, dance, musical. I'm very interested in all of it so I'm excited because I think I've got a lot of ideas for what I'd like to see on stage, but that's the first thing to think about. If you've got an idea for a theater piece you'd love to see, why not create it and then try bringing it to the theater?
MR: I wish you all the best, Jon. You've got a creative finger in about a dozen pies.
JA: I know, that's just like. It's an adventure and it's a great feeling that I've got.
Transcribed by Galen Hawthorne
"IT GROWS" WITH WAKE ISLAND
According to Wake Island's peeps...
"Prior to their Northeast US tour to CMJ, Wake Island performed their first shows in the middle east and with half the band being from Beirut, they were elated to play their first shows in Lebanon. They hit the studio there and recorded the politically charged track, 'Submarine.'"
"After the session, they were wound up, frustrated and tense and needed a break so they shot a live acoustic performance video of 'It Grows' to counter their studio experience. The clip was shot around a 5000 year old Phoenician wall on a cliff overlooking the water during sunset."
According to vocalist/keyboardist Philippe Manasseh...
"This was our first trip to Lebanon as a band. Nadim (guitar) and I both grew up there before moving to Canada in the early 2000s. We could not have picked a more politically charged time to visit: an atrophied government, violent bomb attacks targeting major Muslim neighborhoods in Beirut and Tripoli, the Syrian chemical weapon crisis affecting the entire region etc. While factually speaking, Lebanon could appear to be a massive battleground (and you can always count on mass media to make it sound like a danger zone), our experience there was far from frightening. We were getting panic emails and calls from our friends in North America who believed we were stranded in some high-octane war zone, with no hope of survival. We had to repeatedly explain that the situation on the ground was actually way calmer, more complex and nuanced than what was described in foreign media. It is true that we (and many Lebanese people) felt more anxious when the US announced plans to intervene in the region and strike Syria for its alleged use of chemical weapons, but having suffered decades of war, people there know how to keep calm and stay positive.

"We needed to vent. We needed a break from the turmoil. Approached by director Tony h. Khoury after our first show, we started discussing shooting a video that would contrast the current situation and act almost as its anti-thesis. He chose this wonderful, timeless location: an ancient Phoenician wall erected nearly 5000 years ago along the Mediterranean seashore. Isolated from everything, this place felt sacred and unscathed by the events of the world. We found it interesting to escape there and make a point about the importance of taking a step back from the chaos and looking at it from a distance. We re-contextualized It Grows, one of our darker, introspective electronic songs. We felt that the song strangely mirrored the situation in Lebanon, as it touches upon the idea of repeatedly trying to make things better and failing every time. The serenity surrounding the video shoot gave the song a more positive/hopeful tone. Maybe trying is the only thing that works in the end."
Wake Island has a show coming up on Nov 8 in Toronto at Great Hall and will then be performing in their hometown at M for Montreal on Sat, November 23 at L'Escogriffe.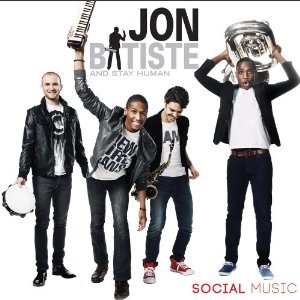 A Conversation with Jon Batiste
Mike Ragogna: Jon, you've got a new album, Social Music, and you're pretty much on the road non-stop these days.
Jon Batiste: Yeah, since the Summer. We were in Europe for three months and now we're on the road from October to April.
MR: And you're all doing your best to "Stay Human," if you get my drift?
JB: Well, I think the idea of staying human is all about the live music experience. You have all these people who come up to a show and it's like they sometimes can forget, in this modern technological world, the true power of a genuine human exchange in a live musical experience.
MR: Do you feel like your music naturally brings people together?
JB: That's the whole point. It's an artistic statement as well, but the intent of the music is for people to come together from all different backgrounds and different places and whether you like this genre or that genre, there's something in it for you and it's played with the spirit of inclusiveness. It's such a montage of musical traditions that when we play it, there's something for everybody and it brings people together who never may have found anything in common if it wasn't for the music.
MR: What separates the music in the various projects you've been associated with?
JB: The separation is in the ensemble, for one. This is the Stay Human ensemble and these guys have created with me a sound and a chemistry that is unique to this ensemble that's not on the other recordings. Also Social Music is a statement, it's an evolution of a concept and the concept has evolved to actually now their title and it's the first installment of that. Before, the recordings that we made such as Times In New Orleans or even the stuff that's not necessarily in a jazz or New Orleans music vein has still been more undeveloped whereas this record plays as if it were one piece. You have to listen to it from the beginning to the end. It's a concept record in that way. So it represents what the whole of social music is all about, everything coming together in a sequenced way.
MR: It also reminds me of albums by Herbie Hancock and Chick Corea and similar artists who were trying to make artistic statements within an album. Fusion keeps coming to mind.
JB: Yes! Well the thing about this and what fusion was is that right now, I'm responding to what's happening in our world and fusion was a response to what was happening in the world in the seventies. So there's a different sentiment there and the thing about social music again with this ensemble, our experiences are at the heart of this music more so than it being a mix of genres. Our experience of playing in a subway band--which is where part of the harmonabord ensemble with the tambourine was born--it wasn't thinking about different genres, it was thinking about, "How do I play in the subway without a piano and a drum set?" Different forms of our arrangements and how they evolved has come from the experiences of us playing in all types of venues, from a stage like Carnegie Hall to playing in the subway and then playing in some club in the middle of London or playing in the public square. It's just very tailored to our experience in the world that we live in right now.
MR: You've collaborated with a lot of different people, for example, Prince, Lauryn Hill, Lenny Kravitz... Do you find that in general, you're more of a collaborative artist?
JB: It's very collaborative but in an artist, the greatest attribute is that you're contributing to something great. You're never going to create something great on your own, and even if you do make something that's spectacular by yourself, it can always be enhanced by a collaboration because someone else always has something that you don't have and vice versa. So for me, collaboration being the nature of the music that we play and being the nature of what it actually means to be a great artist. Even Picasso had a team of people working with him. So you just have to always be open to the idea of someone else bringing something to the table that you don't have and it makes the pot richer. So I definitely am a collaborator. All great artists that I admire are collaborators as well.
MR: Jon, what was it like working with Prince and what was that result?
JB: With Prince, it's interesting because when you work with him, you're collaborating with him but you're stepping into his world. You'd play these shows and you could see that he's cultivated a world around him that basically is serving his vision and it helps him to create the way that he does because everything that happens off the bandstand and outside the studio is all a function of the arts. It's interesting to see how he does that and how he created that for himself over such a long career. It was very interesting for me to learn that and I learned a lot from that as I do when I collaborate with anyone who's been doing it for a long time.
MR: Yeah. Well what's interesting is it's not about the end result, is it? It's about the actual process.
JB: The process is something that is interesting because the audience is not ever really a part of the process. They're not behind the scenes when you're creating things, which you do. They really have the impact of the end result because when they hear it, whether you made it in fifteen minutes or fifteen years, if it moves them, it moves them. For the artist, the process is paramount because how you get to that end result really takes some time to figure out how it works for you, because it's different for everybody. Even for you, it's different every time. Sometimes you can have a process and something can happen spontaneously that takes you off course. Now what? It's interesting in that way.
MR: Right. By the way, I see you've worked with Questlove, Wynton Marsalis, and then I see Jimmy Buffett's name pop up. Gee, which one of these things is not like the other, huh?
JB: [laughs] It's all music. That's the beauty of it all.
MR: Hey, let's talk about New Orleans and your history. You're part of the Batiste dynasty, your brothers, the whole deal. How do you think that plays into how you got musically molded?
JB: Oh, easily in the sense of growing up around music and being in a musical environment, it's the key to development. You can be a great musician and if you're in the middle of nowhere, your development isn't as accelerated as if you were around a whole bunch of music who were basically making you into a champion. If you want to be a champion, you have to hang out with champions. So it was really fortunate for me to grow up in an environment where there's a ton of music all around and it's in the culture and it's in my family and then to go from that to New York for ten years and being a part of this culture that's basically a gateway to the world. It's such a global culture, you know? All of these cultures mixed into one. All of that has really formed me as an artist.
MR: Yeah. It just seems like this particular part of the world, New Orleans, there's something magical that you can't even put your finger on about its music and creative spark.
JB: It's beautiful in the sense of how organic it came to be because New Orleans, physically, that point on the map was a port city and it was one of the earliest port cities in the United States, even before it was a full-formed nation. So you had all of these different cultures going back and forth, in and out, trading. That, mixed with the Africans and the rhythmic concept that they brought to Congo Square, it was the breeding ground for something artistically to happen and then you put that together for hundreds of years and let it marinate and this is what you get.
MR: You have quite a background as far as your education that includes attending Juilliard. When you look back at those days and you look at what you're doing now, is there a link? Can you attribute to your education where you've landed now creatively?
JB: Definitely, because the education gives it an element that doesn't always come in to being if you're just self-taught. That element is a certain thing that balances out what it is that I've naturally garnered from being in New Orleans and being a part of a musical family. The beauty of growing up in New Orleans at the time that I did is that I was always able to have access to a great education as far as music. Arts in schools are always being cut, always, but that was one thing in New Orleans that we always had access to. I remember I took classical piano lessons at the same time that I started playing shows around town and then I started to study with a great mentor of mine and I went to the New Orleans Center For The Creative Arts in High School as well as the Louis "Satchmo" Armstrong Summer Jazz Camp with all of the greatest teachers that you can imagine in New Orleans who were still around. The Marsalis family, the Jordan family, Allen Batiste and my family, they all taught at the camp. So from the time I was thirteen up until the time I was seventeen--and I moved to New York for Juilliard--I was always being taught and had a great education with music, which is another rare thing outside of the New Orleans culture that taught me, having actual pedagogy was a beautiful thing for me and it definitely formed me to be where I'm at now.
MR: That's beautiful that you value education because, like you said, that's the first thing that schools cut back on, the music department. They'll give money, mainly, it seems, to the sports teams because of the money they generate.
JB: Right, right. It's because right now, philosophically, the culture has a great understanding of the importance of math and science and languages and stuff, but no one has figured out a tangible way to explain to people who are not artists the importance of the arts to the cultural well being. I'm afraid that things are going to have to get to a point either where someone figures out how to make that argument or it gets to the point in culture where things are at an all-time low and people realize, just based on the nature of things, that it needs to change.
MR: Which brings us back to your approach of basically trying to "stay human." Can it be argued that we are reaching that point now? Not that technology's bad, but it's taken over the creative base because it's cool, it's fun, as opposed to an emphasis being put on musical education, performing in ensembles, getting vocal training, all of that?
JB: Right, right. The thing is that the technology could actually help accelerate that process, it's just that it's not of value for the artistic component that comes along with being an artist and playing an instrument and learning how to actually know what instruments do and what it means to actually play in a band or sing in a choir. That kind of stuff is not valued. It actually could be accelerated with all of this great technology, but what's happening is that technology is taking the place of it, which is why Stay Human does what we do. I think people haven't figured out how to integrate all of this technology into our everyday lives, because if you think about it, technology is really new, so we really haven't figured out how to assimilate everything and stay human. So we want to give people a reminder of the importance of that.
MR: Jon, you appeared in Tremé and you also in Red Hook Summer. So you've got a bit of an acting bug?
JB: It's funny, before heading out to Connecticut today I was on set with Spike. I'm in the next movie he's doing, I think it's going to be out after the November releases. That's really been dropping into my lap, so to speak. I haven't really pursued acting as far as getting an agent and everything like that, it's something that I did on the side, always, when I was a kid and I've continued to do it. It's really cool to express myself in that way.
MR: You're also the Associate Artistic Director at the National Museum in Harlem, right?
JB: Yeah, I was just actually appointed to be Artistic Director at large, so I'm taking an even bigger role there and I'm excited about that because it's an educational platform. And as we talked about earlier in this interview, education has always been cut, so I'm excited about the idea of being able to spearhead a movement in education of youth jazz culture.
MR: What advice do you have for new artists?
JB: New artists have to remember why they chose to be an artist in the first place. As simple as that sounds, when you get into money and you get into fame and notoriety and all that stuff that comes with creating a career, it's really hard. It's also very difficult to keep a balance between art and commerce, so the best thing--and I feel like this is like the north star, it's a guiding light--always remember why you do what you do and why you decided to do it in the first place. That somehow, whether or not it makes logical sense, you'll always make the right decisions in terms of the career/commerce side of the business. It doesn't necessarily make sense on a business angle, but you'll feel better with yourself, and as an artist, to me that's the key. If you don't feel good about it, you can't deliver anything of value to people.
MR: Is this what you would have told a younger Jon?
JB: The thing about it is, I had my dad around to tell me, which was awesome. He still does. If I wasn't able to have my dad around to tell me and learn from the mistakes that they made, then I would definitely tell a young Jon that.
MR: One of your quotes is that you want people to find "the truth." Do you feel successful in this mission?
JB: That's something that I never really know. All I can do is put it out there in a way that I see it. I can just call it how I see it, put it out there and if it resonates with somebody, then that's the biggest blessing. But if not, that's really what we're called to do as artists and maybe over time, it will resonate with people. Maybe over time, it won't. Maybe right now, it will. It's something you can't really predict. You just hope that it comes across.
MR: Well, that's another thing that I was going to ask you, what do you really want to accomplish in the future?
JB: As I was talking about the museum and everything, that's the educational component and whether it's at the museum or not, I'd love to make some sort of impact in terms of art and culture, and I think the way to do that is through education. Of course, I want to continue to spread the music and spread the joy and uplift people through live performance, continue to create with the band and create ideas that are artistically pushing things in a direction that's forward and hopefully innovative. But beyond that, my main goal with all of it is to really make an impression so that the next generation of people coming up after me have a better cultural climate in that there's an alternative to what has become the only culture, which is pop culture. I'm not necessarily against pop culture but bringing people back to that power to transform lives.
MR: And to be able to have love riots.
JB: Oh, yes. [laughs] We had one last night. It was downtown in New York, it was great. Questlove came by to DJ and he played drums, too. We had a love riot in the streets.
MR: Are you excited to keep these love riots going on your tour?
JB: Yeah, well that's one of the elements that brings people together no matter where they come from. That experience is like a ritual. It's their moment. It's the kind of thing that people may not even know who we are and where we come from but when they hear the music and see the energy and feel the energy, then all of a sudden, people just come to us. That's why we call it a riot, people just continue to build and build and they go crazy with energy, but it's not negative so it's a love riot. It's not like they're breaking things, it's everybody coming together. We see people talking to each other after we're done playing, standing around, not wanting to go anywhere. That's the beauty of it. That's when we know we did it right.
Transcribed by Galen Hawthorne
REAL LIFE. REAL NEWS. REAL VOICES.
Help us tell more of the stories that matter from voices that too often remain unheard.