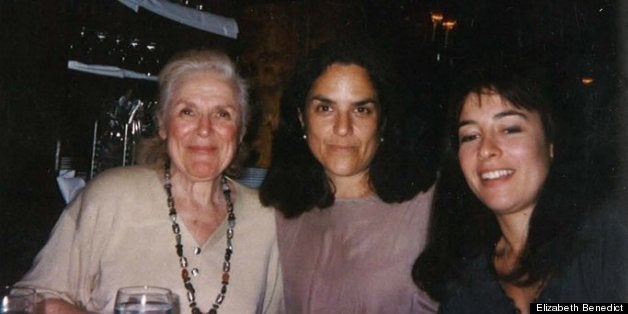 The orphans of literature are lucky. They have no one telling them when to do their homework, what time to go to bed or not to talk to strangers.
From Cinderella to Pippi Longstocking, and from Mary Lennox in the Secret Garden to Margot Livesey's Flight of Gemma Hardy, children without parents, and especially girls, roam the landscape in droves. It's not surprising: orphanhood gives writers a blank slate to fill with adventures, drama and personal transformation. The parentless must explore new worlds and invent new selves, or wither on the page.
But in real life, orphans are not so lucky. We see them every day on TV when tragedy strikes, and know them in our families and our communities.
We grieve for them, we do what we can. We know that when birthdays and holidays come around, kids without parents have an especially difficult time. But here's a secret: Adults whose parents are gone often do too.
This Mother's Day, I'm steeped in the subject of missing mothers. I've found myself in many private conversations, and a growing public conversation, about how we cope (or don't cope) when mothers are gone, whether they've passed away or are lost to dementia.
The spark for these conversations is an anthology I compiled of well-known women writing about a favorite gift from their mothers. The idea for the book came from a strange kind of missing my own mother, who was a sweet, kindly woman who'd had a difficult life, and with whom I had a loving but distant, dutiful relationship.
After she died in 2004, I became obsessed with a beautiful scarf she had given me near the end of her life. Wearing it, as I did for years, around the neck of my winter coat, I frequently got compliments. "What a beautiful scarf! Where did you get it?" It was always hard to answer. My mother had bought it from a vendor who'd come to her assisted living facility for a few days during the holidays -- a chance purchase from an unknown seller. Explaining it was complicated, and always a bit sad. But wearing it all winter long, I was aware of my physical connection to it, aware of wrapping it around my face when it got cold, and mostly aware of how strange it was to feel this physical closeness to my mother when I had felt so distant from her in life.
For years, I was obsessed and confused about the intensity of my feelings, though I never shared them with anyone, including my husband. The truth was, I didn't have the words to explain whatever these feelings were.
The obsession did not wane. One day in 2011, I wondered whether other women had a gift from their mothers that spoke to them this way, that encapsulated the complexities of the relationship, that opened the door to the bond between them. I started asking many of the women writers I know, and then began asking writers I didn't know.
My curiosity led to What My Mother Gave Me: Thirty-one Women on the Gifts That Mattered Most. Undertaking the book was my way of starting a conversation with other women about this primal relationship. But since it was published several weeks ago, my inquiry has led me to many unexpected places. People want to know whether I'm going to do an anthology about gifts from fathers to sons or mothers to sons. (We'll see!) Last week, an audience member asked, "Why do you think relationships between mothers and daughters are so tumultuous?" (That was a lively conversation that could have gone on and on!)
There are a number of young writers in the anthology -- including Maud Newton, Elissa Schappell, Emma Straub and Charlotte Silver, whose mothers are alive and well -- but many contributors write about mothers who are gone. Because of that, the essays are candid about family relationships, even difficult ones. But among women whose mothers are gone, even women in their 50s, 60s and 70s, the missing continues. Marge Piercy writes: "I still have my mother's jade necklace, and every time I touch it and every time I put it on, I think of her and I still miss her. I don't think missing a mother ever stops."
Joyce Carol Oates describes writing her novel, Missing Mom: "After my mother died in 2003, for a long time I would imagine her with me, in my study in particular, though imagine is perhaps a weak word to describe how keenly I felt Mom's presence."
Karen Karbo, whose mother died of a brain tumor soon after Karen began college, has much to say about missing her mother:
The best kept secret about grief is there are some things from which you never fully recover. Grief is a chronic ailment, like seasonal allergies. Sometimes it's worse than others, some days (her birthday, her deathday, any holiday that requires the producing of a huge ham or prime rib) are worse than others, year in, year out. Grief is not something to be gotten through, like a boring dinner party or an algebra class. We claim to move through it in order to endure it. My mother's death when she was forty-seven and I was eighteen maimed me, has given my life a distinct limp.
I'm not surprised that when I talk to people, both men and women, they want to tell me about a gift from their mother, by way of sharing something essential about this person and their bond. But I hadn't expected to encounter whole communities of people who are mourning their mothers. Before the Internet, we might have been lucky enough to hear about a support group in our community. But today, support groups exist on Facebook and Twitter. Yes, even in 140 characters, people share, grieve and, I hope, move toward healing. The groups are often of young women who've lost their mothers, and who feel lost themselves. On Facebook, search for the words "missing mothers," or "missing moms." Some of the groups are "closed." On Twitter, I suggest the same technique.
I feel for all of them, all of us. I marvel and rejoice that in our brave, new, interconnected world, we can, if we choose, be touch in with strangers this way. We can, if we choose, ask for comfort and companionship. We can be part of a community of mourners, instead of feeling like lonely, misunderstood madwomen, instead of suffering silently and alone, or only with the help of therapist, which can also be very important.
Lillian Daniel, one of the contributors to What My Mother Gave Me, is a minister and author whose beloved mother died at 60, after a lifetime of finding the beauty in "broken things," and serving meals where the food was overcooked, or undercooked, but the spirit of generosity was ever-present. Rev. Daniel shares her notion of her future: "This remains my vision of the heavenly banquet, my hope for the life that is to come. I imagine my mother greeting me with a plate of burnt hors d'oeuvres. I imagine my father relaxing at the table, with the cup of coffee he never got to finish at my counter."
What's the best gift your mother ever gave you? What's your most cherished memory of her this Mother's Day? If you want to see photos of the gifts and the mothers in our book, and/or share a photo and a story of your own mother, please visit our tumblr site. Or share your thoughts here.
Thanks for being part of this conversation without end.
Support HuffPost
The Stakes Have Never Been Higher
Related
Popular in the Community