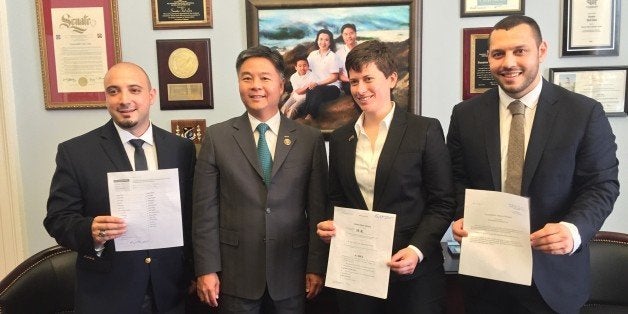 It's been almost exactly 10 years since Mathew Shurka walked into a therapist's office in Los Angeles and was told that he could become straight. His father, who accompanied him, worried that Mathew's sexuality would prevent him from being happy and successful. At the end of the meeting, Mathew's father pounded on the desk. "Let's get this fixed now," he declared. The therapist told the Shurkas that because Mathew was so young and sexually inexperienced, they could expect to see signs of progress in as little as six weeks.
Shurka spent five years and thousands of dollars attempting to achieve that goal. On his therapist's advice, he cut off contact with his mother and sisters, took Viagra and attempted to sleep with women. None of it worked. Since then, conversion therapy, as the practice is sometimes called, has been widely discredited. The mainstream medical and mental health communities have declared it ineffective and potentially harmful. Three states and Washington, D.C., have passed laws against it. Now, the federal government may ban it altogether.
On Tuesday, Rep. Ted Lieu (D-Calif.) introduced legislation known as the Therapeutic Fraud Prevention Act. If passed, the law would classify conversion therapy as a fraudulent practice that would be illegal under the Federal Trade Commission Act. The law would also ban all advertising that claims the therapy can successfully change a person's sexual orientation or gender identity.
As a California state senator, Lieu had previously written legislation banning the practice in California. In 2012, Gov. Jerry Brown (D) signed that bill into law, saying, "These practices have no basis in science or medicine, and they will now be relegated to the dustbin of quackery." Lieu's federal bill goes further than any of the state bans on the practice, which forbid licensed therapists from offering the service to minors, but still allow them to perform it on adults.
Lieu said that the new bill was partly inspired by a first-of-its kind court case now unfolding in New Jersey. In 2012, a number of former patients and their families, represented by the Southern Poverty Law Center, filed suit against Jews Offering New Alternatives for Healing, or JONAH, accusing the nonprofit conversion therapy center of violating New Jersey's Consumer Fraud Act by claiming that its counseling services could cure clients of being gay.
Next month, a court will hear the case, but Judge Peter Bariso Jr. of the Hudson County Superior Court has already issued a pair of rulings that could bolster Lieu's efforts to ban the practice nationwide. One of Bariso's rulings states that conversion therapists who advertise their services by claiming that homosexuality is a mental disorder are violating the state's consumer protection laws. The other ruling bars five out of six of JONAH's witnesses from testifying because their opinions are based on the belief that homosexuality is a mental disorder. In his ruling, Bariso compared that notion to the idea that "the earth is flat and the sun revolves around it."
"This bill is based on the exact same theory" as the SPLC's lawsuit, Lieu told The Huffington Post on Tuesday.
Lieu said he is cautiously optimistic about the bill's chances of passing in the House. It has a few dozen co-sponsors so far, including House Minority Leader Nancy Pelosi (D-Calif.). In addition to protecting people from undergoing the therapy, the bill could strike a legal and philosophical blow against opponents of gay rights, Lieu said.
"There is no medical illness or mental defect condition associated with being LGBT," he said. "We know that being gay or lesbian does not need a cure. If you accept that, then there's no basis for any sort of discrimination."
On Tuesday, Shurka joined Lieu at a press conference in Washington to talk about how five years of conversion therapy had affected him.
"Once a good student and a well-adjusted kid, I began to fail in school. I became depressed. I started contemplating suicide," he said.
Shurka, like others who have experienced the treatment, found that his suffering didn't stop when the therapy ended. "I spent years recovering," he said. "To be honest, I still am."
When I first met Shurka at the United Nation's first panel on conversion therapy in 2013, he had just come out of the closet. A few months later, we traveled to California, where, for the first time, he confronted the therapist who had promised to change him some eight years before. It turned out that the therapist, too, had turned against the practice. At the coffee shop where we met, the therapist admitted that he'd been less than honest with the Shurkas. He and other practitioners of conversation therapy had built practices by promising the impossible instead of helping clients "cope with the news they didn't want to hear."
Today, Shurka spends much of his time trying to convince other survivors to speak out against the practice. It's not easy. After being repeatedly told by authority figures that they are mentally ill, people who have been through conversion therapy often lack the confidence to publicly denounce it.
Shurka thinks the new bill should make his job a little easier. He still remembers how he felt when he heard Brown decry the practice as "quackery" in 2012, after signing California's ban. "I was like, oh my God, what I went through, it was totally crazy," he said. "But I'm not crazy."
You can read HuffPost's investigation into the world of conversion therapy, and Shurka's full story, here.
Popular in the Community