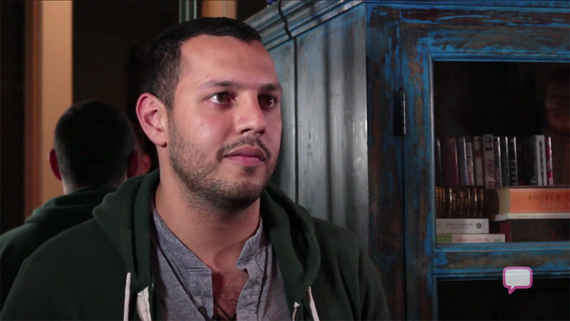 I'm From Driftwood is a 501(c)(3) nonprofit archive for lesbian, gay, bisexual, transgender, and queer stories. New stories are posted on the site every Wednesday.
New Yorker Mathew Shurka came out at the age of 16 to his initially supportive father, who promised to love his son no matter what, and to always stay by his son's side. However, his father's thinking became more and more influenced by homophobia and harmful stereotypes surrounding the gay community:
[M]y father started to build his fears about homosexuality -- what it actually meant and what it looked like for family, my career, possibly being discriminated and being bullied against as a high-school student -- and he came across a conversion therapist. My father was told that there's no such thing as homosexuality and that everyone is a heterosexual. There are certain people who believe they're gay but they're just suffering from a psychological condition that can be cured and that can be resolved, especially at a young age. So, at 16 years old, I began conversion therapy.
Thus began some of the most tumultuous and trying years of Mathew's life. He describes his experiences in conversion therapy and the effect that the therapy had on him and his family:
[The conversion therapists] wanted me to spend a lot of time with other men. So, as a 16-year-old, it was spending as much time with the other boys at school as possible. Simultaneously, I have to avoid women. And the reason they don't want you to be with women, 'cause one, they don't want you to pick up effeminate behaviors. This included my mother and my sisters. I did not talk to my mother and sisters for three years, and I lived with my mother and my sisters, and I was very close with them, and to not talk to them for three years started the breakdown of my family.
After courageously ending his conversion therapy and deciding to be open about his gay identity, Mathew found that his life changed for the better. It was during this time that he began some of the greatest relationship of his life thus far, and he realized that at this point in his life, he was finally being himself for the first time:
I was estranged from my father for five years. I was so angry. I was so resentful. He always took care of me and gave me whatever I needed and was a great father, and when I actually considered that, it made me put aside my resentment for him.
After Mathew found the root of his father's fear, he also found forgiveness, leading the relationship between father and son to mend almost immediately.
Calling all HuffPost superfans!
Sign up for membership to become a founding member and help shape HuffPost's next chapter