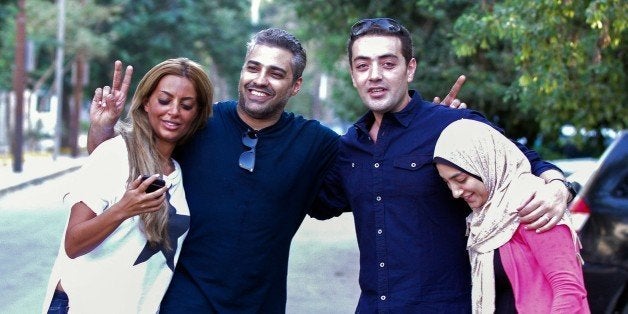 Convictions of two journalists, imprisoned in Egypt on the sketchiest of charges, were overturned last week by the president of Egypt, ending a controversy that drew international criticism.
The president pardoned three Al Jazeera journalists who had been sentenced to three years in prison in Egypt because of their journalism. The trial was characterized by The New York Times as a "kangaroo court" while the United Nations Secretary-General Ban Ki-moon issued a statement, saying that he "deeply regrets" an appellate court's affirmation of the conviction.
The journalists, Mohamed Fahmy, Baher Mohamed and Peter Greste, were tagged by the Egyptian government as the "Marriott Cell," named for their hotel. They were prosecuted, because government officials believed that their news stories for Al Jazeera English somehow supported the Muslim Brotherhood and deliberately distorted events. Al Jazeera said the trial and conviction were the culmination of 20-months of "kafka-esq" movements.

The case generated international interest and a raft of condemnation from leaders and free press advocates around the world. Even Amal Clooney has been involved in representing the journalists in court.
Greste, an Australian national, was deported. Reflecting on his case, he wrote in The Guardian, "So in the absence of evidence, most observers have concluded that our convictions were politically motivated; that our arrest, trial and imprisonment were intended to send a message. We don't know explicitly what that message was, but it is pretty clear how any journalist watching the trial will interpret it."
Greste later called for protection of a "free, untrammeled press capable of interrogating extremist views in any form, with as much force and vigor as it does the governments who act in our names."
Just days later, Mostefa Souag, acting director general of Al Jazeera Media Network and managing director of Al Jazeera News Channel, visited us at Syracuse University's Newhouse School, addressing the "Marriott Cell" in his speech.
"We have to face the issue of freedom," he said, adding that free and independent media are important to free countries and citizens at large. At a small dinner with faculty and students, Souag reiterated the need for citizens around the world to recognize the important role journalists play in informing the public. While journalists are not above the law, he said they must have protection under the law as well as in reality.
Using laws to harass, intimidate or imprison reporters is not only endemic to Egypt. But the Marriott Cell conviction is only the latest example of governmental factions seeking to punish members of the press for their journalism.
In other countries in recent years, notably Syria, journalists have also been kidnapped and killed at an alarming rate. The Committee to Protect Journalists reports that 33 journalists were killed worldwide in 2015. The Charlie Hebdo attack in Paris accounted for the most casualties in a single event. Most other murders garnered little notice around the world. In 2014, 27 journalists were murdered around the world.
These shocking figures say a lot about the world we live in today. Despite the important role they play in telling stories and exposing corruption or simply providing non-partisan, independent information to the public, journalists are often not highly regarded by society, which often points to high-profile ethical lapses, lower-brow tabloid or gossip or outright partisan political news to justify their disrespect for the media.
This devaluation of journalists and journalism is partly responsible for the violence against reporters. When citizens turn a blind eye on governments or other rogue parties, Souag said these entities feel further empowered to attack and abuse the press. "This needs to be exposed," he added.
Pardoning the journalists is a welcome and imperative development. But the journalists should never have been prosecuted in the first place.
Roy S. Gutterman is an associate professor and director of the Tully Center for Free Speech at the S.I. Newhouse School of Public Communications at Syracuse University.

REAL LIFE. REAL NEWS. REAL VOICES.
Help us tell more of the stories that matter from voices that too often remain unheard.