Vanessa Gathers was convicted on robbery and assault charges in 1998 for the death of a 71-year-old Brooklyn man. She was sentenced to 10 years in prison, served out her full term and spent five more years on parole -- all for a crime she never committed.
Gathers initially denied being involved in the 1991 assault and death of the victim, Michael Shaw. But six years later, she confessed to disgraced NYPD Detective Louis Scarcella, who is now retired and being accused by defendants like Gathers of using tactics known to produce false evidence.
On Tuesday, she was finally exonerated, thanks to a review team established in 2011 and embedded within the Brooklyn district attorney's office that investigates and reverses unjust convictions built on faulty evidence. In Gathers' case, Brooklyn District Attorney Ken Thompson said that Scarcella had coaxed a false confession out of her and that she was wrongfully convicted in Shaw's death.
Gathers is now the first woman exonerated by the Conviction Review Unit of Thompson's office. A relatively new and growing phenomenon in criminal justice, the conviction integrity unit is a division of a prosecutorial office that works to identify and correct false convictions -- convictions often secured through malfeasance, intentional or otherwise, by prosecutors or police; flaws in an investigation; or unreliable forensic science.
Since Thompson took office in 2014, the review team under his leadership has overturned a total of 19 wrongful convictions, most for murder, according to the National Registry of Exonerations, a project of the University of Michigan Law School. His office is a national leader in exonerations, especially when it comes to murder cases.
"These are hugely complicated investigations and Thompson's conviction review unit has been doing them at a pace no one else does," Samuel Gross, University of Michigan law professor and editor of the registry's annual report on exonerations, told The Huffington Post.
The very first CIU was established in 2002 in Santa Clara County, California, and now, more than a decade later, there are 24 such units in the U.S. That's not a huge number considering the more than 2,300 prosecutor offices across the nation, but it's growing fast -- CIUs have doubled over the past two years and quadrupled since 2011.
The increased presence of CIUs coincides with recent record-high numbers of exonerations. In 2015, almost 150 people were cleared for crimes they never committed, more than any other year in history, according to the National Registry's report. CIUs were responsible for 58 of those cases last year, also a record.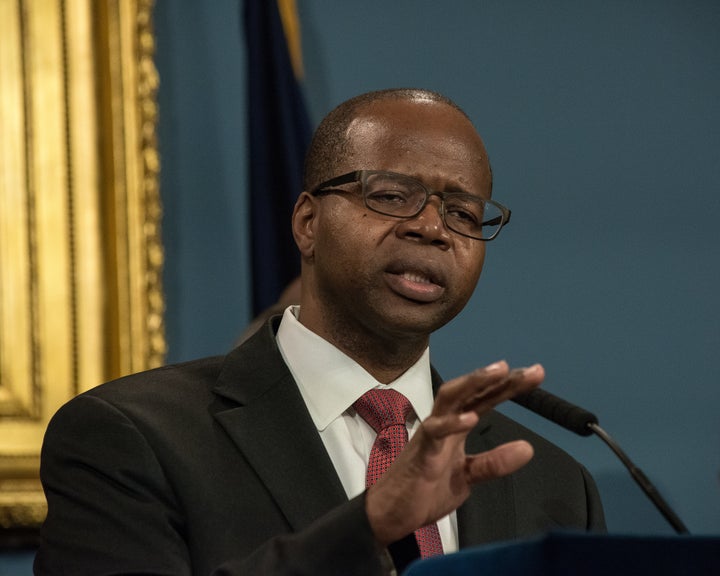 But the performance of these units varies widely. Half of the nation's CIUs have not produced any exonerations since their inception. And just three units are responsible for about 90 percent of all CIU exonerations in 2015 -- half of which came from a single CIU in Harris County, Texas.
Lagging productivity isn't necessarily a sign of an ineffective CIU, Gross says. Some are actively working on complex cases that can take years to bear fruit, while others may be constricted by small budgets or staff. CIUs may also focus the bulk of their work on reducing wrongful convictions by reforming investigative practices.
However, critics of CIUs say that there is an inherent conflict of interest at play, as units are established within prosecutors' offices to critically reassess possible misconduct by prosecutors in the very same offices.
The close relationship these CIUs have with county prosecutors has led some to accuse several of these units of being little more than "public relations ploys," especially when the unit has no external oversight nor any relationships with other key stakeholders like local defense attorneys or groups focused on correcting wrongful convictions, Gross notes in his report.
Daniel Medwed, a law professor at Northeastern University who has written about prosecutorial misconduct in depth, told HuffPost that many CIUs function, to some extent, on a "trust us" mentality, which he says is problematic.
"Trust us to look into these cases, trust us to bring them to the attention of the courts. The problem, of course, is that the trust isn't there -- and for good reason," Medwed said.
Prosecutors aren't used to being second-guessed. They are the most powerful government agents in the American criminal justice system. They have complete and unrivaled access to evidence that can determine a person's guilt or innocence. And they are largely shielded from any liability for their actions, thanks to a Supreme Court ruling granting them "absolute immunity." When a prosecutor is behaving ethically, as the vast majority do, that power benefits both the state and the defendant. But even one bad actor in a prosecutor's office can have a significant impact on countless defendants and cases.
"There are disturbing indications that a non-trivial number of prosecutors -- and sometimes entire prosecutorial offices -- engage in misconduct that seriously undermines the fairness of criminal trials," U.S. Circuit Judge Alex Kozinski, a leading voice on prosecutorial misconduct, wrote last year in a landmark paper critiquing the criminal justice system. "The misconduct ranges from misleading the jury, to outright lying in court and tacitly acquiescing or actively participating in the presentation of false evidence by police."
In other words, the criminal justice system clearly needs an investigative body whose sole purpose is to look for wrongful convictions and rectify them when discovered. But why give that duty to the same team that may have been part of the problem? Ironically, it's that same power and access, which can enable misconduct, that also puts prosecutors in an ideal position to identify it. Prosecutors have all the evidence, as well as police and investigators at their disposal. A sitting prosecutor can both bring charges against a defendant and request a court to vacate a judgment against them.
"This unconstrained prosecutorial authority has two sides," Gross notes in the registry report. "On the one hand, it permits rapid change. On the other hand, it means that a Conviction Integrity Unit will be whatever the prosecutor in charge makes it, no more, no less."
One problem, Gross writes, is that CIUs are the quickest and easiest way to show a commitment to integrity, however strong it actually is. CIUs don't require legislative action, and can be assembled by any prosecutor with a staff and a budget. And while the dynamic invites concerns about potential conflicts of interest, few other official bodies have the power and reach that prosecutors have to truly root out injustice.
North Carolina has created one effective alternative. In 2006, the state legislature established the Innocence Inquiry Commission. In the decade since, the independent body has reviewed and investigated hundreds of cases where defendants have claimed innocence after conviction. The power of the commission lies in its ability to exonerate -- if the commission declares a person innocent, they are innocent. In nine years of activity, the NCIIC has exonerated nine people. The creation of an agency like NCIIC may be favorable, as it exists completely outside of a prosecutor's office, but as Gross notes, it requires legislative action and substantial state funding. And while it has produced results, other states aren't rushing out to establish their own commission. In fact, no other state has gone on to create a similar agency.
Despite the apprehension, CIUs do show tremendous promise when properly established and regulated. But for two of the most widely celebrated CIUs -- in Brooklyn and in Dallas, a team responsible for 25 exonerations since 2008 -- their results aren't the only metric for success. Both bodies have set up close working relationships with a host of authorities outside of their own prosecutorial office, including local defense attorneys, public defenders and nonprofit organizations dedicated to overturning wrongful convictions, like the Innocence Project. Gross also points out that the Dallas CIU is run by an attorney who has extensive experience in criminal defense and innocence work, and that the Brooklyn CIU was designed, in part, by a former public defender and has an external review panel that includes defense lawyers.
"This trend needs to continue and escalate," Kozinski, the judge, wrote about the recent growth in conviction integrity units. "We know that there are innocent people languishing in prison, but figuring out who they are is very difficult -- more so if the prosecution, which has control of whatever evidence there is, is fighting you tooth and nail."
While imperfect, these integrity units may be the most practical tool we have to right some of the wrongs committed by the most powerful players in the criminal justice system.
Popular in the Community