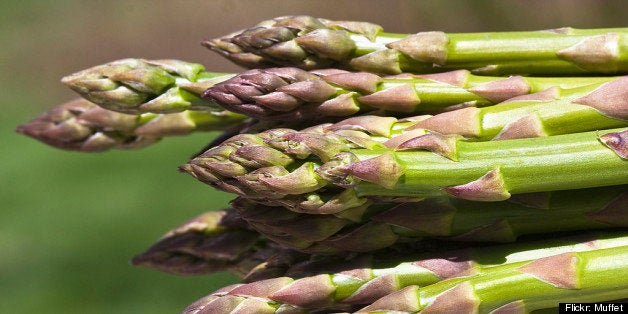 The arrival of spring means so many good things, the top two of those being the end of cold weather and the abundance of asparagus. When those green spears start popping up at farmer's markets, we can't help but stock up -- especially because we can never decide on just one way to cook it. There are so many, and all of them great.
If you don't know how to cook asparagus, or if you just find yourself always making it the same way each time, this quick guide is for you. Because you shouldn't let another spring pass you by without eating asparagus as much as possible, in as many different ways as possible. This is what you need to know:
Prepping Asparagus
Be sure to rinse the asparagus well, because after all, it comes from the ground. Break off the tough wooden ends by bending the spear a few times to find a place where it breaks easily. If you want a smooth asparagus look, you can use a vegetable peeler to get ride of its "scales." The asparagus is now ready for cooking.
Roasting
Roasting is a great way to get a flavorful result. With the oven set at 400 degrees, drizzle olive oil and sprinkle salt on prepared asparagus and bake until crisp-tender, about 12-15 minutes.
Steam
Steaming is a quick and healthy way to cook asparagus. In a large pot fitted with a steam basket (and water below that) cook the asparagus, covered, until it turns bright green and is crisp-tender. This should take no longer than 3-5 minutes.
Simmer
In a saucepan with about an inch of water, simmer the asparagus for 3-5 minutes until bright green and crisp-tender.
Grill
Grilling produces a similar affect as roasting, but you get to do it while enjoying the nice new warm weather. Brush the asparagus with olive oil and sprinkle with salt. On a heated grill, lay the spears perpendicular to the wires on the rack (you don't want to lose your asparagus to the coals!). Grill for roughly 7-10 minutes.
Microwave
This is the fastest method by far. Place asparagus in a microwave-safe baking dish or casserole with two tablespoons water. Microwave, covered, for two to four minutes or until crisp-tender.
Get more asparagus recipes.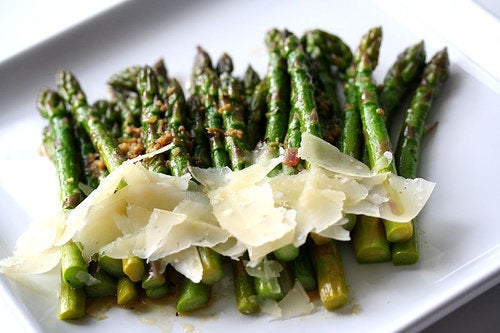 Asparagus Recipes
Support HuffPost
A No-B.S. Guide To Life
Related
Popular in the Community