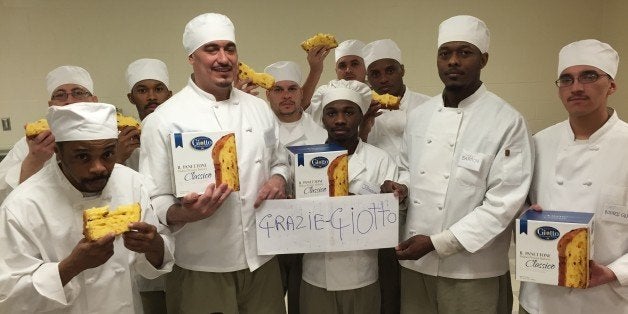 When it comes to getting a fresh start in life, a jail is probably just about the last place that comes to mind — particularly one as large and with as storied a past as Illinois' Cook County Jail.
But a new beginning is exactly what's being served up these days in Division 11. Bruno Abate, chef and owner of Tocco, a popular Italian restaurant in Chicago's Wicker Park neighborhood, has been teaching a cooking class to inmates.
The class, which began last spring, isn't just about cooking up a perfectly crispy pizza or a zesty marinara. Rather, Abate says the program aims to educate its participants in professionalism and responsibility, and to give them hope for their life beyond the cell -- hope that they can secure employment, many of them through Abate's restaurant, and avoid returning to jail.
"I'm trying to teach them the simple life, that you always have the chance to start again," the Naples, Italy native told The Huffington Post. "You made a mistake, but this country is a good country to start again as long as you're strong and you fight for the freedom to make a change in your life."
Abate, who has lived in Chicago since 1998 and opened Tocco in 2009, starts the program with lessons in food safety and sanitation before moving onto classes centered on nutrition, fresh pasta, pizza, cooking with fresh herbs, baking bread and more. When it comes to utensils that could be used as weapons, namely knives, the implements are tethered to the table when in use and stored in lockboxes when they aren't.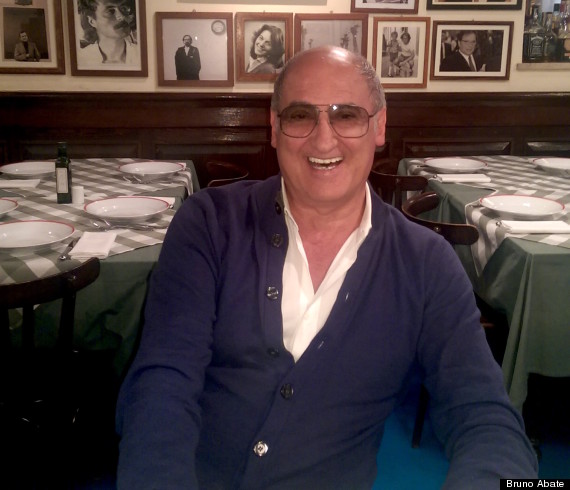 Chef Bruno Abate.
The program generally runs about three months, during which Abate comes into the jail two or three times week for a few hours at a time.
Ben Breit, spokesman for the Cook County Sheriff's Office, said Abate's work has had a tremendous impact on many of the participants, who are carefully chosen from a pool of applicants who interview for the opportunity. Those who are selected, Breit said, are inmates who are "serious about rehabilitation and about turning their lives around."
For the first round of the program, almost 70 inmates applied for some 20 spots.
"We're seeing guys who just become accustomed to the 'fact' that they will bounce back and forth between jail and the streets and that's what their life will be like," Breit told HuffPost. "This is distilling a sense of hope in these guys that has been really transformative. Sometimes that makes all the difference in the world."
Abate is not new to bringing his culinary prowess to the incarcerated. He previously taught classes at a juvenile detention center in St. Charles, Illinois, and also worked with a Cook County Department of Corrections boot camp. He calls his program Recipe for Change, and he's done all of it using money out of his own pocket.
But now, Abate is thinking bigger — he wants to redo the jail's kitchen and buy new equipment that will allow him to expand the lessons he's able to impart. He's hoping for machines that make coffees and cappuccinos, to help improve the students' odds of landing a job at Starbucks or another coffee shop upon their release. A new oven is also necessary, as well as fresh ingredients, cooking supplies and professional chef's wear for the students.
In order to raise the money he needs and make the program more sustainable, an Indiegogo fundraising campaign was launched in December. To date, Abate's raised over $4,000 toward a $15,000 fundraising goal. The campaign ends on Feb. 13, prior to the program beginning again with a new group of participants.
"Bruno really took a financial hit [to do this]," Breit said. "He really believes this is just a service he wants to provide to our community, helping these guys turn their lives around."
Abate's isn't the only vocational program taking place in Division 11, a medium-security unit. Other programs include a barber shop training program helmed by Larry Roberts of Larry's Barber College, a guitar class and an arts program.
"These programs help some of these guys tap into skills they never knew they had," Breit added.
In addition to helping the inmates learn valuable workforce skills, Abate says he's also taken away some important lessons from his work at the jail. And food has been the catalyst of it all.
"Through them, I make my life better. Not many people understand it, but when you do something good for other people, you do something good for yourself," Abate said. "Every day I learn something, every day they give me the power and the energy to go on in life. Every day is a learning lesson."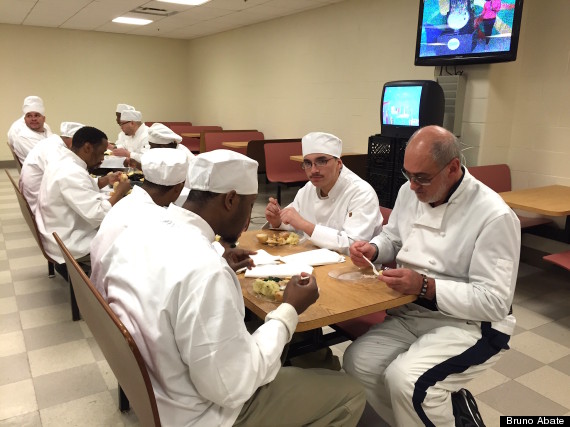 Chef Bruno Abate sits down with participants in his class.
Local hero hopes to help inmates get jobs, one ravioli at a time.
Related