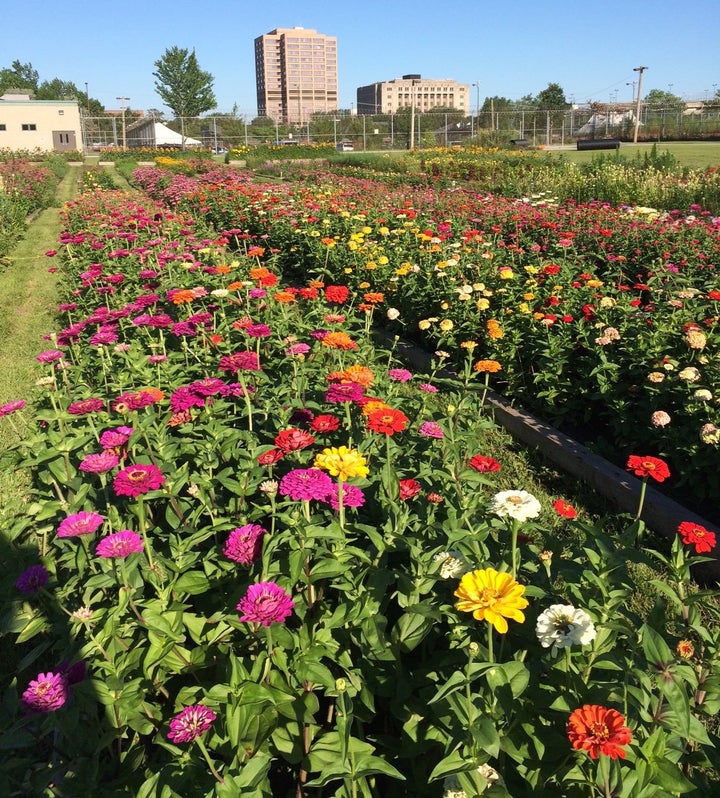 The next time flowers are delivered to your door in Chicago, the bouquet just might be made up of blooms nurtured by an inmate at Cook County Jail.
Chicago-based startup Flowers for Dreams, last week, announced the start of a partnership with the jail's urban farming initiative, which offers nonviolent inmates an opportunity to learn job readiness and teamwork skills while learning about horticulture and tending to the jail's urban farm.
The initiative expanded last year to include a one-acre flower garden where zinnias, dahlias, sunflowers and other blooms grow, and caught the attention of Flowers for Dreams CEO Steven Dyme after the initiative's deputy director Kerry Wright, a fan of the flower startup, contacted him.
The two met a number of times before Dyme came to the jail to speak with a classroom of inmates who tend to the farm, and toured the flower garden. He was impressed by what he saw and signed onto the initiative.
"The flowers looked good, which is the key thing, but I was really happy to support their effort," Dyme told The Huffington Post. "It's a great way for us to buy local flowers, a huge priority for our business, and to support this innovative rehabilitation program simultaneously was a win-win."
Funds received from the partnership go back to the jail's inmate welfare fund, which supports rehabilitative programming, including the urban farming initiative, culinary classes and other vocational programs.
A significant portion -- 25 percent -- of profits made by Flowers for Dreams are donated to Chicago-area nonprofit groups, such as, this year, Chicago Coalition for the Homeless, the Boys and Girls Clubs, RefugeeOne and One Tail at a Time Dog Rescue.
Dyme said, later this month, the company will reach a total of $100,000 in donations to charity groups since launching in 2012 -- a milestone he calls "probably our most important accomplishment."
By the year's end, he expects to hit $120,000 in donations as business is growing. According to a Chicago Tribune story, sales have tripled since 2014 to about $1.5 million through this spring.
Flowers from the garden and other products of the farming initiative -- including fresh produce, eggs from the farm's chicken coop and honey from its beehives -- are also sold to local restaurant partners like Yusho, A10 and Billy Sunday, as well as at the popular weekly farmers' markets at Daley Plaza, DNAinfo Chicago reported this summer, generating revenue that allows the programs to continue.
The initiative has also led to employment opportunities for some participating inmates. According to the jail, eight have gone on to work at restaurants or landscaping companies upon their release.
Education and vocational programs like Cook County Jail's urban farm initiative not only improve inmates' chances of finding a job after their sentence are up, but also, according to a 2013 report from the RAND Corporation, significantly reduce their chances of becoming incarcerated again.
In addition, the same analysis found that such programs are cost-effective, though more research is needed to determine the types of correctional education that produce the best results.
CORRECTION: A previous version of this story included an incorrect last name for the Cook County Jail farming initiative's deputy director. The error has been updated.