CHICAGO ― Erica Nanton, Jen Dean and Kemdah Stroud stood in the center of a cell block in Cook County jail surrounded by female inmates. They waited for the women, seated at metal tables in identical blue jumpsuits, to settle down.
The three women, organizers with a nonprofit group called Chicago Votes, had gathered here in this giant jail complex that houses nearly 6,000 men and women, on a steamy Sunday afternoon in July to make a pitch.
Their goal? Registering inmates to vote.
The organizers explained to the detainees that because they had not yet been convicted of a crime, they were all likely eligible to vote in November. They could vote for Illinois' governor or even elect the sheriff who ran the jail where they were detained, they told the women.
Cook County jail is one of the largest jails in the country. It's had its share of civil rights violations, though in recent years the jail has undergone major changes, with the reduction of on-site violence being one major achievement.
Another achievement is re-enfranchising thousands of potential voters.
Cook County Sheriff Tom Dart (D) began granting activists access to the jail to register people to vote in the months leading up to the 2016 general election. So far the group, which visits the jail monthly, has registered more than 1,800 detainees and wants to get hundreds more on the rolls ahead of this year's midterms.
That number may seem small when it comes to tipping the balance during an election, but inmates ― most of them had no idea they could vote ― told HuffPost that registering to vote meant so much more than just casting a ballot.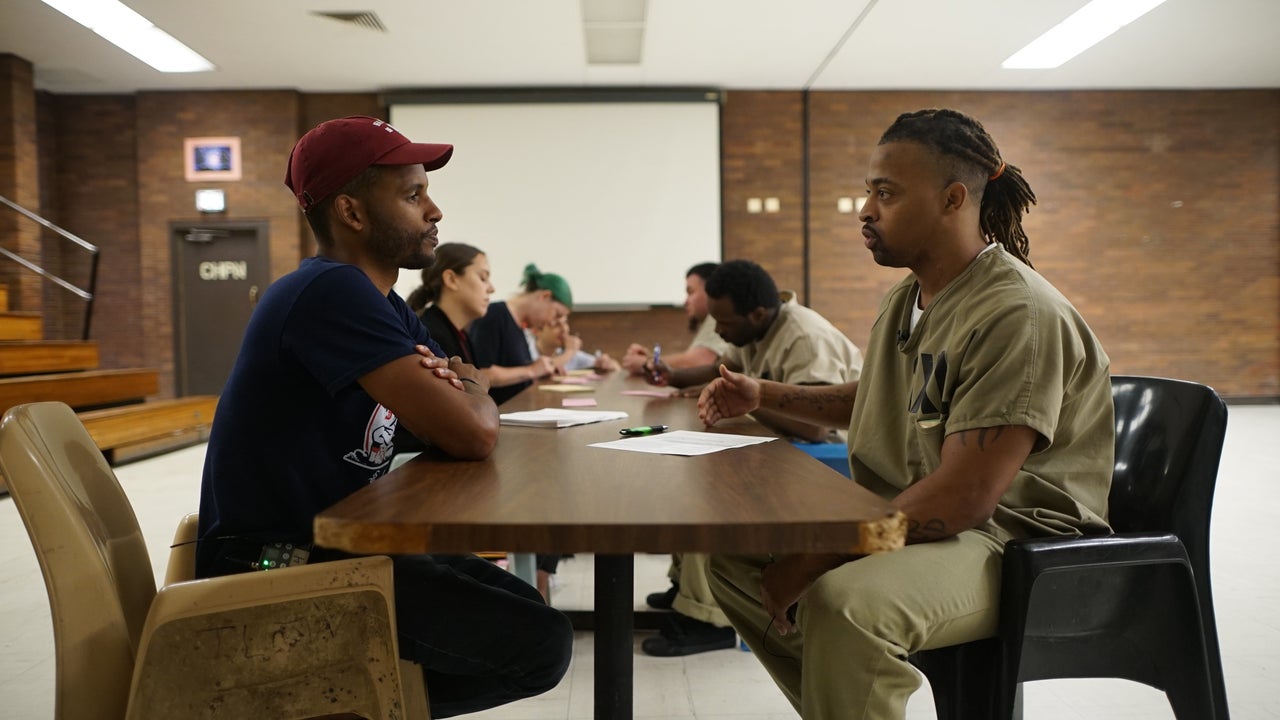 At a moment when virtually all of their freedoms have been stripped away, being offered this small act of agency gave them a sense of humanity.
A 2004 study found a negative correlation between voting and re-arrest among former felons. While the study's authors noted voting itself did not cause lower rates of recidivism, they wrote that "the act of voting manifests the desire to participate as a law-abiding stakeholder in a larger society." Education programs for those in the criminal justice system, combined with "citizenship education and political participation" could be particularly effective in reducing crime.
Elections are extremely social events, and as they approach, people are likely to talk about the issues at stake with their neighbors and families, said Marc Mauer, the executive director of The Sentencing Project. Allowing people to vote connects them to the people they live with, he added.
"It establishes peer connections, community connections and informal mechanisms of cohesion and commitment to the community," Mauer said. "It doesn't take the place of getting a job or a place to live ― those are critical in making it ― but it's a pro-social event."
The success of the program offers a glimpse of what could happen for the more than 700,000 people detained in jails across the United States. The overwhelming majority of those people can vote because they're being held pretrial or on a misdemeanor charge. Voting establishes a connection between detainees and their communities.
Nationally, over six million people can't vote because of a felony conviction, and in some states, they can never get their right to vote back. The positive response from the Cook County detainees emphasizes what's lost when people permanently lose this particular civil right.
'I can vote for a president; I can vote for mayors. My decision actually counts.'
In one of the women's divisions in the jail, registration took place in a recreation room, filled with exercise equipment, a ping pong table and a cornhole game. The atmosphere felt light, as volunteers tossed bean bags into the cornhole platforms. Stroud toyed with a piece of equipment that looked like a nonmotorized elliptical and asked what it was used for. An inmate responded that it was for exercise, while explaining the women didn't go outside.
One inmate in the room was Jeaneene Oneal. The 27-year-old had been detained in the Cook County jail for two and a half months, she said. She didn't know before that Sunday that she was eligible to vote while she was in jail. Even though she hoped to be released in a week and a half, she said registering to vote made her feel like the person she was before she was arrested.
"Now I can be just like the old Jeaneene. I can vote for a president; I can vote for mayors. My decision actually counts," she said. "It makes me feel powerful. I have power now."
Zakia Leach, 37, also came into the room to register. She thought she had registered before, she told HuffPost, but wanted to make sure. While she was registering, she learned that Dart was up for re-election this year (he's running unopposed). Her eyes lit up when she learned she could vote on whether or not he should stay in office.
"Did ya'll know we can vote Tom Dart out?" she shouted to the room. "We can vote him out. The sheriff, Tom Dart, with this election coming up. Oh my God, that's very important."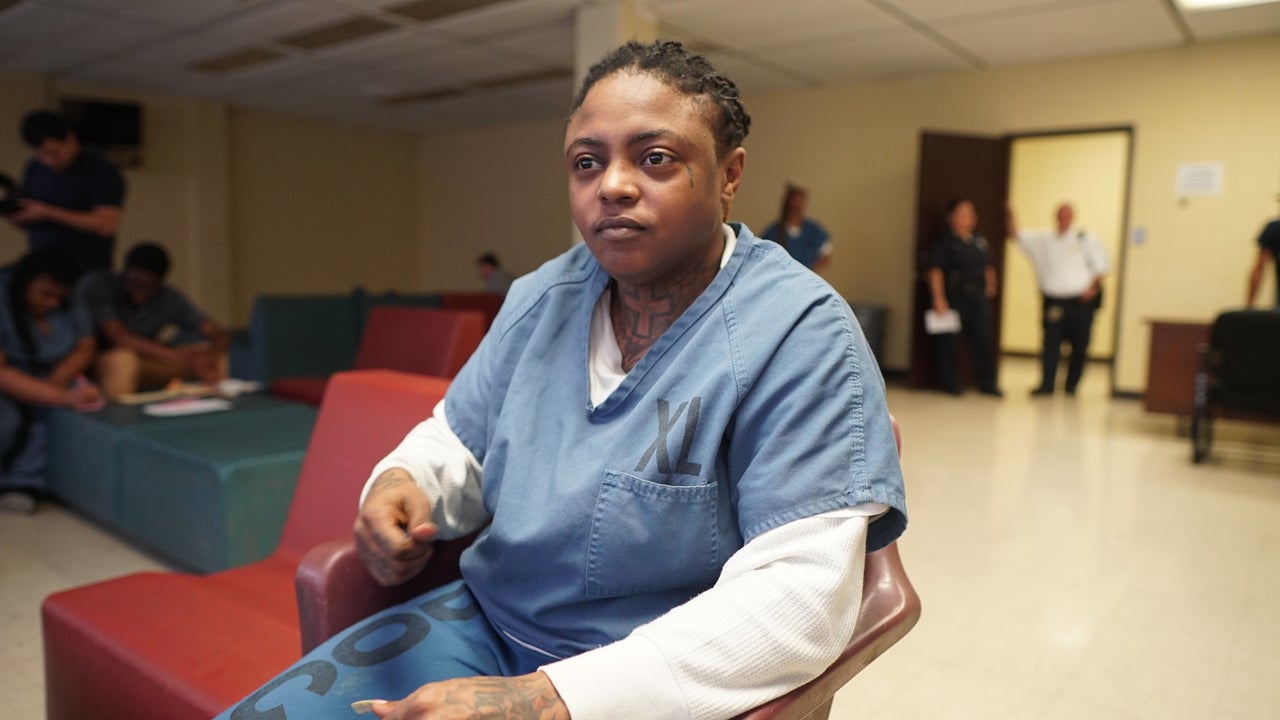 'I'm still a human being, and I still have an opinion. I still would like to be heard in some type of way.'
While there had been sporadic efforts to register people in the jail in the past, the effort to regularly register voters began in the summer of 2016 when Michelle Mbekeani-Wiley, an attorney at the Sargent Shriver National Poverty Center on Law was researching voting rights under the Illinois Constitution and realized the vast majority of people being held in jail were eligible to vote.
In the beginning, it was just Mbekeani-Wiley and about five volunteers, mostly women, who would go into the jail to register people every weekend. They only had enough people to go to one or two divisions at a time and would often stay late at night. Then last year Chicago Votes took over the voter registration efforts and has been able to bring 30 to 50 volunteers to the jail every month.
On the men's side of the jail on that Sunday in July, volunteers gathered in the lobby before going inside. A guard wearing a jacket, despite the temperature in the high 80s outside, warned the volunteers it was freezing in the room.
The volunteers pulled the tables into two long rows and set up their voter registration slips in front of them. Lee Mitchell, a tall 26-year-old with braids who had been in jail for a little over a month, was one of the first in line.
He said he didn't know until that day that he could register to vote while he was in jail.
"Just because we're in jail doesn't define me or who I am," Mitchell said. "I'm still a human being, and I still have an opinion. I still would like to be heard in some type of way, especially a positive way, even with me being in the place that I'm in."
"I honestly think that people who vote, people who are registered to vote, they think of themselves a little differently."
Dart, the sheriff of Cook County jail, said when activists approached him to open up the jail about two years ago, he immediately supported it because he saw it as a way of establishing a connection between people detained in jail and their communities.
"I honestly think that people who vote, people who are registered to vote, they think of themselves a little differently," Dart said. "You're different than the person who's just whining, complaining, this and that. You're somebody who's actually taking a step to being engaged and doing something." A person who registers to vote is more likely to be involved with the community and to stay out of jail, he said.
Dart was unfazed when HuffPost told him that several people who were registering to vote in his jail indicated they wouldn't support him.
"If that's what someone chooses, I'm absolutely OK with that," he said. "I've told people from the beginning if people don't like what I'm doing, they don't like my philosophy, vote against me; and I can go off and have a very very nice life."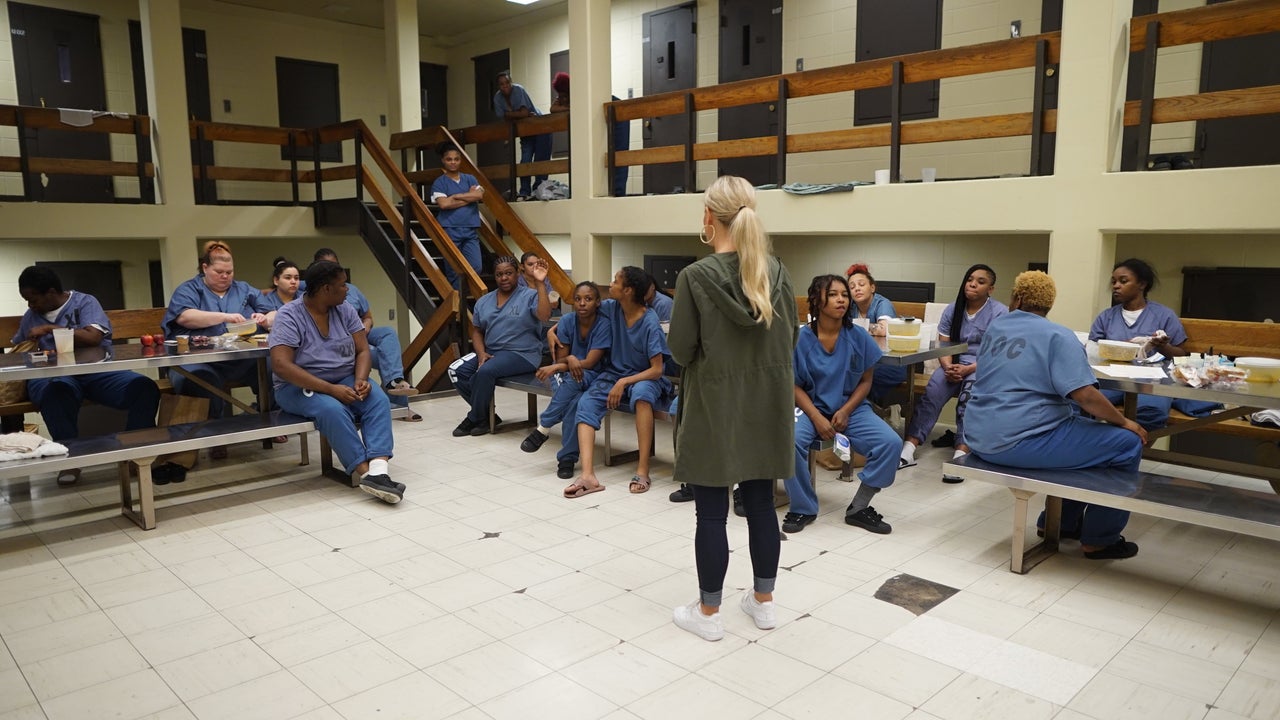 There are significant hurdles to registering people to vote in jails, both in Cook County and elsewhere. The population in the Cook County jail turns over quickly ― the average stay is 2 months ― so it's difficult to register as many people as possible. In the 2016 election, about 17 percent of the jail's detainees cast ballots. This year, Dean says the goal is to get 50 percent of the people in jail to vote.
Outside of Cook County, the problem is worse. The American Civil Liberties Union and the Shriver National Center on Poverty Law say just eight of the state's 102 counties have formal programs in jails to help people vote. Without Cook County, the average turnout in the 2016 election and March primary among the seven jails with voting procedures in place was just four percent, according to Mother Jones. To help fix that problem, Mbekeani-Wiley and Chicago Votes backed legislation that would require all jails in the state to facilitate opportunities for detainees to vote. The bill passed both chambers of the Illinois legislature and is sitting on the desk of Gov. Bruce Rauner (R), who has until Aug. 21 to decide whether to sign it.
'You made me feel important today.'
The impact of registering people to vote in jail may extend beyond detainees to the guards who get paid to supervise them.
When Mbekeani-Wiley first started going to the jail, security guards would ask why she was bothering to come to the jail because the people inside didn't bother to vote. But one day when she was registering people to vote in one of the jail's maximum-security divisions, a white male guard who had been quietly supervising interjected. He explained the power of Supreme Court justices to a group of about 20 black and Latino detainees about the power of the U.S. Supreme Court and why the outcome of the 2016 election was likely to determine the makeup of the high court.
"I think it's a moment where we all found a common ground between detainees and correctional officers, which is very rare in that setting," she said. When guards see detainees register to vote, Mbekeani-Wiley said, it humanizes them because the detainees doing something positive.
The work of Chicago Votes may have affected Sylvia Parks, a correctional officer who accompanied the volunteers around the jail. When the volunteers first arrived at the jail, there was some confusion at the entrance as the guards were unsure of which correctional officers were supposed to bring down and supervise the detainees. Whoever it was supposed to be, Parks made it clear that it was not her ― she was only on "light duty" that day and her job was to accompany the volunteers around.
As the voter registration got started, Parks mostly stayed quiet, sitting in a chair off to the side and directing detainees to volunteers when it was their turn to register. But after a while, Parks, who has worked at the jail for 12 years, became curious. She asked a reporter why volunteers were using two different forms to register people (one allowed people to vote by mail if it was their first time, while the other required them to vote in person).
When the volunteers left the jail after a little over three hours of registering people to vote, Parks repeatedly kept thanking them. After hours of watching volunteers register detainees to vote, it seemed the power of the ballot made an impression on Parks. As she peeled off from the group, the guard had one final thing to say: "You made me feel important today."
Have you lost the right to vote? We'd like to hear your story. Email samuel.levine@huffpost.com.